WWWRN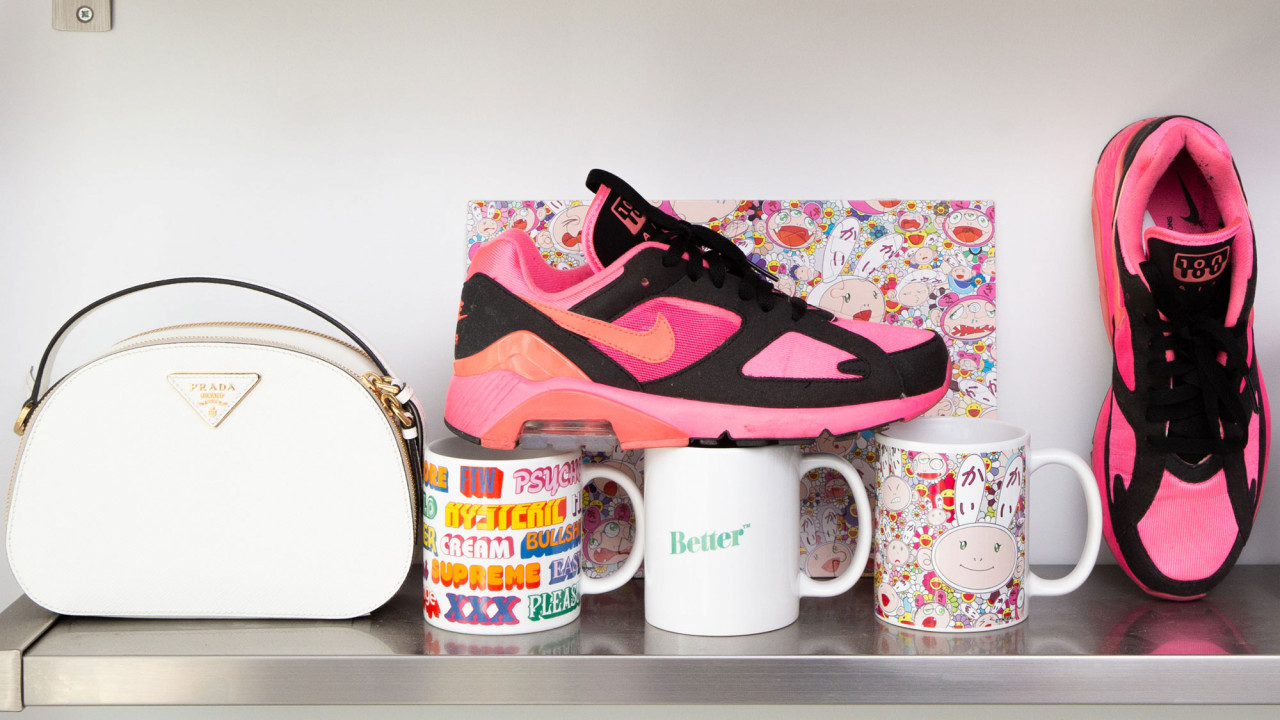 4 Sneaker Industry Friends Share Their Holiday Wish Lists
Eames desks and dog coats, right this way.
While we've been nonstop churning out gift guides over the past few weeks, we've caught ourselves wondering more times than we can count what others have on their wish lists this year. Questions like, "Are we the only ones wanting a $300+ denim Dior airpods case?" or "Is StockX a go-to for everyone else like it is for us?" and "How many of us actually have the Travis Scott Jordan 1s on our wish list this year?" run through our minds on the regular. Especially when it comes to streetwear and sneaker-obsessed folk, since more times than not those items will have to be purchased on resale given their popularity. To get the answers to these burning questions, we reached out to a few of our closest friends in the sneaker world. Below, everything they're crossing their fingers for this year.
---
Director of Content at GOAT & Flight Club/ Editor-in-Chief of Greatest
1. Matthew M. Williams x Nike Free Trainer 3 Flyknit 'Ivory': "I have a deeper appreciation for Vibram soles after featuring the brand in Greatest issue 04, which released earlier this month. Vibram's always been rooted in performance-driven technology, and I can't help but be drawn to sneakers with exaggerated boot-like features."
2. Blue The Great x Air Jordan 1 Mid 'Fearless': "This sneaker is nostalgia with laces. It reminds me of when I used to go to a local diner with my family as a kid, and I would get a four-pack of crayons along with the kids' menu to color and draw in. Blue is the man. To see him with his own Jordan collaboration sneaker is epic. He went hard on these."
3. Les Tien Snap Front Pant in Vintage Black: "My friend Courtney is a really talented designer and created this line with luxury and comfort in mind. Les Tien is crucial for any flight. I have a pair of these pants already, but I need one in every color they come in."
4. Eames Desk Unit: "I've been eyeing this for a while now, and I finally have space for an actual desk in my new home. This is perfect for hours of doodling…"
1. Instant Pot Duo Evo Plus Pressure Cooker: "[I'm] trying to up my cooking-at-home game, and I've officially bought in on the Instapot hype. Some of my jerk salmon and rice and peas popping out of this crazy little machine? I'm in."
2. Saturdays Canty Moon Flower Short Sleeve Shirt: "My favorite, iconic New York City menswear brand by far. I need this floral '70s Miami gangster print to keep my state of mind in warmer places this NY winter."
3. Carhartt Chore Coat: "My bulldog, Oscar, prefers the functional yet stylish look, so Santa will be bringing him this new jacket to keep him warm on our walks in the Lower East Side this winter."
4. A Cookbook by Matty Matheson: "Definitely need this cookbook on vinyl, from one of my best friends, Matty, to be playing on the turntable over the holidays to inspire all my future Instapot creations."
---
Jordan Brand Global Communications Manager
1. Luxury Discovery of Australia, New Zealand & Fiji Tour: "I've always placed a high priority and investment on traveling the world. I truly believe that your best work, both personally and careerwise, comes from stepping outside of your zip code and expanding your mind by embracing new cultures and experiences. When I was younger, I made a commitment to myself to travel to five continents by age 30 and all seven by 40, so coming up on 30 this next year, Australia and Antarctica are the last two on my list to explore."
2. Alexa Smart Home System: "Living much of my life on either an airplane or in an office building, my home has always been a place of relaxation and reset. Being able to make my home smarter and automated by simplifying my everyday routine would be valuable for both my sanity and monthly bills."
3. Meshika Python Fedora: "Similar to shoes and handbags, hats are investment pieces. To show personal expression, enable confidence, or even cover up a bad hair day, I love how Meshika hats are unique, hand-crafted, and add to your overall style story."
4. Daily Prayer Journal: "Journaling is part of my daily personal work and allows me to be intentional with my thoughts and feelings. This journal provides daily devotions and prompted spaces to be purposeful with my prayers and reflections each day."
1. Levi's 501 '93 Straight Men's Raisin Stone Medium Wash Jeans: "As I've gotten older and a bit more into life and less into clothes, I started to shop with a purpose and try to only buy forever things. I can live my life in [these jeans] and not worry about ruining 'my precious designer jeans.' Not to mention they are one of the best pairs of jeans money can buy. I have a blue pair from 1993 and haven't taken them off since I bought them, so I was super excited when Levi's decided to release that shape again. Also super hard to find jeans that fit the way you want when you're tall."
2. Arc'teryx Cerium SV Hoody: "Gotta stay warm. Me and [my girlfriend] Jenny go upstate a few times a month, and it's a little too cold for me around this time. This is probably the lightest 850-fill I've ever experienced—one of the worst feelings is being uncomfortable in a ton of restricting layers living in NYC."
3. D.S. & Durga 'I Don't Know What' Fragrance Enhancer: "For the last few years I've been in love with Bergamot-driven fragrances, and when I first tried this, it was love at first smell. It's a fragrance enhancer, so it's good to pair with all the other stuff I own, but I'm sure I'll just wear it alone."
4. OAMC x Adidas Originals Type O-3 Grey Sneaker: "Just a perfect color and shape. It also feels perfect with the other three items on my wish list and most of my closet. Tbh, I have way too many sneakers and not enough boots, so I totally need these."
Want more stories like this?
Lavish & Essential Stocking Stuffers to Buy This Season
The Best Last-Minute Gifts to Shop This Season
20 Sneakers Releasing This Month
Part of the series:
WWWRN