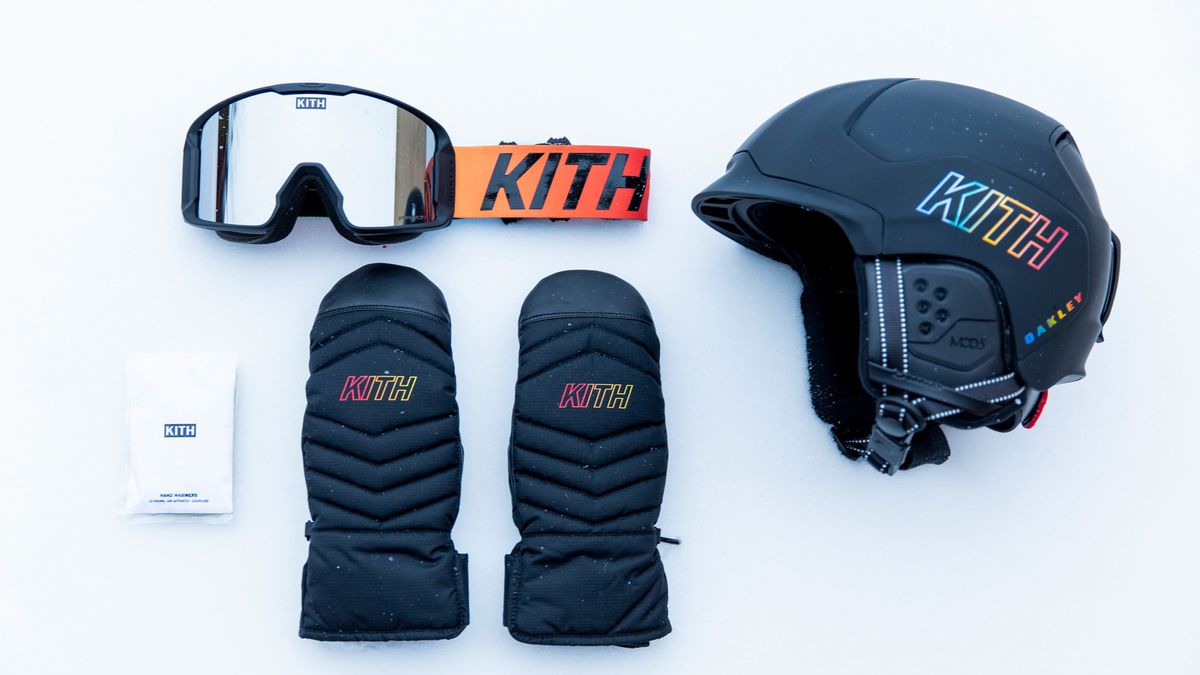 Fashion
A Detailed Look at the Latest Kith x Adidas Collab
Reporting live from Jackson Hole, Wyoming.
Tim Buol
Jodi Taylor
It's no secret that Kith pulls out *all* the stops with its major collaborations. One month
Ronnie Fieg
and team, along with a close group of friends and family, are on the
private island of Mustique
, and the next they
're 
meandering down the main streets of
Honolulu, Hawaii
. The purpose of these trips? To put the collections to the test in their intended environments. Which is exactly how we came to find ourselves 2,000-plus meters above sea level in Jackson Hole, Wyoming, inside the five-star
Amangani resort
, surrounded by a jaw-dropping waterproof, windproof—practically everything-proof—Kith x adidas collection. "In the very beginning of every year, I like to sit with my team and think about places we have never been to," Fieg explains. "Jackson happened to be a place I'd heard about so many times from so many different people. Once we knew Jackson would be the destination, we started designing with the setting in mind."
---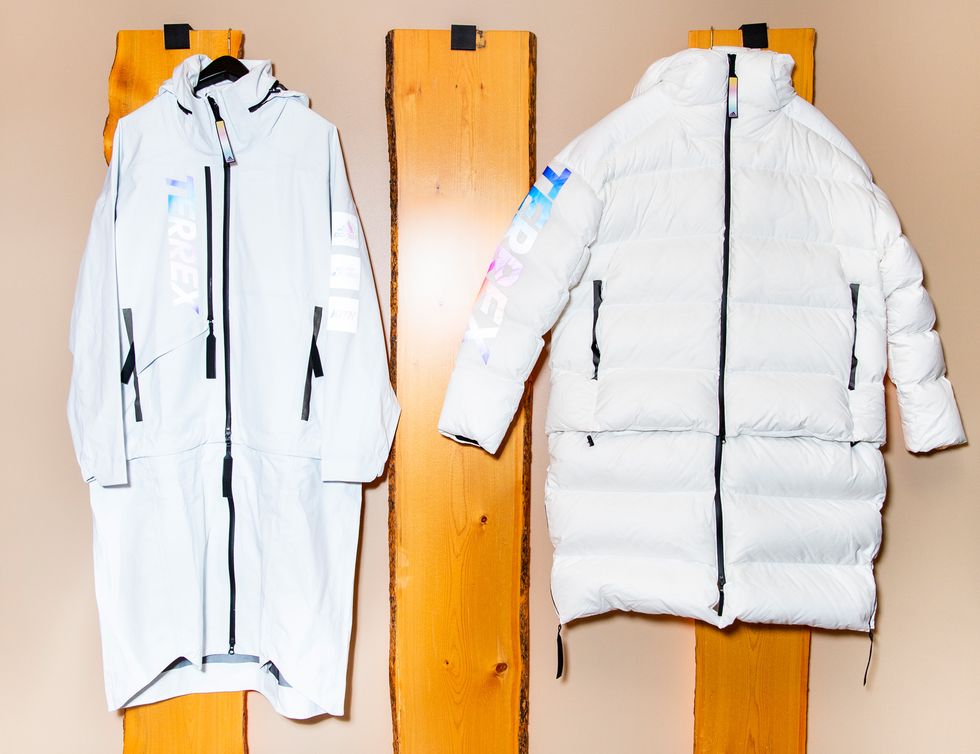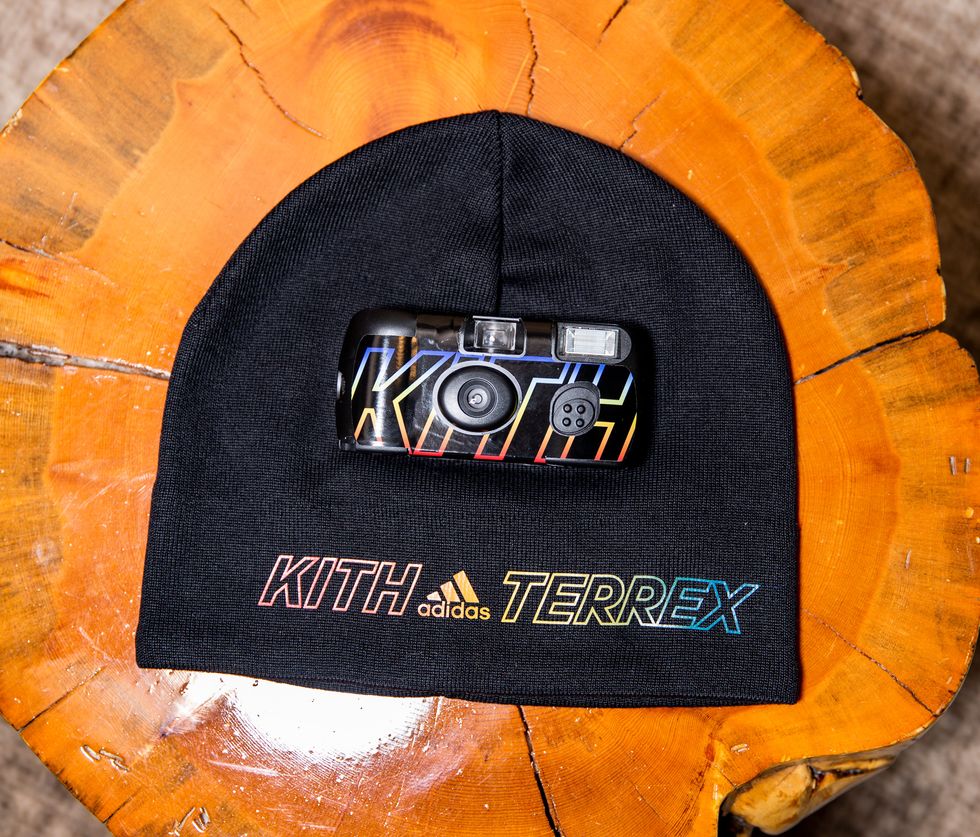 Describing it as the "world of on-and off-mountain," Fieg tapped the adidas Terrex line—known for its outdoor performance wear that is both lightweight and durable—for this collaboration. "We took a technical approach when designing this product; however, we created the silhouettes through a lifestyle lens so that they can also be worn off-mountain and in the street," Fieg tells us. "The goal is to cover from New York to Jackson Hole." Composed of brightly colored down anoraks, shell jackets, ski bibs, reversible down vests, adjustable knee-length puffers, lightweight athletic pants, supersoft hoodies, and technical workout wear (among other things), it was easy to see that the clothing was designed to brave even the harshest of elements. And that doesn
'
t even include the accessories and footwear, like compression socks, thermal beanies and gloves, Fieg's go-to mirrored Oakley sunglasses, Yeti thermoses and mugs, Oakley ski goggles—we kid you not, there are even Kith hand warmers.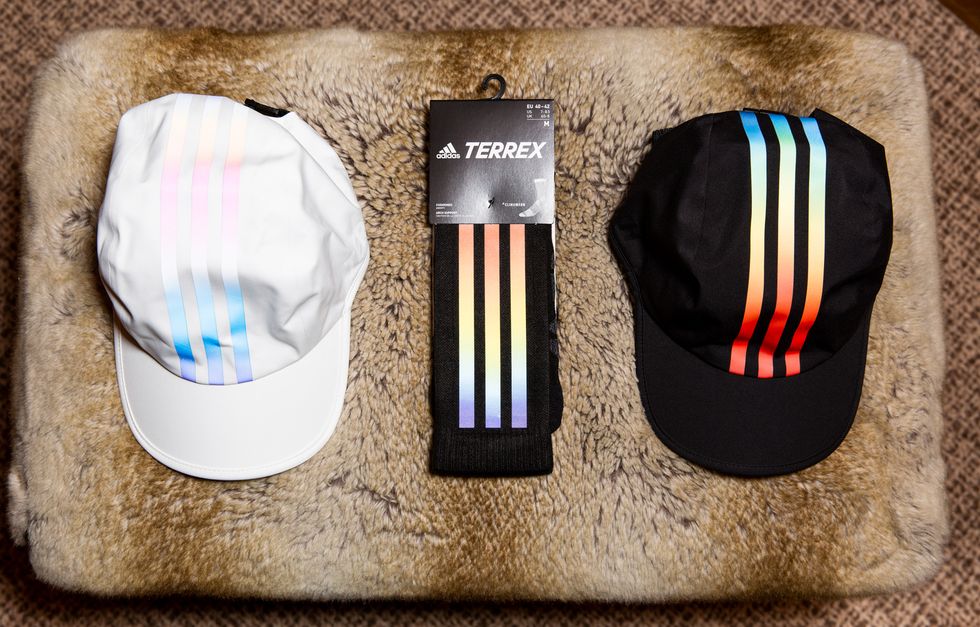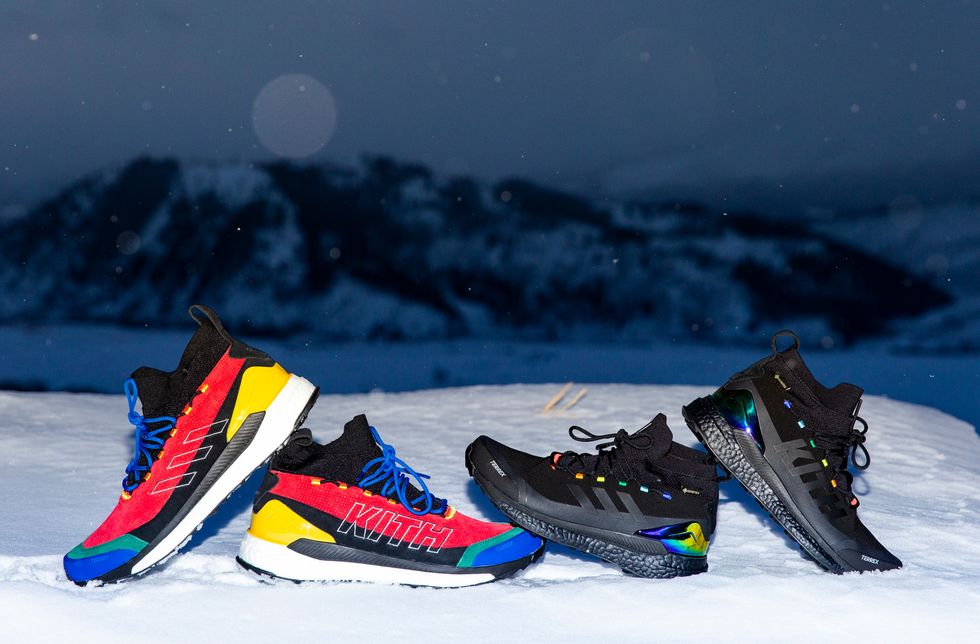 Amidst the vast collection, the Kith x adidas Free Hikers were a notable standout. "I'm excited about the footwear," Fieg exclaims. "I've worked on the Free Hiker with adidas Terrex before, but for this year's models we took a different, dual approach. The first model retains the core elements of the Free Hiker's materials, but with added elements like an iridescent heel clip and gradient eyelets. The second model is a completely new approach for the brand, executed in all premium suede, which hasn't been done before on this silhouette. The multicolor is a nod to the gradient seen in the collection." That gradient Fieg speaks of is seen on practically every piece in the collection via logo detailing and patchwork. Most important, it's seen on the skis and snowboards. Yes, you read that right—top-of-the-line skis, snowboards, helmets, and snowboard boots are also included, a telling sign of Fieg's commitment to a 360 approach with Kith's collaborations.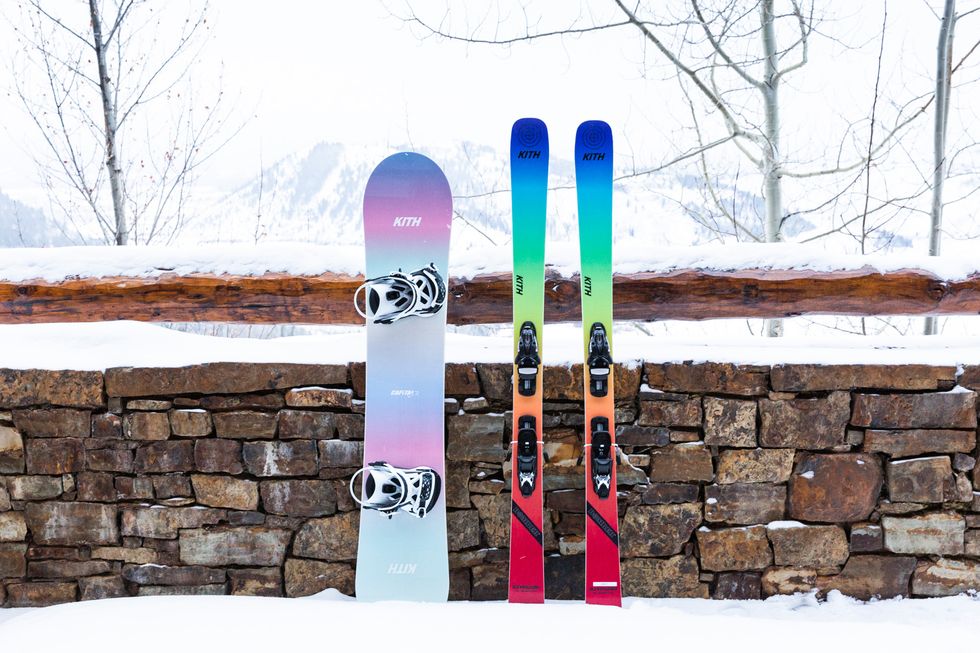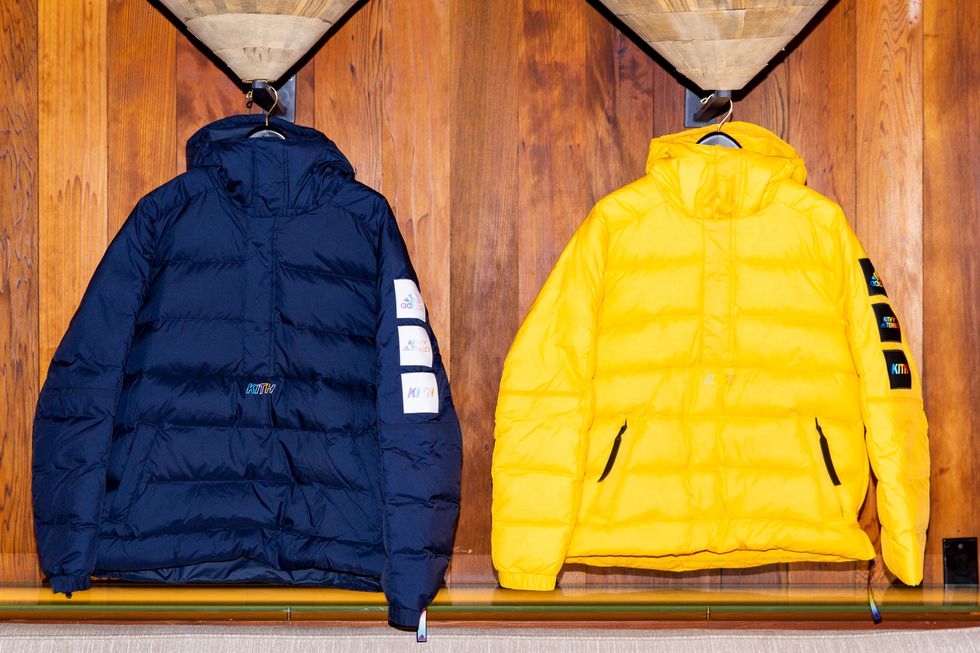 "We worked on our first set of skis as a brand with this collection. Bomber is one of the most elite ski brands in the market today, and [they] are also based in New York, so there was a natural connection there," he says. "For our first pair of skis, I wanted to make sure we brought something completely unique to the table. We applied the gradient motif seen throughout the collection to the skis, and [they] are made in Italy and are super premium.
"
While the skis' colorways are particularly bright and mirror the black clothing in the collection, the snowboard and white pieces showcase a cotton-candy-esque gradient. Of course, there's reasoning behind it all. "One color story represents [the] sunrise, and the other [the] sunset. We were really inspired by the skies in Jackson and how vibrant the colors are."
Overall, the collection is one that any outdoor-obsessed, detail-oriented fashion lover would appreciate. It will come in handy for all your winter adventures, outdoors and otherwise, so be sure to mark your calendar for the December 20 launch date. Think of it as the perfect holiday gift to yourself. You won't regret it.
Want more stories like this?
21 Sneakers Releasing This Month
The Technical Outerwear to Invest In This Season
Your Guide to Vacationing on the Private Island of Mustique