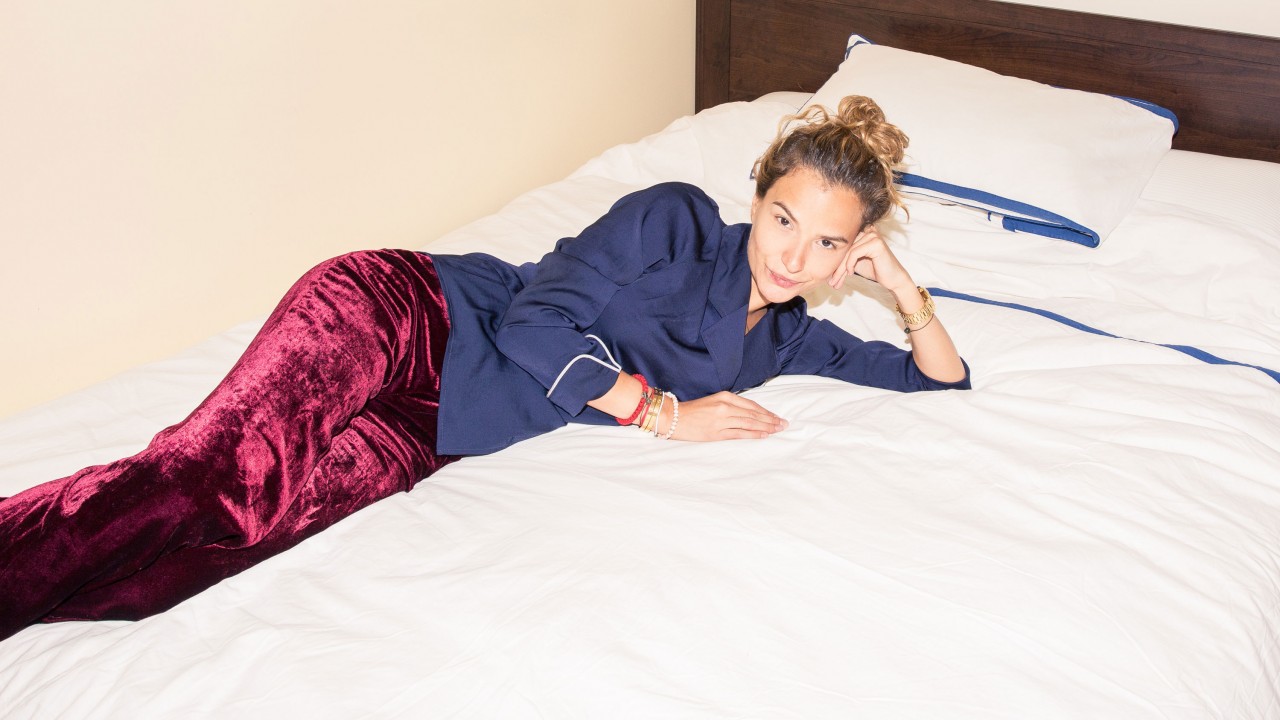 How to Wear Pajamas Outside the House
You can even wear them to holiday parties!
This time of year is very much a competition between dueling desires: on one hand, we want to go out, get glittery, and drink our weight in champagne; on the other, we want to curl up, hide under the covers, and wait until the sun icon and a temperature above 70 degrees have returned to our iPhone's forecast app. But, at a recent formal dinner party at the Gramercy Park Hotel penthouse to which we were encouraged to wear fancy silk pajamas, we discovered a happy, socially appropriate medium. Granted, there's never going to be a way to wear your ratty old sweatshirt and slippers outside (or in front of anyone other than a very accepting significant other), but with a simple styling equation (that relies heavily on footwear), you can wear PJs out and about while drinking all that champagne—or at least clothes that look and feel a lot like them. Read on to learn our sneaky ways.
---
Take one part comfortable suit:
---
It doesn't have to be actual pajamas (although it can if you're feeling bold about this particular fashion ~adventure~), and it might feel weird to wear a full cashmere suit outside of a ski chalet, but trust us on this one. The key is quality (silk, cashmere, or something else luxurious) and fit—nothing too big or too tight. We're partial to matching (print with like print; grey wool with grey wool), to make it more capital-F fashion than I-just-woke-up-from-a-nap. The end result: you will be truly comfortable.
Add one pair fancy shoe:
As we mentioned, the key to taking your sweatsuit or pajama comfort wear to party and/or office appropriate is the shoe. It doesn't necessarily mean it has to be a sky-high heel (although it certainly can—we encourage it, in fact), we also like a nice slide (aka slipper), but it does mean they need to be very, very pretty, and bejeweled or embellished in some sort of way.
And one pair dangly earrings:
There's no getting away from it: you're wearing fashion sweatpants and you're talking to your CEO over your third (fifth?) glass of Merlot. Big, shiny earrings give your look a purposeful sense of "I know what I'm doing and it's glamourous." And it's true: only the most glamorous can pull off pajamas outside the bedroom. You're killing it.
Then one part bright lipstick:
Again, it's all about creating a sense of purpose: "I meant to wear these cashmere track pants beyond my front door." And lipstick does that. Pick a bright shade and wear it boldly and you'll never have to wear an uncomfortable, tight-as-hell confection to a cocktail party ever again.