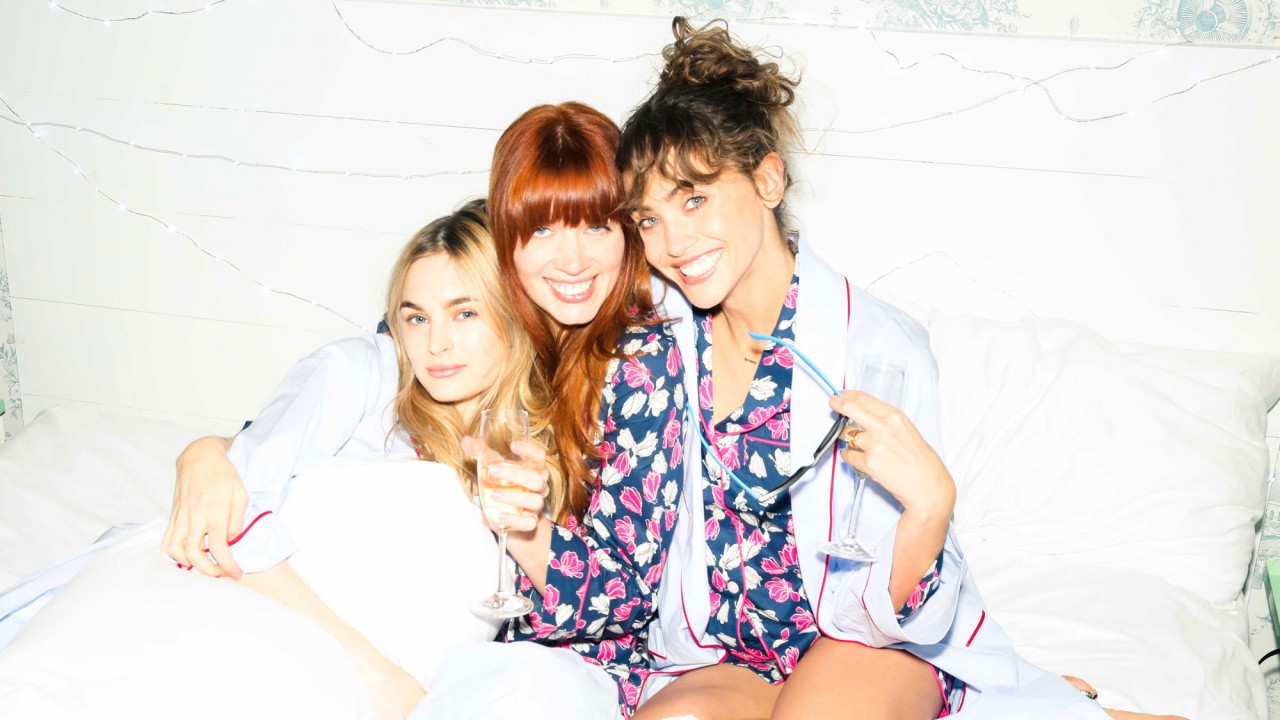 Proof You're Never Too Old for a Sleepover
According to Thakoon, Laura Love, and Brianna Lance. In collaboration with Thakoon.
In the long list of things we'll never really consider ourselves too old for (Shirley Temples, Barbie, Pixar movies....) sleepovers rank pretty high. When said sleepover is thrown by Cov-alum Thakoon, and model Laura Love and creative wizard genius Brianna Lance are invited, you pack your sleeping bag and face masks and get over there as fast as your bunny-slippered feet can carry you.
And that's all before even hearing the best part, which is that Thakoon would be outfitting us all in pieces from his brand new collection of sleepwear. "I've been on pajama dressing for a couple of seasons now," he said, "and it has become such a staple of the collection. I thought, let's just do pajamas for real! I love that there's a chic comfort to them." The actual dream, right?
When I showed up to the penthouse suite at Brooklyn Wythe Hotel, I have to admit I felt a bit like the new girl in school. Brianna and Laura are old friends—the other thing we're never too old for is feeling slightly intimidated when faced with two stunning, wildly creative pals—but they couldn't have been friendlier or more welcoming. We may have even gotten in a champagne fight and formed a bathtub bobsled team in the room's insane bathroom.
Over Tarot cards, sliders, and an inflatable zebra (not to mention the cutest PJ's, robes, and kitty-shaped eye masks we've ever seen), the whole thing was the definition of staying in, in style.
Thakoon's Slumber Party Must-Haves
---
What do you always bring to a slumber party?
"Rummikub game and records. Sometimes a jigsaw puzzle, but that's a commitment!"
Go-to slumber party snack?
"Popcorn!"
Best childhood slumber party memory?
"It was in Nebraska. We all snuck out and put fire logs on a dark road, and cars would [drive by] really fast and run over them. Needless to say, it wasn't a very good idea!"
TP + LL + BL = Love
"I've known Laura since she first started modeling—I love her energy and she's up for anything. And Brianna's a really cool girl, and brought along such a sassy spirit!"
You'll Find Laura Love Jamming to Bieber
Favorite sleepover treat?
"Popcorn. Kettle corn!"
Five things to always pack?
"Toothbrush, phone charger, Uggs, extra underwear. I know that's kind of gross [laughs]."
Song to get the party started?
"I'm one of those people who listens to a song on repeat, so it's a song of the moment. This summer I was really into listening to Justin Bieber's 'Cold Water' with my girlfriends."
Best sleepover ever?
"I had one friend named Sage who always threw the best slumber parties. We watched The O.C. and, being an L.A. girl, that was a big thing for me. Her mom would always have a theme for the slumber party. It'd be, like, me and my five best friends and we could eat whatever we want and it was really fun."
Queen of Slumber Parties Brianna Lance's Essentials
Beverage of choice?
"I have so many slumber parties. My go-to snack is probably hot chocolate."
The last sleepover she hosted:
"The last slumber party I had was in Montauk over the summer with one of my good girlfriends."
Go-to party trick:
"Probably my favorite thing is to read tarot. I love reading people's tarot! I see tarot readers all the time so I just sort of picked it up from them."
How to dress for a sleepover:
"Normally, I like silk pajamas, or matching pajama sets like these!"
Party playlist?
"I really like to listen to Ethiopian music from the '60s. It's some of my favorite music in the world. That or reggae."
Inspired to have your own best friend slumber party? Enter here to win a stay at a hotel in your city, along with up to four sets of Thakoon pajamas for optimum Instagramming.