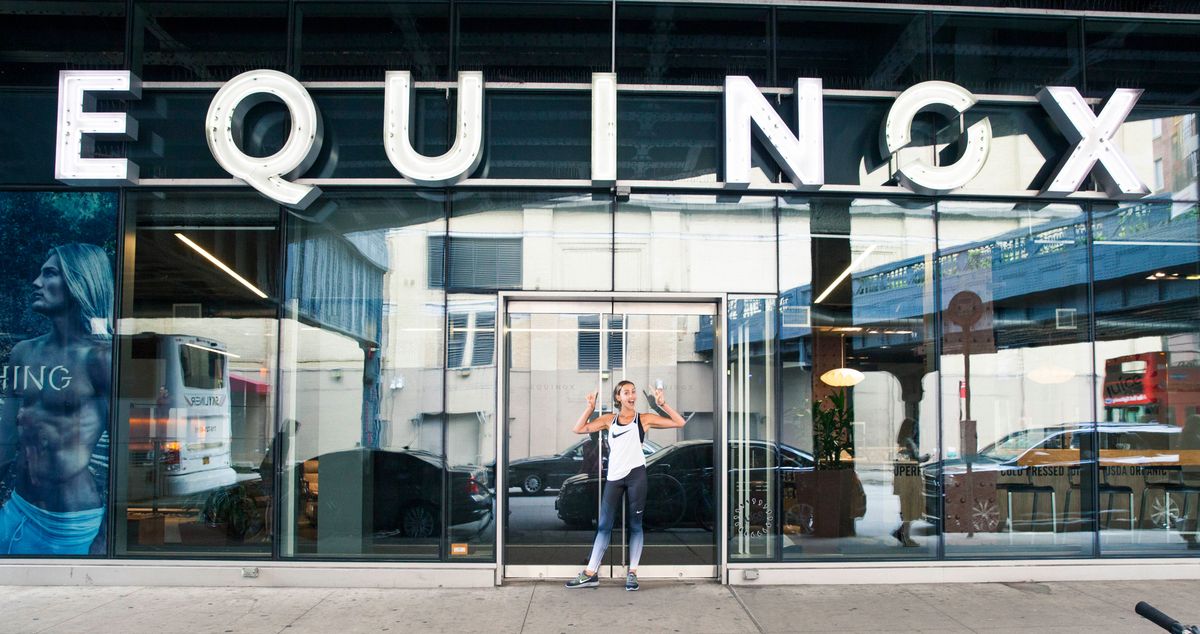 Fitness
I'm not even kidding. In collaboration with Equinox.
I, like a lot of my friends, have problems hanging on to my riches. A little treat from Net-A-Porter here, a big night out there, and a package of $40/a pop exercise classes where you essentially just roll around on the floor later, and I find myself staying up at night silently freaking out about money. It seems that all those little extra fitness classes really crept up on me. Remember how overboard I went in getting ready for my wedding? Yeah, that didn't exactly stop post-wedding, but it's time.
Throughout that process, and for 90% of the time I've lived in New York, I've had a membership at Equinox. It's a little luxury that I'll probably never let go of. But once I stopped yolo'ing on MindBodyConnection, I realized that that one membership (which is a large expense on its own) is the only thing I need—fitness-wise.
---
To be completely honest, my membership there is one of those little things that makes me endlessly happy. I'm obsessed with this club, and go practically every morning. And it would seem I'm not the only one obsessed—they're celebrating their 25th anniversary this year with 83 clubs across the world (holy smokes), and over 2,600 classes offered every week in New York City alone. One of the things I love most about Equinox is that pretty much wherever I am, there's a club. So to prove to myself that I don't need to buy a gazillion classes and schlep all over the city, for one week I took advantage of every aspect of Equinox. Over the course of the week I did my signature kinda-sorta really easy workout, a traditional training session, yoga, and tried their highest level Tier X training—which, for the record, is no joke, even though it looks silly AF.
Here's how I basically moved in last week, and why I'd rather quit going out to dinner than quit Equinox.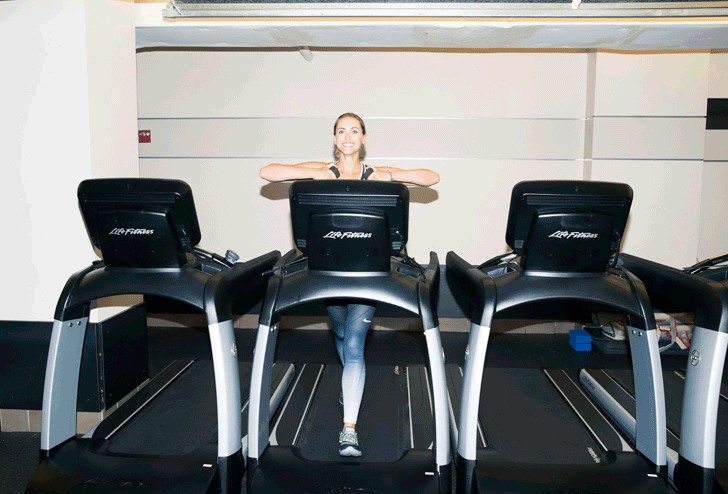 This is the thing I do very nearly every morning. It's my favorite little private ritual, and one of those weird things I love to do and will never give up. Every day, I head straight for the treadmill, crank that sucker up to 4.8, and walk whilst flapping my arms like a bird for an hour. If I had to pick any part of my body that I don't totally *love* it would be my arms. These flappy moves (sometimes with 3lb weights) make me feel like they're at least getting a little toned. It's not the hardest workout in terms of 'kill yourself' exertion, but it makes me feel good, and never too swollen or sore.
After working out, I spent about 45 minutes catching up on emails, editing stories, and...fine, shopping...in their communal lounge space.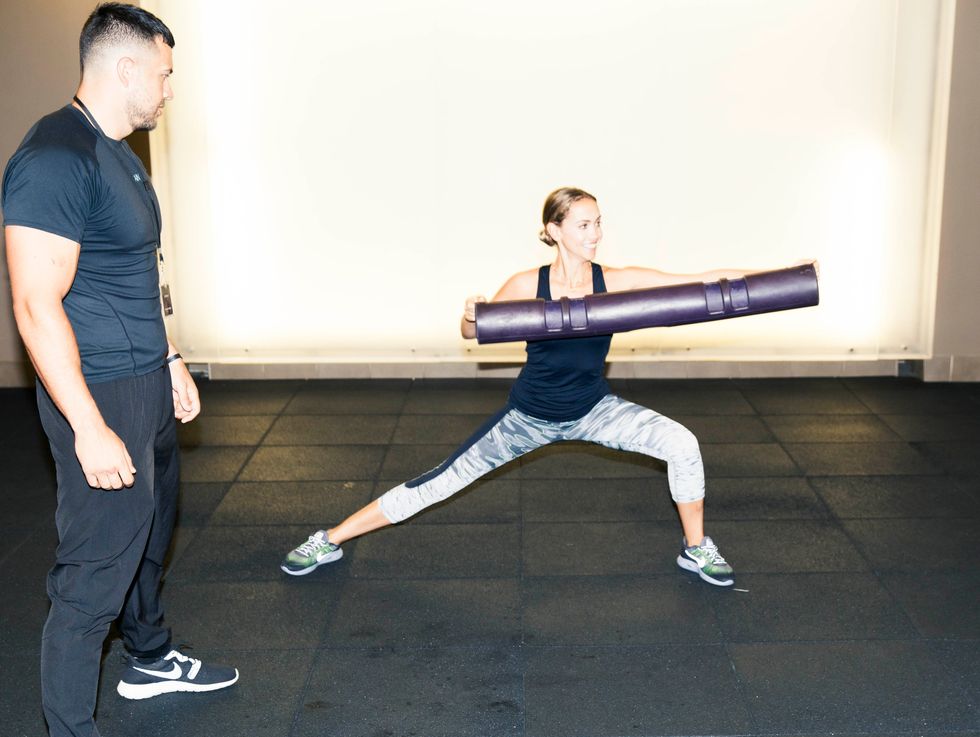 This is not the thing I do every day, and this is not like me at all. I typically do not enjoy personal training sessions, because I'm not confident in my strength level. I joke that I'm purely decorative and not actually functional (har, har, but it's not actually funny…), but boy, did this guy make me function. We did a bunch of these lunge-y things with a tube, and then I had to toss some ropes around, which was really hard and kind of I hated it, but I have to say—at the end, I felt a lot more accomplished than I ever do from flapping my arms. Then I got all stretched out and had to bite my cheeks not to giggle.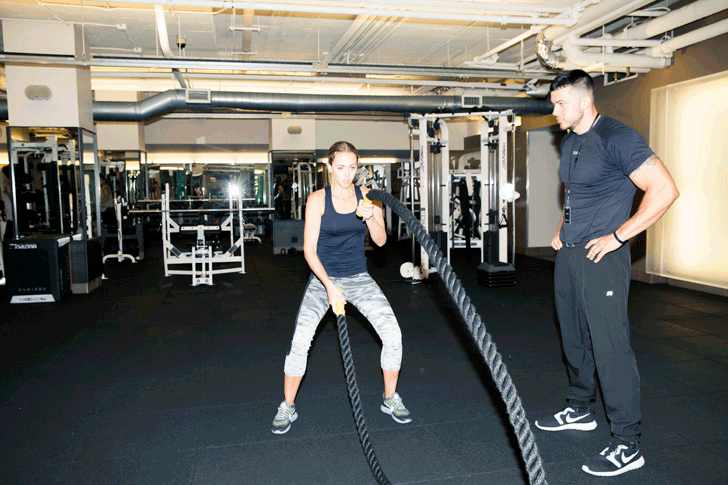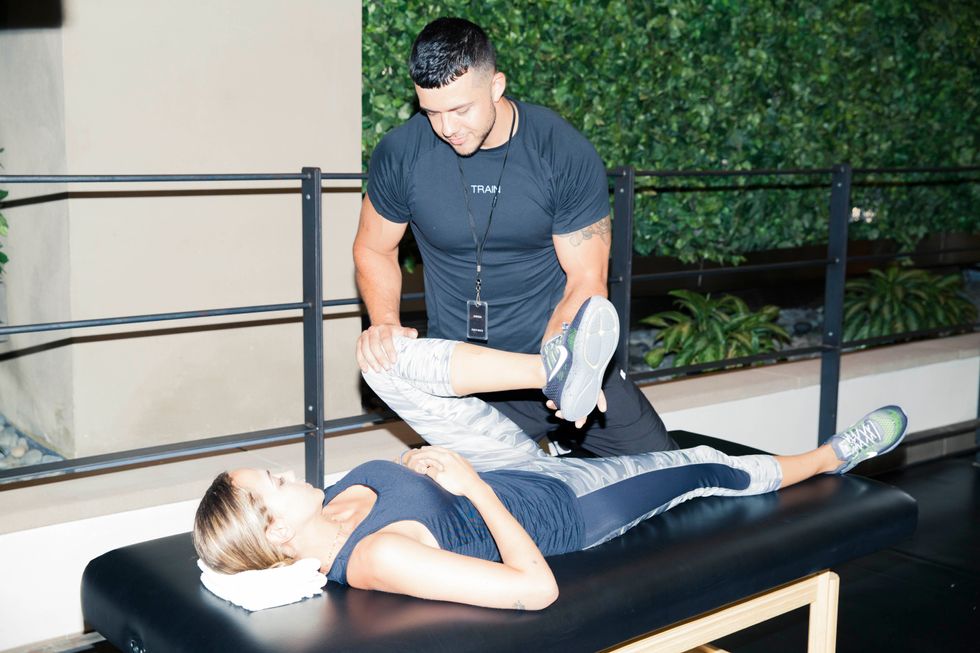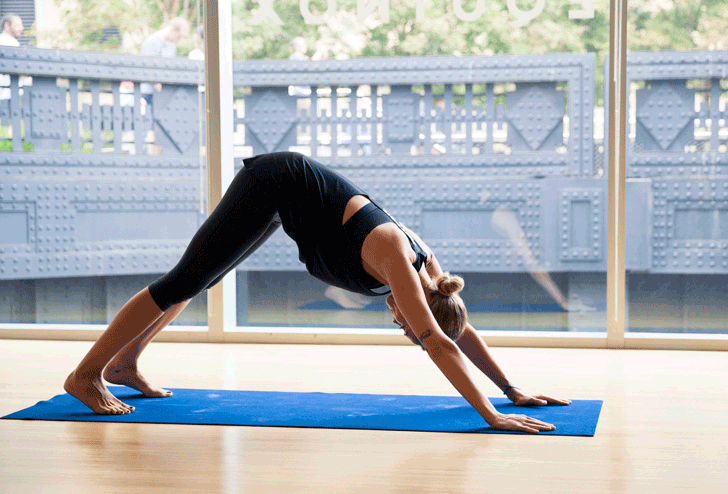 After getting my ass thoroughly kicked by my trainer, I did a bit of yoga. I love the High Line location for its bright, sunny yoga room. I have very little patience, generally (yoga is tough for me), so I enjoy the people watching on the High Line when I just can't ohmmmm any more.
On Thursday I tried a class called The Cut, which is a combo of dance, boxing, cardio, and yes—rolling around on the floor, so I felt right at home! I loved it, but I did not allow it to be photographed because I am a klutzy mess. Then, I spent a good 45 minutes, steaming in the locker room, slathering on all the Kiehl's products my skin could handle, and just enjoying myself a little. I love the locker room zone at Equinox. Everything is just so *nice,* I could spend the entire day steaming, sitting around, working in the communal space, steaming some more, and using an entire tub of Crème de Corps on my parched, weird old legs. It's like going to the spa without actually having to book an appointment (though the Equinox spa is excellent, may I suggest a hot stone massage?)—therefore saving me even more riches.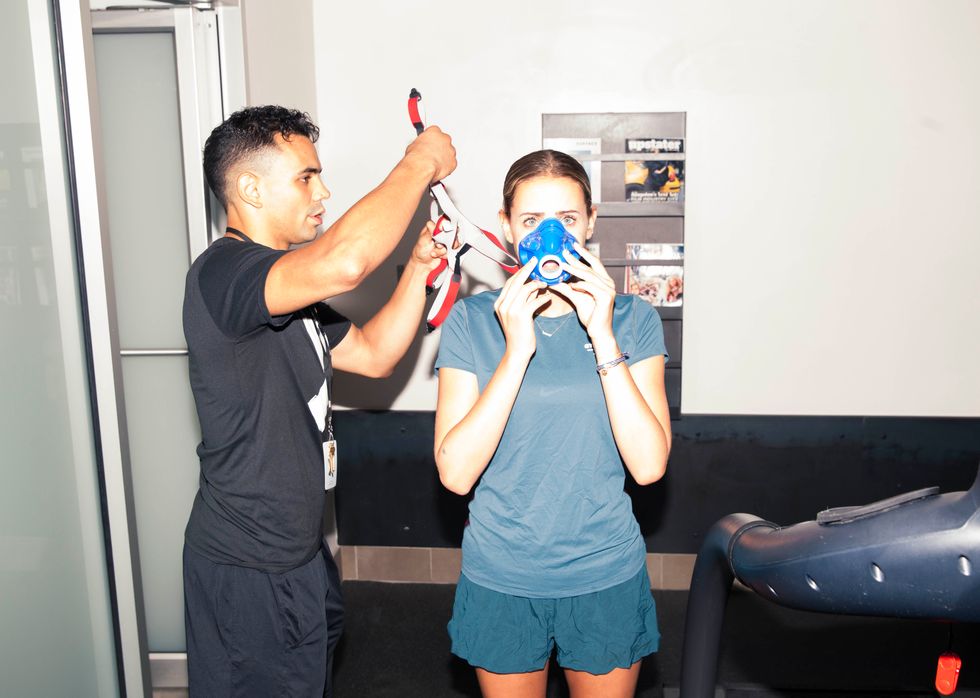 Friday was the big one. I went in for Equinox's highest level of training offered, Tier X. You get hooked up to this crazy, Bain-looking mask, and then do cardio so that your trainer can measure...well...pretty much everything about you. First you fill out an in-depth medical and fitness questionnaire, then you complete a body composition index, movement screen, postural analysis, and metabolic rate measurement. After that, you discuss your goals, and craft a plan to reach them. By the end of the analysis, I had a pretty complete look at what exactly is going on with my body, and it's not so bad! I could use a little more strength training, but overall, I'm not a complete mess. I'm actually excited (and also kind of freaked out) to continue with Tier X training, and maybe finally stop feeling sad about my arms. I mean, feel healthy and strong—and stop feeling sad about my arms.
Then, because I was starving, I treated myself to a Nurse Ginger Green smoothie from Juice Press, and enjoyed it while testing out all the furniture in the lobby. It was delicious, refreshing, and exactly the thing I wanted after a hard workout.