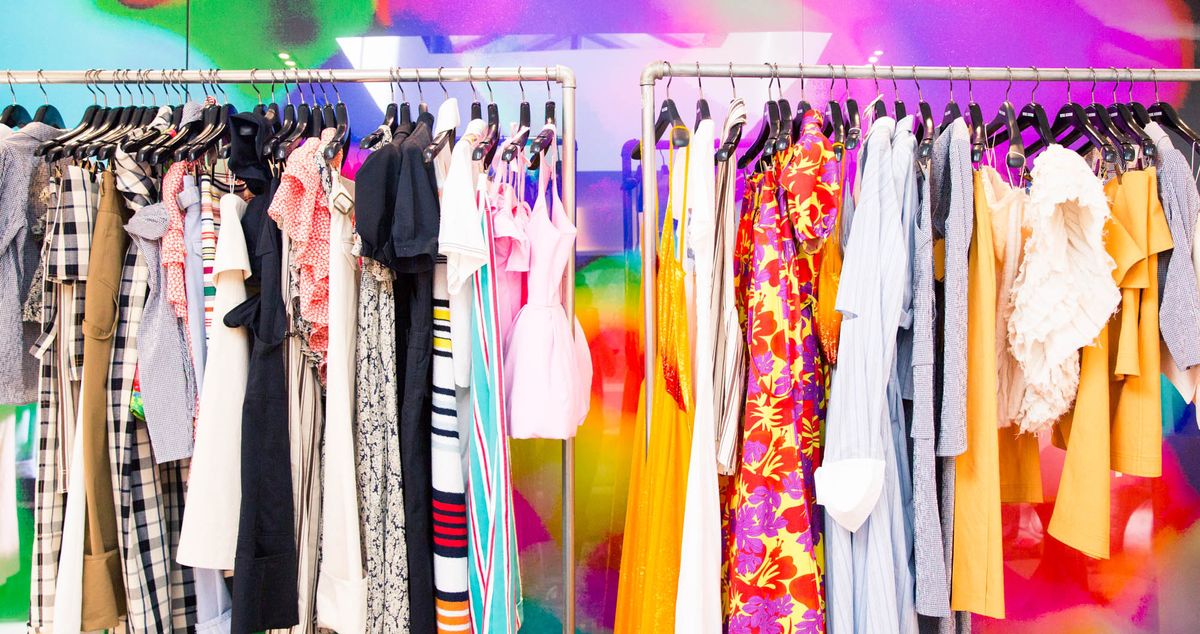 Fashion Week
We followed Kristen Lee Cole, fashion director at Tenoversix and By George, to her Rosie Assoulin buying appointment.
Alec Kugler
Here's what we know. 1) There is a fashion director, creative director, or buying director of nearly every store or website we frequent, and they decide what to buy from which designers for their shops. 2) That, at some point between fashion week, when everyone sees the collections for the first time and when they show up on the racks, that buying happens. But beyond those very vague guidelines, well, we don't know much about what it is that buyers actually do during fashion week. So when Kristen Lee Cole, creative director of both By George (in Austin) and Tenoversix (in Dallas and Los Angeles) invited us to her buying appointment with Rosie Assoulin, we jumped at the chance to tag along. For one, Cole is quite possibly one of the most genuinely unpretentious and smart women we know in the industry—and we knew she'd be the perfect person to educate us. For another, By George (featuring Céline, Isabel Marant, Acne Studios, Mansur Gavriel and many more of your very favorites) and Tenoversix (major representation goes to Nomia, Rachel Comey, Dieppa Restrepo and a whole bunch of labels you've never heard of but need to know) are two of the coolest independant boutiques this side of the Atlantic. (Also, the woman is four months pregnant and got through the entire Rosie collection in under half an hour without so much as batting an eyelash.) Follow along closely, friends.
---
What a day at fashion week looks like (hint: it's almost all appointments):
"On an average day during fashion week I wake up at around 7:45 AM. I always stay at the Greenwich Hotel. It's so relaxing; there's a pool downstairs. I also do a lot of dinner and drink meetings and I'm so beat by the end of the day that people like it because it's chill—people will come to me. I'm out the door by 8:15 AM for a breakfast meeting, and especially because I'm pregnant, I absolutely need all my meals. I have a nice full breakfast. I start my appointments by 9 AM. Usually I come in at the end of fashion week. I'll do ten or so runway shows and those will be mixed in amongst my buying appointments, coffees, and meetings. I don't do the whole of fashion week. I like to come in just for a week and for me to do all of fashion week and all of my buying appointments would really be two weeks—I've stopped doing that. I came in on Saturday, so forthe last four days, and overlapped with a bunch of appointments.
"The whole day is [packed with] appointments. The length of an appointment depends on the designer. The Row is a two hour appointment. I do half hour appointments. I schedule lunch—grab a sandwich—I have to put that in my schedule; if it's not, I will forget. I have hour-by-hour appointments all day. Everyday is a version of that with presentations and runways shows mixed in."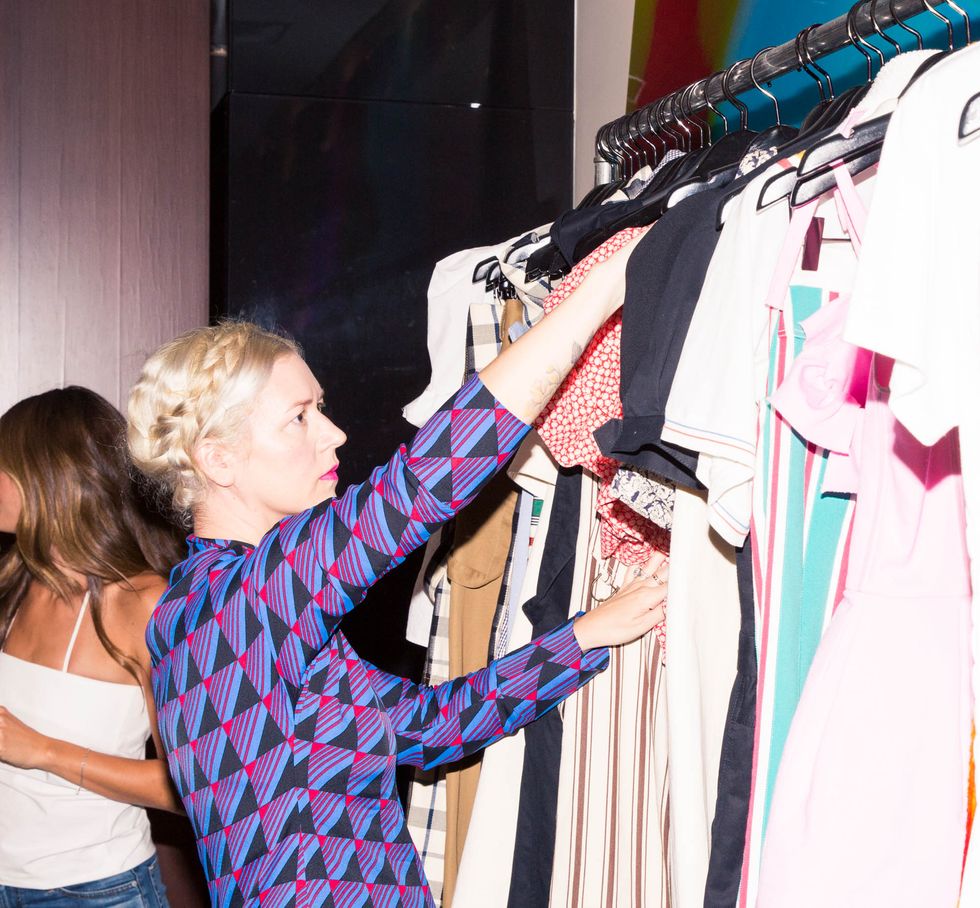 What a buying appointment actually looks like:
"With buying for By George and Tenoversix, there's only about a 10 percent overlap in our roster. So if there's overlap, I'll put on one hat and buy for one store. You go in, you chit-chat with the designer, you chit-chat with the sales rep, you go through the rack and start pulling. The model will try things on and you make your detailed notes: what fabrications are we going to do this in? When are the deliveries? It's all decided in this half-hour to two hour appointment. In Paris the appointments go as long as three hours. It depends how big the collection is. Dries [Van Noten] in Paris is a huge collection, so that takes a minimum of three hours. A designer like Jesse Kamm I can do in half an hour. I'm also very fast and I know what I want. If I've seen the runway show, I know, for example, I'm going to go with the striped story for By George. Even if I haven't gone to the show, I've probably seen it on Vogue Runway or I've seen the lookbook. I usually have a rough idea of what I want. When I see the garments in person, sometimes I change my mind if the fit or fabrication is different—you have to do the appointment. That's why I skip shows all the time; I can't skip an appointment, it's absolutely essential.
"I do all my budgets before I leave for fashion week. I don't write orders and submit them at the appointment, but I take detailed notes and take them back and do massive edits. I always do larger pulls and racks than I'm actually going to write orders for. The budget is based on how much we like a line, believe in a line, the sell-through is good, and how much rack space the designer is supposed to take up in the store. When you're here, it's the minutia of what's exciting, what's cool for this season, and what do we sell from particular collections—like with The Row, we sell their knitwear really well, so that's going to be most of my pull."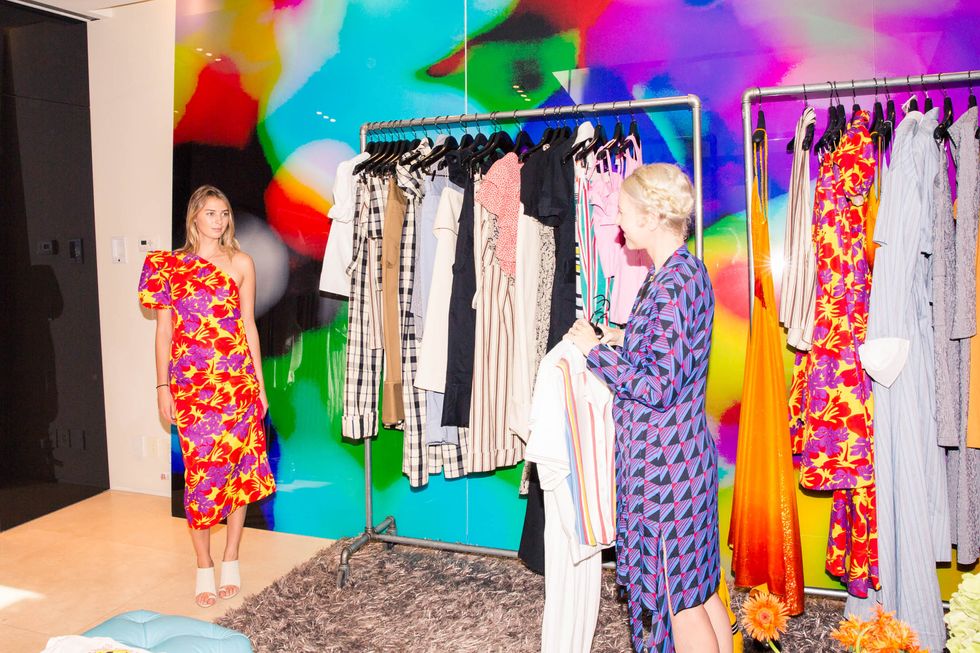 How she discovers new designers:
"I stumble upon new designers all the time. Luckily between the stylists and designers I know, a lot of the new ones come to me. I've already heard of them and maybe I'll stop by a presentation or I'll meet with their publicist. I like picking up new designers. It just happens—a lot of the showrooms are multi-label, so I'll see new designers there; sometimes it's literally about stumbling into someone at a presentation or a show.
"I'm always very excited about what I bring in. There's nothing in the store that I don't personally love—I'm excited about it all. It's about educating our sales staff so that they know why it's exciting and can talk to all the customers about it as well. Anyone who's a real fashion customer is pretty educated these days—because of social media, people are way more informed than 10 years ago."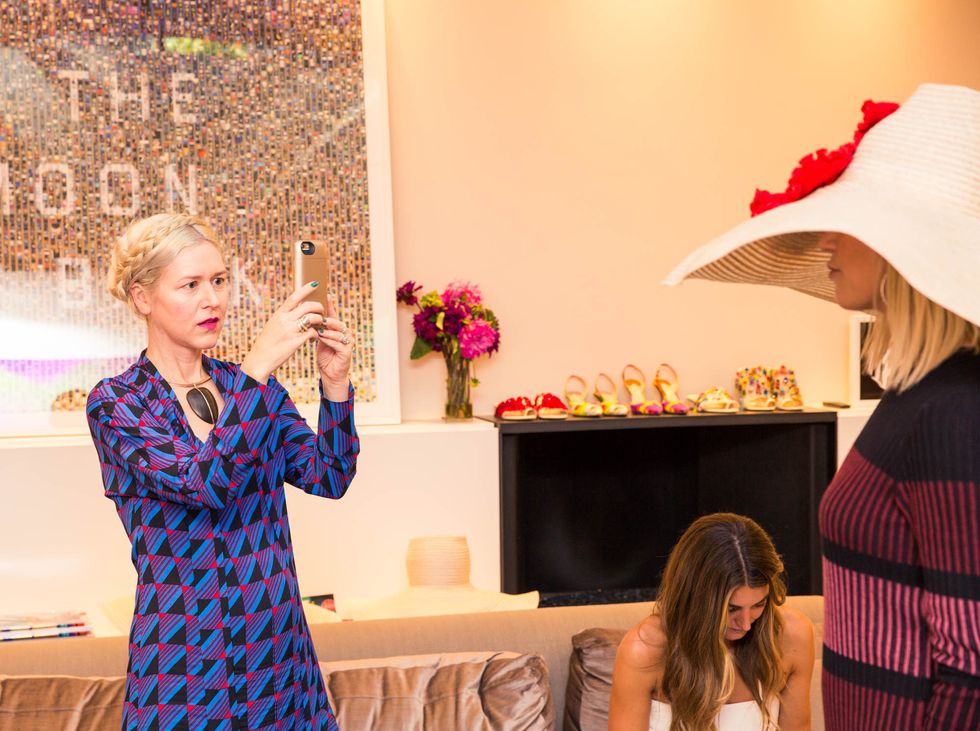 About the Rosie Assoulin buy specifically:
"That's a new line for us at By George. I picked it up two seasons ago. That line, to me, is youthful, beautiful and really fun. That's how I've been buying it. I love all her off-the-shoulder pieces; she does a lot of volume; a lot of detailed work. She just added handbags, which I'm really excited to look at more closely, and hats. It's a very whimsical, fun fashion brand. Our 30-something customer at By George certainly knows about it."
What it's like to buy for two different stores:
"Tenoversix is an extension of my natural, organic taste. It's everything I want to wear—it's very natural and easy for me. By George was actually a fun opportunity to put on a new hat and challenge myself in a new way. It's not just my closet and all the things that I want: it's a much larger store, a much bigger budget, and we have a much bigger luxury category. We're speaking not only to my girl, but to older clientele and a big tourist clientele as well."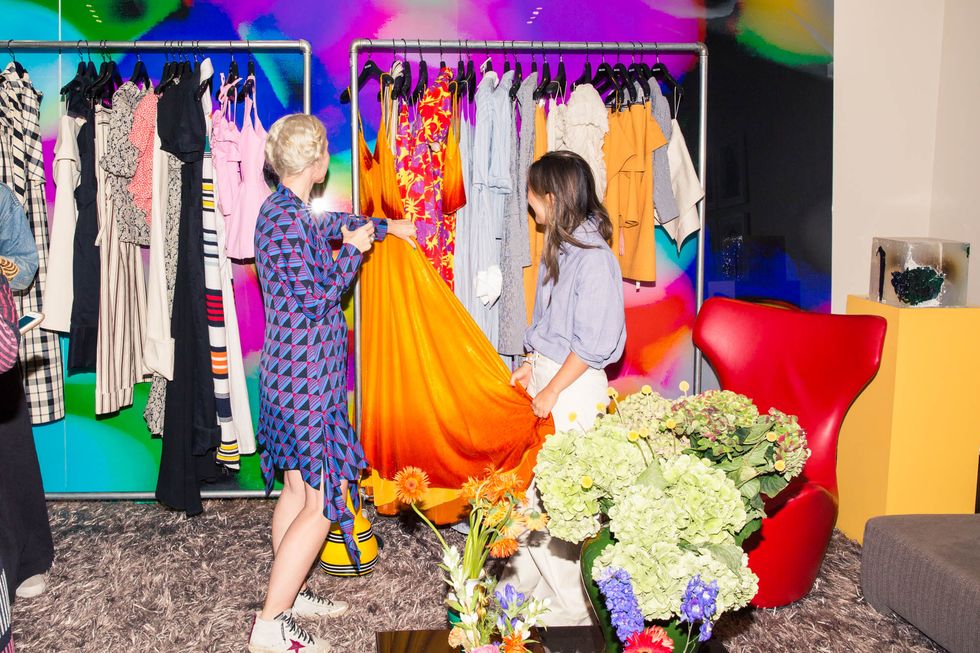 What happens after fashion week:
"The follow up is basically processing everything. We've taken thousands of photos, they all get uploaded to Dropbox every night, so we have lots of photos for every designer we see. I see about a hundred designers every market in New York and Paris. Between Tenoversix and By George, I see a lot in the luxury market and a lot in the emerging market—it's a wide range and it helps me understand what's going on from top to bottom. When I get back to Austin, we do boards for each company. I'm old school—I don't do everything on the computer; I do collage-style boards. The other buyers, assistants and interns will print out our selections, cut everything out, and we will do boards by designer, by category. It's really easy to see everything up; it helps me do my buy because I won't duplicate and buy 14 black pants—I'll buy three of the best and I can actually see it all. After the buying process is done, the sales staff can see the boards—it's a nice way for them to know what's coming. They can then tell customers, 'yes, we have that Céline bag coming; we have that Chloé sandle coming in a couple months'. After the boards are done we start writing orders—we try to get all our orders submitted within two weeks. I do it by category starting with ready-to-wear because it's the hardest, and then down to accessories. Jewelry is always last because they have no timeline."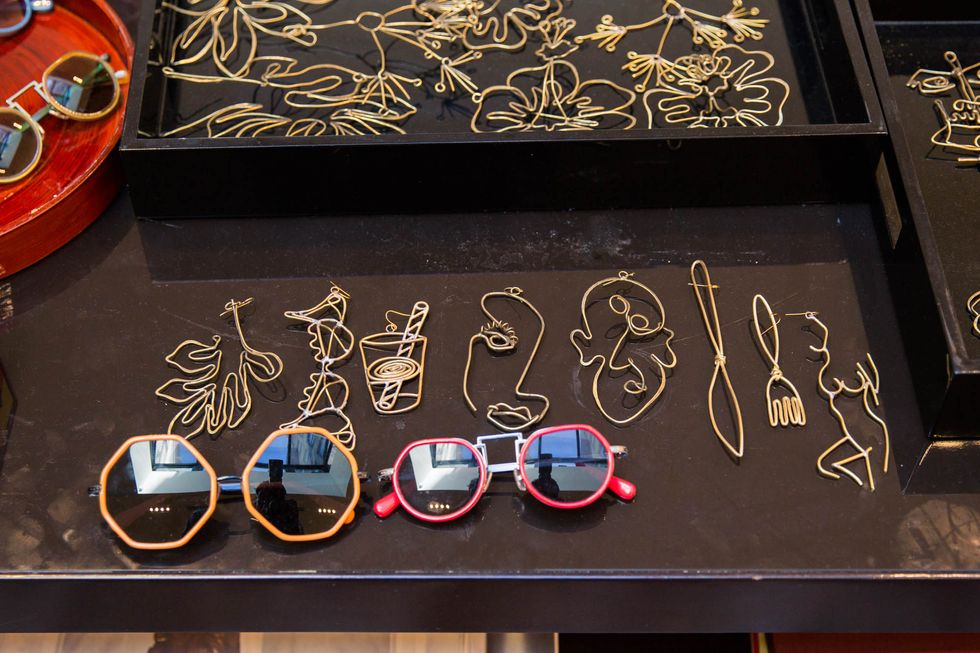 What's happening for spring 2017:
"I've already seen some strong color trends. It started at the Sies Marjan show, where I saw the acid orange and bright lime; there's this baby blue that I've seen in every collection. There's a lot of silk mesh. There's still a lot of residual '90s trends. Wider leg pants, for sure. White sneakers is something I've seen in a lot of presentations, on a lot of models in a lot of showrooms, there's a Row white sneaker that's going to be big… everything's styled back to that white sneaker. It still looks really nice. That's something where I know I'll definitely be buying a number of white sneakers."
The state of fashion week right now:
"There's a huge shake up going on. For someone like me, the fashion cycle feels too fast and too much. The calendar is very full, the deliveries never stop—it's a lot. When I started in the industry many years ago, it was just the two fashion weeks a year and each designer did a couple more deliveries here and there. Now it's four seasons that I shop in New York and Paris and each season is important in its own way. The pre seasons have become bigger and more commercially important, but the runway is still really important in the overall look. It feels like it's at an apex of saturation. I know some things are changing—I don't think it's the see now, buy now model. I think that's great for really commercial big brands, but not for the kind of lines that we carry.
"Right now we have deliveries that never end. Customers don't want clothes that fast. It used to be that there was a lull and you were really excited for things to come again and now we're receiving things everyday. It's more than the consumer needs. A lot of people are having this conversation and I think it will start to shake out in a year or two, but I know don't how it will actually shake out. I used to not travel eight times a year. I think if people could show less and have more deliveries off of it, that would work. For the designers, right now we're asking for a lot of ideas; it must be exhausting."