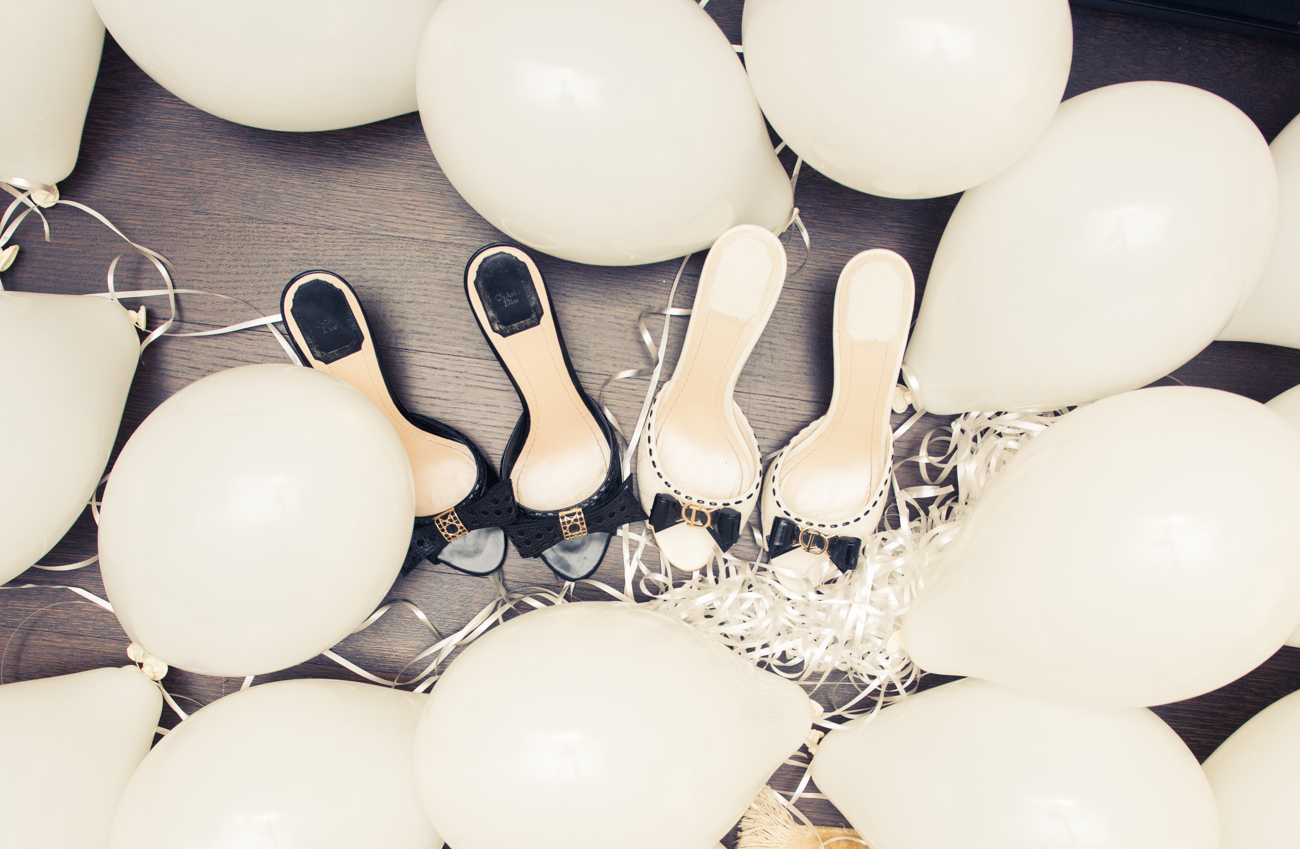 The Fashion Insider's Guide to Weddings
Consider this the holy grail of vendors.
Between locking down the perfect venue, picking out stationery that "captures" your style as a couple, hiring a florist without blowing your entire budget, and casually settling on one (or four) dream dresses, planning the logistics of your wedding can be a bit overwhelming (just ask, myself, or our editorial director, Laurel). We know there's probably an overwhelming amount of bridal inspiration at your fingertips, especially on a little site known as "Pinterest," but what about the real deal behind those blockbuster images? Like, who designed the couple's one-of-a-kind wedding bands, or how do you get in touch with the planner who pulled off that destination wedding? Well guys, as per usual, we did the dirty work for you and rounded up some not-so-ordinary fashion girl tested and approved vendors and venues for your easy planning. Now all you have to do is grab your organizer and start taking notes.
Venues
"We got married at The Beach Tulum Hotel in Mexico. We knew that we were going to have over 100 guests, so that narrowed down our options quite a bit as most of the locations could not hold that many. We worked with our wedding planners, Bash Please, to go over all of our options and planned a visit to Tulum to check out locations. Aesthetically The Beach Hotel worked perfectly with our vision, we wanted something rustic and simple, that highlighted the beach and jungle juxtaposition that we love so much about Tulum—while still having a lot of amenities that many of the hotels in Tulum do not. We really were set on having our reception under a thatched roof palapa and the restaurant at the hotel, Ziggy's, had the perfect space—plus the food was amazing! Make sure that you like the people who manage the venue, as you're going to have to work with them a lot! One of the many reasons why we chose The Beach was because of the amazing staff—they were very accommodating and really did not say no to anything." – Kate Brien
"My husband Dwayne and I met in Brooklyn six years ago. We fell in love in Brooklyn; we live in Brooklyn. I'm from Seattle; he's from Philadelphia by way of Jamaica. But we wanted to bring our family and our friends to where we live, so that's why our wedding was very Brooklyn-themed. We had it at the Brooklyn Botanic Garden. We wanted it to be really sexy and fun. We wanted to give people a reason to dress up, have a good time and put on black-tie attire. " – Kahlana Barfield Brown
Stationery
Happy Menocal
"Not only is Happy Menocal an amazingly talented artist, but the wit and whimsy she imbues into her work makes it the perfect representation of a day that's meant to be joyful, carefree and personal. The way she takes the time to figure out what symbols and images best represent you and the details of your wedding mean that the end product is something completely original and unique to you and your new life as a couple. I have our invitation framed in our living room and smile every time I look at it." – Chloe Malle
Bella Figura
"Our wedding stationery was designed by Bella Figura with the help of Mariana Stein, who has been creating invitations for 20+ years and is an actual stationery genius. She helped to translate our vision to the design team at Bella Figuera and answered all of my questions on copy and invitation etiquette.
I fell in love with a vintage print featuring an English rose that paired perfectly with gold calligraphy. We were married in a 17th century villa, so the invites had to be elegant, but it was also important that they weren't too fussy because that is so not who we are as a couple. My favorite thing about the invites were the small details, like the rose print on the inner envelope and the gold beveled edge.
My advice to couples would be to create something bold that reflects both of your personalities. The invite is the first communication to your guests of what to expect, so it's worth sweating the details and creating something beautiful that you and your partner love." – Brooke DeVard
Dresses
Christian Siriano
"Though our gender roles are very untraditional, I'm pretty feminine and Ali's style is pretty masculine. I knew I would wear a non-white dress, and that Ali would wear a suit. I worked with my friend and designer Christian Siriano to create my dream gown, and I wore a custom clutch from Edie Parker. Ali got a bespoke suit from Bindle & Keep. Finding a suit when you're a female-bodied person can be a huge challenge, but they were incredible with creating an expertly tailored suit that fit Ali perfectly!" - Nicolette Mason
Vera Wang
"My dress designed by Vera Wang was made of a flower patterned guipure lace, which almost has a crochet feel, layered over another lace. I fell in love with the handmade feel of the fabric, and it felt old-world rustic in a way that was perfect for the setting in my grandparents garden in Colombia. I think it was the third dress I tried on, and I did love it right away. In the back of my mind I kind of knew it was the one but tried on a ton of other dresses before making my final decision. Part of me wanted to wear something edgy and untraditional off the rack from Céline, but in the end I was so happy I wore lace, and that I chose a dress that I would never wear for any other occasion. It felt special for the day and the ritual. Try on lots of dresses girls! You never know what you will end up falling in love with."  - Gabriella Campagna
Flowers
Pennington Flowers
"Jeff Pennington of Pennington Flowers designed our flowers. Our wedding planners, Sarah Duke and Taylor Van Deusen of Duke + Van Deusen, introduced us. I love red and wanted a color that would pop against my champagne colored dress. As our wedding was in a garden, I wanted a mix of flowers that felt natural and unstructured. Jeff suggested including dahlias as well as other local flowers that were in season. I loved the deep red color of the flowers and the loosely structured style of the bouquet. It felt bold, but also easy. My advice to other brides is to pick flowers that are local and in-season. Flowers are surprisingly pricey, and it's easy to rack up quite the bill. You can minimize the damage by going local and in-season." – Lauren Schwab
Ariel Dearie Flowers
"My bouquet was designed by one of my dearest friends Ariel Dearie, of Ariel Dearie Flowers, who I freelanced for as a floral designer. All the other flowers and greens were designed by Marissa Pretorius of Opus Studio in Cape Town. I wanted a natural palette with lots of green and intense saturated fruit and floral accents. We only used local materials that were in season to keep the costs realistic and the carbon footprint low. My bouquet was a dream. Marissa helped source the fruit and flowers, while Ariel foraged the rest of the materials. My advice is to decide on the feeling or atmosphere you want your flowers to evoke and which colors embody that for you. Avoid getting attached to a particular type of flower and go for local flowers. They will be fresher, last longer and have a lower environmental impact. If you must have a particular flower on your big day, plan your wedding around when it's in season. All flowers are beautiful, allow your florist creative freedom and they will bring your vision to life." – Latisha Duarte
Planners
Van Wyck & Van Wyck
"[Picking my most memorable wedding] is like asking a parent to pick a favorite child! So I guess, I'll have to keep it in the family and say my sister Mimi's wedding. She was married beneath a dozen 300-year old live oak trees, and all the guests came in costume for the masquerade ball following. The party began in a walled garden, and ended at dawn in a tent in a tobacco field. I love weddings because I have this incredible opportunity to drop in on someone's life during this moment of joy and become a part of making it one of the happiest days of their life.
You've got all your friends and family around you and you're marrying the person you love. Do you really want to be worrying about whether the ice got delivered to the bars on time? A good planner solves problems. A great planner takes your vision and brings it to life in every aspect of your guests' experience, and makes the entire process of planning just as wonderful as the final celebration. We once choreographed a horse show between the first and second courses at dinner. I'll never forget the look on guests' faces as they watched these majestic animals dance between the tables.
[Choosing a wedding planner] is kind of a big decision. Do the research, ask for references and then call them." – Bronson van Wyck
Mindy Weiss 
"[I've planned weddings for] Channing Tatum and Jenna Dewan, Sofia Vergara and Joe Manganiello, Russell and Nina Westbrook and Fergie and Josh Duhamel. I honestly take away a favorite memory from all of them. I love that I'm a part of these couples' LIFE memories. A planner is most helpful at guiding the couple to the right location and team they will be working with. We are very important because we allow our clients to actually be 'present' on their wedding day and not worry about all the things going on behind the scenes... hey if they forgot to seat someone the couple will never know!
One time the officiant didn't show up so I had to wait for another wedding taking place in a different ballroom to finish so I could grab that rabbi to marry my couple! [My advice is to] make sure yours and your wedding planners personalities mesh! You will be spending countless hours together and this should be something you enjoy, not dread!" – Mindy Weiss 
Jewelers
Bell and Bird
"I had both mine and my husband's rings made at Bell and Bird in Austin, which is the most incredible antique fine jewelry store. Beyond having things like gold engagement rings from the early 1700's, they also do a fantastic line of custom jewelry. I've been obsessed with the store and the couple behind it, Rhianna and Cyrus Shennum, for forever, so it was great working with them on our rings.
I actually cheated and got two wedding bands: one is a custom horizontally-set emerald-cut diamond eternity band in 'old gold', which is Bell and Bird's custom blend of yellow and rose, and a second antique plain rose-gold band that's Edwardian. My husband had a custom super, super thin, really simple 'old gold' band made. I really dislike thick bands on men, and his is perfect. And, as if I didn't love Bell and Bird enough, they also let me borrow a pair of French diamond earrings from the 1800's for my wedding ceremony. They're the most precious, glamorous things I've ever worn, and it made me feel that much more special the day of." – Laurel Pantin
Anna Sheffield
"I love to make precious, dainty pieces with some edge to them. One thing that sets the Anna Sheffield line apart is the color. I love tone-on-tone warm hues like yellow or rose gold with champagne or grey diamonds, which is quite random for fine jewelry. I also love to put colored, natural stones like included emeralds, moonstones and labradorite with what I call diamond dust—tons of tiny, sparkly hand-set diamonds.
Jewelry is so personal, and the ceremony rings and engagement rings are steeped in meaning and symbolism. Though some people really do just love one piece and know straight away it's for them, for some, the process of choosing 'the one' can be a little daunting. I think it's wonderful to learn about the materials, the stones, the process, and try on whatever strikes your fancy. The more you feel familiar with the materials and design, the more you feel informed, the better you will feel about making that decision." – Anna Sheffield