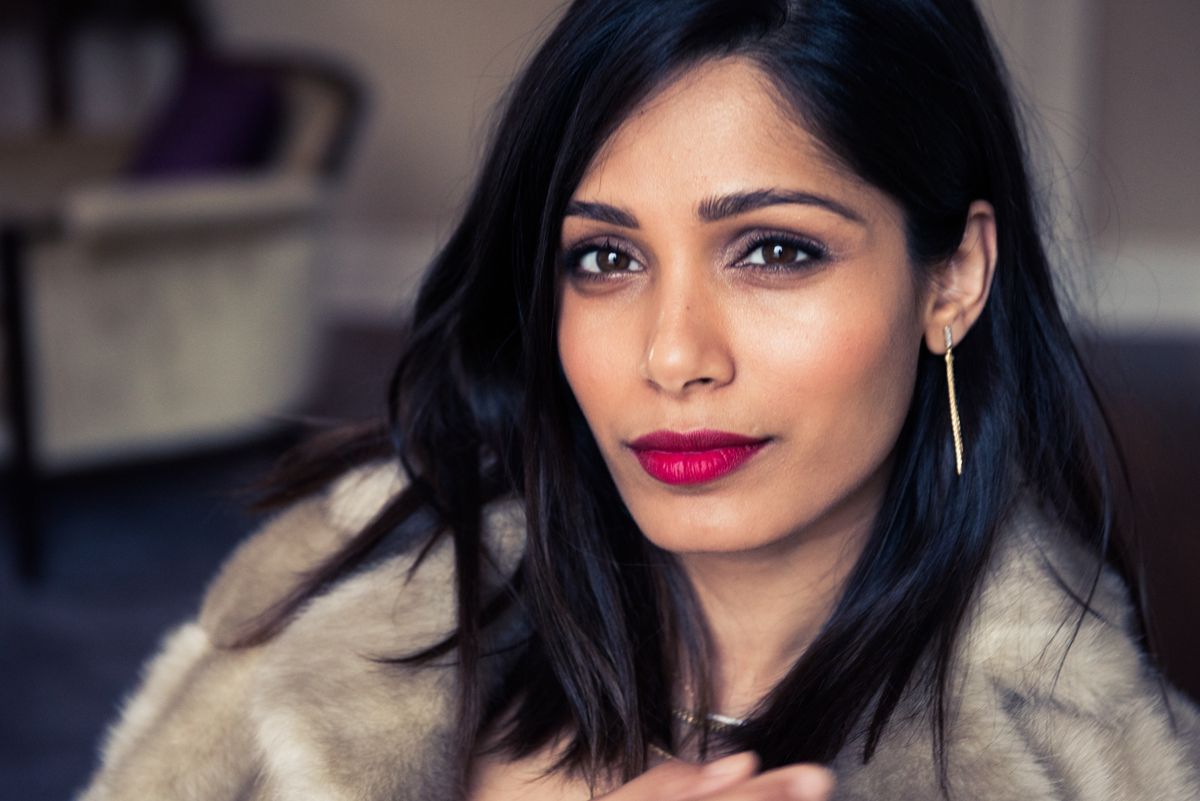 Jewelry, John Hardy; Coat, Kate Spade New York
Get Well
The L'Oréal ambassador talks the perfect red lip, her DIY hair mask recipe & Justin Bieber.
---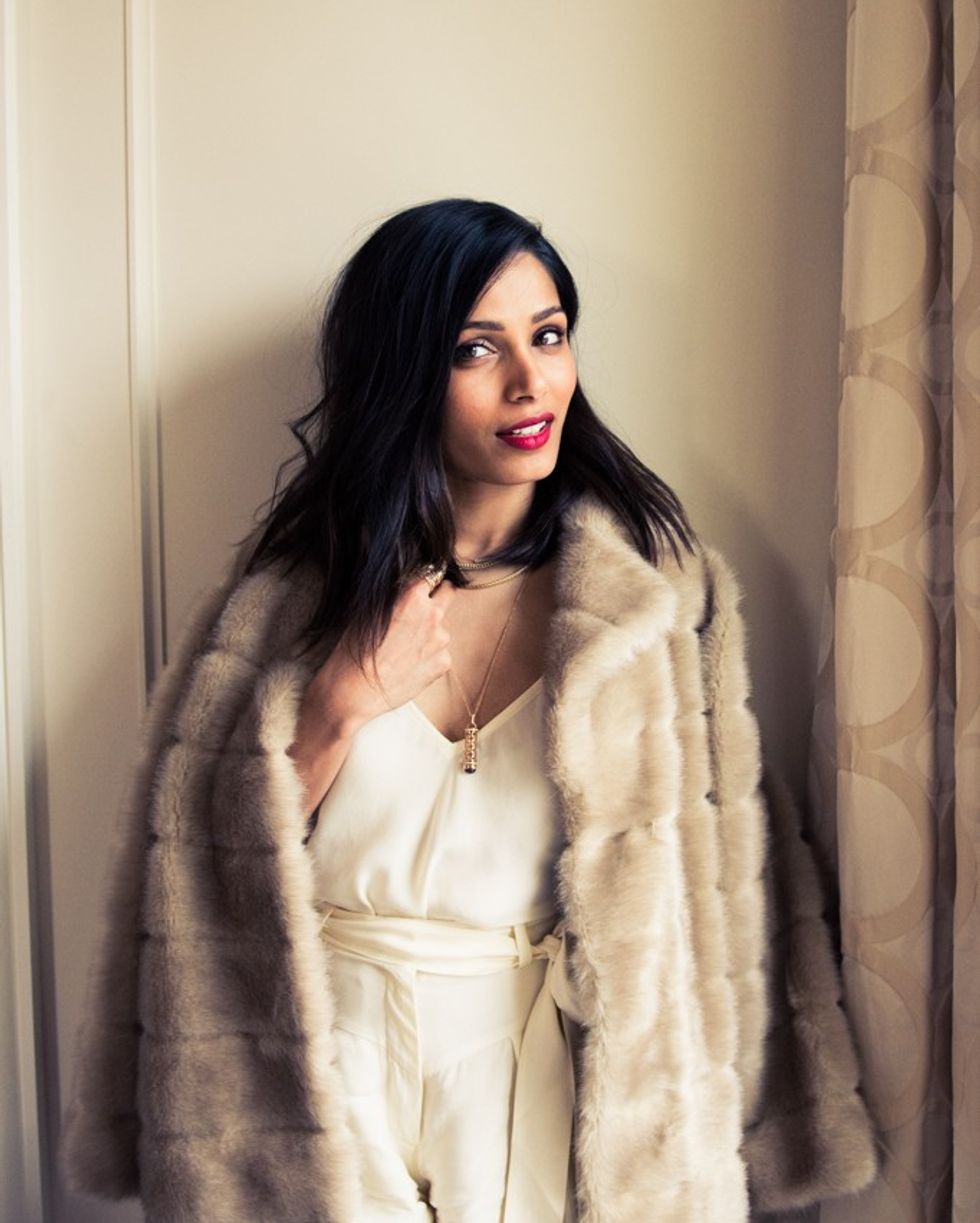 Occasionally, you find yourself in the presence of someone who's a very particular breed of how-do-you-actually-exist beautiful. We know you've been there, because we have too: we're talking the kind of aesthetically-pleasing face that forces you to abandon all hope of acting cool and instead interrupt them to ask how the hell they got their eyelashes to do that. Basically, all hope of behaving your damn self goes out the window.
Need an example? Take, for instance, when we recently found ourselves lunching in Montreal for L'Oréal Paris's Hydra Total 5 launch (sorry stateside shoppers—this one's exclusive to our home & native land), seated juuuust adjacent to Freida Pinto. Again, because we've been there before, we know from personal experience that the potential for awkward silences here is high. But luckily for us, it's not so when you're with the likes of Freida. As it turns out, Pinto comes armed with razor sharp jokey retorts and unfiltered commentary on just about everything (in the very best way possible). Here's everything we learned (or more accurately, gleaned from bombarding her with the same line of questioning we mentioned up there) from the actress; from the best DIY face mask, her biggest beauty misstep and for once and for all, how she gets her eyelashes to do that.
On her morning routine:
"I wake up and I look in the mirror and I go 'uh-oh… no… no.' [Laughs] I keep it pretty simple, because my day is so packed. If I add, 'Oh, I'm going to do this, followed by that routine,' it just a complete waste of my time, and I won't give anything else the right kind of attention.
All I focus on is really cleansing properly—and not all the time. Sometimes, I think it's nice if you've just moisturized your skin with a really good moisturizer, or just olive oil or coconut oil the night before; it's nice to not wash it with face wash or whatever. Sometimes it's good to use just water."
On how long it takes her to get ready in the morning:
"I have not more than a minute, so literally I finish it off in like a minute. I probably spend more time on my hair than my face."
On what you'll find in her beauty bag:
"I love a mascara. L'Oréal does a Voluminous Mascara that I always have on me, because I feel like there's nothing like having big, bright, morning eyes. And a great red lipstick. I think a red lip can just brighten anybody's face, as long as you find the right red color and texture, when it comes to matte or gloss. I think when you find the right color, and, like I said, a good mascara, I think you're set."
On the best beauty tip she's learned on set & the power of vinegar:
"On this one particular film, they had to use a lot of product in my hair—it was actually in Montreal—they had to keep my hair looking a certain way, because I was this character from Greek mythology. In order to cleanse it out of my roots, someone said, 'oh, why don't you go buy organic apple cider vinegar, put it into your roots and leave it there for a bit?' It stunk! It was horrible! But when I was done with it, I didn't even need a conditioner. It was like magic. It's the power of vinegar."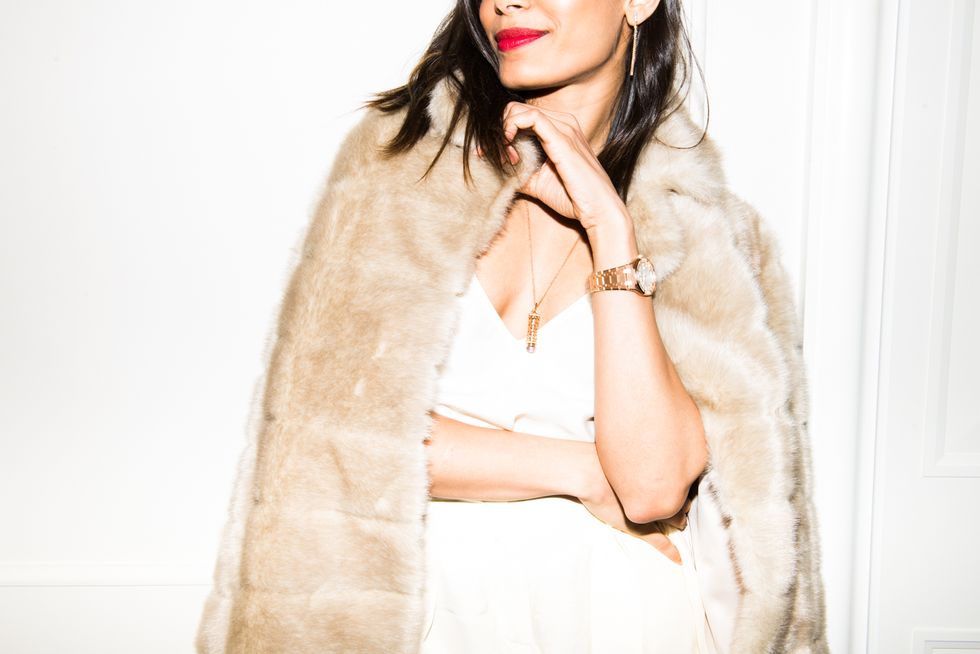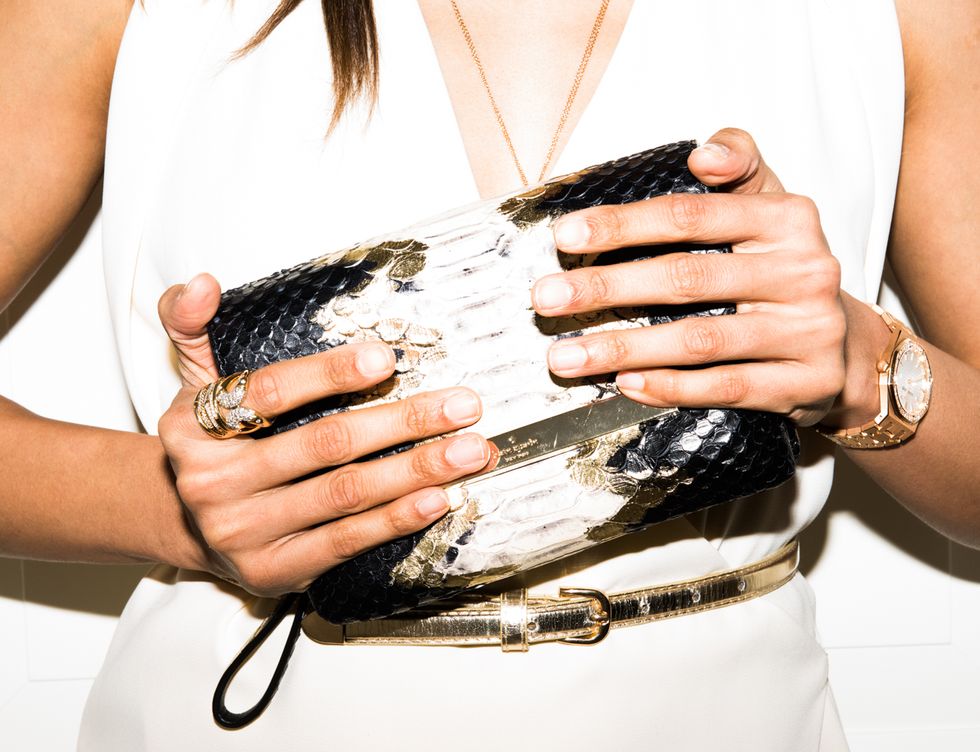 On her biggest beauty misstep (she takes no responsibility, btw):
"Usually the mistakes are never made by me! I feel like there haven't been mistakes, but there have been missteps. We think it's going to look good a certain way, and then we forget that the red carpet has flashes and the light is very different, and then you go, 'ugh, I shouldn't have really done that.' I feel like once or twice, I've had so much silver eyeshadow on my eyelids, and silver is not my color. I have to run away from it like the plague. When I saw my eyes, I looked like I was from a totally different country. I didn't look like myself, and I was like 'okay, never a shiny, silver, grey eyeshadow again.' But I learned from it! I'm glad I did it. Now I never use grey eyeshadow.
[Once], someone bullied me into doing an asymmetrical perm. I sat in a salon for six to eight hours and one side was like tight-pin curls and other side was loose-pin curls. This was a chemical perm. It was in 2003 or 2004."
On her biggest indulgences:
"Everybody has food indulgences. For those who don't, I feel bad for them. One person I met said, 'I just eat to survive,' and I was like, 'oh, no.' I live to eat! I do love sugar a lot but I need to have less of a craving for sugar. It's the only thing I feel is out there that is bad for you. I think it's a drug. I like desserts more than I like candy… so a crème brulee or a chocolate fondue. Anything that melts. S'mores!"
On how she gets (& stays) hydrated (especially while travelling):

"There is one thing that takes care of my hydration needs, Hydra Total 5. I'm really proud that they're doing something for uneven skin tone. There's no way on earth that you can just have [totally] even skin. Even with the best genes, you will experience some sort of damage over time. I love the glow that it gives; one of the thing it prides itself in doing is illuminating the skin. The other way you stay hydrated and truly hydrated is internally, and because you can't eat Hydra Total 5, I drink lots of water. I'm a big water person. Some people need to understand that sparkling water does not hydrate. You need a lot of water, especially if you're flying."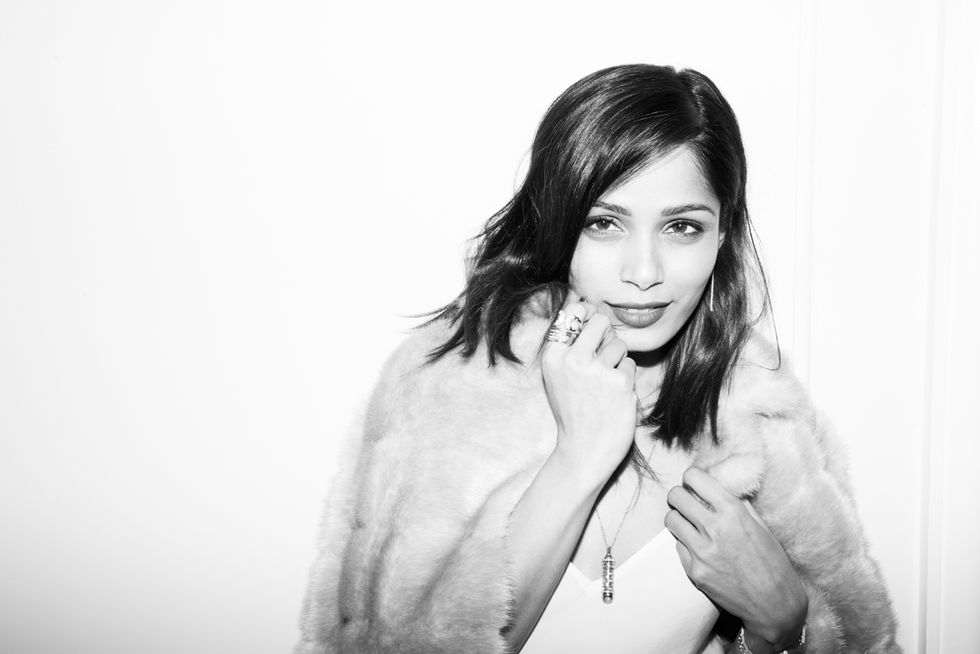 On getting her aggression out through exercise:
"You know how there are people in the world who irritate you? Just imagine if you could punch them. Then all the irritation is out of your system. Mentally you're fit and ultimately you've had a workout! I'm kidding. I do yoga—the opposite of punching people. It's about being okay with being irritated with people. Finding a way to deal with it is healthier and more internalized as opposed to outwardly projecting everything. I practice yoga and once in awhile I feel like I need to change it up, so I go to the gym and listen to Justin Bieber really loud and work out."
On the last thing she googled & emojis ruining her morning:
"I Googled to find out if Garde Manger [in Montreal] was open on Monday—it's not. Then, someone said, 'you're like a unicorn,' so I was looking for a unicorn emoji, but I use a Samsung phone, so I didn't know how to install it from the Play Store. It's been a bit of a disastrous morning."