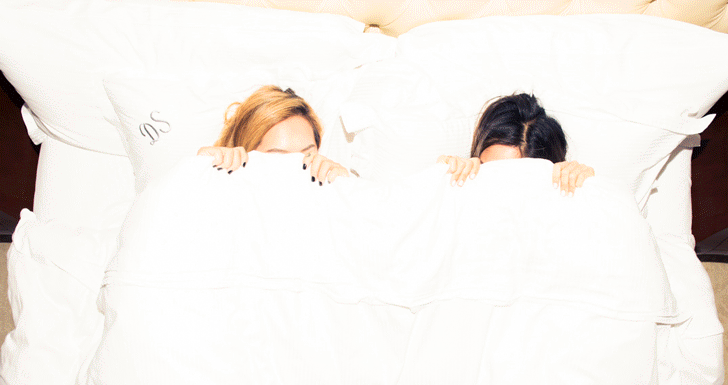 Getting Ready With Dani and Aimee Song
Prepping and primping with our favorite sisters. In collaboration with La Mer.
You know how it usually goes: weeks of incessant emails, a flight cross-country (or ocean, depending) and we find ourselves in the homes of some pretty sartorially blessed individuals. And such was the case a few years back (okay, like wayyy back) when we first met Aimee Song in her L.A. digs; and since our first meet up, we've had more run-ins with Aimee than we can keep track of. Finally, in the midst of our venture down to Palm Springs, we met the other half of the Song Sisters, Dani, who, okay, we felt like we knew the entire time. Let's just say, we've practically been on speed dial ever since.
So when we recently asked Aimee and Dani if we could crash their A.M. slumber session and spy on their entire morning beauty routine (it was post-La Mer Icon Event, so you know they stocked up on the good stuff) ahead of what we think is a pretty epic day (you'll have to come back to see what we mean!), they happily obliged. Like we said, we're close, guys. Then again, when we knocked on the door of their Peninsula Hotel suite, we were greeted by Aimee and Dani wrapped up in monogrammed silk robes. Just living the life, you know?
Things only got better from there. As in, once all the room service breakfast had been eaten (if you follow them, you know they have a thing for especially epic meals, all day, everyday), we started documenting every single little thing. Because when your beauty look is practically Snapchat-ready 24/7, you must have some pretty damn potent magic potion up your sleeves. It helps when said magic potion comes in the convenient form of La Mer's The Renewal Oil (told you they had the good stuff)—the very same we spotted the two sisters applying in so many ways (as in, more than just on their face!): Dani tapping onto her skin (a trick picked up from working with make-up artists) and the very same one Aimee was mixing in with her Crème de La Mer pre-makeup application (ditto). Yeah, we took notes.
As the girls did their thing, they regaled us with sisterly sentiments (look

), with intermittent beauty and fashion suggestions for each other—you know, as sisters do. Then Aimee and Dani slipped into CHANEL slingbacks and Stan Smiths, respectively, and we were out the door with that little magic potion stashed away (because let's just say it comes in handy throughout the day).