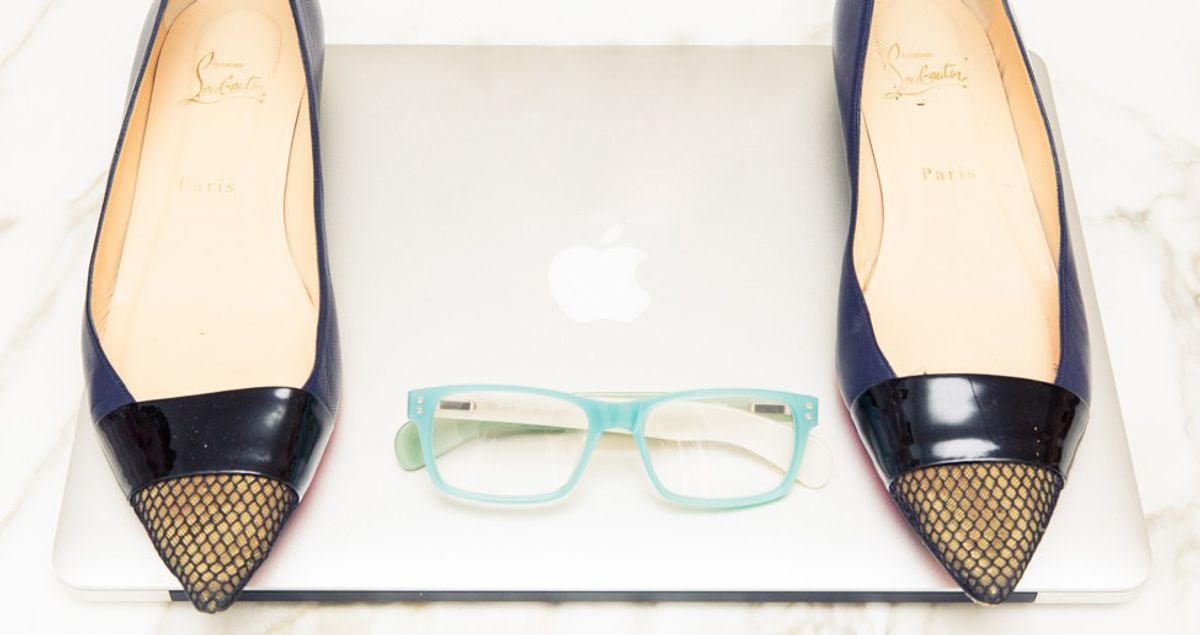 Hair
We know you've repinned them. Now, here's whether they actually work.
Women skipping trips to the colorist in lieu of filling in their roots with eyeshadow. Replacing their Ruby Woo with crayons they made from lipstick. Formerly shattered eyeshadow palettes and pressed powders given new life with a little rubbing alcohol. For every seemingly ingenious beauty "hack" (sorry) on Pinterest, there's an equal and opposite Pinterest fail—you know the ones. Your marbleized nail polish that originated as an eyeshadow is chunky and chalky. You spent $60 on a new foundation three shades darker than your usual to copy a face chart only to be left looking like a zoo animal. The coffee scrub you made stained your towels and clogged your shower. Been there? Us too.
In the name of getting thrifty, trying new things and feeling good about finally doing something with the hundreds of pins we've stashed on secret boards, TC's editorial team decided to put a handful of them to the test. Here goes nothing, right? Er... right. We think.
---
---

 Emily Ramshaw
Senior Editor
---

 
LIPBALM + CUTICLES = foolproof manicure

I'm terrible—like, really, really bad—at painting my own nails. I have weirdly shaky hands (really helpful when an important part of my job involves balancing stilettos on picture frames) and I can do next to nothing with my left hand—making my right hand a mess of polish. In other words, I can use all the help I can get. So, I smeared some lip balm on my cuticles while Netflixing the other night and went ahead with the usual hack job. And, yes, I suppose my paint job is marginally cleaner, but any excess lip balm that got on my actual nail (shaky hands, remember?) took away from the smoothness and consistency of the polish. Here's a hack worth using: just go back over your self-manicure with a remover-coated Q-tip if there's excess polish on your fingers. It actually works.
MASCARA + BRA = false-looking lashes

I laughed out loud when I saw this pin. But the idea of storing my mascara tube in my cleavage (not that I have a lot of it) while going through the rest of my morning skincare and makeup routine was too hilarious not to try. And as weird as it was, it actually worked. When it finally came time from remove the mascara from my shirt, I only had to do one (very smooth) swipe to get the same full impact volume and length that would usually take me a minute of painstaking application to pull off. And it was even. And chunk-free. So go head and stick your mascara in your bra why don't you?
---

 Alicia Cesaro
Editorial Assistant
---

 
TOOTHBRUSH + HAIRSPRAY = flawless brows

Firstly, I feel the need to let you all know that, on a scale of one to crafty, I'm at the 'not mature enough to handle a glue gun' level. So that whole Pinterest DIY thing (crayons + glue = art!)? Yeah, never really appealed to me. But beauty hacks are a different story. Because steady hand or not, makeup is still something I put on my face more or less every day, so I was all for putting these to the test. The first "hack" was using a hairspray-coated toothbrush to tame flyaways. TBH, brushing my eyebrows is way higher on my priority list than brushing my hair, as in, I do the former every day and the latter, well, never. So I took creative control with this one, sprayed a—brand new, don't worry—toothbrush with a heavy dose of Elnett and got swiping on my hairline and brows. The verdict? Toothbrush bristles we're kind of made for this and have officially replaced my go-to spoolie.
CREDIT CARD + EYELINER = the perfect cat eye

The second hack was using a strategically placed credit card to create that harder than-it-looks-cat eye. Bobbi Brown's gel eyeliner and foolproof brush have served as a crutch since I came into the whole eyeliner game years ago. And I haven't really struggled, or improved, my skills in pursuit of that perfectly winged (but not too wing-y) line. Add one credit card, subtract a free hand and I was grabbing at the makeup remover. It was kind of a mess... back to the gel liner I go.
TRANSLUCENT POWDER + LIPSTICK = stay-all-day lip color

Full disclosure: I wear lots of lipstick. I mean, it takes every morsel of willpower for me to not stash away every sample that lands on my desk. I've even made it my mission to convert the admittedly lipstick-shy TC crew into actually using lipliner. So predictably, I chose to try a seriously old school technique, which of course made its way onto Pinterest, that promises to make my lipstick last all the way through my morning latte. TBH, it works pretty well... but considering no one really has translucent powder in their makeup kit, it seems like more effort than it's worth. I'll probably just stick to pressing tissue between my lips and calling it a day. 
BAKING SODA + LEMON JUICE = pearly whites

This "hack" is the OG, IMO. The gist is: baking soda + lemon juice = pearly whites. Maybe it was the fact that I only tried it for a couple days, but guys, I didn't really see much of a difference. It felt a bit awkward brushing gritty baking soda on my teeth and I found that I was missing that minty-fresh-breath aftertaste of my synthetic whitening toothpaste. Still not 100% sold.  
---

 Meagan Wilson
Senior Editor & Social Media Manager
---

 
BABY POWDER + MASCARA = bambi lashes

So this one admittedly had me equal parts turned off and fascinated, which I get the sense is a common feeling spurred on by Pinterest hacks. To me, there's no better beauty look than a fluffy, Bardot-y '60s lash, but putting baby powder on your mascara and also near your eyes sounds like an infection waiting to happen. My first attempt was a textbook Pinterest fail—using an old, one-its-last-legs mascara, I was waaaaay overzealous with the baby powder and was left with chunky, uneven spider lashes. On my second attempt, I used a disposable spoolie (which seems like the much more hygienic route) and tapped on some baby powder with a q-tip. Then going over with my disposable spoolie a second time to seal everything in and keep my lashes from looking grey and ashy. They were decidedly thicker and longer, but still... dry. And cake-y. I'd recommend instead using your browsing time to get acquainted with false eyelash application techniques.
VASELINE + PERFUME = stay-all-day fragrance

Again—there was both a high gross-out and fascination factor with this one. The effectiveness factor, however, was another story—the concept is that basically rub on a little vaseline wherever you would spritz perfume, and it helps the scent stay all day. It actually felt as if my fragrance faded faster than usual when I did this. There's something gross about the whole texture combination, too. Overall this one got a massive thumbs down from me.