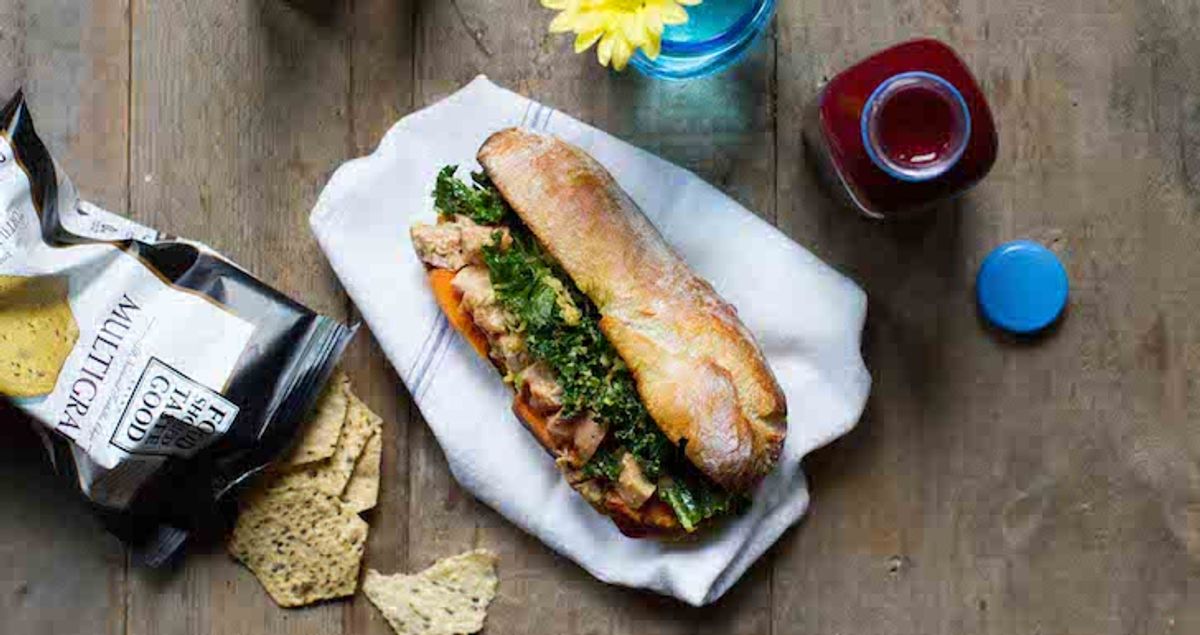 Nutrition
The meal is healthy (duh) and we have the recipes.
---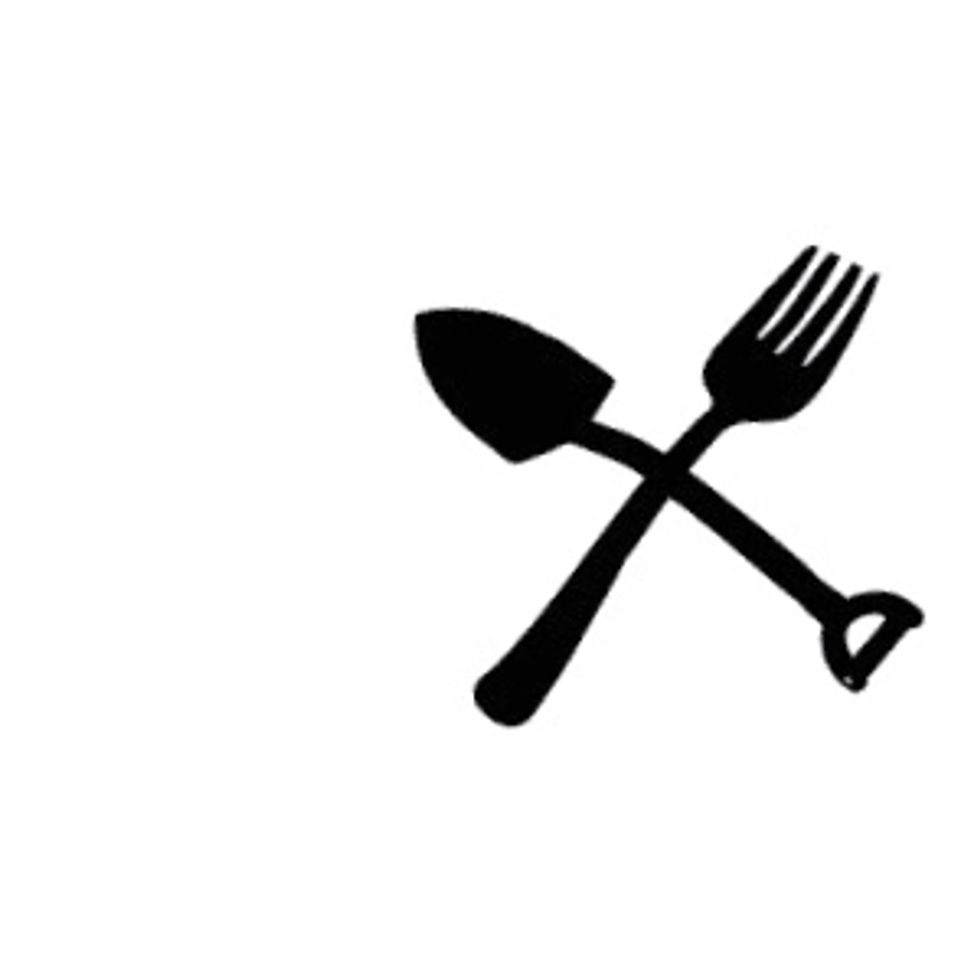 Two things to establish: 1) It's New York Fashion Week, like, now, and 2) girls gotta eat. We
already created a check list for the people who will spend the week on the run
from show to show to event to bed and back again, but what about those who, other than the minute-long walk down the runway, are essentially sequestered backstage for hours on end during which intricate Swarovski masks (or maybe just a simple cat eye) are painstakingly applied? Yeah, we're talking models and the beautifiers for whom fashion week means not whether or not they were shot by Tommy Ton, but actually making the whole show thing happen (read: makeup artists, designers, stylists, hair gurus, manicurists). As we said, girls gotta eat.
As they did last season, Dig Inn, the nutritionally-minded farm-to-table lunch experts,
has once again partnered with the CFDA as part of the organization's Health Initiative
. For this round they have some brand new healthy and hearty dishes, which will be backstage and available to
Karlie Kloss
,
Alana Zimmer
and Binx at Alexander Wang, Diane von Furstenberg and
Proenza Schouler
—you know, to power their runway strut. In this case, you seriously can eat like a model.
---
ROASTED BRUSSELS SPROUTS W/SPICY SUNFLOWER SEEDS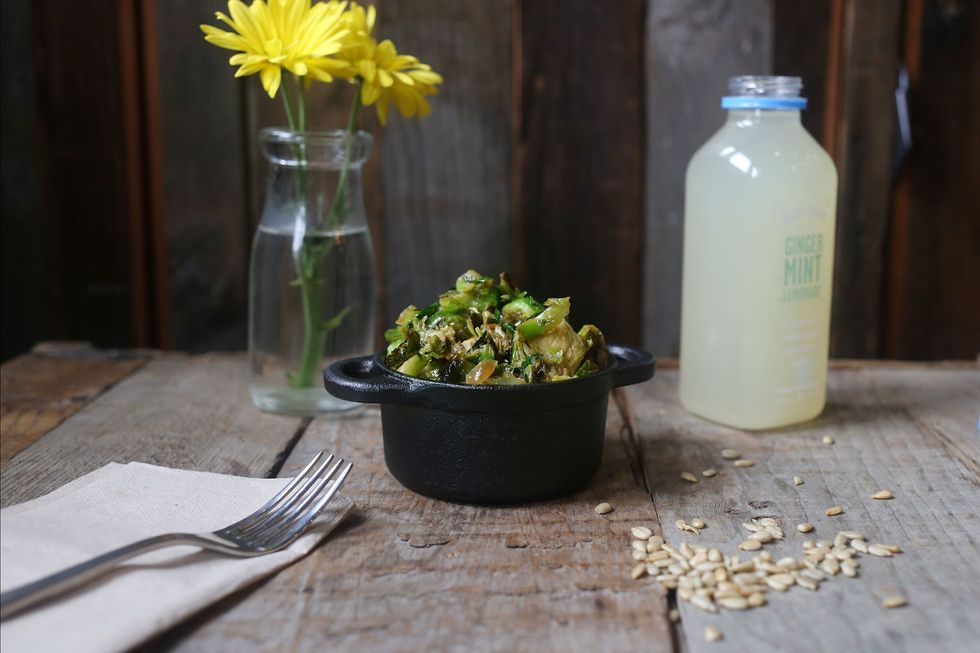 ROASTED BRUSSELS SPROUTS W/SPICY SUNFLOWER SEEDS
INGREDIENTS

SPICY SUNFLOWER SEEDS
¾ cup sunflower seeds
1 teaspoon hot sauce such as Tabasco (or more to taste)
¼ teaspoon sea salt
¼ teaspoon paprika powder
2 teaspoon agave nectar

BRUSSEL SPROUTS
1 ½ pounds Brussels sprouts
2 tablespoons vegetable oil such as sunflower or grape seed oil
2 garlic cloves, diced
1 teaspoon thyme leaves, chopped
juice from 2 lemons
1 tablespoon extra virgin olive oil
½ teaspoon sea salt
freshly ground black pepper
METHOD

1. Make spicy sunflower seeds: Preheat oven at 400 degrees Fahrenheit.
2. Grease a plate with a small amount of vegetable oil and set aside. In a bowl combine the ingredients and stir with a spoon.
3. Spread mixture on a sheet pan and cook in the oven for 6 minutes. At this point mixture should have be golden-brown and toasty - if not bake for 2 minutes longer.
4. With a spatula, transfer seeds on to the greased plate to cool.
5. Prepare Brussels sprouts: with a knife, trim-off unsightly brown/yellowing Brussels and hard bottom-stem. Cut Brussels 1/8-inch thick.
6. Heat a gallon-sized pot on high heat. Add vegetable oil and half of the Brussels. Cook for two minutes then stir with a wooden spoon.  Add chopped garlic and continue to cook two minutes more. At this point Brussels should have a wilted texture and charred appearance if not cook for another minute.  Transfer Brussels to a serving bowl.
7. Repeat same cooking process with the other half of Brussels.
8. Toss Brussels with lemon juice, extra virgin olive oil, and season with salt, pepper. Add in toasted sunflower seeds and serve.

CHEF'S TIP: Add one teaspoon of maple syrup for a sweet flavor note to the cooked Brussels sprouts.

CHEF'S NOTE: Brussels sprouts become sulfuric and smelly when overcooked so don't cook your Brussels sprouts longer than indicated. Brussels sprouts are a terrific source of vitamin A, C in fact if compared by the ounce to oranges they have a better value in vitamin C .


---
CLUK AND KALE SANDWICH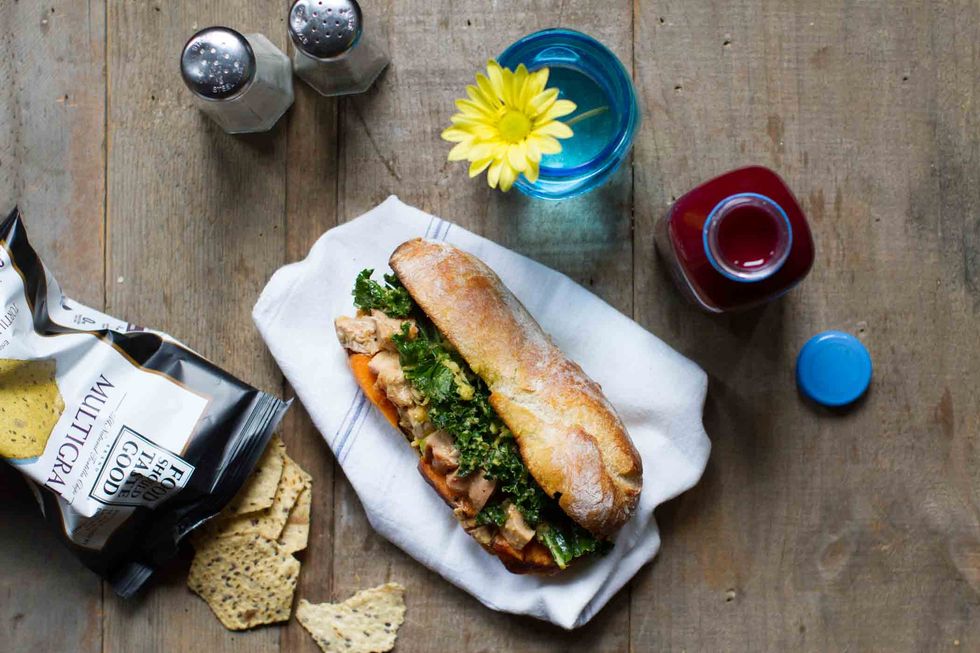 CLUK AND KALE SANDWICH
INGREDIENTS

2 Balthazar ciabatta buns
3 Tbsp of your favorite teriyaki sauce

ROASTED SWEET POTATOES
1 sweet potato, skin on, cut into 3 inch cubes
3 tbs vegetable oil
1 tsp. paprika
freshly ground salt and pepper

KALE SALAD
1 packed cup (about 3 oz whole) kale leaves, pulled off stem, washed, dried and cut
into strips
2 Tbs. lemon juice
3 Tbs. olive oil of your choice
freshly ground salt and pepper

CHICKEN
1 lb chicken thighs, skinless 3-4 pcs.
3 tbs vegetable oil
2 cloves fresh garlic, grated or crushed
1 tsp smoked paprika
1 tsp fennel seeds
1 tsp ground coriander (optional)
1/4 lemon, thinly sliced
freshly ground salt and pepper
METHOD

1. Combine all chicken ingredients to marinate 4 hours, or overnight.
2. Combine kale with dressing and let sit in the fridge until you're ready to prepare the sandwiches.
3. Preheat oven to 400. Toss sweet potatoes in oil and spices. Bake in heavy baking dish about 25-30 minutes or until soft. Mash roughly with a wooden spoon.
4. Heat a frying pan on medium heat. Add marinated chicken thighs and cook until browned and cooked through, turning every few minutes, about 15 minutes. Let cool, then cut into large cubes.
5. Assemble the sandwiches: Reheat sweet potatoes and chicken if necessary. Cut the ciabatta in half almost all the way through and toast the bread.
6. Spread a heaping ¼ cup of the sweet potatoes on the bottom part of the bread. Add warm diced chicken, teriyaki sauce, and kale salad. Close sandwich and enjoy immediately.

CHEF'S NOTE: all components can be prepared up to a day in advance and reheated.

Photography courtesy Dig Inn