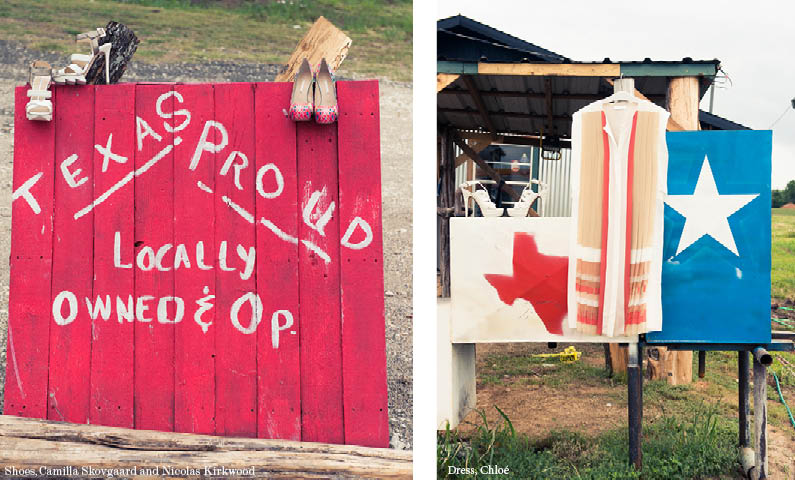 Texas Road Trippin'... with THE OUTNET.COM
Seeing the Lone Star State in a way only the locals know.
Forgive us if we've been peppering our sentences with a few too many "yee-haw's!" and "y'all's" as of late. As we were giddying up and making the trek from Dallas to Houston on our Texan road trip with THE OUTNET.COM, we became increasingly observant of the local BBQ joints whizzing by… as well as increasingly, well, hungry. We'd be lying if we said we chose "Texas Jerks" with full intention; truth is Jake got lost and apparently the GPS wasn't cooperating that day. We finally decided to pony up and made a little pit-stop for some authentic South Western grub…. because when in Rome, er, Texas, right? 
After befriending two bearded locals and chowing down on racks of ribs and brisket (with just a little side of guilt with respect to our teenaged vegan phase), we decided we needed to leave our mark. After all, if there's any better place for a printed Prabal pencil skirt than hanging from a steer skull, we have yet to find it (and trust us, we've looked). Yes, we really have some sort of unexplained urge, er, compulsion to give the TC treatment to virtually every space we enter; some might say its a problem, but we simply prefer to say that we're dedicated to our work. In true Coveteur fashion, we helped a minty brocade Christopher Kane shift get acquainted with some miniature ponies, took our Erdem out to assist us in pumping a little gas, and then roasted pairs of Proenza and Alaïa over on the barbecue low and slow. Even our new found pals got in on action! They even taught us the three basic rules of barbeque: 1) Open a beer, 2) Down the sucker and 3) Screw the barbeque! You got that? So, after downing a few cans of Coors Light (cause, you know, we're clearly on strict diets and all), we got buckled and were on the road again... thanks to some accurate new directions from our cowboy buddies. 
Envy this wardrobe? How would you like a fully revamped wardrobe of your own? Yeah, that's what we thought! Enter now to win a total closet overhaul from THE OUTNET.com & The Coveteur. Were giving away $500 gift voucher for THE OUTNET.COM to two winners each week for three weeks! (Thank us later!) 
 As part of a sponsored series with THEOUTNET.com