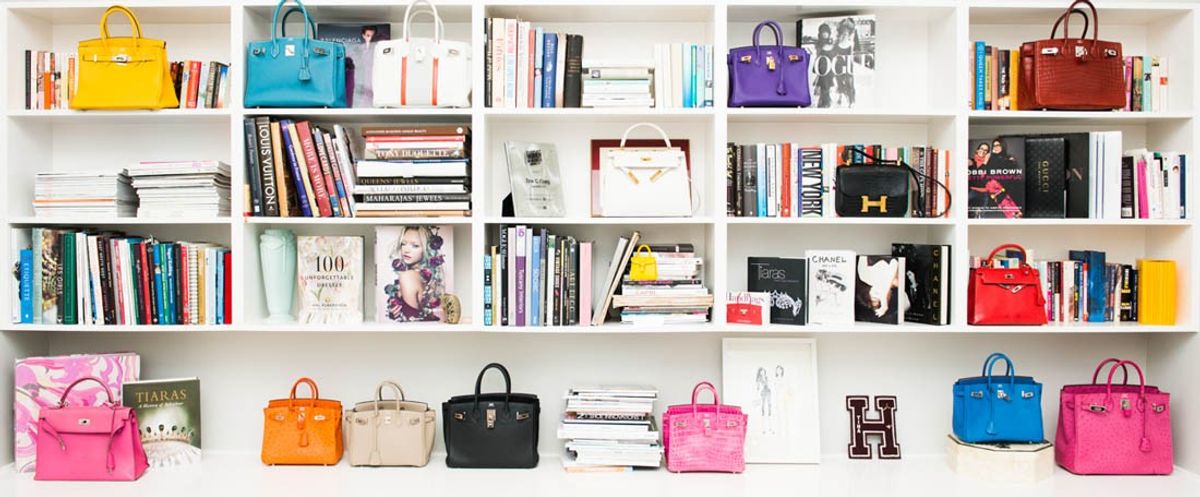 Fashion
An Ode To Hermès
A tribute to our fancy friends: Kelly and Birkin.
---
C'mon. Does Hermès (and their famed handbags) really require any introduction? Even those who don't know their Ashleys from their Mary-Kates are at least somewhat familiar with the now near-mythic Birkin. If not, do price points of sometimes upwards of $150,000 ring a bell at all? A quick crash course for the (somehow) uninitiated: there's the Birkin, named for none other than Jane Birkin, and the Kelly, given its moniker from the late Princess of Monaco herself, Grace Kelly. How to tell the two apart? The Kelly has a slightly more refined, elegant shape akin to the woman herself, while the Birkin has this (for lack of a better word) cooler, slightly slouchier structure. Still a little too vague? The Kelly has one handle; the Birkin has two. Easy, right?

Now for a little history lesson! How did the two kinda similar bags become tied to their near-polar opposite namesakes? Originally coined the 'sac à dépêches' (fancy!), the Kelly was re-christened after the general public came to associate the accessory with Grace after she posed with it during a sitting for Life Magazine. Conversely, the Birkin was actually created with the woman it's known for in mind, after a former exec from the company sat next to Birkin herself on a flight and saw her struggling with her luggage. Flash forward twenty years and despite lacking an overtly-noticeable logo (the symbolic "H" only works as a belt buckle), the Birkin is easily one of the most widely-recognized accoutrements.
But if there's anyone well acquainted with all things Hermès, it's probably our subjects, right? Let's just say getting up-close-and-personal with all things Hermès is a regular occurrence. We know, our job is better than your job. Take the time we propped three of
Sylvia Mantella
's Birkin beauties on the hood of her Range Rover (kinda fitting, right?). And even though it comes in a variety of colors and skins, it's always got that touch of class that brings it back to being a timeless staple. In fact, like a true heirloom, we've seen 'em be passed down by generation. See:
Amy Verner'
s Kelly, which is a good two decades old and she gets to use with "borrowing privileges."
And while the bags are most often associated with those lithe, leggy, got-their-sh*t-together types, leave it to our Coveteurs to disprove that very trope. Some like to take our whole "If it's nice, buy it twice" to the next level, amassing multiples of bank-busting bags (looking at you,
Leanne Citrone
and
Monique Lhuillier
!). While yes, there are the triply-named, impeccably-polished
Kate Davidson Hudson
and
Stephanie Winston Wolkof
fs of the world (the latter actually having more Birkins in her closet than she does names), some of our other Covs have taken the more, uh, subtle approach. But if anyone subverts the luxury heritage brand's ladies-who-lunch image, it's
Lori Levine
, whose custom graffiti Birkin by artist Nicholas Forker left some speechless, some outraged and some (
ahem! Vogue.com!
) straight to our door for a quote. In true Hermès' signature orange, Levine's bag is sweetly in tune with the rest of her heavily art-world-influenced aesthetic.
But no one comes close to
Tina Craig
, who some may (fittingly) know best as "Bag Snob." After shooting her during
Fashion Week in Paris
, we knew that if the amount of Hermès she'd brought along was only what she'd been able to stash in her suitcase, we had to see the rest of that collection for ourselves. Cue to a few weeks later during our Texas trip, where we finally got to experience her Hermès obsession in person. Spoiler alert: Craig's collection precedes her with good reason. Craig put it most succinctly when she said, "I don't care if Birkins have now become ubiquitous or the preferred bag of reality TV stars and mail-order brides. I have been collecting them for over sixteen years (even before that episode of Sex and the City when Samantha was denied from purchasing the Birkin in the window!) and will carry them 'til the day I die." Need further proof of her commitment?
Just take a peek at her closet.
So even though our credit card limit may get maxed out when we attempt to buy a shiny new one or a vintage treasure from Moda Operandi or Decades, we know deep down it's worth the investment; at least that's what we keep telling ourselves. All we ask is that when we die, you bury us with a Birkin... or a Kelly!