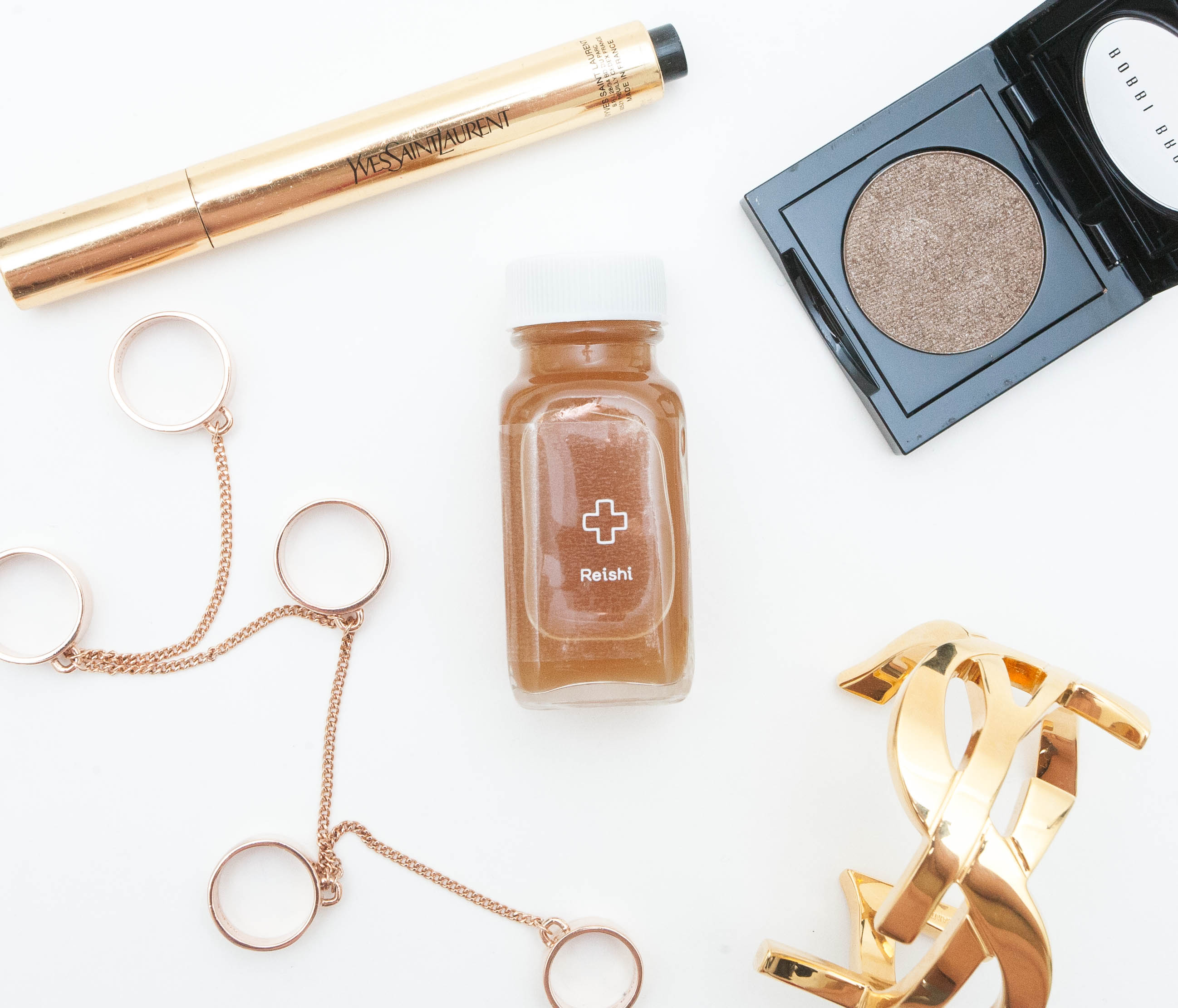 Shots! Shots! Shots!
Okay, so maybe they're the very opposite of the shots rap songs are made of, but we swear these elixirs pack a serious punch.
We have to admit our attraction to all things quick and easy—if there's a shortcut, we'll usually take it (it's not laziness, it's just efficient, okay?). And, if we're being honest, food and health is shortcut central as far as we're concerned: cue a stream of Seamless orders whenever we're in NYC and our office-wide obsession with take-away, make-your-own (by which we mean, have the person behind the counter assemble your greens and chopped veggies) salads.
And while we don't think we really need to re-emphasize that cold-pressed juice is already a bandwagon that we're very much on, but the little shot-glass sized elixirs sold at our go-to juice spots have always been, well, a bit of a question mark. But, we mean, given our predilection for getting all the goods in one gulp, why not give 'em a try? And so we asked our friends over at our latest local obsession, Greenhouse Juice, for the down low on these mystery vials. Just so you know exactly what you're knocking back next time someone offers to buy you a turmeric shot—'cause that totally happens on the regular, right?
You know that maybe-I'm-getting-sick tickle in the back of your throat that inevitably leads to the colds weeklong spells in bed are made of? Take a ginger shot. Or better yet, Greenhouse Juice advises mixing it with hot water and lemon for a soothing effect (all on it's own, it can get a little, uh, spicy). Our choice usage, though? Apparently, if taken before boarding, one of these little miracle workers will keep you from feeling stiff post trans-Oceanic flight. We'll take five.
This mysteriously named mixture hails from the extract of a Japanese mushroom that's long been used in Eastern medicine and known as the "Mushroom of Immortality." So there, you pretty much have it. We mean, if we can shelve the Botox plan and take daily doses of these, we're all for it. (But seriously, it lowers your cholesterol and helps fight disease—vanity isn't all there is to aging, guys.)
Not to get all first year chemistry (biology?) on you, but this little bottle contains something called Aphanizomenon Flos-Aquae. We didn't know what that was either, but we're told it's an edible plant found in fresh water (and thus tastes not unlike you're drinking directly from a swamp) that has 64 (a.k.a. a lot) easily absorbable nutrients. The girls at Greenhouse also swear that it's a good caffeine replacement (we'll, uh, take their word for it, iced almond milk latte in hand) and that it can also aid in balancing your mood and making your hair and skin glowy—and really, who can't use help in that department?
Not to be confused with, you know, the actual flu shot, but this mixture of Echinacea, reishi (see above), codonopsis, astragalus, oil of oregano and lemon can definitely help things in the whole eschewing a considerable Contagion moment. We'll be keeping some vials on hand come November.
We already smother our skin in this stuff, but it turns out that aloe is pretty good for your insides, too. Plus, it also helps with digestion, nutrient absorption and detox. If we can sling one back after a kale salad and feel like we're maxed out on vitamins, we're all for it.
As of late, we kind of feel like we've been hearing a lot about the secret powers of a spice that is usually relegated to our curry dishes. Greenhouse swears by its powers, including anti-carcinogenic, anti-inflammatory and blood sugar regulating properties. Shots for the whole family!