The Design Duo Behind Tanner Fletcher Could Easily Be From Another Era
The fashion brand that often dreams of the past.
Designers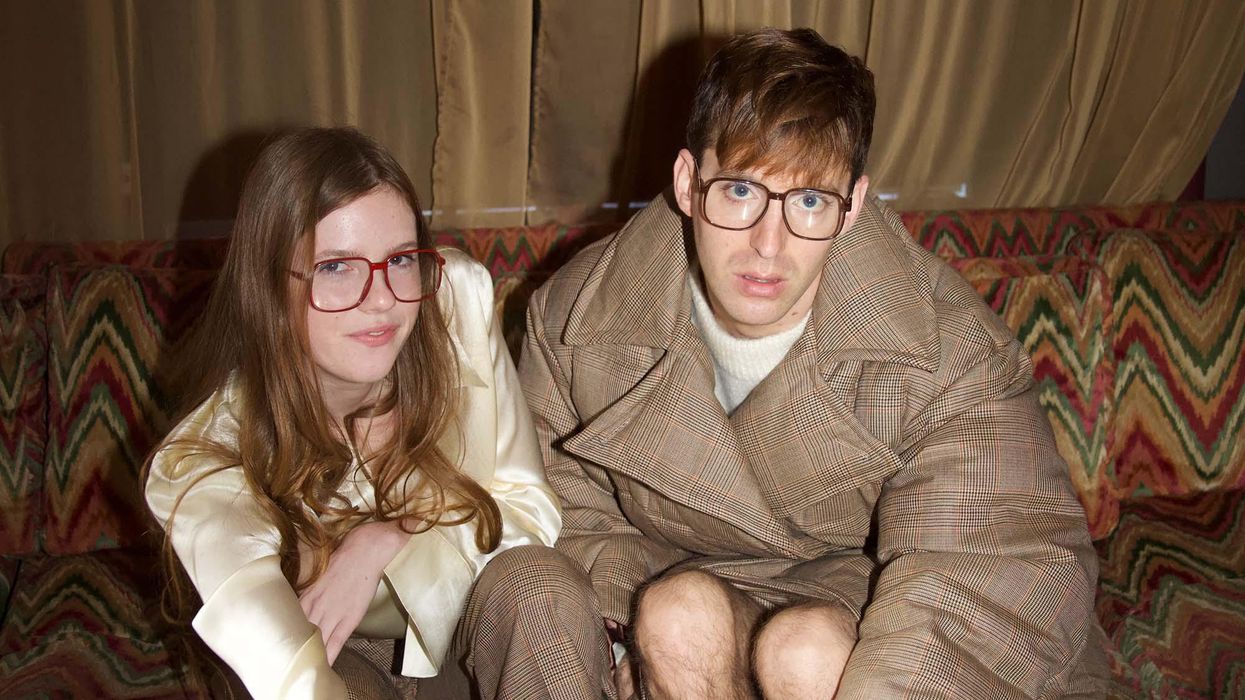 Tanner Richie and Fletcher Kasell are a design duo straight out of a vintage sitcom. Both style their curly brown locks in a middle part and dress in ensembles nostalgic for the '50s, '60s, and '70s—pleated pants and bright button-down shirts are recurring staples. The only true difference is height (Kasell stands higher than Richie) and Richie's round spectacles. Otherwise, they finish each other's sentences and communicate in a language which, according to the duo, their factory contacts only "somewhat" understand.
This dynamic of near-perfect synchronicity in language and aesthetics—only established after years of being romantic partners—is evident in their new fashion label, Tanner Fletcher.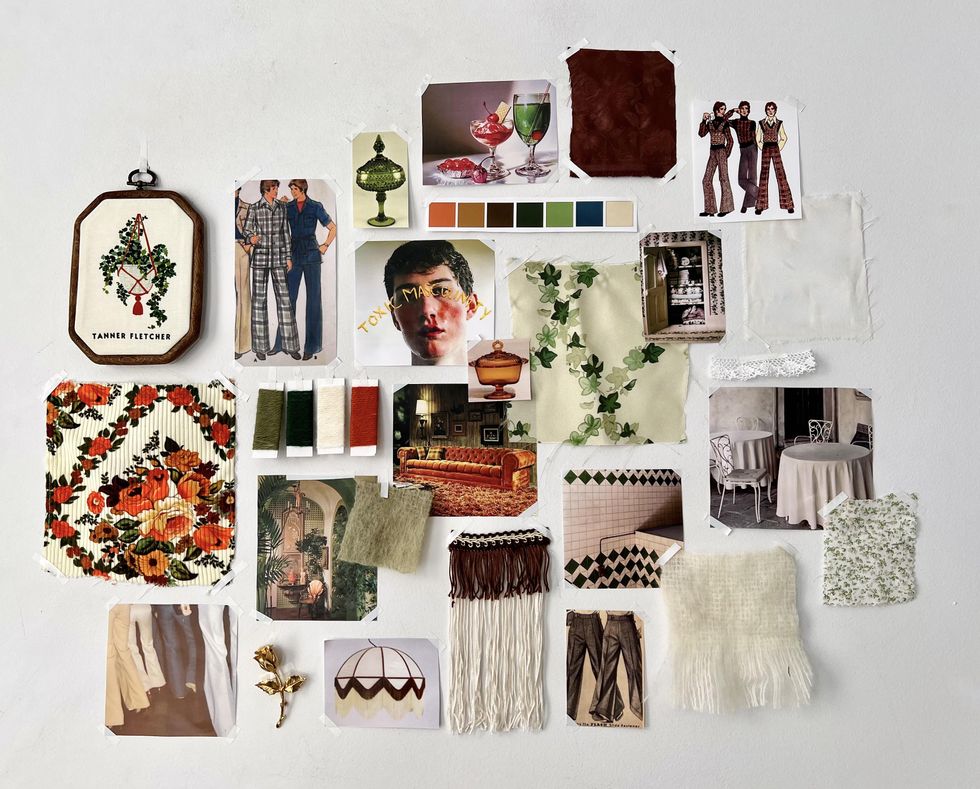 Tanner Fletcher FW22 Moodboard
Photo: Courtesy of Tanner Fletcher
At New York's Fall '22 fashion week, the two exhibited their latest collection against the ornate backdrop of Manhattan's Freehand hotel. One model, clad in an orange suit closed by silk-covered buttons, rested luxuriously on a couch. Another donned a large puffer jacket with brocade detailing that beamed across the room. Her counterpart showed off a silk dress with a poplin collar while gossiping with someone in knitwear. And nearby, a model cocooned in a green coat reminiscent of a shag rug, swayed to the tunes of the cabaret band playing off to the side. If it weren't for the velvet ropes in between the set-up and audience, one might mistake the whole affair for a night out in downtown New York City.
"We wanted it to feel like a house party," the two tell
Coveteur
. "It was supposed to be cozy and we wanted guests to feel like they were at a get-together out in Old New York." Richie and Kasell hoped to embody the classic New York night where one ends up in different locations with spontaneous people so much that their cast was made up of folks one might not usually put into shows. Kasell's sister joined the ranks of aloof-looking models, as did an employee from the vintage store the duo often frequents. "It was a rush, all of it, and people seemed like they received it pretty well," they said regarding the evening. "It was nothing like we ever expected it to be."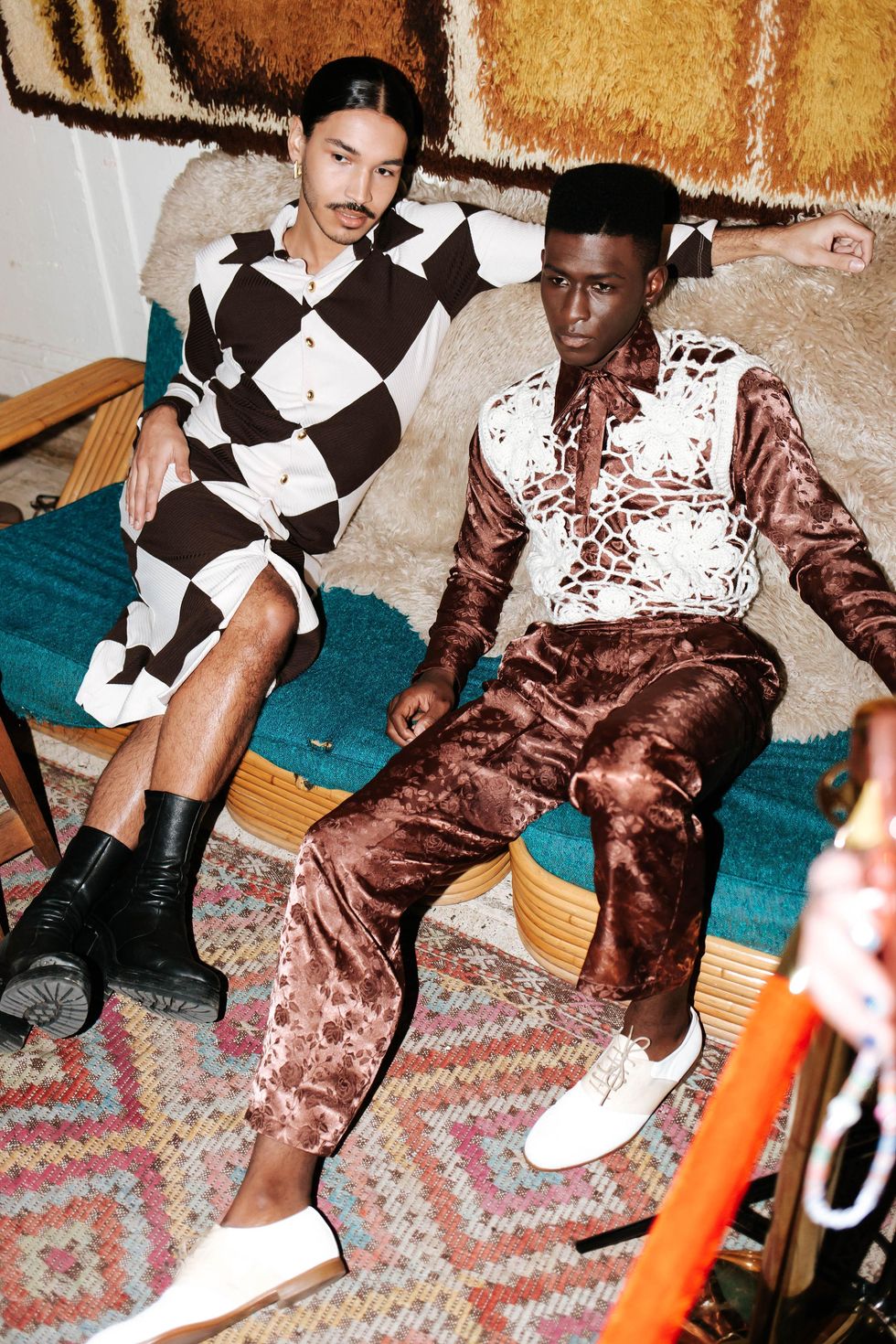 Photos: Courtesy of George Ngatuvai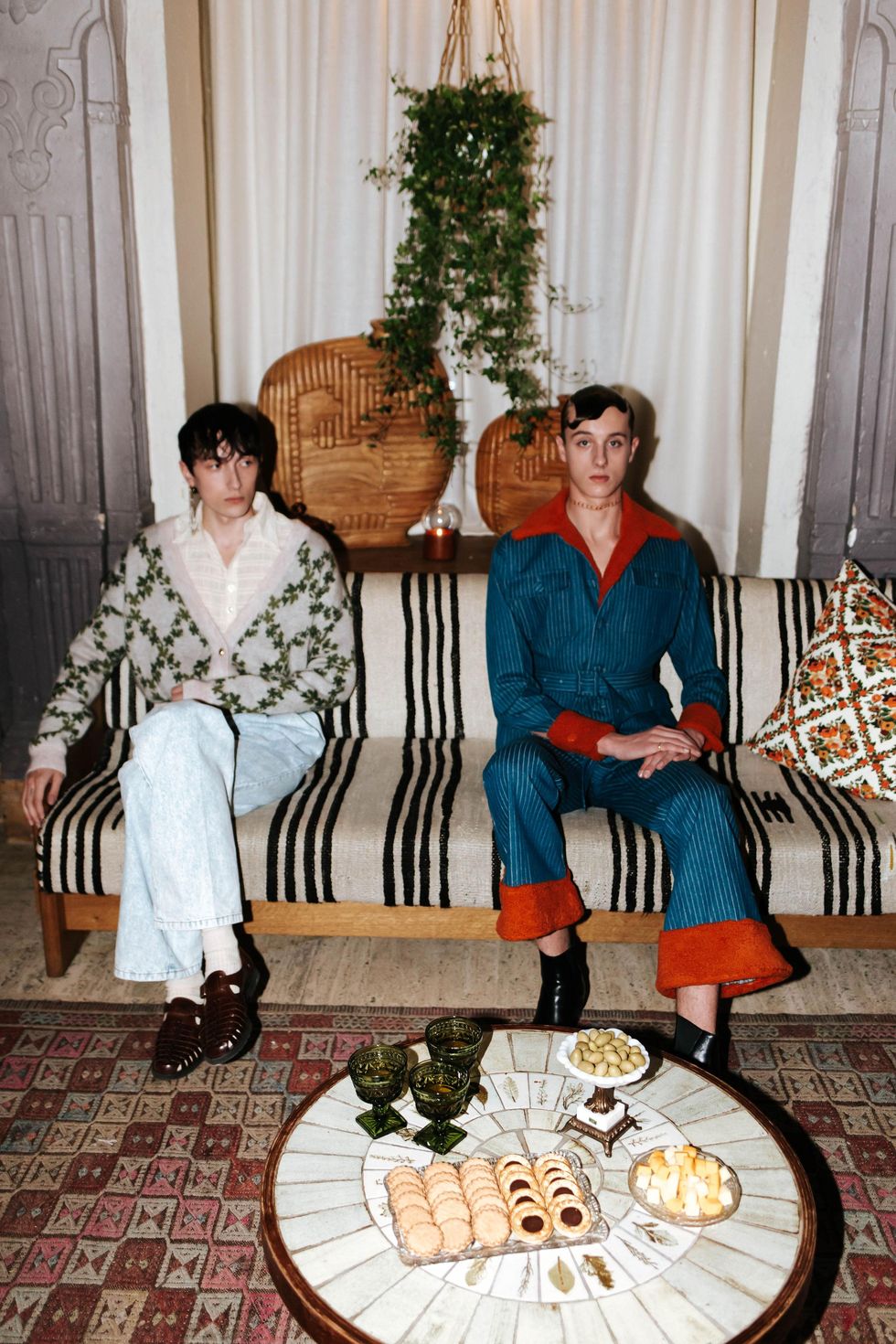 But, the truth is this: the whole brand was conceived out of spontaneity. The birth of Tanner Fletcher was a bad situation (including layoffs caused by a global pandemic) turned good. The duo invested their unemployment dollars into the company they always knew they wanted to have together. "Actually, interior design was more of our plan. We even had a couple of interior design jobs out in the Hamptons before the pandemic," Richie says. "But, we started creating 'COVID-wear' items like tote bags and sweatshirts. When [that] surprisingly got a few stockists, we felt confident to go all in."
Tanner Fletcher is ultimately a nod to past eras in both fashion and interior spaces though the two have a disdain for categorizing it as 'vintage'-inspired. "Vintage is the wrong word. It's just another time. We love the romanticism of living in a different period and love to immerse ourselves in objects," Kasell says. Their truth is found in the details of their clothing. The brand's yellow Roses Shirt is made from deadstock bed sheets (properly preserved, they reassure) from between 1974 and 1989. The tracksuit and Marlton Coat were made from tufted silk shantung typically used for drapery and upholstery. In their Fall '22 collection, a '70s sofa print is used throughout, molded into more modern silhouettes. Even the tapestry suits were directly inspired by the wallpaper in Kasell's grandmother's room. "Everyone in my family always joked about how outdated her home was, and still is, but I grew to love it and find myself referencing its different 'outdated' aspects whenever I'm designing," he says.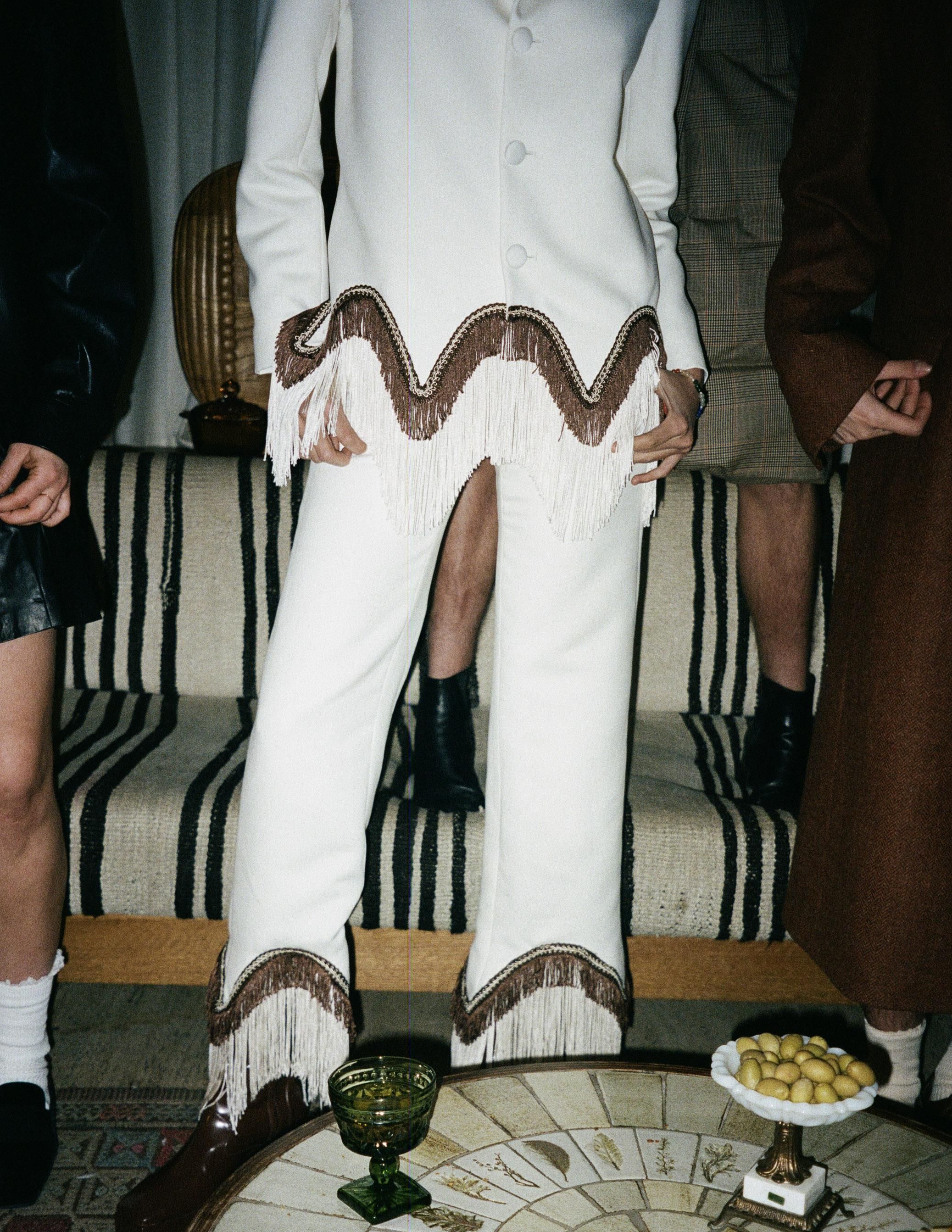 Photos: Courtesy of Sara Bouwman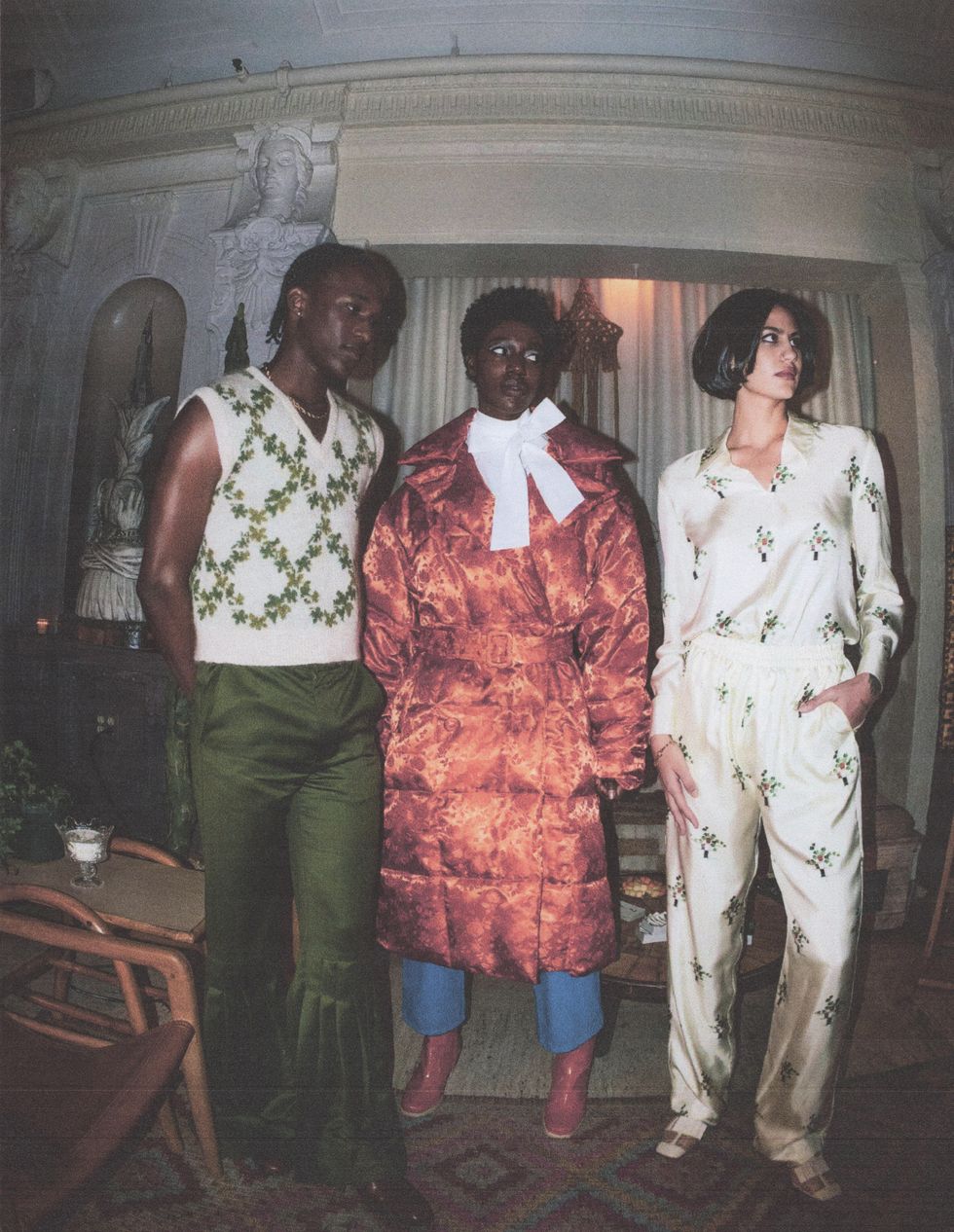 In fact, their design process often begins with antique or vintage items they picked up for their personal lives. "We have an issue where we debate whether or not a fabric will be kept for ourselves or if we will end up using it for the collections," they joke.
Overall, the two have noticed two different types of reactions to their "past"-inspired brand. According to the designers, the younger generation loves it because it's sort of cool and trendy to reference throwback aesthetics. For the older generation, their vision often feels nostalgic and reminiscent of their own history. "There are so many great things that have existed, but kind of disappeared. We feel that we are uncovering some of those elements that are worthy of existing and modernizing them a bit. Be it wallpapers, linens, silhouettes—they all have a beautiful story to tell."