Photo: Courtesy of Suki Waterhouse
Style Diaries
While filming on location in New Orleans, the model, actress, and singer gives Coveteur a look at her travel capsule wardrobe.
Welcome to Style Diaries, a series where we research the physical manifestations of our closet tours IRL. We're asking friends and tastemakers to show us what they're *actually* wearing during the week and to provide a little insight into their thoughts on the current state of fashion. This week, we follow Suki Waterhouse, who is currently on location in New Orleans filming Daisy Jones and the Six. Living out of a suitcase, Waterhouse has essentially fashioned herself a travel capsule wardrobe, which she outlines below.
Look 1: The Personality-Defining Jacket
Photos: Courtesy of Suki Waterhouse
"I have a Martine Sitbon jacket, which I got from Lara Koleji—a vintage store in New York. I hadn't actually heard of [Martine Sitbon] before I saw this jacket. It feels like it just hits who I want to be at this moment in time. I've always been very attracted to anything that has that bit of drama in it so this is definitely a key piece in the wardrobe right now. And then I've got these black Polo Ralph Lauren trousers from Chickee's Vintage. I [recently] went on a huge shopping trip in New York with Dominick Barcelona who's a stylist there. He took me everywhere."
Shop the Look: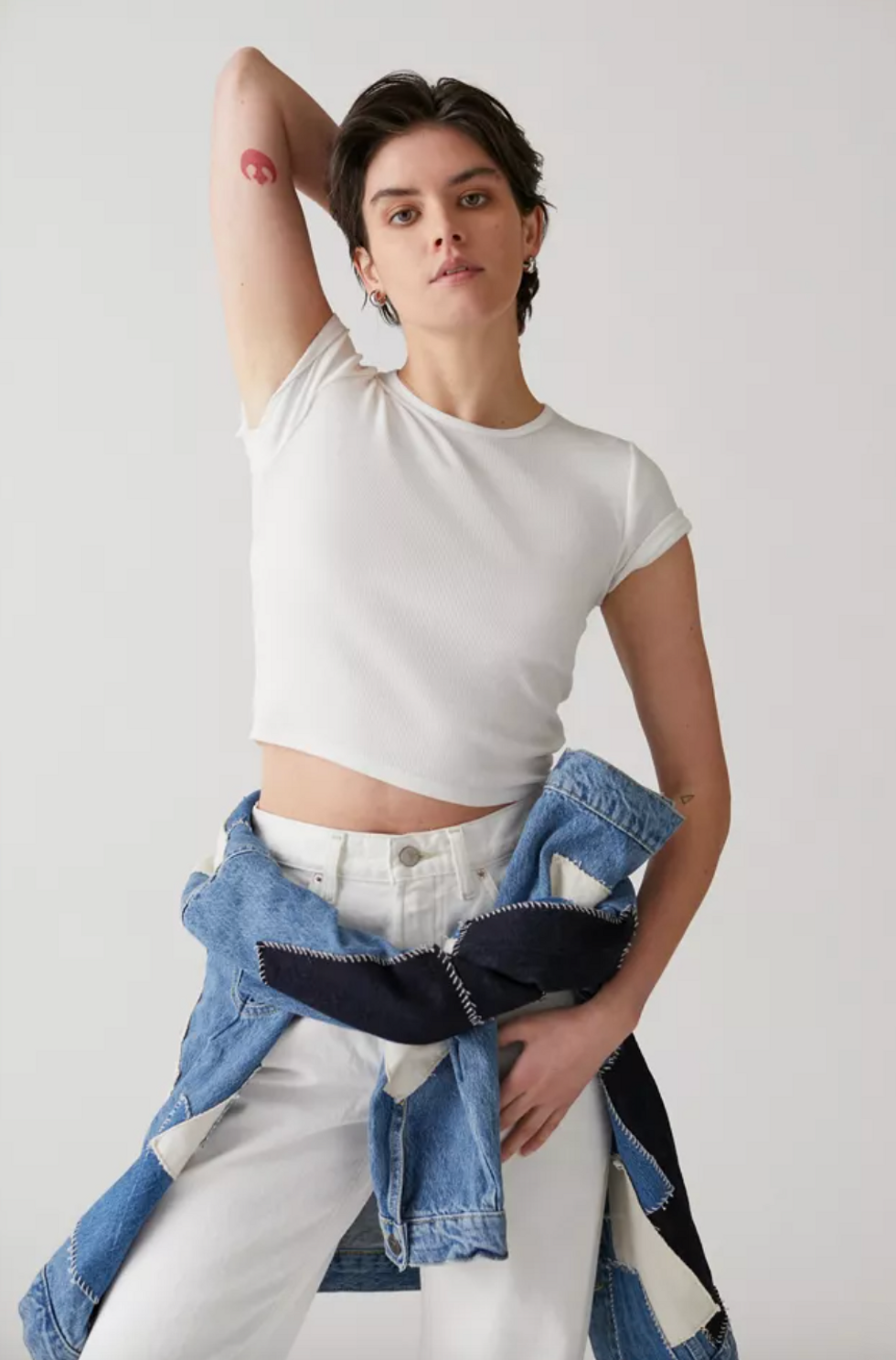 BDG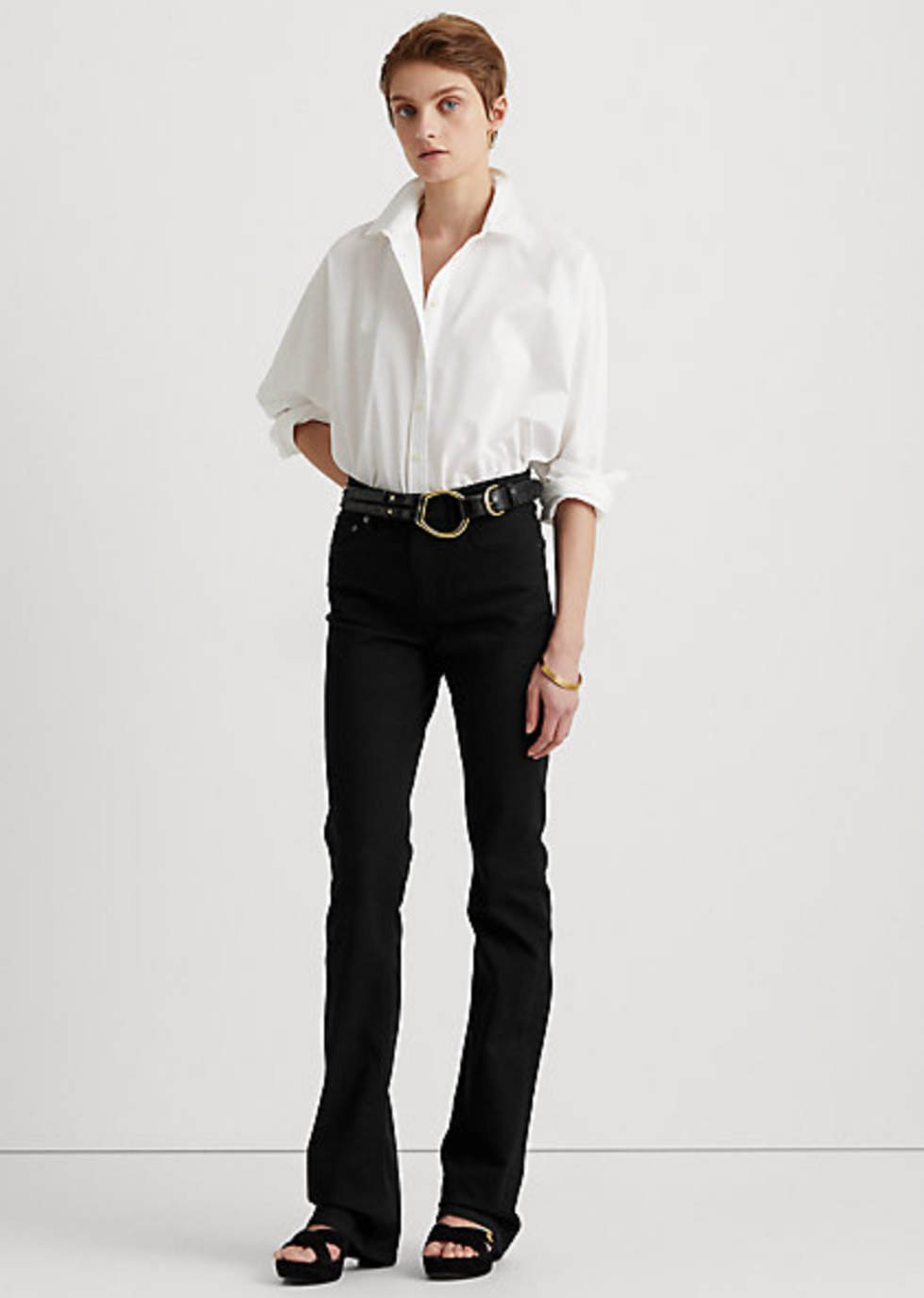 Ralph Lauren
Look 2: An Iconic Coat
Photo: Courtesy of Suki Waterhouse
Photo: Mirrorpix/ Getty
"I bought [this coat] after I kind of stumbled into a Christie's auction. It actually belonged to Audrey Hepburn. There's an amazing photo of her [leaving London for] Switzerland wearing the coat. There have been a few things I've bought in my life at auctions, the first being a Stella McCartney dress I bought when I was about 17 or 18 and completely made myself broke afterwards. I remember I couldn't even get the bus home after buying this thing. And then there's this navy blue coat I bought a few years ago. I just completely fell in love with it. I had to really have a talk with myself because I'm not great at preserving things very well. I was like, 'Okay this jacket is being protected at all costs.' But I wear it very rarely and it's an incredibly special piece for me.
Then, as soon as I got here, I was on [the] Urban Outfitters [website], like
I just need some white classic t-shirts
. I really don't think I can have enough. There are a couple of T-shirts my sisters have stolen off me in the last 10 years that I can still get riled up about."
Shop the Look:
Burberry London
Look 3: The Ultimate Accessories
Photos: Courtesy of Suki Waterhouse
"The bag is a Burberry bag from a long time ago when I used to work with them. It always makes its way back into my outfits just for that great pop of color. I've managed to keep it in pretty good condition. The hat is from Lara Koleji. When I found it, I fell to my knees. It is so special to me. Every time I put it on, it makes me feel like a cute little gnome, which is kind of something I'm always aiming for. I feel wrapped up a bit like a little present."
Shop the Look:
Paloma Wool
Burberry
Look 4: Staple Band T-Shirts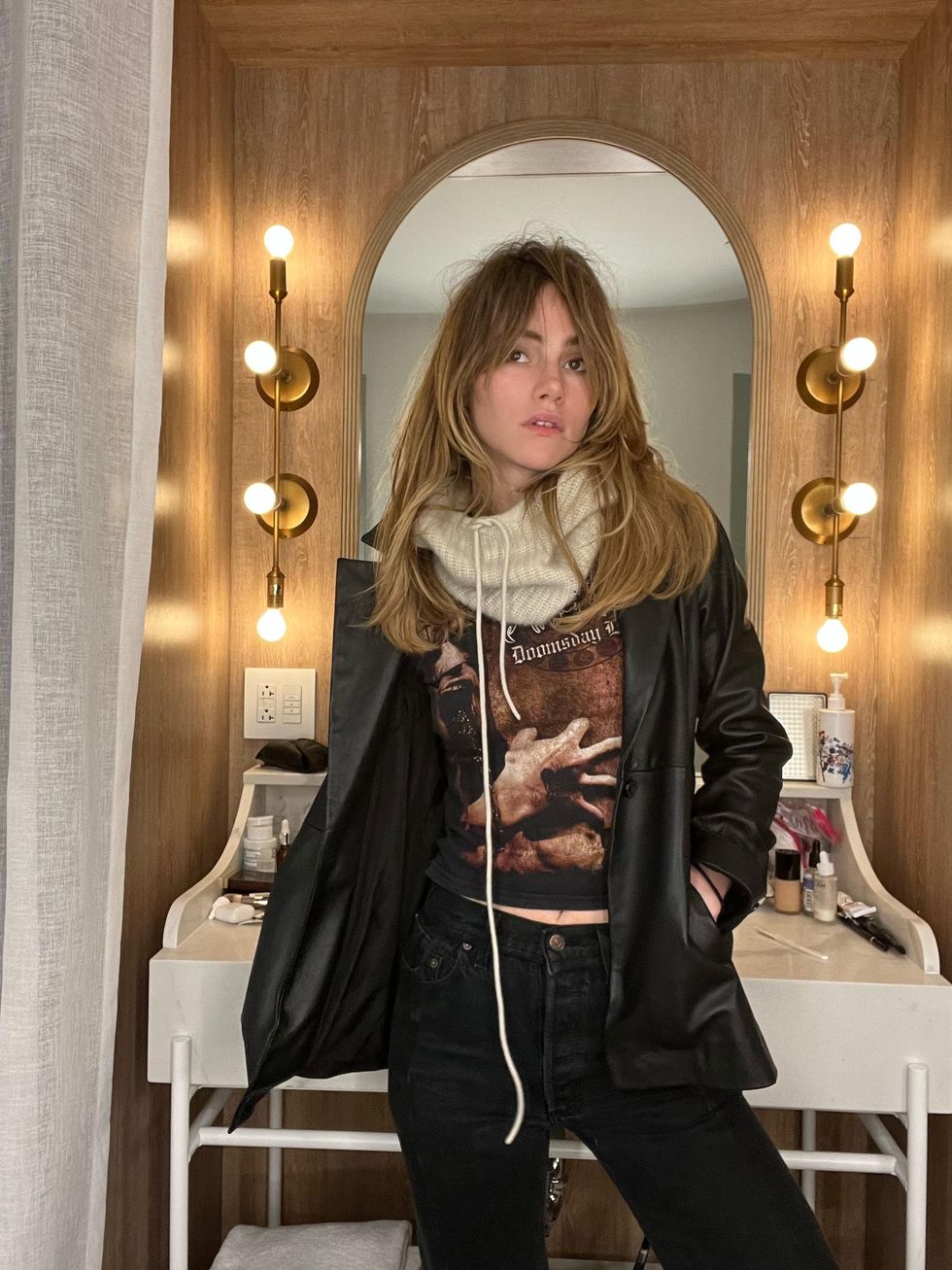 Photos: Courtesy of Suki Waterhouse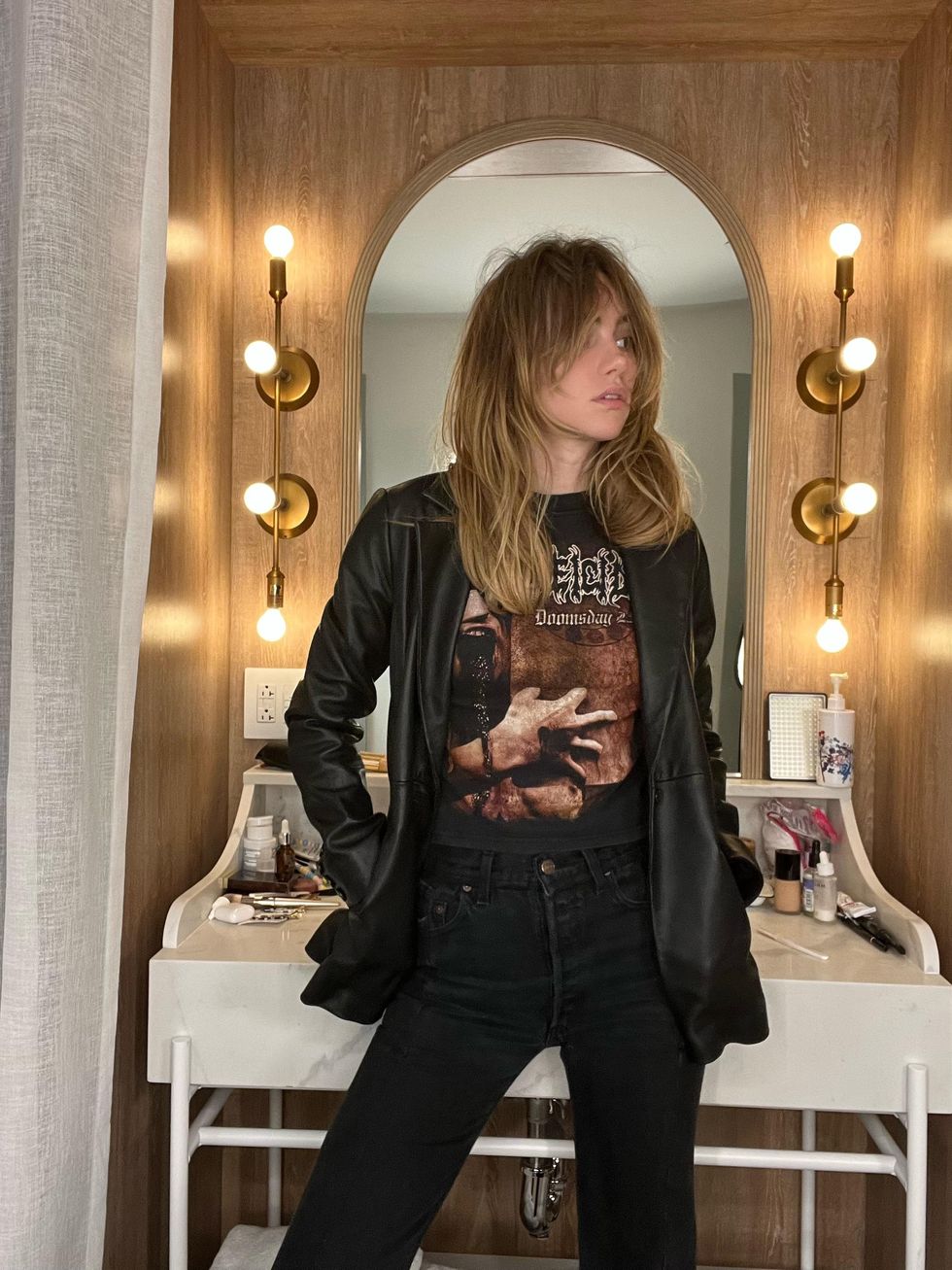 "I went to Pickwick recently in L.A. which is a really nice, small vintage fair, and got a load of great slogan and band T-shirts. I have two pairs of black trousers with me—kind of bootleg Polo Ralph Lauren pants. '90s Polo Ralph Lauren had the chicest trousers. The cut on them is perfect. So those are part of the daily look all the time. Definitely no more skinny jeans."
Shop the Look:
Jean Paul Gaultier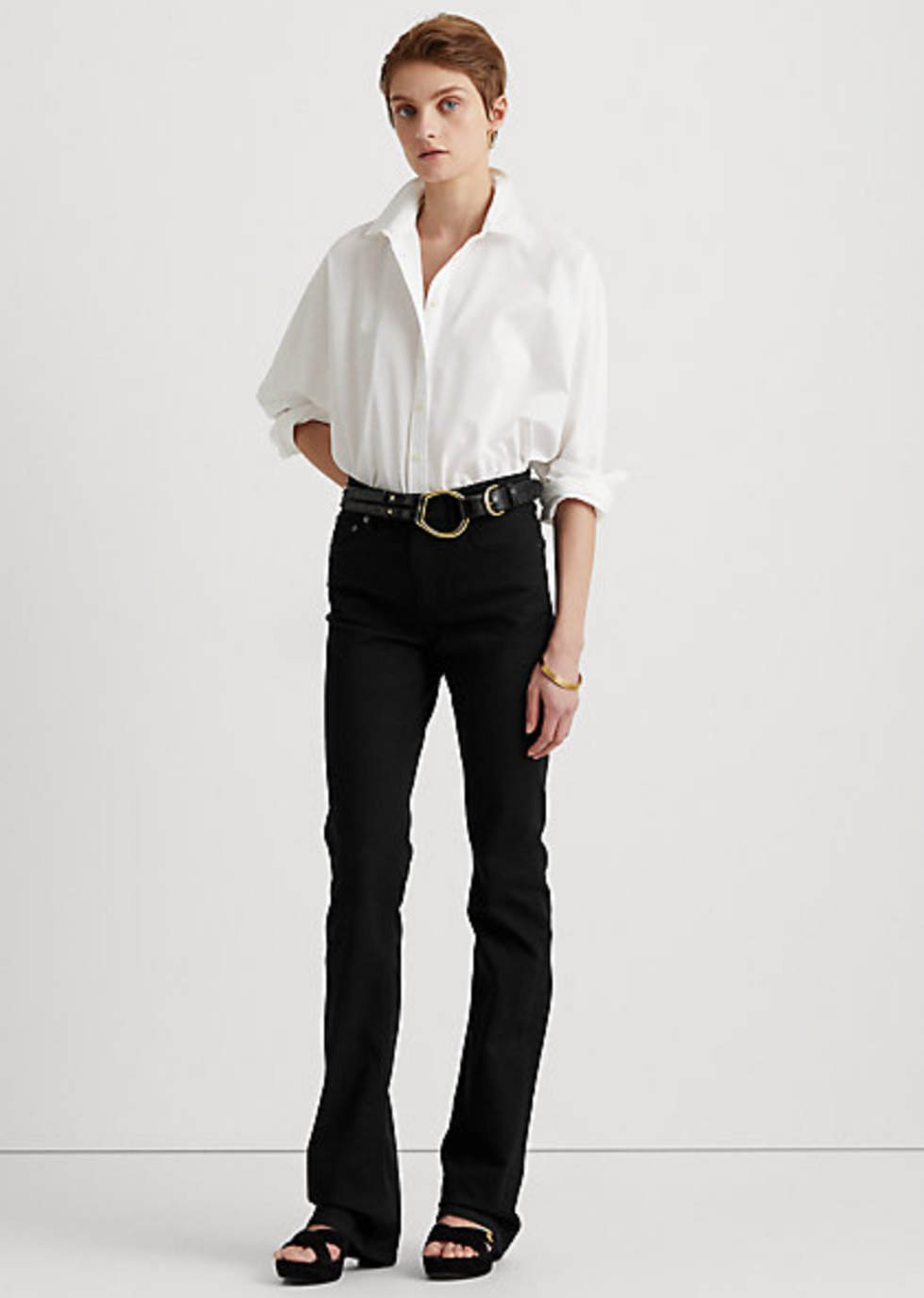 Ralph Lauren
Look 5: Testing Out Merch
Photos: Courtesy of Suki Waterhouse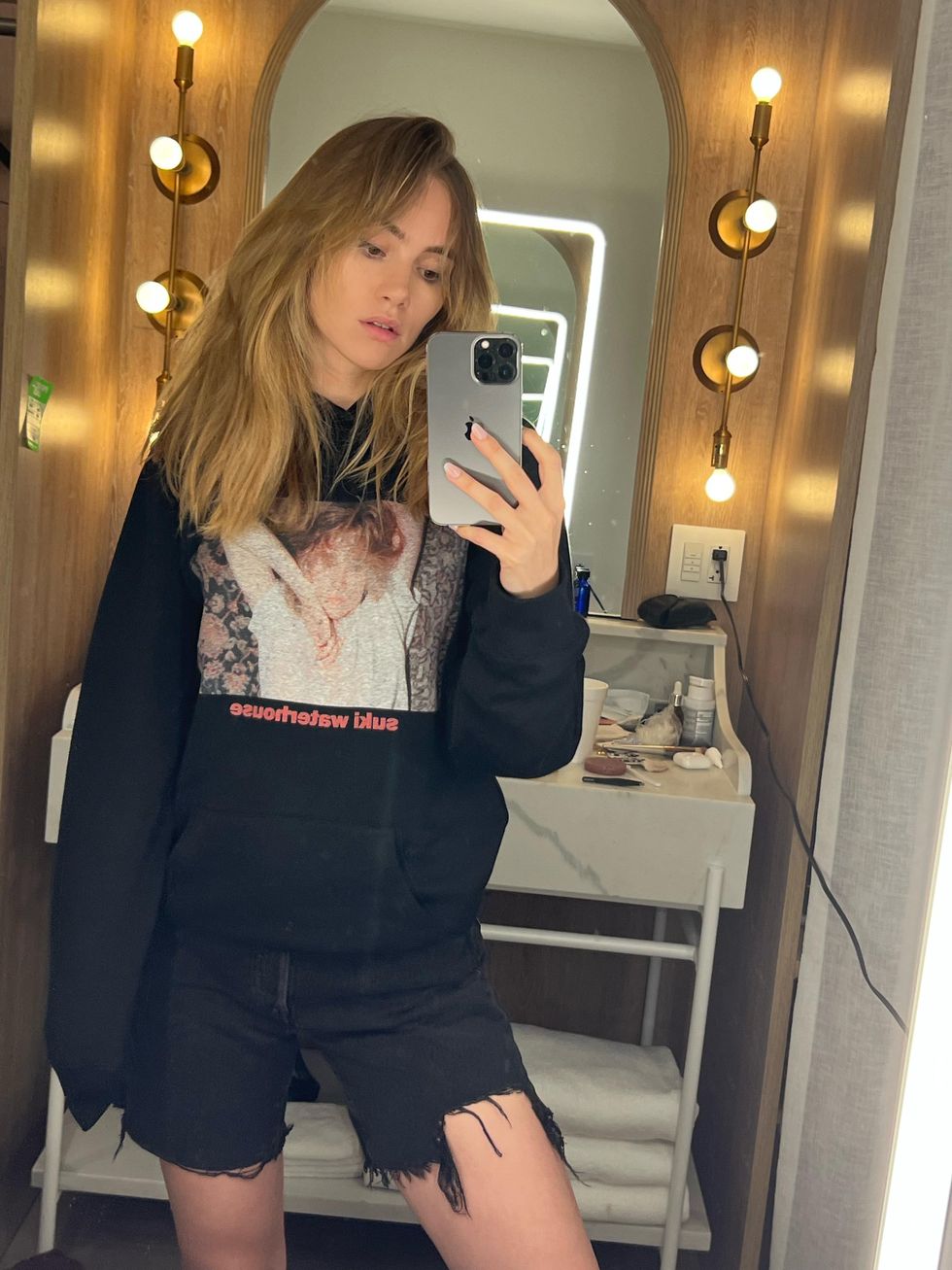 "I just started making my own merch for my music. I made sure that we got a really good massive comfy hoodie with my face on it. I've been testing out in the wild like, How does this feel? Is it way too cringy to go around with my own merch on? But if it's a comfy jumper, then I'll take it."
Shop the Look:
Zara
Notes on Style:
Tell me about your personal style and how it's evolved since you came into the public eye?
"I have a good giggle when I think about the evolution of my style, because there's been quite a few iterations. I think the first time I remember really feeling like, 'Oh, this is a thing that I'm going for,' was probably at about 20 when I was very into this kind of '60s, mod look. I pretty much looked like I was in fancy dress for a good year and a half—serious clowning looks. I was into frilly socks and white tights and pink suits from Topshop. There were a lot of pretty out-there things I was wearing at the time.
When I think about style, there's always been different modes. In my day to day life, I almost find it difficult to put something on that looks vaguely put together. I guess that's also a style in itself—a bit of a sloppy thing—which I think comes from growing up in London. Everybody in London has this very undone, like throw it on kind of thing going on."
What does your lifestyle look like right now? What sorts of things do you need to dress for?
"I'm shooting a show at the moment called Daisy Jones and the Six. We were in L.A. for the last six months and we've got two months in New Orleans now. It's a pretty great place to be. I have to say it's been very, very fun. There are so many great shows going on so [aside from shooting] I've got a lot booked in for the evenings. David Sedaris is doing a show. I've got King Princess tonight. I'm going to go watch Arcade Fire for the second time in a month. I'm very, very lucky."
When you're just heading to set, do you still like to get fully dressed in the morning?
"It depends on the call time, but I guess it's become a self respect thing. I think fashion does tie into that for me quite a lot. When I'm not as strong mentally as I would like to be, that's when, if I haven't bothered to get dressed, haven't bothered to brush my hair, making that decision of like, 'No, we're putting on a good outfit today,' can inform the respect that I have for myself. The day is incredibly different if I turn up in a proper outfit. It's so much more than just what you're wearing.
The relationship to clothes is a funny one for everyone, because there's always that notion that it's an obsolete shallow thing. I think there can be a lot of shame around talking about how we dress because not everybody feels like it's available to them or that they're allowed to be part of it. I always think about how clothes are what we put on naked bodies and there's something kind of inherently embarrassing about how we choose to [do so]. It's so endlessly fascinating, even when we think of what the inside of your bag looks like. I'm always like why do women carry bags and men don't? There's something very womb-like about it. There's this very feminine notion that we carry around this unnecessary weight with us all day. There are so many kinds of hidden meanings there."
You've crafted such a signature hair and beauty look. What does that entail for you?
"I got to see myself in so many different hair and makeup looks when I used to be a model. When you don't like the makeup and you don't like the way your hair looks, it makes me feel completely unlike myself. With my hair, I can always remember wanting to look like a lion, somewhat like I had been foraging. That shaggy hair look was quite appealing to me, along with the allergic reaction that I have to the kind of sausage-curl blow dry—kind of like the American news presenter [stereotype]. It probably all comes from like the boys that you thought looked cool at school who had long, scruffy hair—Oasis, Liam Gallagher. I'm always looking at other women with cleaner, more pulled back hair and it's so gorgeous. It can be so sexy. But for me, it was always shaggy."
Have you always liked winged eyeliner?
"The funny thing is, I haven't quite managed to perfect ever doing it properly. It's so frustratingly difficult to do yourself. I think somebody just put it on me once when I was probably 17 or 18 and it [clicked]. I was very into Marianne Faithful and Pattie Boyd. I remember reading their books and listening to their music a lot. And Anita Palinberg. There's a famous picture of Pattie Boyd with the fur-trim collar around her and she has a little cat eye. I guess that kind of mod, open, curious eyes was really appealing to me. Like curious eyes with the lion haircut."
Are you as much of a uniform person with your clothes as you are with your hair and makeup?
"No, I wouldn't say I'm a uniform person. I think my look is quite low-maintenance. Usually, I've got a great team around me for hair and makeup, but I've also got my own tricks from the years of doing it myself. [If I had to describe it], my uniform is kind of like a slightly scraggly-dressed boy. And then there's that other key I can switch to, which is a 1960s kitten vibe. Also, I lose clothes a lot and move around quite a bit so it's really kind of like foraging from the wild around me. [I wear things] in a five- or six- month cycle before suddenly everything has either been left in another country or something."