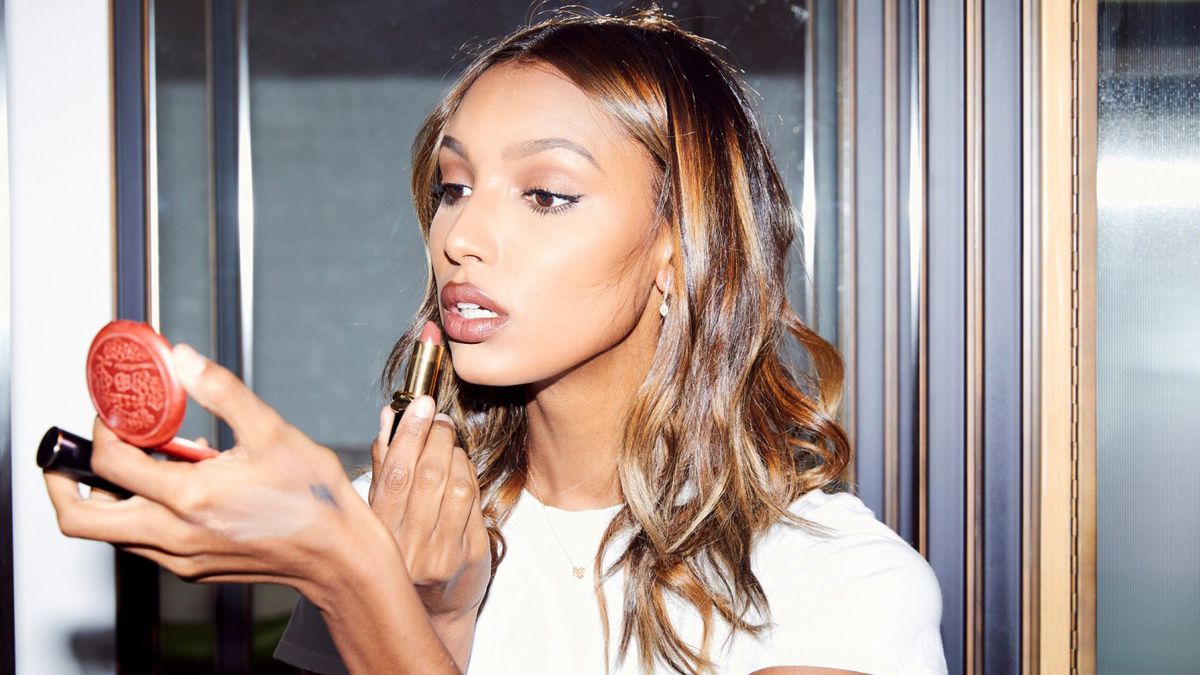 Makeup
Three low-effort, high-payoff looks for Valentine's Day.
Yes, Valentine's Day is usually a special day, whether you're having dinner with your best friend, date night in front of your laptop, or hittin' the town for a fancy dinner with your S.O. But if you decide you want to give a little romantic twist on your usual makeup look, chances are you don't want to actually spend more time on it. We don't, anyway! For a few suggestions on makeup that looks like it took a lot of effort, but actually didn't, we called one of our favorite time-saving makeup pros, Kelli J. Bartlett, vice president of makeup at GlamSquad (the peeps that come to your house to do your beauty stuff for you), for some ideas.
---
Low-Maintenance Red Lip
"It's a really sexy statement to have all that attention on the mouth," says Bartlett. "Go for a true red. One of my favorites is Tom Ford Ruby Rush, which looks good on everyone and somehow always brings out people's eye color, too." But the key here is that a statement lip should mean less time and attention spent on the rest of your look. "Use your favorite pink-toned blush and wash it across the brow bone, and leave the lid neutral. Then add a flirty lash with a ton, ton, ton of mascara to balance out that red lip." For the skin, tone down the blush on the cheeks and pick a highlight with a more modern gloss texture that's less on the metallic side. "You could even take a clear lip gloss and tap it on your cheekbones to give it a really wet, sexy look," Bartlett suggests. "You'll look cool and not overdone."
Flirty Eyeshadow
"I do something I call 'Dinner Plate Eyes,'" says Bartlett. "It's that moment when you're looking at someone straight on and they can't quite see that you have shadow on—it's not blown-out and crazy—and when you look at your dinner plate, you get a flash on the lid." Basically this means concentrating a high-shine stripe of metallic shadow right over the iris of the eye, like you're giving your eyelid highlighter. "Start with beige, warm brown, and chocolate colors of shadow—really neutral—and just add a stripe of gold, silver, or bronze. Buff it out on the edges with your finger or a small fluffy brush." Bartlett likes the shades in the classic Urban Decay Naked Eyeshadow Palette.
Super Radiant Skin
Start with a lavender or peach under-eye corrector, and apply it a little farther down to make a triangle shape under the eyes. "This gives that lit-from-within look because you have a lot of light hitting the center of the face," says Bartlett. Her favorite is Maybelline New York Master Camo Color Correcting Pen. Next is the foundation—ideally something creamy and glowy like the new Nars Radiant Longwear Foundation—but if you do invest in one thing for your complexion makeup that will save you time and make your foundation actually look like it's your skin, get a Beautyblender, Bartlett says. "I'm a ride-or-die Beautyblender fan," she confesses. "Make sure you get it damp—squeeze it 8 to 10 times under the water. Go right from the under-eye and blend that out, apply the foundation and blend that out, and then use the same sponge for your liquid highlighter as well. That will give you the seamless edges." As for the highlighter, Bartlett likes the rose gold shade in the RMS Highlighter Quad or the Charlotte Tilbury Hollywood Beauty Light Wand, which is more metallic. "Dab on high planes of the cheekbones, the nose, and Cupid's bow, and dab away." To quickly add blush to the apples of your cheeks and some lip color, use your finger to apply a pretty berry cream blush like Balmyard Beauty Baby Love Balm Lip and Cheek Tint.