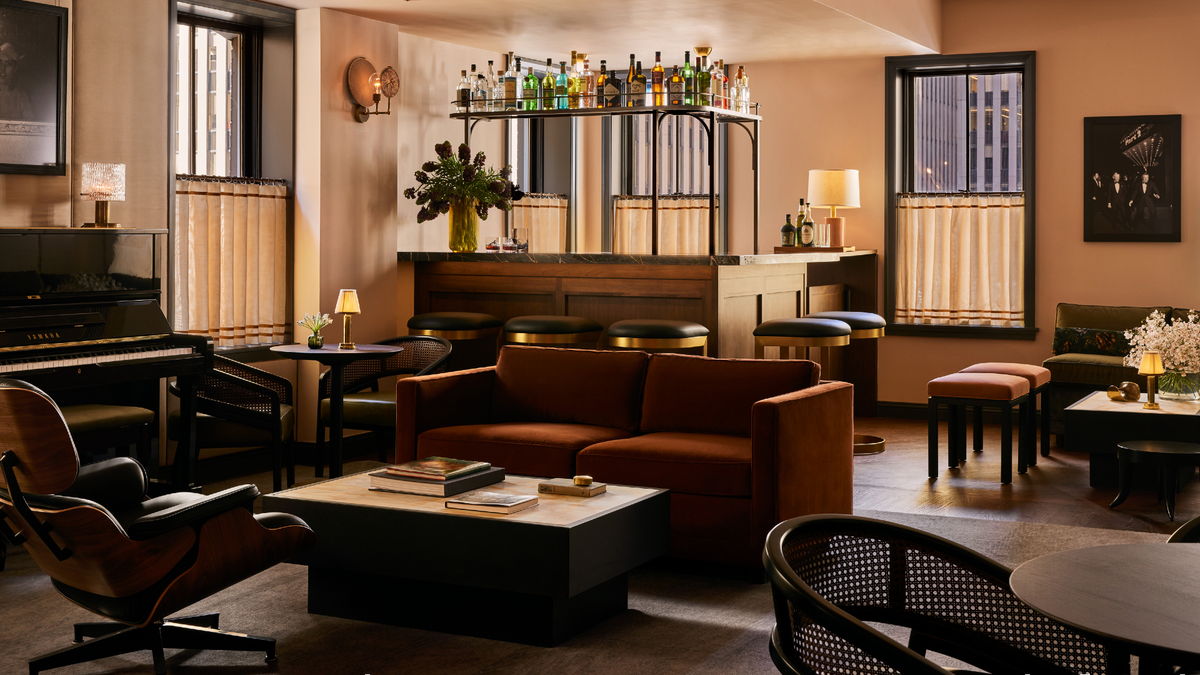 Photo: Courtesy of Nicole Franzen
Interiors
The brain behind Pebble Bar's interiors takes us through the design process of the buzzy new bar.
A blatant contrast to the backdrop of the flashing Radio City sign, no signage marks the entrance of Pebble Bar—a small townhouse-turned-bar on the corner of 49th street and 6th avenue in New York City—apart from a framed menu. But the consistent line out the door alerts passersby that something must be happening within, and indeed there is.
Pebble Bar is NYC's latest celebrity-backed bar du jour. The Midtown nightlife hub has garnered major press thanks to its roster of celebrity investors—Pete Davidson, Nicholas Braun, Justin Theroux, Jason Sudeikis, and Mark Ronson—but the interior tells a story of its own.
Interior designers Christine Gachot and her husband John Gachot joined forces with the brains behind NYC hotspots like The Jane and Ray's—Matt Kliegman, Carlos Quirarte, Noah Bernamoff, Julian Brizzi and Matthew Charles—to revamp this after-hours venue, previously dubbed Hurley's, that originally catered to the titans of Midtown, like bankers and Broadway performers. Resting against Rockefeller Center, the bar also boasts a secret entrance for SNL's cast and crew to garner easier access.
Gachot, of the design duo's Gachot Studios, known for her work on Acme, Bar Pendry, and more, transformed this tiny townhouse into a multi-level space that rests at the heel of the sky-scraping Rockefeller Center—hence the metaphorical "pebble" title—into Midtown's rendition of Neverland. Guests come for a drink on the main floor (perhaps a Satin Doll from the cocktail menu?) An hour later, they head upstairs to nibble on crab cakes and pretzel bites. Then they spot a friend who pulls up a chair. Suddenly hours have passed by in no time at all on a casual weekday night.
A lucky few gain entrance to the VIP-only fourth floor, dubbed "Johnny's" after Hurley's frequenter Johnny Carson. As Gachot says, that's "where the magic really does happen." Whereas the lower floors feel more like bars (think: leather banquettes, standing tables, and custom barstools), Gachot sought the feeling of a living room for this penthouse suite. The more residential feel comes in the form of candle votives (found via a hotel stay in Sweden), the hand-curated coffee table books—Garry Winogrand, The Tonight Show, and Dr. Zizmor's Brand Name Guide to Beauty Aids are only a few—and meticulously-arranged florals by comrade Raquel Corvino.
When Gachot and I spoke, the bar was lit with midday sunshine. At night, the space glows from within, creating a lantern-like effect from the exterior. When Kliegman stopped by our interview to shed some light on the immense speaker system he assured me, "It's one of the few bars that looks beautiful in the daytime." Ahead, discover more about the process of curating this after-hours hotspot.
.
Pebble Bar's exterior; Photo: Nicole Franzen
How did you all connect and conceptualize Pebble Bar?
"Matt [Kliegman], John [Gachot], Carlos [Quirarte], and I bumped into each other at Marc Jacobs's wedding and Matt just said, 'Hey, I've got this thing we're working on. We all know each other. We're friends. Do you guys want to do it?' John of course said yes, sight unseen, knowing nothing about it. Loves Matt, loves Carlos, and was like, 'Great. I'll do anything with you guys.' It really became my little passion project. We're partners in the bar and restaurant.
I'd done a few evening bars along the way. We [Gachot Studios] did one in the Shinola [hotel] that was really successful. We did a little evening bar at The Smyth years ago. We're at the same time working on Pendry and that has a beautiful evening bar component to it. So I really wanted to do something very different. I wanted it to feel almost like a living room, like a home."
In terms of the design, what were the logistical boxes you needed to check off first?
"There's a pro forma, right? This is a business. There are seat counts. You start with the floor plan to figure that all out. How many times are you turning tables? What's the menu? What are people serving? How do we fit it into a small space? (In this case, for sure limited space.) You start there and then work your way out to the fun part. Then it's thinking about what people need in the neighborhood, what's going on here, what's not going on here? And getting that offering going."
In a more aesthetic sense, like the uniforms, how did you play into the vibe of the menu?
"That all happened simultaneously and really, a lot of our uniforms came after the design. The menu was being done at the same time. It's like okay, they have this beautiful seafood tower and small bites, so you are looking at what can fit on a table. That all happens at the same time. I've worked with a very large holistic team—head of food and beverage, operations, head of housekeeping—so doing these types of projects for me is heaven. I'm back with a much broader, larger conversation and that makes for great design. It really does help when the design team is a part of that insight or you can miss [the mark]. I have to admit, these guys were bugging me to get rid of the Eames chairs. I'm like, 'make it work.' There are things that we push back on that we just think will be different and unique. When I'm here, I literally am sitting on one of them with John together having a tequila or whatever."
Tell me about the bars. How do you go about designing these magical constructions?
"The smaller bars on [levels] three and four are just my sweet spot. I love a very small bar, but they have to function. How many people are behind the bar? What do you need? What don't you need? We don't want it to become a storage area. Downstairs on the main level is a whole different thing. It's a lot of folks getting a lot of drinks all the time.
I have some personal favorite small bars. There's a bar in the Greenwich Hotel lobby. I reference it constantly. I'm kind of in love with the bar at Fleming [by Le Bilboquet].I'd been working on and off on a project with [André] Balazs in London and their smaller scale clubs, like Blacks are beautiful moments. We talked about that a lot in doing this because it is a townhouse and you have these multiple levels, people passing each other on the stairs. And then some people don't want to be seen. So how do we get them up here? The gymnastics of all of that. So those were really big inspirations for sure."
Where did you source furniture for the space?
"I wanted people to feel like they could be in someone's home. A lot of it is custom that we did specifically for the project, but then a lot of it is 1stDibs, Chairish that we purchased and refurbished. Our go-to barstool on the main bar is a Gachot stool [made in collaboration with Thomas Hayes]. Piano, lighting. We always try to fit the Stone and Sawyer guys into a project. It's kind of an eclectic mix. I mentioned the Eames and I certainly feel like I'm at home when I'm sitting in one."
How important is lighting in this whole equation?
"It's really all about lighting. It's complicated. It's more about transition that you can go from daytime to late night. It's really hard to get that transition. Then, making sure everybody looks good. That's another big one. You also are creating a beacon because we don't have a lot of signage. You're always very aware that when you're designing, it's not just about being in here. It's what the folks out walking around see at night—for many reasons. One, to be respectful of their neighborhood and two, to let people know we're here. We have had a few lovely people who have big corporations here in the neighborhood tell us we have created a little lantern for Rock Center, and some intimacy and scale."
How has it been working in Midtown specifically?
"When Tishman [real estate] approached Matt and Carlos to come do the project, I think they were like, 'Midtown?' See a need, fill a need. The local community and businesses are trying so hard to get this neighborhood somewhere else. The roller rink is going to be going in. There are so many great new restaurants in the neighborhood. I lived on Bond Street most of my career, but we just moved to Beekman Place and the number one complaint is 'Where do you go?' And now we have a spot. I think the city has changed. After what's happened in the past few years, there aren't as many people who don't go above 14th Street. I mean, right time, right place?"
This place has gotten so much press, which obviously comes with the celebrity contingent. How do you feel about that? Do you like it? Steer clear of it?
"I love it. I'm so proud and happy that people are paying attention to it. [Considering] what we just went through, for our friends and family in hospitality, food and beverage, to have those folks celebrated now is awesome. They deserve it. And I'm just so thankful that people are back and paying attention, noticing what their efforts are and what they really do. They make New York New York. That's why it's so special to be in places like this. People like Matt and Carlos and Noah, all these people have families, they have normal lives yet they stay out till three in the morning and make sure everything is absolutely perfect at every given moment. Bartenders, barbacks, waitstaff, the people who come in and clean at night, they were out of work for a very long time. So I'm thrilled. I'm thrilled with our project getting a lot of press and I'm thrilled with a lot of other projects getting a lot of press because I want people to be out, of course, safely. But it's time for these industries [to get attention]."
Christine Gachot; Photo: Chris Ubanke
And then the speakers. How did those come into play?
"They came into play a little bit later. Typical Matt and Carlos were like 'Oh, God, we hooked up with this guy. We found this thing.' And I'm thinking a nice little 12 x 12 thing and then these huge cases come in, but they really make the room really special aesthetically, sound aside. The speakers are vintage, but they have all of the vintage devices inside of them. They sound wonderful."
Music I'm sure plays such an important role creating the overall feel of the space. Did that dictate anything you did in terms of design?
"All of these silk panels around us have acoustic paneling behind them. Then we just wrapped them in silk and it turned out pretty gorgeous. Elegant and functional at the same time—that was the thought. Matt and Carlos mainly take care of [everything music-related] operationally. I've been here when there's a live DJ, which is super special. I've been here when someone famous is playing piano, which is incredibly special. So I've kind of gotten to see it all but they take the vibe through the night. I mean, they're pros on nightlife. This is what they do."
How did you curate some of the smaller details, like flowers and books, around the space?
"We always work with Raquel [Corvino]. That's an insistence of mine. The flowers are all placed like they would be in your home. These votives are from Sweden. I saw them at a hotel. Literally, when I got back, I called the hotel and said, 'Do you mind if I ask for your candle source?' So, we ordered all the candles from Sweden. We're constantly redoing where the books should go, they're [out of order] now so I know someone's been flipping through them. It does feel very hotel lobby-like and I think it encourages that in the way that people use it. I've seen people sit on the floor when there's not enough seats, which I'm always a fan of."
Pebble Bar's top floor known as Johnny's; Photo: Nicole Franzen
What does a typical night here look like? Have you had any particular favorites?
"Well, the Batman premiere after party was here. That's no secret; it was all over the press. That was a pretty epic evening, very reminiscent of being at the Chateau [Marmont] during Oscar week. It was magical. And then there are nights that are more personal. John and I coming by for a drink, just the two of us, bumping into friends. That's another thing about this place—Matt and Carlos are geniuses of this—we'll come and we will randomly bump into six people that we know and pull up a chair. And then you see someone across the room like, 'Oh my god, what are you doing here?' That happens here a lot."
What's your go-to order at Pebble Bar?
"I order a tequila drink. Just tequila, lemon lime, blanco tequila. They know exactly how to do it. They're pretty masterful at the cocktail situation. Seafood tower always."