Tour This Sprawling British Estate Complete With A Library & Whiskey Room
Manifest the energy of a person who sips after-dinner aperitif in the study.
Interiors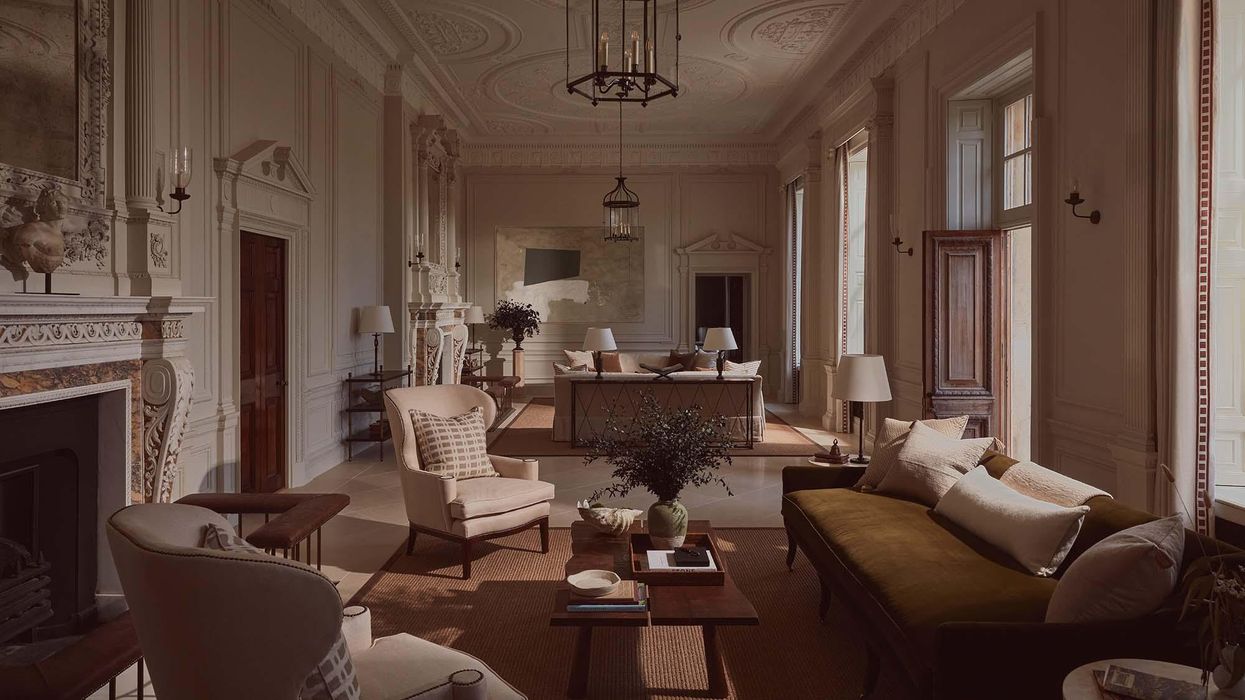 Stride through the gates of Benham Park and you're greeted by the sprawling grounds of the Berkshire countryside and, after a drive down a winding road (of course), an estate almost castle-like in stature. "We employed a historian who helped us gain in-depth insight into who lived at the house, how they lived there, and what their interests were," says Ottalie Stride, Creative Director at Albion Nord, the design firm tasked with the challenge of subtly and respectfully modernizing the property after it had stood vacant and (even worse) been used as an office space for decades. "We even looked to historic portraits of the previous residents and guests as inspiration for color schemes in the bedrooms."
The challenge then became balancing that tribute to heritage with a more modern sense of comfort—the space is now a private residence but with a medical wellness license for high-profile guests. "The rooms still feel gloriously grand, but comfortable, usable, and fresh," adds Stride. With the help of architect Henry Holland and landscaper Capability Brown, the Albion Nord team found inspiration in the work of Jasper Conran, specifically his Wardour Castle project. A notion you'll see reflected in the simple furniture set against artistic molding and ornate light fixtures. It's historical extravagance—minus the clutter. Think Nancy Meyers with an even bigger budget.
That sense of modernity also extends beyond the aesthetics of the home. bespoke wooden units hide TV's, decorative grilles disguise heating and cooling systems, and a sophisticated network of technology snakes beneath the floorboards and through the walls—a daunting aspect of the renovation process. Despite all of this renovation, Stride still uses words like "scullery" and "cornices" when describing the final product to ground everything in its rightful place along the home's timeline.
The rooms that house the cabinets of curiosity range from a library to a home gym to a whiskey room—yes, apparently that is a thing. Upstairs, you'll even find the winter garden, home to a glass atrium and an assorted arrangement of plantlife. "Besides the obvious aesthetic lures, the history of the house," Stride concludes, "its prestige, and grandeur are one of a kind and to get the opportunity to work on such a property was impossible to refuse." Be fairly warned, a visit might transform you to become the type of person who enjoys an after-dinner aperitif in the study.
Shop the Story:
Tatiana Tafur