How Pat Cleveland Made History
The legendary supermodel catwalks us through fashion's golden age.
Fashion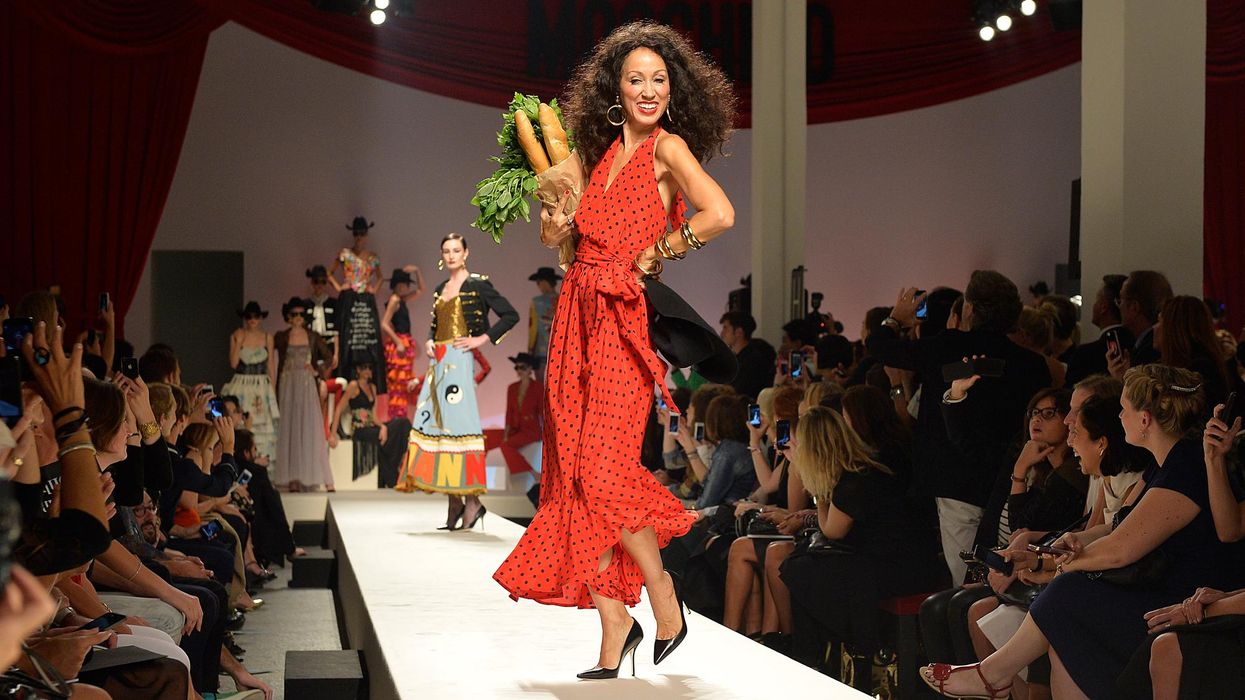 Pat Cleveland is holding a spoon to her eyelid. The technique, which ensures perfectly-arched liner to accentuate the eye, is one of many in Cleveland's arsenal—all obtained via online tutorials. She also bites down on a q-tip to avoid lipstick in the middle of her mouth. She even used castor oil to grow back the hair she lost after chemotherapy. Much of the process of 'making up' reminds her of her mother, a fine artist, who would paint her face the same way she did canvases.
Perhaps the 71-year-old Harlem native has so many muses because she, in turn, was a muse to so many. Recognized as one, if not the first Black supermodel, or as Andre Leon Talley once penned "the Josephine Baker of international runways," she once counted among her closest cohort legendary designers Halston, Salvador Dali, and Diana Vreeland. She mentored Naomi Campbell, Tyra Banks, and Kimora Lee Simmons. At 15, she was featured in Vogue as an 'up-and-coming designer' for her sartorial prowess. At 16-years-old, she was touring the country with Ebony as a fashion model. By 17, she had a line at Henri Bendels. And that was just the beginning.
Shot by Meisel, Berry Berenson, and Andy Warhol, appearing in the first-ever issue of Essence, modeling for Dior, Valentino, Oscar de la Renta, Yves Saint Laurent, Thierry Mugler, and Karl Lagerfeld at Chloe, Pat Cleveland's resume is so robust it needs a binder. Thankfully, there's a book, Walking with the Muses: A Memoir—which, of course, has been optioned by an A-list actor (read on for more). If there was ever an icon for the ages, it's Pat Cleveland.
Speaking to Coveteur from her New Jersey home, Cleveland discusses the glitz, glamor, and grittiness of fashion's golden era.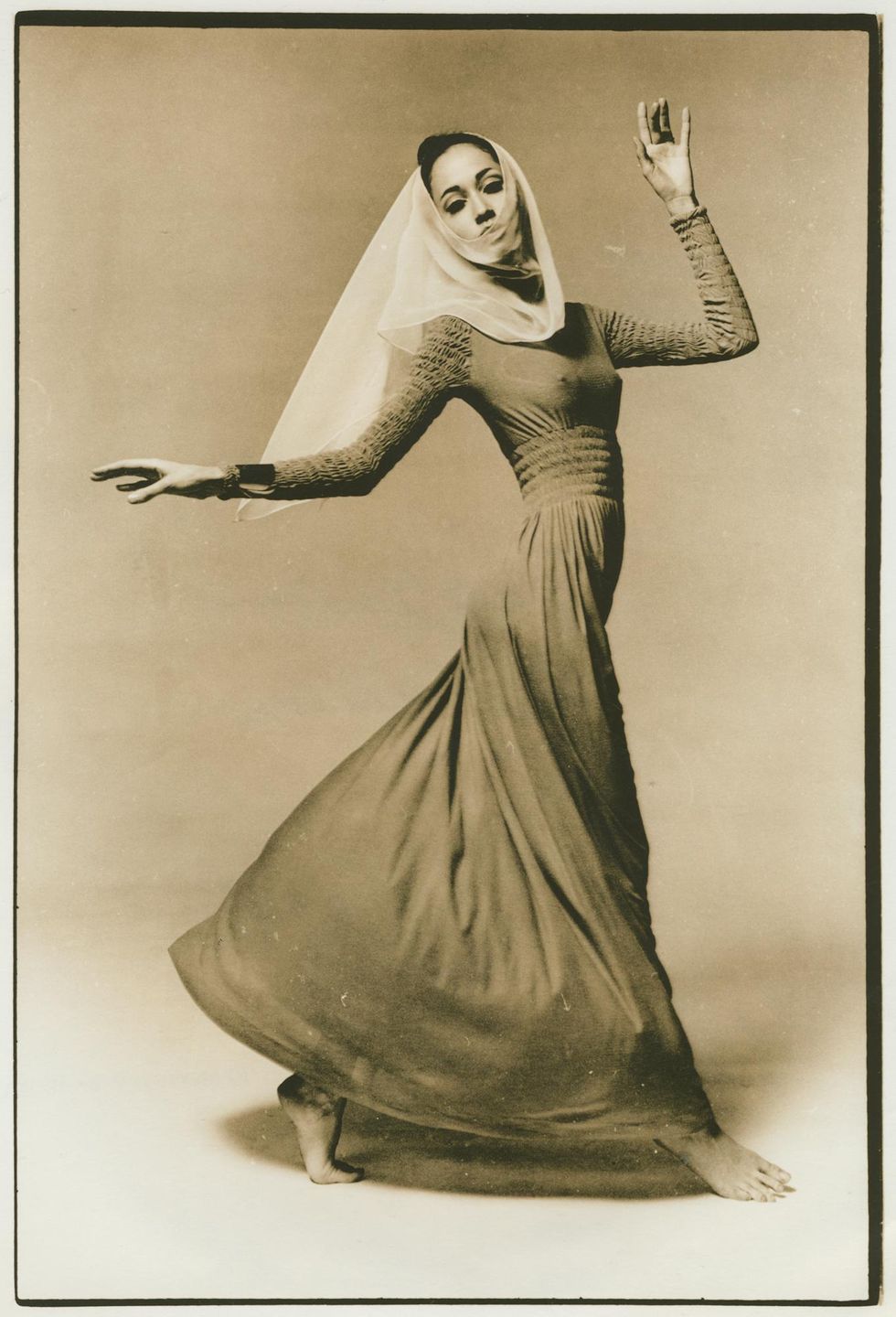 Pat, let's start at the beginning, how did you fall in love with fashion?
"I loved making things. All I wanted to do was design, to me, clothing was art. I was making clothes out of $1 dollar rags and wearing them to school. I would make these tiny skirts before mini skirts came out and people would say, 'Wow look at you in your tiny skirt!'
"I was discovered standing on a train platform in New York City. An editor's assistant stopped me and gave me a card that said 'Vogue,' and it felt like the whole world stood still. I was 15 when they found me. When I was first in Vogue I had a two-page spread as an 'up-and-coming designer.' But I didn't feel comfortable delegating to older people, telling people what to do, how to make the clothes. And it was a lot of work. At the same time I was going to school then running through New York City with a portfolio that looked like a suitcase—18 x 24 photos—for studios to just say 'no' again and again. Initially, no one wanted me as a model. It was my 'color palette.' There were no opportunities for girls of color."
With all that rejection, were you able to maintain your sense-of-self and self-esteem? Did you still feel 'beautiful'?
"It became a case of 'do or die.' Having my heritage, slavery two ancestors back, I felt like I had to do my very best because I was their representative. I wanted to do it for everybody else, I never once thought about myself. I had to use what was given to me, and make the best of it. I had to try to live as well as I could. It was about participating and creating and dressing up and wearing makeup as an art. But most of all I knew birds of a feather flock together, and I was trying to find my other feathers."
When you found them, in Halston or Stephen Burrows, did it feel like you were meeting these once-in-a-lifetime talents?
"What registered for me was that it was the top of the world. I'd stepped out of hell into heaven. Even though it was a work atmosphere, everyone was so charming. Diana Vreeland was magical, she'd tell me to just, 'Do what I want.' She'd put clothes on me then rip off a bow. But everyone was so hardworking."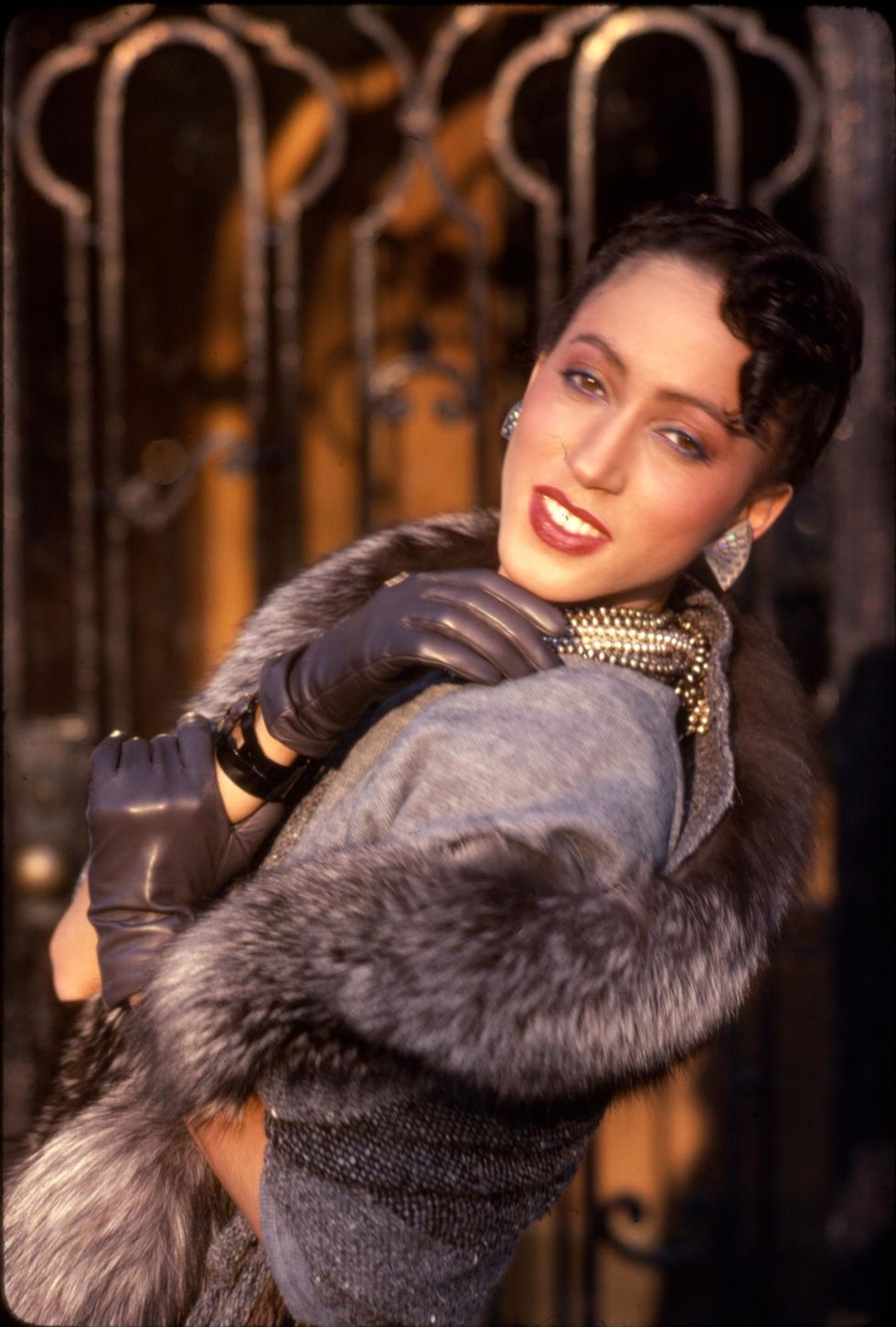 Did you have a support system in other models?
"No one was supporting anybody. Who supported you were the designers. The models were out for themselves. We were working with bitchy models and mean designers who would stick you with pins, or working with camels and tigers or catching pneumonia in sub-zero temperatures. But I had Stephen and Halston to dress me 24/7. I had Mrs. Vreeland and Andre Leon Talley in my corner. We were just a whole group of people doing our art, growing up together and going to Fire Island and riding in limousines and dancing and romancing. It was everything you'd want your dream life to be."
What was your routine like in terms of maintaining your appearance?
"I worked out quickly that I would have to stay healthy to look good and keep working, so I would travel with a juicer—I'd be juicing in my hotel room."
Did you have to often deal with harassment, the darker side of the modeling agency?
"Those were film directors. They tell you to come up to their hotel room and lock the door behind you. That's why I never really went into acting movies, I didn't want to deal with it. I had to face that so many times. You just knew you were going to run into that as a girl. I had friends who would go to a party then would have to be picked up from the hospital because someone had put drugs in their drinks. People would just pounce on you. You had to teach people how to treat you."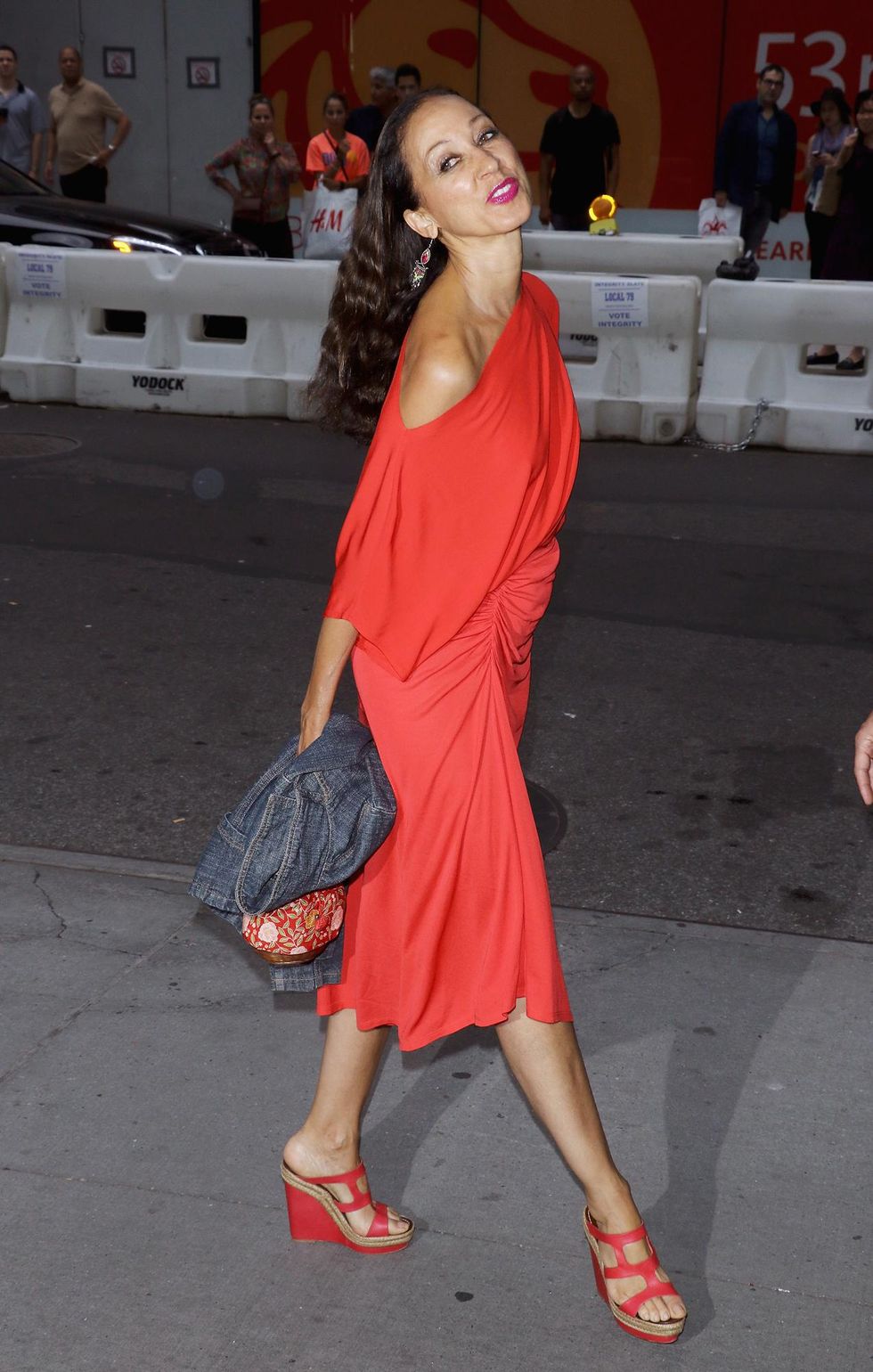 How have you seen the modeling agency change?
"The color palette [laughs]. There's also so many models now. Back in those days there were like 10 of us. No one knew your name as the model, you were just a face. Then came the supermodels, they made insane money and the agents would push for the cash. When we came up it was never about the business, it was just dressing up and having fun. But I would give Naomi Campbell and Tyra Banks walking lessons, we still love each other. I'm so proud of them."
You have to tell me about Salvador Dali:
"I met him in New York—he would take up a whole floor at the St. Regis and have parties. But when I moved to Paris it was different, I would see him everyday and just sit with him in the room. His wife never liked me because he would gift me her things, literally give me things he had bought for her."
I can't imagine running among that crowd, and seeing the genesis of Studio 54:
"I remember Steve Rubell who owned Studio 54 wasn't able to get into clubs because he was from the outer boroughs. So he said, 'You're going to see, I'm going to show them, I'm going to open the best club in the world.' And he opened a studio on 54th street. Our first night there, Halston said, 'I don't dance, I have two left feet,' and Steve put all the lights and the music on, and Halston just lit up. We all loved each other so much. The designers were my muses."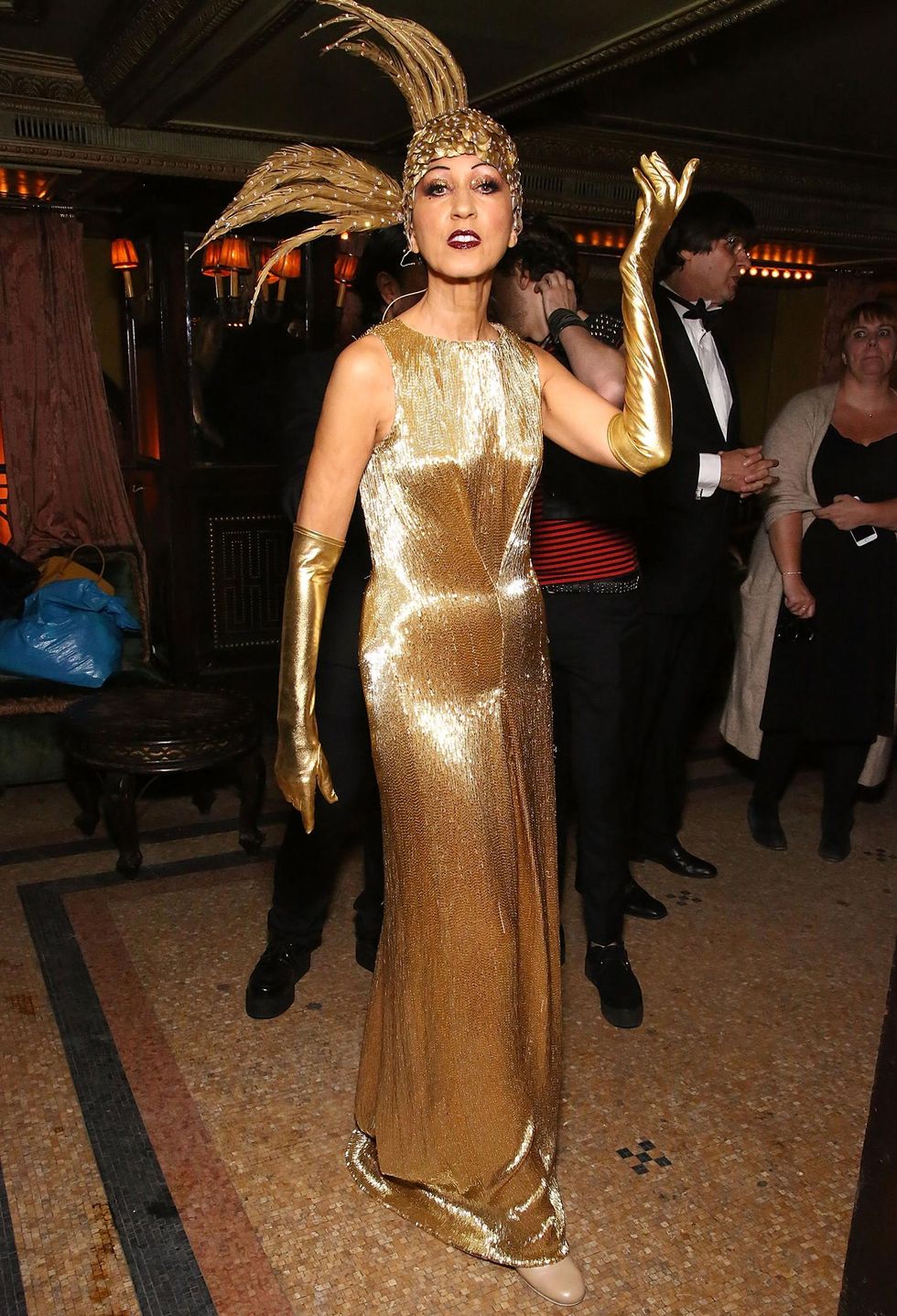 Your friendship seemed so special:
"Well Halston was very lonely. He loved [makeup artist] Victor Hugo, but Victor was trouble for Halston—he had no boundaries. He's the reason Halston got AIDS. Everyone was so upset about the series, all of Halston's friends, but people tell stories the best way they can. These are actors, they can never be these people, totally. Ewan McGregor might not be as statuesque as Halston, but he worked his butt off. And he got the voice. There'll be many more movies that will tell a different side."
Surely you've been approached to tell your story on screen?
"Two years ago writers came from Hollywood to talk about my book Walking with the Muses. Jamie Foxx was one of the producers, Viola Davis was in conversation. Other people were asking me but the book was in their hand. Then they were going to get Zendaya, and I gave the book to Zendaya. But then the pandemic came down, and I'm not going to be pushy. The book is written, it's always going to be there."
I don't know if anyone has lived a more interesting life:
"It's the people around you that make you who you are. We're all trying to find each other to have some fun."
Photos: Getty
Want more stories like this?
Keeping Pace with Olivia Palermo, Fashion's Favorite Face
We Have a Lot to Learn from Kimora Lee Simmons
JoJo on How She Found Her Light Again