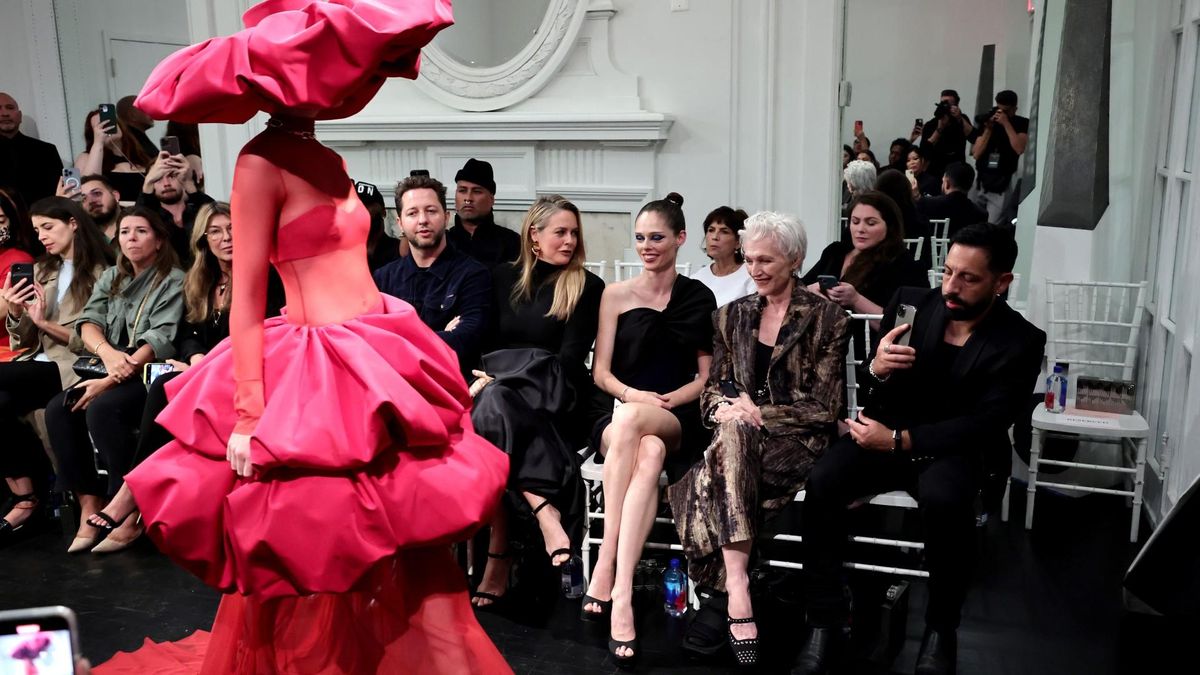 Photo: Jamie McCarthy
Fashion Week
Two producers take us behind the scenes.
Christian Siriano showed his Spring '23 collection last Thursday at Elizabeth Taylor's townhouse. Models traipsed down the stairs clad in the New York designer's sumptuous eveningwear seemingly at random. Behind the scenes, producer Sophie Pape ensured it appeared as such. "The fallacy with calling shows is that there has to be a certain amount of seconds between each model," she says. "That's not the case." She takes into account each model's personal cadence, the restrictiveness of the garment, and their designated footwear to assure a rhythmic procession. It's in-the-moment reactions like these that propel Pape's fashion shows.
This Spring '23 season of New York Fashion Week, along with her team of six at S Projects (plus seasonal contractors), Pape produced shows for Area, Anonlychild, Alo Yoga, Sergio Hudsion, and of course Christian Siriano. All of which weren't mere runway shows. They were theatrical productions audience members won't quickly forget. "A fashion show is, in essence, a spectacle," says S Projects creative production coordinator Devin Hammond. Pape's simple mark of success? A good time. She wants to see show goers smiling. On the client side, she hopes their vision is articulated. "Because they will have the characters. They may not necessarily have the story."
Pape began her career at British Harper's Bazaar. The team needed someone to step up and produce the Woman of the Year Awards. Pape, 21 at the time, volunteered. The job was comprehensive, as production often is. Pape did everything from secure sponsors to fine tune lighting. "I nailed it," she reflects, "and then they essentially made me the events director." She later moved to New York and worked in the events department at Vogue. "I was doing a lot of side hustles, and my side hustle became my hustle," she says of her brainchild S Projects. Now, she consults for clients ranging from The Costume Institute at the Met (a product of her time at Vogue) to behemoth brands Disney and Hulu to New York fashion label Area.
Her production protege, Hammond, is another testament to the idea that age has no bearing on performance. Hammond graduated in 2020 amidst the pandemic. She began her career in the world of casting and had an opportunity to work the Met Gala with Vogue. There, she met Pape. "Since The Met Gala, I've been working alongside this fabulous and very talented woman," says Hammond, before qualifying, "No, seriously, she gets shit done, for lack of a better term." The Spring '23 season is her first fashion week.
"If you've been in the trenches so long, you don't lose your creativity, but sometimes you don't dream as big because you know what the feasible deal costs," says Pape. "Then you get these big dreamers and you're like, 'Okay, well maybe we can figure this out.' We've got an 18-foot neon [sign] being loaded in tomorrow. That doesn't exist anymore." When Pape and Hammond discuss the projects they're working on this season, you can taste their excitement, feel their frenzy. And you can see the lengths they'll go to for their work; the two joined this interview crouched in a stairwell at Spring Studios. Discover all the nuanced elements of fashion show production below.
Production is such a catch-all term. There's so much under that umbrella. Can you tell me what exactly your job encompasses?
Sophie Pape: "We're a little different. We don't hire creative directors because we're creative enough internally to come up with new ideas, come up with a vision, or take a vision and materialize it and make it feasible. And so in terms of creative producers, we have all the facets. Everything from concepts to design. Where is this going to be? What is it going to look like? We will do all of that. And then the nuts and bolts of production—making it all come alive. How does the AV sound? How are we going to build this? I mean, I just built an entire tunnel today by myself."
What are some of the elements you have to deal with that most people wouldn't think about?
SP: "The fallacy with calling shows is that it has to be a certain amount of seconds between each model. That's not the case. Well, at least it's not the case for a really beautiful show that is actually timed to a T—maybe back in the day when everyone was super tiny and they all had the same pace. Now, that's not the case. We have diversified models, as we absolutely should do, and we've diversified in timing. So that means if you have a girl in a tricky dress that is going downstairs, she needs more time on both ends because I don't want that next model catching up and I need to set her up earlier, for her to catch up to the model in front."
Devin Hammond: "And the heels are all gigantic."
SP: "When doing it, you have a vague idea but you're [playing it by ear] because you have no idea how they're going to walk. You don't get to rehearse that so you've got to wing it and you've got to be good. And I'm there going, 'Okay, we need to re loop the music because we need 28 minutes instead of 21.' And we're doing it live, so you probably didn't notice, but we slowed the music down and then we had to loop one. He didn't tell me if he wanted a final walk until during the show. He was like, 'I don't want to do it. The girls are not going down again.'"
DH: "I will give you credit for producing in a digital age where so many people are backstage. Press and everyone is trying to do content for their own personal stories and having to kind of fend everyone off so we can get the job done is a whole other element that I think is not really discussed."
What does your process typically look like?
SP: "It depends on the designer. So, someone like Jeremy Scott will say, 'I've got this idea.' And he'll give me like, twisted tea party. And that's it. And he'll say, "Go." And that's it. I'll see him on the day. I don't have to check anything with him. And then there's some people who want to see rounds and rounds and rounds of renderings. They're very specific about every single detail and you just have to know your client and lean into it. A lot of the time, trust is built. And they know I don't deal with bullshit and they know that I'm very protective over my team's time and their mental health and all the rest of it."
DH: "Basically a client comes to us and says, 'This is what I'm envisioning.' So then we'll take it, we'll build a deck."
SP: "What's the first thing we ask?"
DH: "Budget."
SP: "What's the budget? Because I don't want to pitch a $3 million idea when they go and say, "Oh, I've got 50 grand." But then I taunted them with it."
What's the craziest thing you've ever done?
DH: "The Met [Gala] in itself was pretty crazy."
SP: "Honestly, the shows during COVID. We were on the front of the New York Times with Christian's show at his house. And I had to figure out how to do that and stay compliant with [safety measures] and make it safe. It wasn't crazy. It was humbling. I had such a capable team around me and these women are brilliant."
What's the value of this wildly produced, amazing experience of a show? What do you want to leave the audience members with?
SP: "A really good time. Honestly, I want them to come, leave and be like, 'I saw creative people do what they do best.' Or if they're more inclined, "Wow, I bet that was tough to pull off and they did it." What I really love to do is give people a really good time, a really awesome performance. I want to see them smiling. I want them to turn around and say, 'I had a really fun time.' And then from the client perspective, I want them to say, 'You gave me a canvas to display my creativity and I'm really happy with how that picture got painted. Thank you for telling my story.' They will have the characters but they may not necessarily have the story. And I think that is what makes me feel good."
Do you look at the collections when you do something?
SP: "Yes, because for me, it's pretty immediate. I'll see a line sheet and I'll know, 'This is my vision.' It's visceral."
DH: "She's very good at it now. She can estimate [budget] almost to a T. It's startling."
What do you like about a fashion show as opposed to a party or a dinner or a whatever?
SP: "For fashion shows, you're serving one community—one that I'm proud of. But also, you're working with wildly creative people. You get to have a bit of a performance with audio and developing the playlists and the lights and how the show is going to look. We also are heavily involved with content capture. So, I'm thinking about camera angles and how the shot is going to be for video. You're building a platform and a world for these characters, for this creativity to live. And they couldn't do without you and you couldn't do without them. So it's like, you're both in a real family and extremely loyal."
DH: "It's a symbiotic relationship. And it's really such a good opportunity... I mean, everyone you're working with is the most detailed, the most thorough. It's such an exceptional opportunity."
What's the difference between working with a huge corporate brand and a smaller fashion house?
SP: "The skills are still the same. You ask me to do a three-million-person event and I always say this to the girls, "It's still the same amount of phone calls." I've got to call AV. I've got to call lighting. But creatively, you get a lot more freedom with fashion."
DH: "With fashion, you get the opportunity for spectacle that a lot of events don't offer you. I think a fashion show is, in essence, spectacle."
SP: "And the energy is great."
DH: "It's like a performance."
If you look back, what's one show that stands out to you that you were extremely proud of?
SP: "Moschino in the subway, without a doubt. That was an impossible show that had like, no power, no lighting, nothing. And we did it all. And we had full backs-of-houses. We had to have these foam boards hiding the girls during hair and makeup. We had to find random churches that we could use the basement of. We had to get air rights to put a satellite so that we could get the internet down into the subway."
DH: "I will say one thing. Sophie never takes no for an answer. Ever. Until it's exhausted. Even this morning, she was like, "Don't come to me with a problem. Please. Come with a solution."