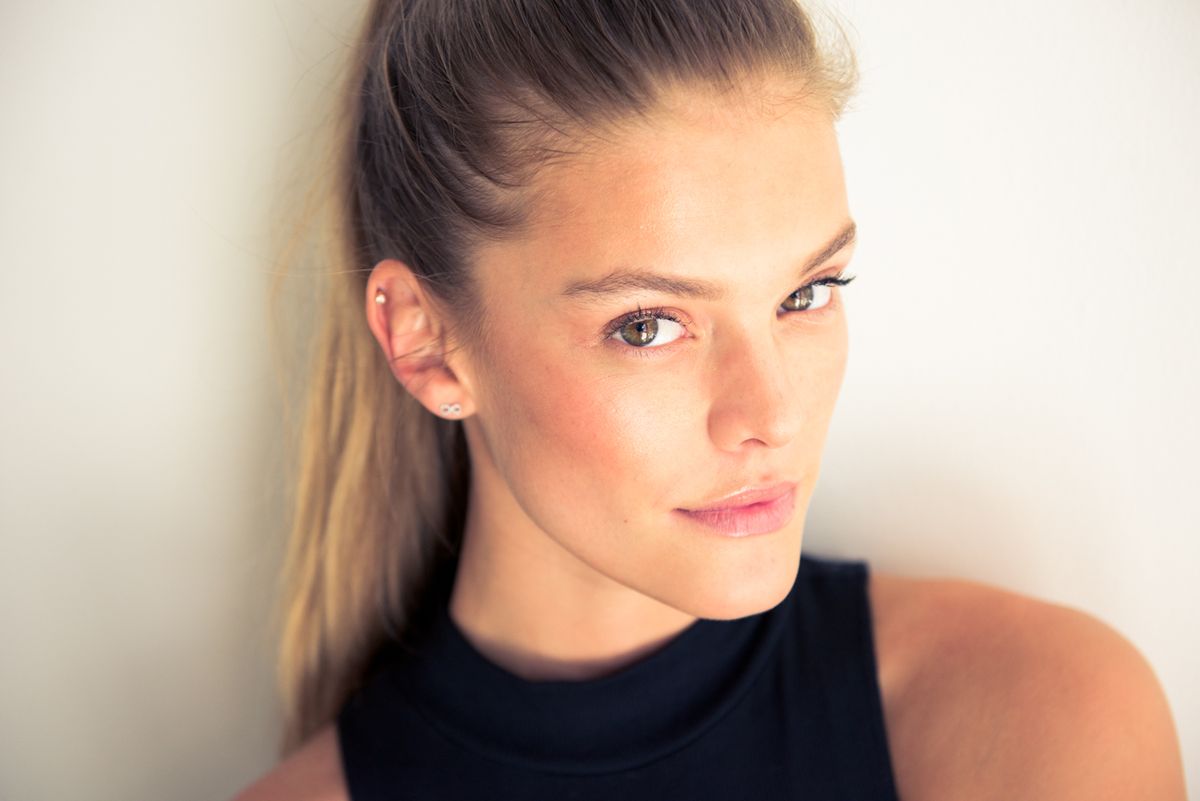 Fitness
The Sports Illustrated model on forgetting about the number on the scale and "diet soup."
---
We're just going to say it: Despite our greatest efforts, we have a little bit of body envy at times. We mean, when you spend a portion of your nine-to-five watching someone like Nina Agdal work out in spandex and a sports bra, it's kind of hard not to wonder why our abs don't look like that. (Note to self: genetics.) But, as the Sports Illustrated cover star admitted to us as she worked free weights at Soho Strength Lab under trainer Andy Speer's watchful eye, it's kind of her full-time job to look this, well, healthy, literally at a moment's notice. So when being healthy (or at least looking the part) is an occupational requirement, wellness becomes, to an extent, work, right? Here's Agdal on cheat meals, making health a habit, and going all out with a burger and a beer.
General Wellness
"Wellness to me is when you're happy on the inside and on the outside. If you're treating your body right, you'll feel happier, healthier, and stronger, which will show on the outside, as well.
"The most important thing for me is to be happy. Working out, eating healthy, and doing things I love make me happy. If I work hard, I can combine that with being able to have cheat meals every now and then without feeling guilty because I know I deserve it. That's the ultimate goal."
Mental Health
"I used to think that a certain number on the scale would make me happy, but I've thankfully learned it's not about that. That's just a number. What's happening on the inside is so much more important. My job is to be in shape at all times, but it doesn't have to be something you think about every second of the day. It's a lifestyle and becomes a habit after a while. I am 23 years old, and I'm still figuring out who I am. I know I love working out, but it's all a balance. Everyone should do what makes them and their bodies happy!
"I'm a night owl. It's 1:00 AM in New York, and I'm writing this. But I'm good at getting up when I have a purpose. With my job, I never know what my schedule is going to be the next day, so if I do have an early call time, I can get up and be ready. If not, I'd rather sleep in a little."
Travel
"Traveling is hard, but I always bring my own snacks with me, especially on long flights. I usually have Quest Bars, Gladiator Cookies, and kale chips from Juice Press—that way if I'm bored or get hungry, I have something to snack on. If you're traveling it can be hard to find the energy to work out, so I try to remind myself how good I'll feel after I do it, which is good motivation for me. Whenever I travel somewhere new, I like to go for a run around the city or find a local gym. It's a great way to get to know a new place because everywhere has a different vibe about it."
Beauty
"I believe that my wellness and healthy lifestyle definitely impacts my beauty routine. When you eat healthy and work out, it shows on your skin naturally.
"When I'm not working on set, I typically don't use a lot of products, but the one thing I always need is rose water spray, which I get from Whole Foods. I also use Eos lip balm every hour on the hour. Besides that, I like CK One's Cool highlighter on the cheekbones. It gives you a healthy look instantly!"
Eating
"I drink at least eight cups of water a day. I also drink a lot of iced or hot green tea because I love the taste, plus it gives me energy and can speed up your metabolism—or at least I believe so! I always try to start my day by drinking an entire bottle of water while taking my vitamin supplements. In the morning, I get a large Americano, and in the afternoon, I'll get an iced soy macchiato.
 
"If I'm up early and have to work, I'll have some scrambled eggs for protein and energy. If I'm not working, I stick to coffee and a small Greek yogurt.
 
"I made my own 'diet soup' once, which was basically water, chicken broth, celery, and tomatoes. I had one spoonful of it, and I never had it again. I thought it sounded like a great idea, but it wasn't pleasant.
 
"I actually love cooking. I grew up very spoiled: My mum was an amazing cook, so I learned from the best. If I'm cooking for myself, I try to keep it simple so there's not too much cleaning to do afterwards. My go-to is an omelette with vegetables like broccoli, asparagus, bell peppers, chili flakes, and Parmesan cheese. Or I'll do a steak with a tossed salad. But that's pretty easy stuff that I'll cook if it's just me. I like to go all out when I'm cooking for friends and family!
 
"Besides my traveling snacks, I like dried mango, hummus with celery, green juice with kale, celery, parsley, ginger, apple, and Greek yogurt. Or half an avocado smashed with a little bit of salt and chili flakes on a piece of whole-wheat toast. The chili flakes add just enough heat. I also love a good burger or a steak with a little béarnaise sauce. After a week of hard work, I'll reward myself with that and an ice-cold beer."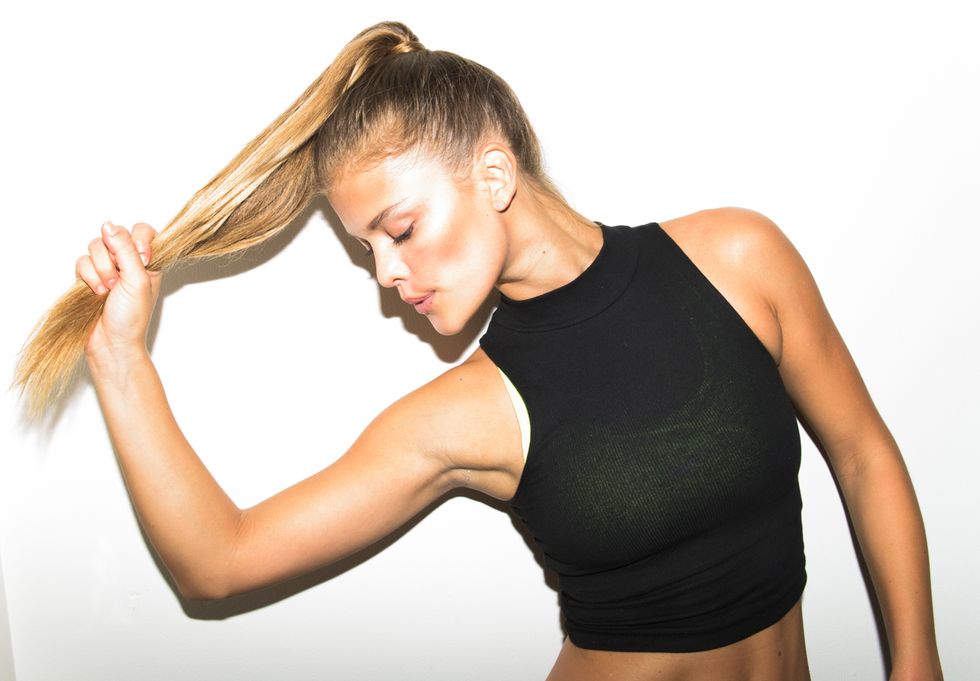 Fitness
"I don't like working out after I eat, so I usually just have something light like a green juice or a Quest Bar.
"Working out really helps me relax, so whenever I feel stressed, I'll either hit up my trainer, Andy Speer at Soho Strength Lab, for an intense workout, or go to a class at SLT or Soulcycle. I also really like to play golf whenever I can. Golf helps me stay centered because it makes you focus on one thing only: hitting the ball. I do that as often as I can. You also get to see the nature wherever you play on the course, which is really awesome, too."
Advice for anyone looking to be healthier
"Make reachable goals for yourself. Start a diary, take pictures every day of yourself in the mirror to see progress, but don't take it too seriously. Do it for you, no one else!"