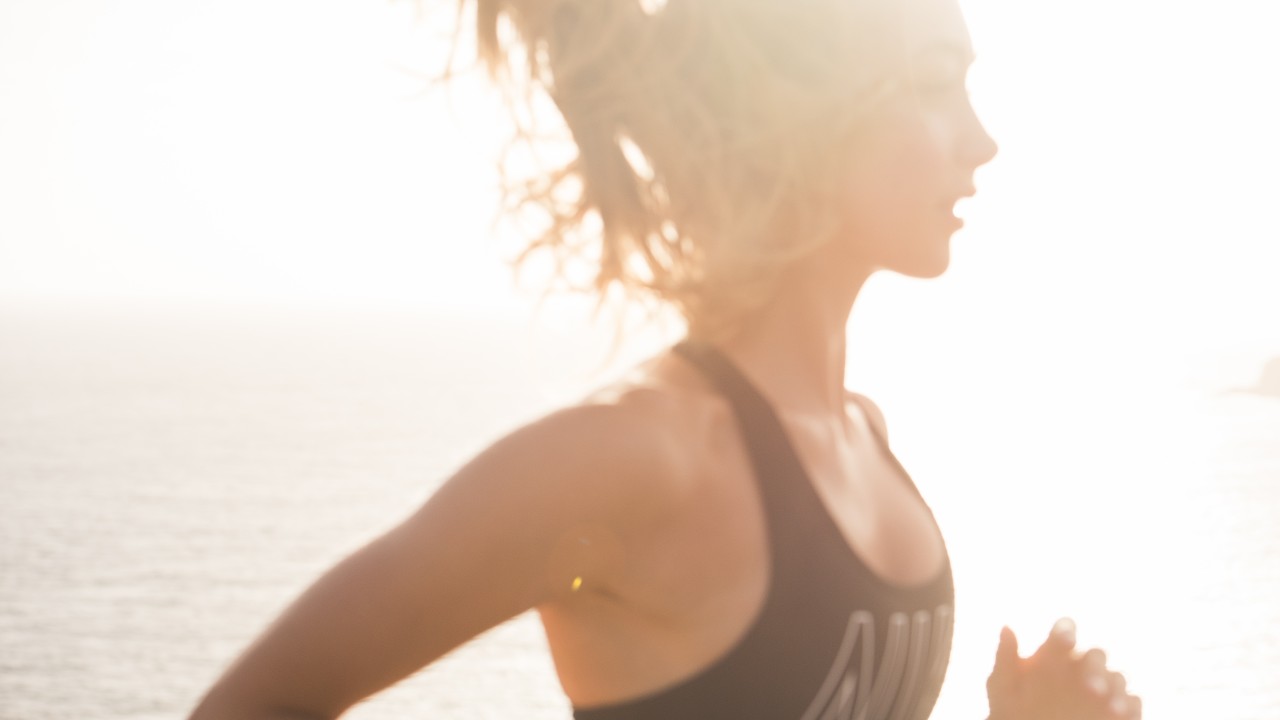 How Supermodels Train for Marathons
5 moves to get you race-ready.
It was January 1st; the champagne hangover hadn't quite faded at this point; the New Year's resolution guilt trip (along with a mild case of last night's regret) was just beginning to intensify, and before you knew what you had just done, you and your best friend signed up for a marathon (26 miles!!!) in the summer—all in hopes of undoing last year's indulgences. It's months away, so you can work your way up to race day, right? Only, it's already late spring, and you haven't managed to pry yourself off the couch, let alone be on pace to run (read: hobble) your way through the finish line.
You know that guilt we mentioned? Yeah, that's made a hundred times worse when we see that practically every model on our feeds just finished their last marathon with a PB ( = personal best; running jargon, you guys). So who better to get us into running shape, like ASAP, than Andy Speer, owner of Soho Strength Lab and the man who was responsible for getting OG supermodel Christy Turlington Burns ready for her first race with five movements that strengthen, tone, and prevent the worst type of running pain. 
Do this circuit 2-4 times through, 2-3 days/week
---
Move #1
Spider lunge sequence
DO 5 EACH SIDE
Start in plank position. Place your right foot just outside right hand, keeping foot flat and pointing forward. Pull hips up and back; focus on stretching the hamstring of the front leg (pull front toe up for extra calf stretch). Lower hips. Raise your right arm to the ceiling, twisting from your upper back, return your hand to floor and repeat on other side.
DON'T RUSH: This is an amazing full-body stretch. Runners have notoriously tight hamstrings, hips, and calves, and this sequence addresses all of these areas. Take your time and do this before and after your runs.
Move #2
Side Plank Pulse
DO 15 PULSES ON EACH SIDE
Start with your elbow on the floor under your shoulder. Your top arm straight to ceiling or with your hand on the hip. Keep your legs and hips straight, lower your hips towards the floor, and lift hips to ceiling, focusing on tightening the oblique closest to the floor when lifting your hips. Repeat.
PRO TIP: Push through your down shoulder, keeping your torso away from the floor. If more support is needed, put your top hand on the floor for balance.
This exercise works your obliques and quadratus laborum, which stabilize your torso laterally. AKA it prevents your torso from swaying side to side when you run, keeping your hips healthy.
---
Move #3
Toe Walks
IDEALLY DO WITH BARE FEET. WALK 30-50 FT ON YOUR TOES
PRO TIP:
 Vary the distance of your heel from the floor. Keep good posture with you upper body
—
chest out, shoulders back.
This exercise strengthens foot and ankle musculature and connective tissue, which are often overlooked when training in shoes. This can help prevent plantar fasciitis, shin splints, and calf problems. 
---
Move #4
Walking Lunge
DO 8-15 STEPS PER LEG, DEPENDING ON THE WEIGHT USED
Start standing, and step forward with one foot. Plant the heel gently, drop the back knee 2-4 inches from the floor. Step through to a stand, and repeat. *You can use body weight or dumbbells for an extra challenge. 
PRO TIP: Plant your front heel and keep it down until your foot comes off the floor. Keep your torso vertical and abs tight. 
This exercise strengthens the leg muscles eccentrically (the lowering part of the movement) in a very similar movement pattern to running. This is very important for runners, as every step is a small eccentric movement. 
---
Move #5
RDL with Reverse Fly
DO 10-15 REPS, DEPENDING ON WEIGHT
Stand with feet hip-width apart, push hips back. Run your hands (holding a dumbbell in each one) down the front of your legs, making sure to keep a neutral spine and neck. When your torso is facing the floor, raise your arms to side in a reverse fly motion. Hold for one second, focusing on tension in upper back. Lower arms and return to standing position. 
PRO TIP: Keep the weight in your heels. Try to feel a loading, or stretching hamstrings while lowering  your torso. Bend your knees slightly.
This exercise works your entire posterior chain: hamstrings, gluteals, lower back, and upper back. Strong hamstrings are important for healthy knees, gluteals produce power in your strides, and upper back strength is crucial for keeping proper posture while running.