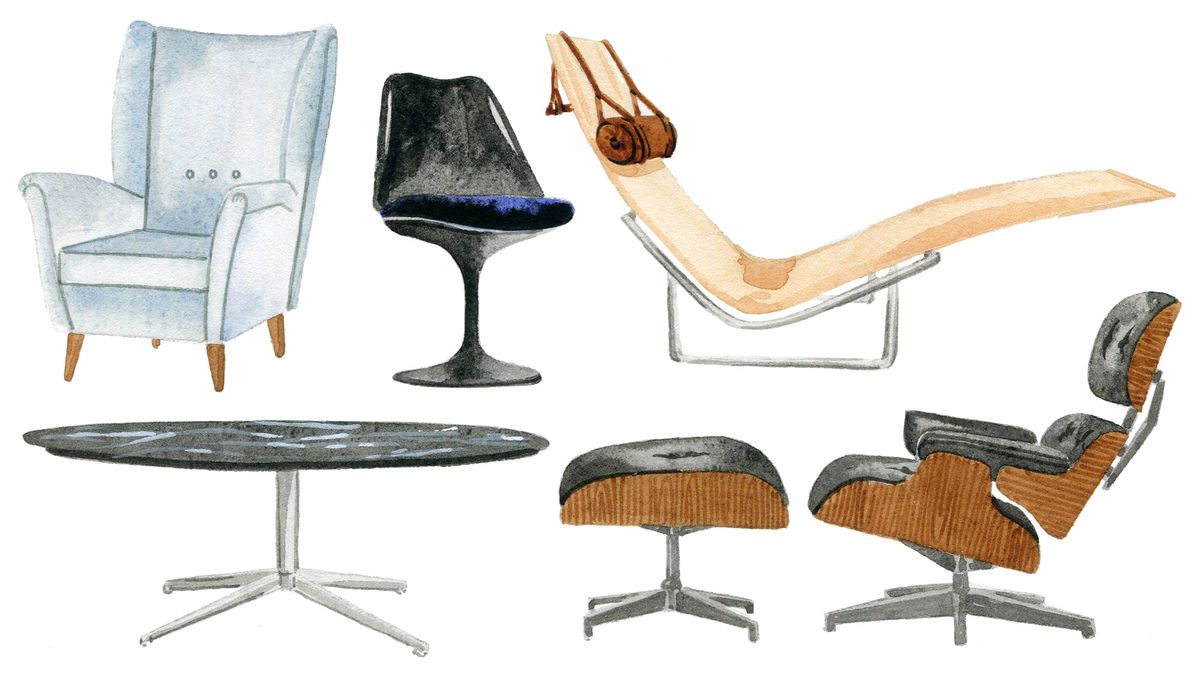 Decor
Know your Aaltos from your Eameses.
Illustrations
Meghann Stephenson
In our ongoing efforts to become more adult and generally ~together~, one of the most screaming examples of our interminable immaturity is that most of our apartments are still (still!) decorated with cast-offs from old roommates, boyfriends, and parents. A particularly atrocious (yet probably very comfortable) chintz sofa is a daily reminder that we have yet to become real, functioning people.
But we're slowly moving up in the world, and while much (too much) of our income is immediately thrown away at sample sales, the wiser among us are beginning to swap last season
'
s extras in favor of thought-out
interior
decoration. And, yeah, for the most part, we want our apartments to transform into shrines of mid-century modern design…whatever that means. Which is exactly the problem. It's time we actually take responsibility and figure out exactly what the buzziest of
decor
trends actually is.
And that is how we ended up quizzing Anthony Barzilay Freund, editor in chief and director of fine art at
1stdibs.com
, on all things mid-century modern. He set us straight: "There actually isn't one prevailing look, but they all share this idea of optimism, the post-war idea of a new day, and harnessed new technologies and the potential of brighter homes. Mid-century modern designers tried to create a new aesthetic that spoke to the modern age," he told us. "It was finally coming out of the 19th century and fully into the 20th."
And because not all mid-century design looks like Eames (although Ray and Charles are certainly important), we asked him to outline the most important mid-century designers to know. And we know most of these pieces cost
waaaaay
more than your average cast-off, but do as we're doing
—
peruse the list, and pick a few favorites to keep filed away for when it
'
s time to make a major investment.
---
"A Finnish architect and designer, Alvar Aalto is credited with popularizing Scandinavian modernism in America and beyond. In both his buildings and in his furnishings—which range from chairs, tables, and lighting to table- and glassware—Aalto's sensitivity to the natural world and to organic forms and materials tempered the hardness of rationalist design."
"Husband-and-wife Charles and Ray Eames were the embodiment of the inventiveness, energy, and optimism at the heart of mid-century modern American design. Furniture designers, filmmakers, artists, textile and graphic designers, and even toy and puzzle makers, the Eameses believed that design should be an agent of positive change. They are the happy, ever-curious, ever-adventurous faces of modernism."
"A leading light of the American Studio Furniture movement, Paul Evans was inspired by seemingly contradictory forces: traditional 'folk art' forms, and the latest materials and technologies. Evans primarily worked in metal, not wood (which was favored by such fellow studio designers and Bucks County, Pennsylvania, neighbors as George Nakashima), and his best-known works are cabinets faced in high-relief, patinated steel mounts with metal glyphs, which read like brawny patchwork quilts."
"A trained cabinetmaker, Poul Kjærholm used industrial methods and materials in the 1960s, which brought a fresh, graceful, sleek new style to Danish modern design. Although he employed natural materials such as cane and leather to a far greater extent than his peers, Kjærholm embraced the use of steel (rather than wood) framing for his chairs and tables."
"Architect, furniture designer, interior designer, entrepreneur—Florence Knoll was dedicated to functionality and organization as is manifested in her polished, efficient tables and chairs and her skillfully realized office plans. A product of the Cranbrook School, the famed design crucible in suburban Detroit, Knoll knew everyone who was everyone (from the Saarinens and Eameses to Bauhaus émigrés Marcel Breuer and Ludwig Mies van der Rohe), and after her 1946 marriage to furniture manufacturer Hans Knoll, she commissioned many of these greats to produce lines for their eponymous company."
"Best known for his chairs and seating pieces—though a master of many furniture types like sofas and tables—Hans Wegner was a prolific designer whose elegant, often ebullient forms and devotion to the finest methods in joinery made 'Danish Modern' a popular byword for stylish, well-made furniture in the mid-20th century. Wegner considered himself a carpenter first and a furniture designer second, and he believed that a chair must be comfortable and sturdy before it is chic."
"A pioneer of modernism in France, Charlotte Perriand evolved her design style over her long career, moving from the tubular steel furniture of the 'Machine Age' to a lyrical naturalism. Enthralled by Le Corbusier and his vision of a new, rational architecture, she joined his studio in 1924, and with Pierre Jeanneret, Corbu's partner and cousin, she devised some of the finest examples of early modernist furniture."
"The prolific architect and designer Sergio Rodrigues is often called the 'father of modern Brazilian design,' but it is the second adjective in that phrase that deserves emphasis: Rodrigues' great achievement was to create furniture in a style that captured the spirit, character, and personality of his country. Most of the estimated 1,200 chairs, sofas, tables, beds, and dressers Rodrigues designed in his long career are imbued, in one way or another, with this air of robust relaxation."
"Through his work as an architect and designer, Eero Saarinen was a prime mover in the introduction of modernism into the American mainstream. Particularly affecting were the curvilinear forms seen in Saarinen's furniture and his best-known structures: the gull-winged TWA Flight Center in New York (opened 1962), Dulles International Airport in Virginia (1962), and the Gateway Arch in St. Louis, Missouri (1965). Saarinen has a peerless modernist pedigree: his father, Eliel Saarinen, was an eminent Finnish architect who, in 1932, became the first head of the Cranbrook Academy of Art, in suburban Detroit, where the younger Saarinen met and befriended several luminaries of mid-century modernism, among them Harry Bertoia, Florence Knoll, and Charles and Ray Eames."