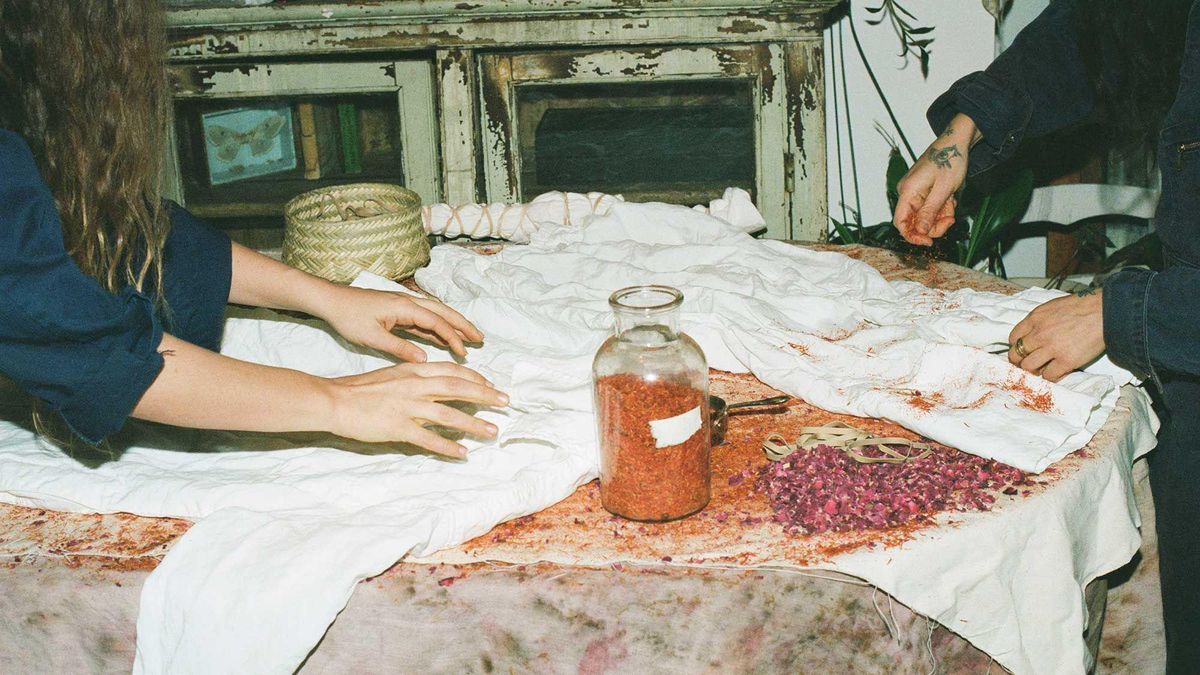 Fashion
This subject requires a bit of re-education.
Designer Mara Hoffman recently teamed up with Cara Marie Piazza, owner of a small-scale natural dye house, to debut a batch of botanically dyed pieces made from excess inventory. The 164-piece capsule collection includes three loungewear-style pieces, each dyed with flowers to generate a graffiti-esque pattern. The result of the collaboration went beyond clothing and sparked a mutual conversation about a re-education around dye.
This is not Piazza's first foray into the fashion world. To date, she has worked with Eckhaus Latta, Eileen Fisher, Jenifer Behr, and more on similar capsule-style projects. Obviously, a natural-style dye is friendlier to the earth than its synthetic counterpart, but until recently, brands and consumers were unwilling to embrace the differences, or the "re-education," as Piazza calls it, required to make the shift.
Now the technique is slowly starting to garner favor in the sartorial world. Alex Mill, a ready-to-wear brand founded on the notion of embracing fewer, better pieces, has released its own capsule collections of naturally dyed product offerings. Investing in the practice on a larger scale, Austin-based Miranda Bennett Studio implemented the process into their methods of production and have since received numerous press accolades and even had garments worn by celebs such as Katy Perry. Needless to say, the movement towards natural dye techniques is growing, but as previously stated, it's simply a different process than that of synthetic dye. As we did with the idea of thrifted clothing years prior, the embrace of this methodology requires a bit of re-education, primarily surrounding the idea of color—a luxury until recent decades.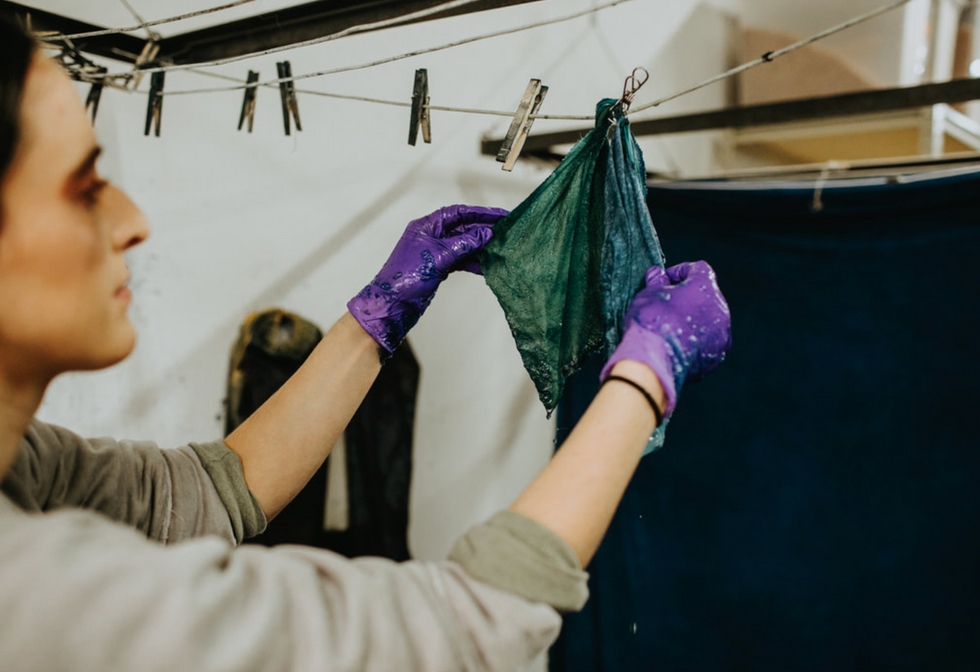 Photo: Leah Muse
What Is a Natural Dye?
Natural dyes are exactly what they sound like: dyes obtained from natural sources. It's a plant-based approach which stems from anything ranging from flowers and seeds to fruits and roots and more. The composition often depends either on what you or your brand has easy access to or the desired result. "The dye we work with the most is indigo," explains Somsack Sikhounmuong, co-founder and designer director at Alex Mill. "We have a permanent indigo shop which our customers really love. Some other materials we've used are madder root, weld, and pomegranate." As is the case with synthetic dye, there are different techniques to achieve different results, whether that be a solid colorwash or the wonderfully haphazard prints Piazza is so known for.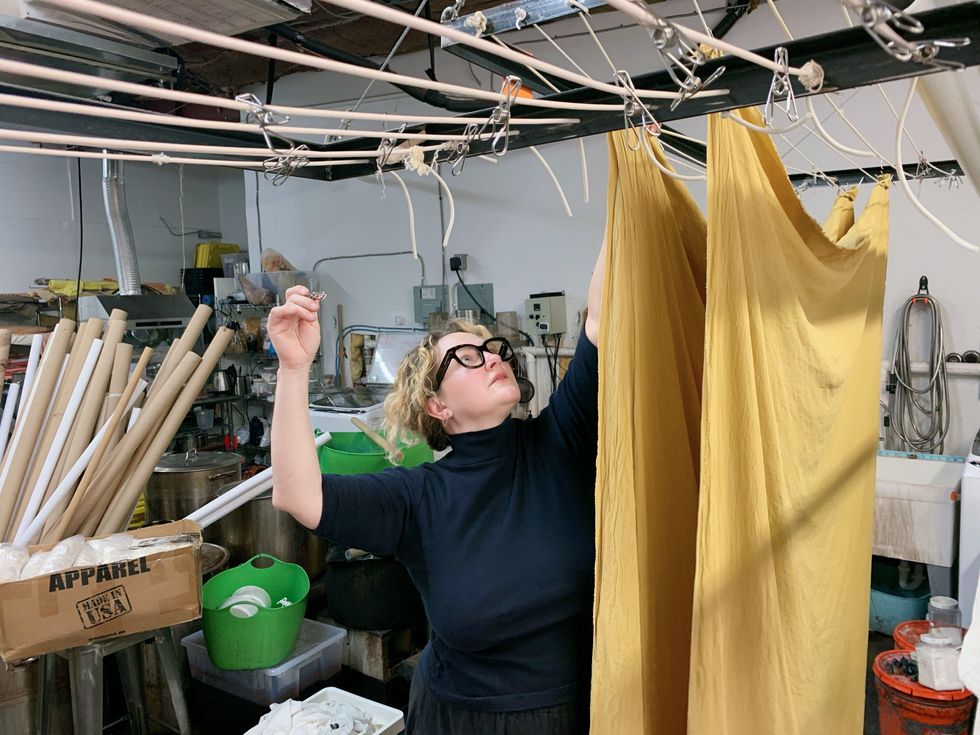 Photo: Courtesy of Miranda Bennet Studio
A Labor of Love
The process is not easy. Piazza's team consists of her and her assistant—though they partner with many entities in the community and take advantage of design and production teams—and the task is rather hands-on. The exercise only works with natural fibers to which the dye can adhere. Then the dyer has to mordant (aluminum acetate salts also used in pickling that the dye adheres to, which also influence color) the fabric and use a tannin treatment for cellulose fibers. And as with any human activity, things can go wrong, so be prepared to add in extra time to correct errors.
This all means it's difficult to scale. Piazza and Hoffman opted for the more difficult bundle-dye technique for their collection, though, "there are other natural dye solutions that can be retrofitted in synthetic dye houses and are a little bit faster. This process took us about two full weeks to get everything just right," explains Piazza, whose abilities tap out at around 200 pounds per batch. The eponymous Bennett reiterates that scaling the process is the most challenging component of the equation, though she finds the hands-on work the most rewarding. The team at Alex Mill works with Green Matters Natural Dye Company in Pennsylvania on somewhat larger projects and Maddie Provost for smaller counterparts. Like Hoffman, most of their work in this region has been in batch-style capsule collections. Though Sikhounmuong notes they typically sell out quickly, which alludes to consumer appetite for this sort of thing.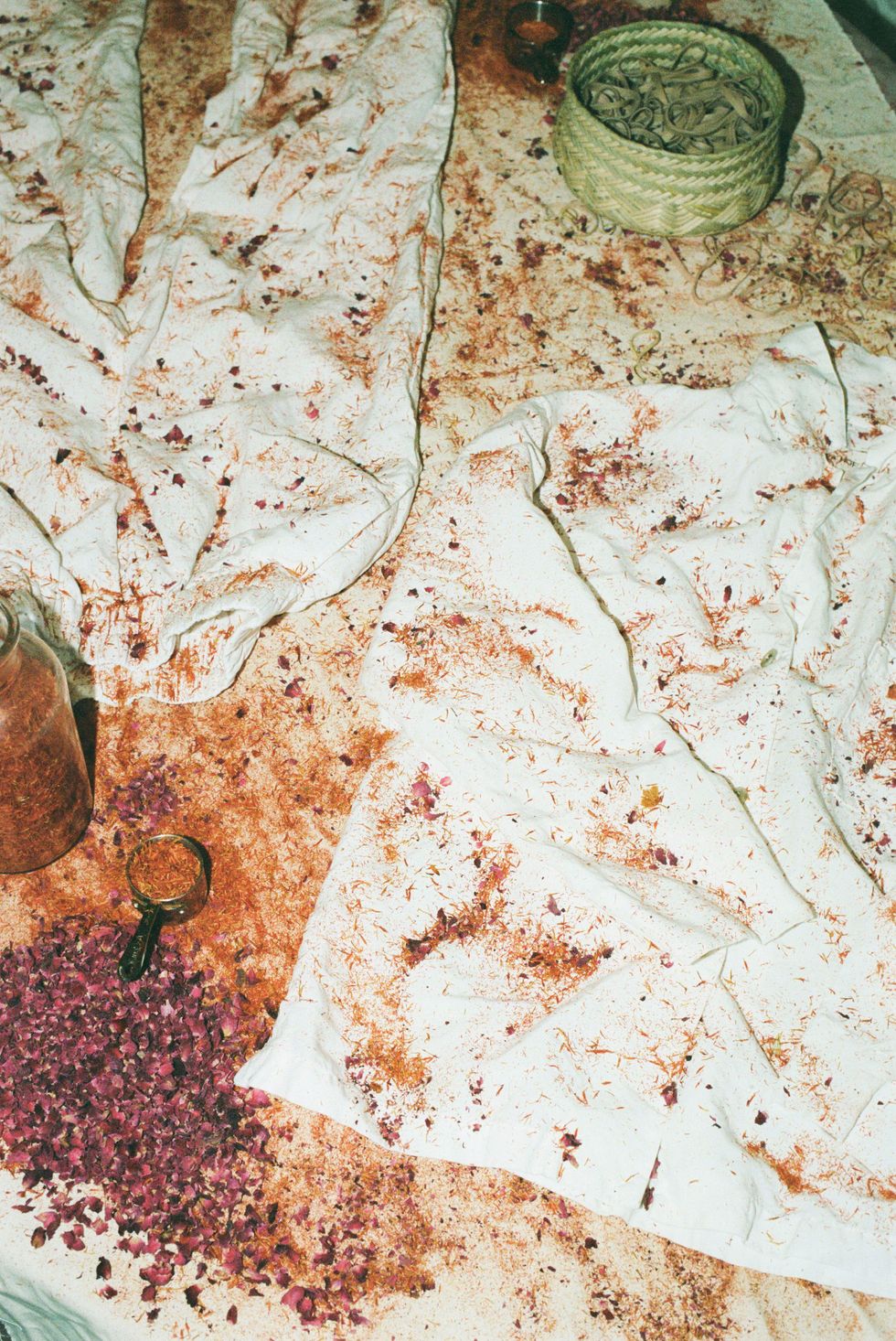 Photo: Mara Hoffman
Results Will Be Varied
Because you are relegated to the use of dye sources found in nature, there are certain hues that may not be achievable—that's where this term reimagination comes in. "It's about re-educating your customer to understand that maybe you can't have an acidic lime yellow all the time if you're adhering to nature's laws," explains Piazza. "But that also is what makes all of these pieces beautiful is that each one has its own unique stamp on it."
"While we can achieve a highlighter-bright yellow and electric pinks, you will not find other neon shades. True black can come with safety and sustainability concerns. Bright leaf greens also require a good deal of additional effort," continues Bennet. "Otherwise, the range is quite vast and encompasses the full color spectrum."
There is some danger of colors fading with time, but little more than you would encounter with synthetic dyes. All parties recommend avoiding dry cleaning and harsh sunlight, and washing with a pH-neutral soap. The colors may react upon exposure to high or low pH, but are often reversible with a quick soak in water.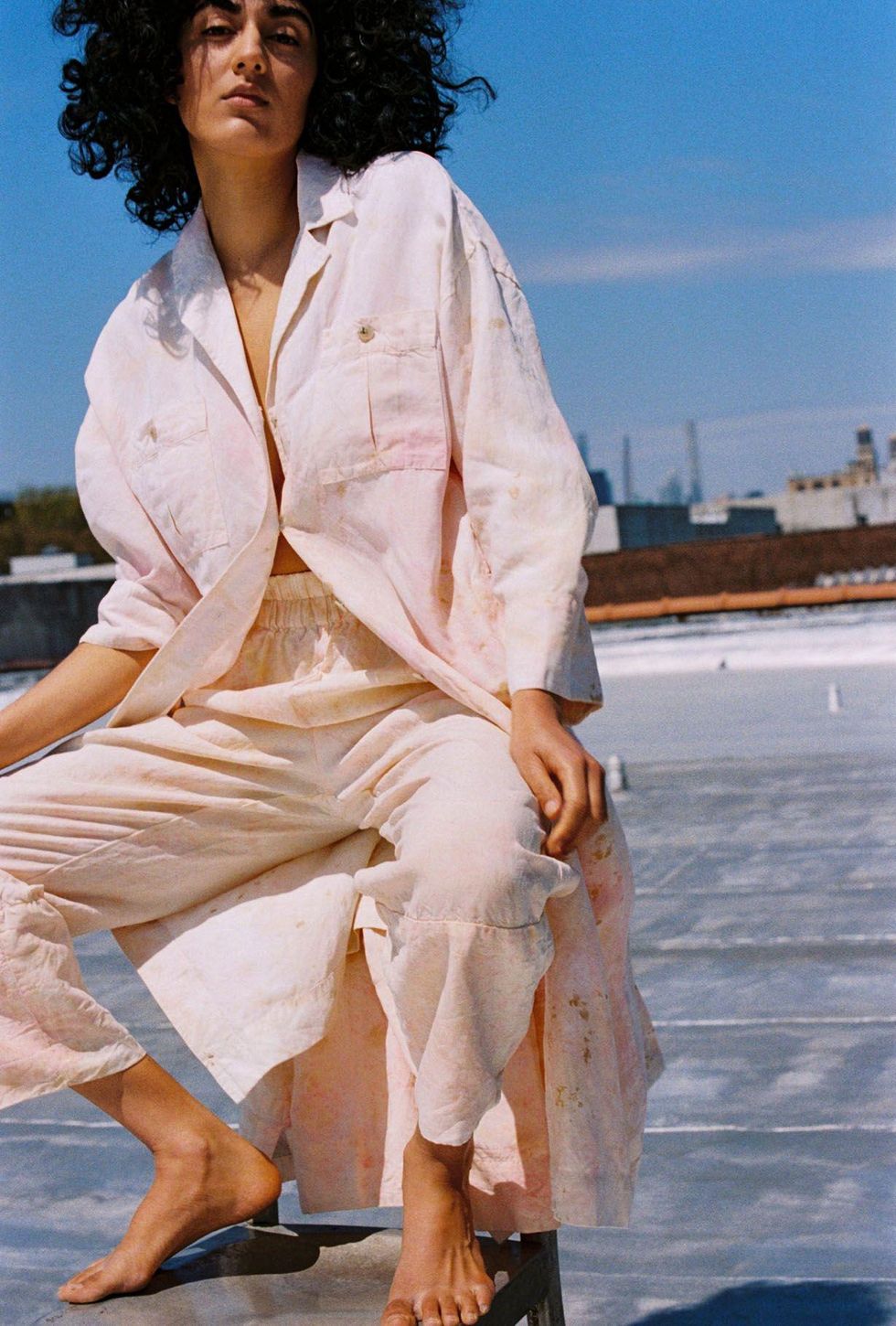 Photo: Mara Hoffman
Done Right, It Can Be Used to Combat Waste in Multiple Ways
In terms of sourcing materials, Piazza partners with a variety of spots in her community. For food waste, she works with local restaurants, as well as florists across the city who call her with their post-event waste and Garbage Goddess for compost. Bennett warns of the double-edged sword in this situation. "In unvetted conditions, the cultivation of natural dyes can lead to deforestation, agricultural land use that could otherwise be dedicated to food production, and, in practice, the use of harsh substances that are not human- or environmentally friendly." Aside from the ethical sources they currently use, the brand is leaning more and more towards incorporating dyes that are byproducts of other industries as Piazza does. They even repurpose their equipment from beer-brewing companies and used items from dye houses that can be modified and repurposed.
In the bigger picture, this offers brands a way to re-examine their own practices. Hoffman notes that it not only allowed her to rethink her current dye practices, but proffered a new means of giving excess inventory a second life so that nothing is discarded. "If you can find a system where you're using what you have but breathing new life into it through an overdye (dying something that already has one layer of dye), or through a shifting of its style but you're using what you have, you're kind of able to satiate your need of less waste, less harm, less manufacturing, while giving an impatient consumer something new and something to chew on that feels a little bit different," explains Hoffman.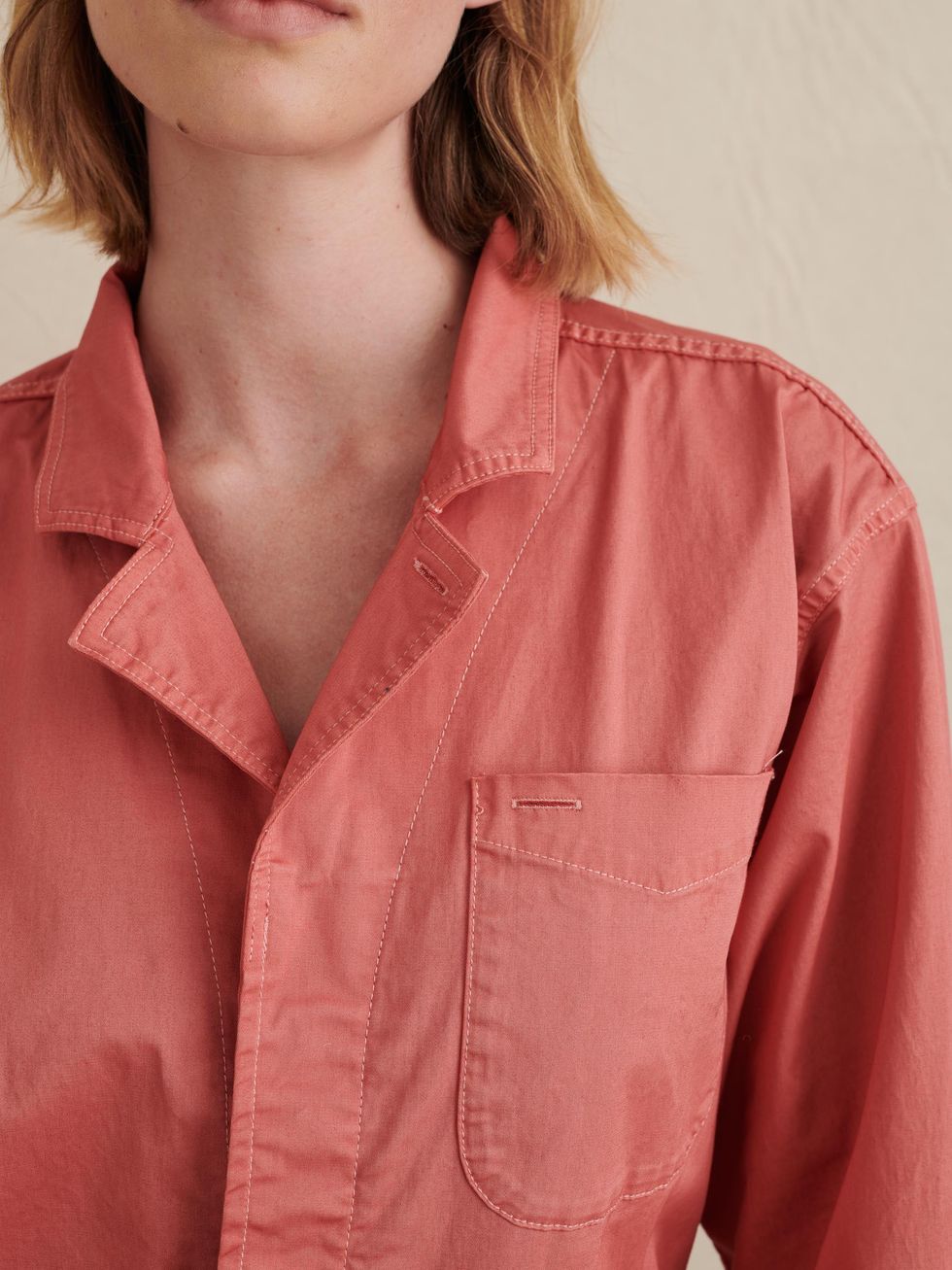 Photo: Courtesy of Alex Mill
Every Piece Will Be One of a Kind
Regardless of whether you control every aspect of the environment, the final result will still not come out exactly the same. "Natural or plant dyes are organic, living materials, with outcomes that are influenced by a million variables: the pH of the soil where they grew, the weather conditions of their growth cycle, where they were grown, when they were harvested, how long ago they were harvested, how they have been stored," Bennett divulges. A varied process, Hoffman found the necessary relinquishment in control both an exercise in patience and a metaphorical semblance of a life lesson.
The result is that every garment is, in essence, one of a kind. Bennett likens the comparison between synthetic and natural dyes to that of two languages. "French is not a direct translation of English, it is its own language!" an exasperated French teacher once told her. "Natural dyes are their own language, and they are not meant to be compared one-for-one to synthetic substances," she says. "They are alive, and that is at the heart of both their beauty and their benefits."
Mara Hoffman
Miranda Bennett Studio
Alex Mill