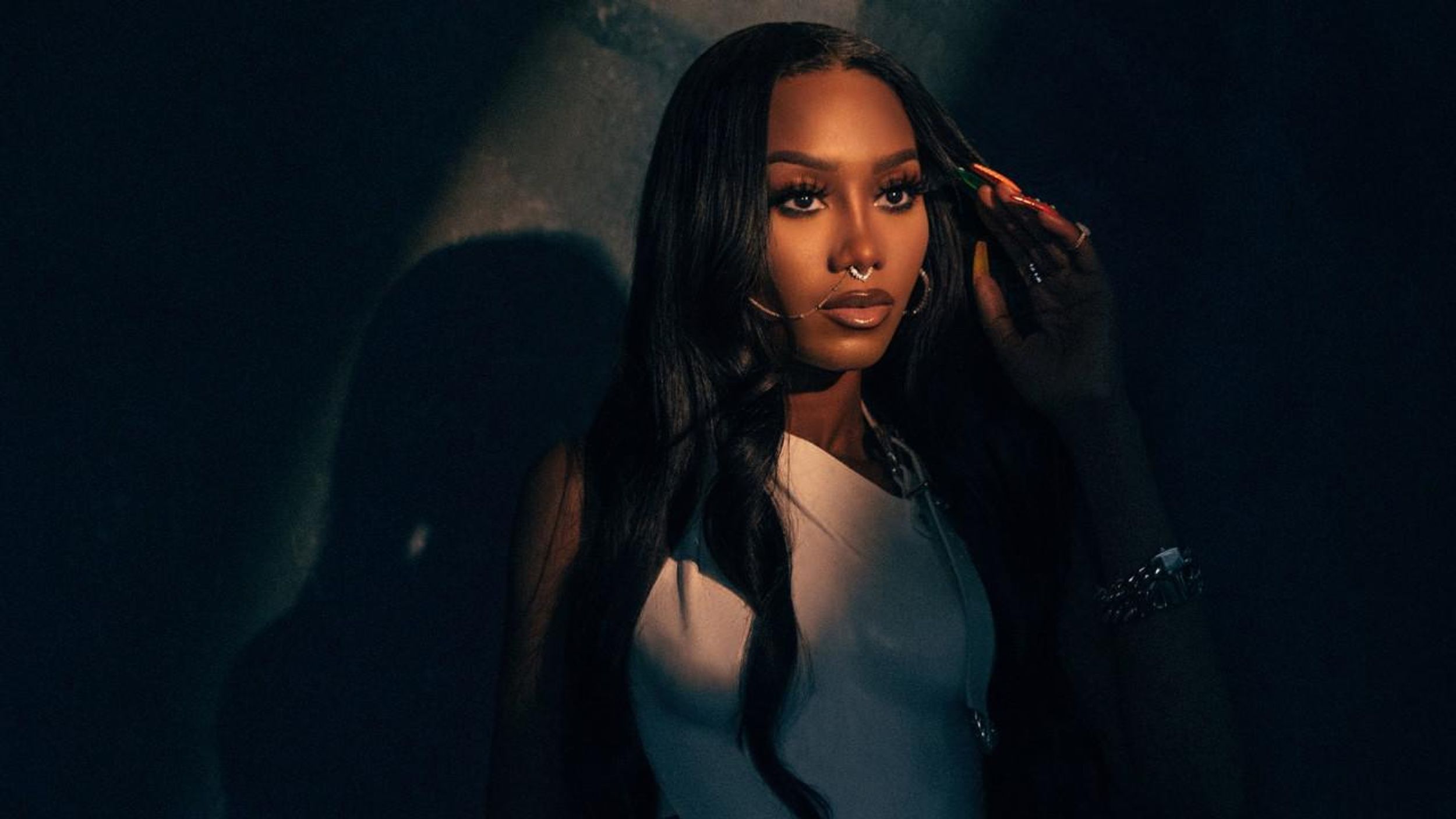 On Beauty
"I have so much more control now."
Welcome to On Beauty, a series where we take a look into a person's relationship with beauty, how that relationship has transformed over the years, and how they experience being seen. This week, we're talking to R&B singer-songwriter Priscilla Renea a.k.a. Muni Long. Long has spent the past 12 years putting her energy toward writing songs for other artists, but now she's stepping into her own as a solo artist. Below, in her own words, Long discusses finally being able to express herself, why she had to learn to do her own hair, and more.
When I was in eighth grade, I was living in Washington, D.C.—my dad was in the Navy, so we moved around a lot—and I got a perm at my mom's best friend's house. My mom had said no, but I wanted it anyway. I remember asking, "Ms. Diane, could you put this perm in my hair?" So she did, but she left it in for too long and all of my hair fell out.
I was trying to swoop my hair to cover up the bald spots, but it just kept falling out in clumps. So my mom grabbed a pair of scissors and cut off all my hair. I remember going to school after the haircut and walking down the stairs to go to lunch. There was a girl with long, beautiful hair standing at the top of the stairs. She saw me and in front of all my classmates said, "My little brother's got more hair than you." I went to the bathroom and cried.
It actually pushed me to learn how to do my own hair. I started wearing micro braids and [installing] my own weaves. I don't know if it was necessarily fun for me—I just didn't want my mom touching my head ever again. But it did become a way [for me] to make money because I started doing hair for the girls I went to high school with. I loved braiding my hair like Beyoncé did [in the early 2000s].
[Now that I'm focusing on singing] I feel like I can just be more myself. As a songwriter, it's in your best interest to be chill, show up, and do your work. You don't want to be too personable. I don't want to pit songwriters against artists—that's not my intention at all—but in my experience, a lot of artists are crappy. They don't treat people very well. If you're a songwriter and you talk too much or you look a little too cute or you tell a joke and you make everybody laugh, somebody's going to report back and you'll get reprimanded.
I have so much more control now [that I'm an artist and not just a songwriter]. I set my own schedule. If I want to go in and make a ballad, I can do that. If I want to make a rap song, I'll make a rap song. And I can be myself. I'm actually wearing the clothes I have in my closet. I'm doing my hair and makeup the way I want it done. I don't feel like I have to put on a persona or anything. It's just another outlet of creative expression for me.
I want to use my gifts to explore the world and see and do the best things that this planet has to offer. I want to be more creative and experimental. I've always felt like it was kind of selfish for me, as an artist, to go into the studio and make music that was only for me and expect other people to buy it and come to shows. You have to make something that's going to draw people in enough to where they'll want to get dressed, do their hair and makeup, drive an hour to the arena, and pay for parking. I want to give people an experience. I want people to leave feeling inspired. I remember watching concert DVDs growing up and I thought hey, I could do this. And look, here I am now. Hopefully I can be that for someone else.