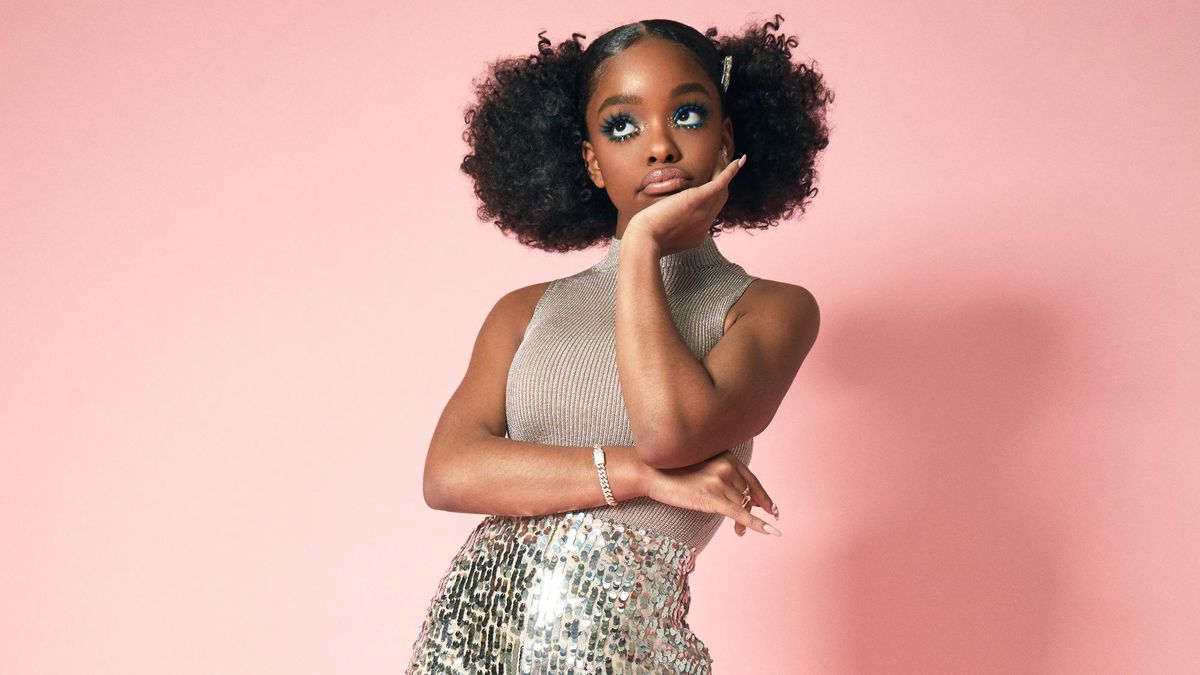 Celebrity
Meet Hollywood's Youngest Producer
Black-ish star Marsai Martin on her favorite beauty products and what's next on her agenda.
Since 2014, Marsai Martin has been dazzling us all on the small screen in her role as Diane Johnson on the NBC sitcom Black-ish. Then, at only 14 years of age, she made history and became the youngest Hollywood executive producer for the comedy film Little. So if it's not already clear by now, she's not your average teenager.
Martin has accomplished more success in her formative years than many of us could hope for in a lifetime. Despite this, however, the multi-hyphenate is still striving to continue her impact as a young Black star in Hollywood, choosing philanthropy as a focus, which is why she is now the ambassador for Invisalign's ChangeMakers Program—focused on celebrating teens making a difference in their community.
In between her busy schedule of filming and working on various projects, the rising star spoke with Coveteur about navigating past Hollywood's strict beauty standards, the importance of community activism, her bittersweet goodbye to Black-ish, and what's next for her.
I know you faced some criticism online about your hair and the way your teeth looked. How have you dealt with the beauty pressures of being young in Hollywood?
"Well, honestly, the teeth backlash when people said it looked like I had veneers, you know, it was actually a compliment, if you think about it, because they're basically just saying my teeth look nice. So I was like, OK, cool. Thanks, Invisalign. You know, I have a great support system. And that's kind of the only people I truly care about opinion-wise. You know, whether it's my parents or my friends or my actual team, those are the people that I talk to if I need anything. So I don't really care about what people on the internet have to say at this point. But yeah, it's been crazy as far as the ups and downs of how people see beauty standards, because I feel like social media has a really big impact on it already. But I feel like if you just do you and remain true to yourself, then you don't really need validation from anybody. So I think it comes down to self-love and taking care of yourself before anything else."
What are some of your favorite beauty items that you can't live without?
"Oh, let me check my makeup bag really quick. I've been very into clear glosses these days. So definitely Fenty's clear Gloss Bombs are always like a go-to for me. Also, I actually love Pattern's Edge Control. I think Tracee's edge control is pretty fire. So it's for sure always in my makeup bag. So those would be the two main beauty products I've been loving as of recently."
You're an ambassador for the Invisalign Changemaker program, which is all about celebrating teens making a difference in their community. Could you talk a bit about why community activism and using your voice is so important to you as a young Black star?
"Of course, it is very important to me because I am a young Black woman in America. [Equality] is something that we've been fighting for, so it is really important to speak up and use your voice for the greater good—and also for your own confidence and [mental health]. I feel like the worst thing you can do is keep anything inside. You really need to talk to people about how you feel, whether it's a parent or friend or even a stranger. But you know, keeping everything inside you is the easiest thing, but is the most damaging. So I would say it is very important to speak up about the things that you need and the things that are important to you."
How does it feel to be the youngest producer in Hollywood?
"It's been really great. You know, [my team and I] are always working, which means that there are so many things coming up. Which is exciting. Honestly, the title of [being the youngest Hollywood producer] does feel completely surreal. Like it doesn't feel like it's real, even though I know it is. Mostly because I am still a teenager at the end of the day and I'm just kind of living my life and doing what I love to do, which is to create. But I'm so honored and grateful for the opportunity I have to do the things that I love and to keep moving forward and to keep changing the narrative."
Do you feel that, in 2021, Black representation in film and the entertainment industry is finally where it needs to be?
"I still feel like we have a long way to go. But I've learned that we are the only people that will truly fight for what needs to be done in our Black community. So that all starts with showing new talent and showing new Black creators, directors, writers, producers, and showrunners. Like everything we do in our community needs to help with changing the narrative because it's not just in front of the camera. It's also behind the camera where we keep pushing the true meaning of who we are and expressing ourselves in the way that we wish to be presented—and not it in just one genre. So yeah, we are getting there. But I still feel like we are stuck in a circle that needs to be broader."
The last season of Black-ish is coming up soon. How does it feel to depart from something that you've been a part of for so many years?
"It has definitely been pretty bittersweet. I don't think it has sunk in yet, though. I think because we haven't shot the last season yet, I haven't exactly felt the actual emotions that I usually experience at the end of filming. But it has been such an amazing ride. I mean, Diane is a character that is so close to my heart, and just growing up playing her has been amazing. She has actually inspired so many young girls out there, which I love. I am very much looking forward to seeing how the writers close out her chapter for the final season."
What's next for you, and what are some things you're working on?
"At the moment, I'm actually filming a show for Discovery Plus. I will be renovating kids' rooms to create the room of their dreams, and it's actually kids that have done something amazing for this community. It's great just to be able to give back, as it's always been a big thing for me. I'm also working on Paw Patrol coming out on August 20th, which is so exciting. I play Liberty. I'm also in Stepmonsters and Night Brothers, which are both Universal projects. And yeah, I mean, there's also a lot of things that I cannot speak about just yet. So yeah, I am working on a lot of projects at the moment."