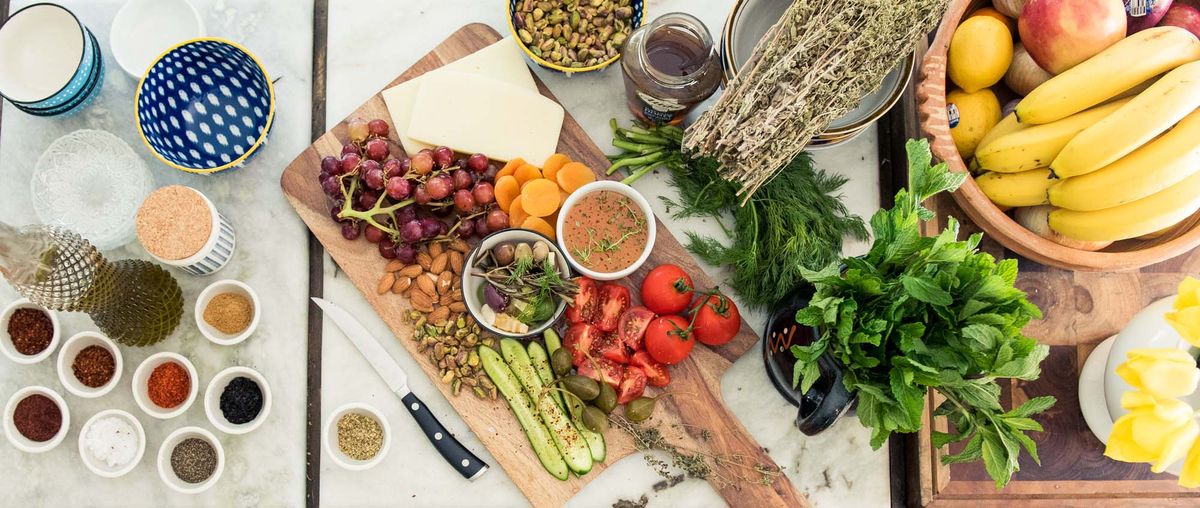 Entertaining
You'll never want to eat breakfast any other way.
Anastasia Koutsioukis is the co-owner of Mandolin, Instagram's favorite Miami restaurant (it's also damn delicious and has outposts at Soho Houses all over the world). Koutsioukis is also our go-to whenever we have a question about entertaining and food: trust us, she knows everything about it—and also how to make it really, really pretty. Here, she shows us how to put together a breakfast that's simples, fast, way more interesting than your standard toast—oh, and, yes, it's really, really yummy.
---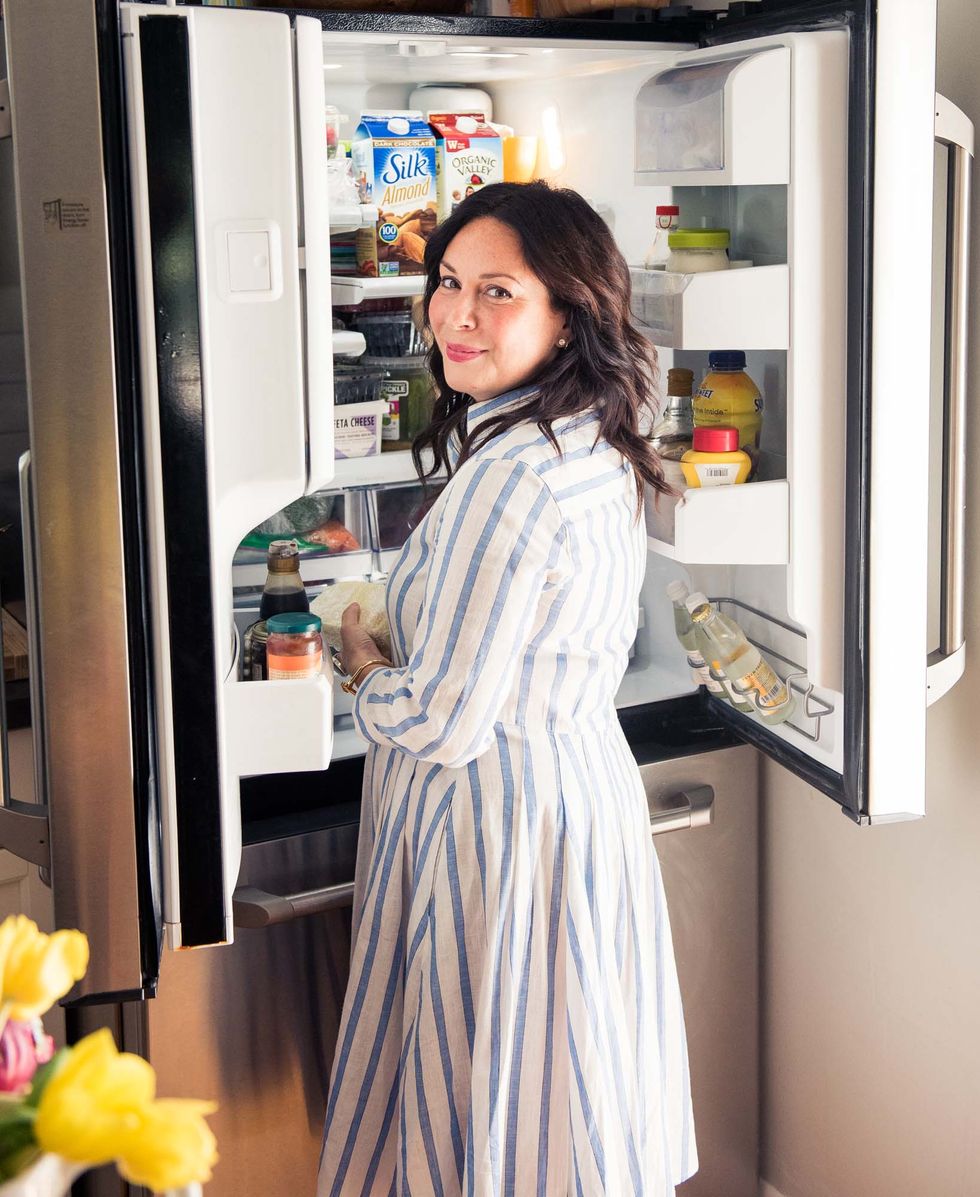 The cutting board has always been my go-to entertaining staple. It's approachable, rustic and can be assembled in many different ways, but the best part is we all own one—they are multifunctional and great for chopping and presenting. Whenever I throw a get together, have friends over or someone shows up unexpectedly, I always pull out a trusty board (I've accumulated quite the collection) and whip something together on the fly.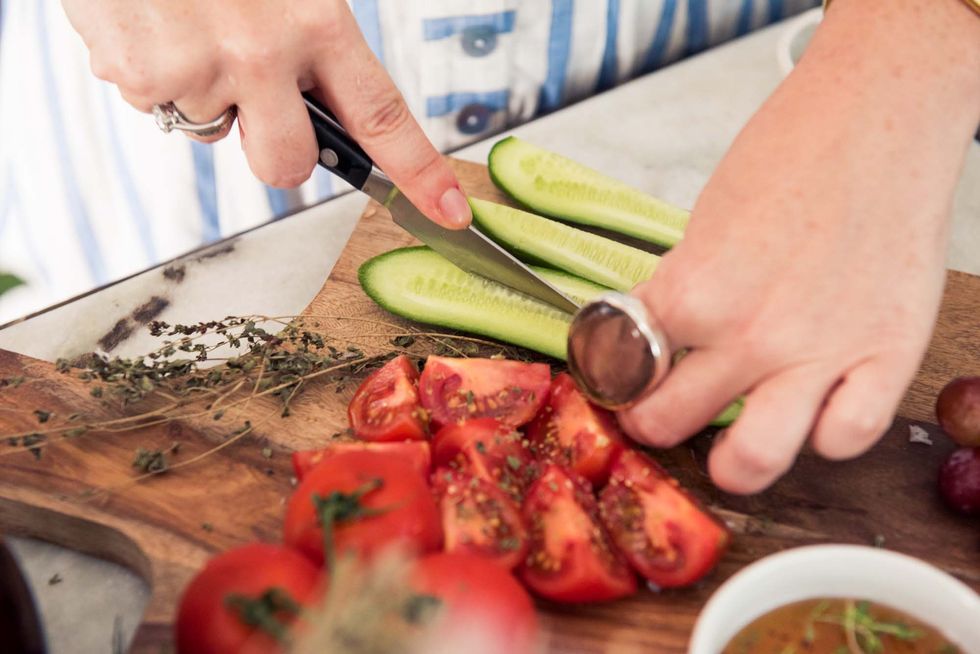 The thing about assembling a beautiful cutting board is there are no rules. You can be as abundant or minimal as you wish. And you can work with whatever you have in your fridge and pantry. I always keep a stock of olives, pickled veggies, sauces, spreads, honeys, nuts, dried fruit and crackers on hand for these types of occasions. Traditionally, boards are used to present charcuterie or cheeses, but I like an abundant mix of things.
This is a breakfast board to accompany a main course of eggs and I was inspired by the flavors of the Mediterranean. I used the type of ingredients you would find in any typical Greek or Turkish breakfast spread. Even if you're not a fan of eggs, you can present this with a basket of breads and bagels and you'll be perfectly satisfied.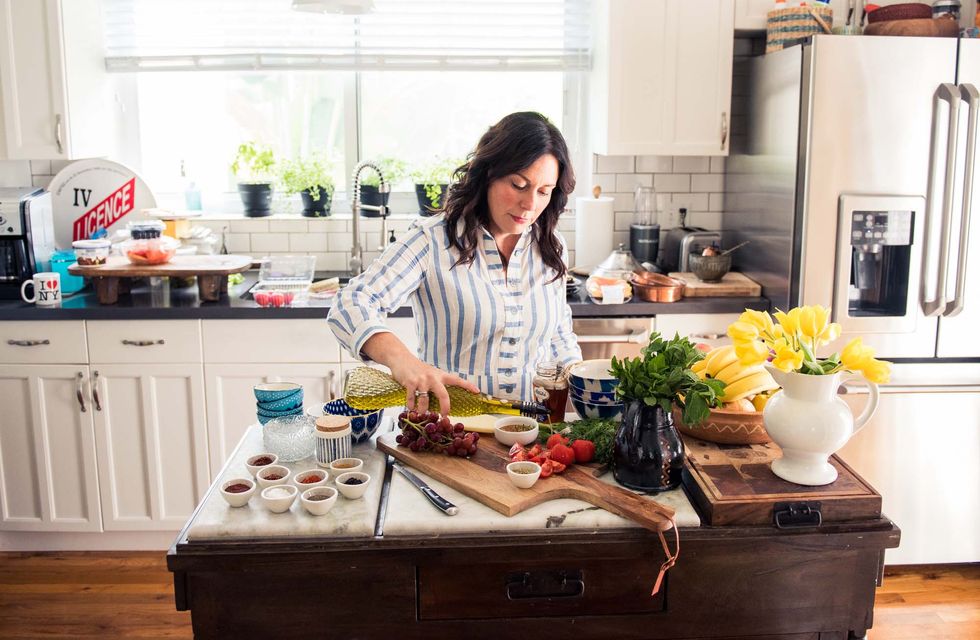 Here is what you'll need for your Greek breakfast cutting board:
1. Campari or cherry tomatoes, preferably on the vine (they're sweeter and tend to taste better, even out of season) cut in quarters with a few left whole. Season with sea salt and Greek dried oregano and drizzle of olive oil.
2. Mini cucumbers sliced lengthwise into four with skin on. Season with sea salt and Aleppo pepper.
3. Kalamata olive mix. Many grocers sell olive mixes. Kalamata olives are meaty and briny and have wonderful flavor. Present in a small bowl. Add olive oil, sliced lemons and fresh herbs like rosemary as garnish.
4. Greek cheese such as Kasseri or Kefalograviera and/or barrel aged feta. These days, all specialty stores and grocers like Whole Foods and cheese shops carry good quality Greek cheese. Try the ones made of sheep's milk—they're tastier and are better for you.
5. Greek thyme honey. Present honey in a bowl and choose Greek honey, which is more savory. Believe me, there is a difference. Honey is a staple in the Greek diet. Spread some on your bread and add some salty Kefalograviera cheese. Heaven.
6. Grapes. Fruit on a vine always presents nicer and is easy to share.
7. Nuts and Dried Fruit. There are stores devoted just to these two items in Greece and Turkey. For a distinctive mix use almond, pistachios or walnuts and dried apricots or figs. All are flavors of the Mediterranean.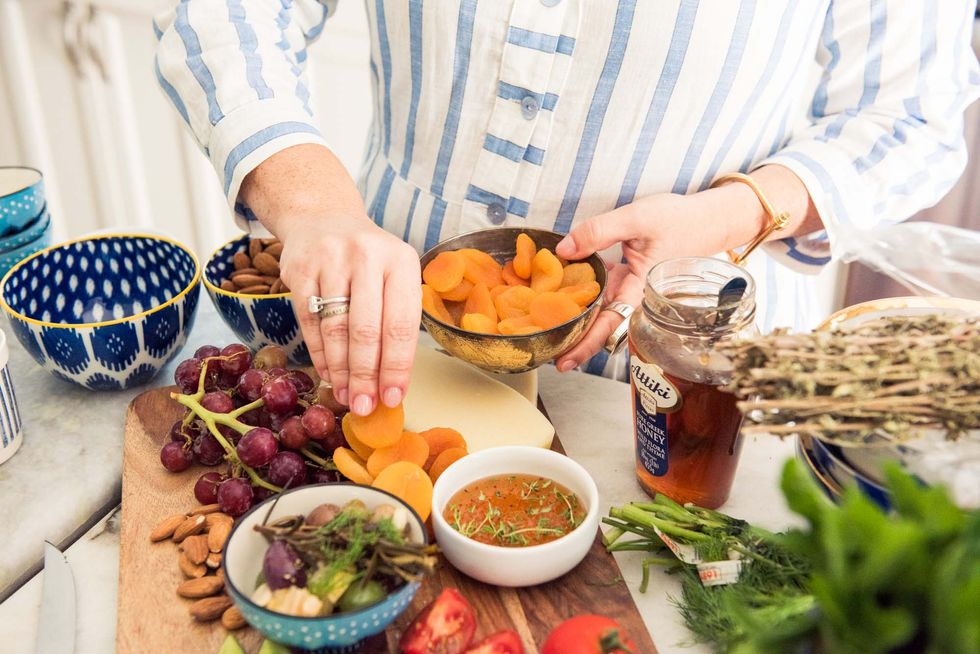 Have fun assembling your board. Don't over think it and let your creativity take over. Food is most beautiful when we don't fuss too much. And be generous! It's the true spirit of the Mediterranean to offer in abundance.