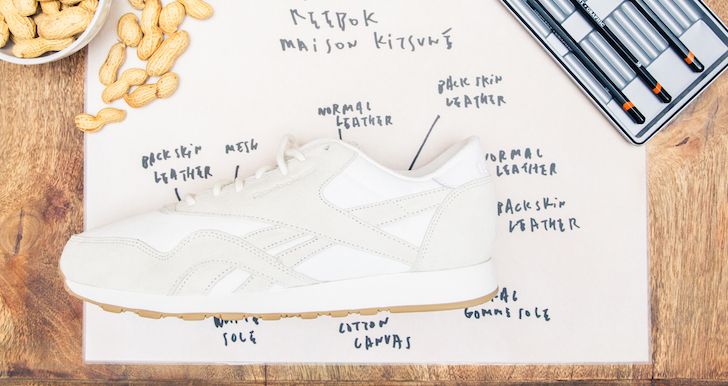 Career
Co-Founder, Maison Kitsuné. Tokyo
Renée Rodenkirchen
Curated. Artisan. Lifestyle brand.
If you just cringed at least once reading the above, we're right there with you. And we're the first to admit that we're just about as guilty as everyone else when it comes to precipitating the demise of these all to frequent descriptors, but occasionally they're, well, necessary in capturing the people, places and things we profile. For example? Maison Kitsuné. We mean, how else would you categorize a streetwear-meets-contemporary men's and women's brand with a full in-house record label and chain of boutique espresso bars? Gotcha there.
So what's the latest jewel in Kitsuné's crown that is its burgeoning lifestyle empire? Their mega-collab with Reebok, which brought us to Osaka and Tokyo (co-founder Masaya Kuroki was born in Japan, grew up in Paris and spent his formative years in New York, FYI) to meet one-half of the Maison, where we talked skipping business and design school in lieu of making your own rules, sketching on napkins and getting off the bench.
---
ON HOW THE COLLAB CAME ABOUT & WHY HE CHOSE REEBOK OVER EVERYONE ELSE:
"Maison Kitsune has a credibility in streetwear, and then ready-to-wear, and a little bit of high fashion. We've kind of achieved a certain level of credibility in the music industry as well, because we sign and produce and release artists through our music label. I think Reebok has this in mind, too—their first collaboration was with Jay Z. 
I think with the size of Reebok—they're big, they're old, but they're kind of indie, for me. They're still cool enough to sponsor Kendrick Lamar, or you know, they were also working with Swizz Beatz... they're always working with these cool guys and cool artists. I respect being a little bit of an outsider. Making sneakers with Reebok Japan was just such a joy, and after we put out these three color ones, I've seen so many three color series sneakers! I don't invent anything, that's not my intention, but I kind of thought, we launched these three color sneakers, it was fun; but maybe we should do something else. I had some sketches in my hands [I'd done] on napkins, and they looked at the pictures and said, that's great, let's do it. It was very organic, very natural. It was like a friendship, the way how we met each other. Nothing forced, not like an old brand that needs a cool, fresh look."
ON THE SERIOUSLY ADORABLE LOGIC BEHIND THE BASEBALL THEME:
"When I was a kid, I used to play baseball, but I wasn't good enough to be able to be on a real team, so I was always on the bench, watching my other friends playing baseball. This team, I'll be the main player! We can all play together and nobody will put us on the bench."  
ON WHY THE COLLABORATION IS ENTIRELY UNISEX:
"I kept coming back to this idea of play all together, which is, like, why have only men playing baseball? What about girls? Reebok has a very open mind and so do I, so does Kitsune. When I designed it, I was already thinking about a unisex team basically. I think that should be the next step of sports in general, playing with men and women together."
ON HIS BIGGEST CAREER MILESTONES SO FAR:
"We are more confident in what we're doing. It's over 10 years with Gildas (Loaëc, co-founder) that we're doing this and then we're still here. Our music label is still healthy, we're still signing a ton of artists, from the U.S. to Australia, to Canada, to everywhere in the world! Clothing-wise, globally, there's a lot of great stores carrying our stuff and we're still here so that makes us feel humble. Last week I was in Maui, in the middle of nowhere in Hawaii, and I went to buy some water in the supermarket and I heard a song by Citizens!, and I was like, 'oh shit, that's my artist!'.
We just opened our first store in Hong Kong, and then because I love to go to vintage stores, I was in the middle of this vintage store there, and I see some cool kids coming to me, like, 'oh, you're Kitsune, let's do a selfie together!'. In the middle of a flea market in a suburb of Hong Kong. Thanks to the Internet, thanks to social media and thanks to all these great stores carrying us.
I feel lucky. Everybody works hard, that's normal. Gildas and I, we started from zero, and we don't have any investors yet. He's from Brittany, I'm from a normal, middle class household, with no parents investing in us... it's kind of a cliché story, starting from the the bottom. Kind of like Drake." [laughs]
ON WHAT AN AVERAGE DAY LOOKS LIKE AT MAISON KITSUNE:
"Well now we're in Paris, New York, Tokyo and Hong Kong, and I am based here right now [Tokyo]. Early morning, for the New York team, it's the end of the day for them so I have to talk to them. I wake up around 7 A.M., and by, like, 8-8:30 A.M., I'm already on my FaceTime with them. Then I get to my Japanese office, and then from 4 P.M., I'm on Paris time. The Paris office opens, so I have my studio, the creative team of the collection studio is based in Paris, so that's another conference call... a lot of FaceTime and Skype and conference calls. I keep traveling a lot, but that make us grow and keeps us moving."
ON HOW MAISON KITSUNE IS REALLY A LIFESTYLE BRAND:
"When I say lifestyle brand, it's really our lifestyle. Listening to music, doing clothing, drinking coffee. It's really our lifestyle. We're pretty healthy. Gildas and his two kids went on vacation surfing, and he's telling me, 'yo, let's make a surfing collection'. While in Hawaii, I was amazed by all of these colors and Hawaiian shirts and surfing culture. It's very organic and very simple, because we're not part of any group, and there's no suits coming to you and telling you anything. Every year, we're growing between 30 and 40%, so it's very healthy, I have to say. Knock on wood!"
ON HIS DAILY READS (ONLINE & OFF):
"I'm very New York Times. I don't know, why it's a bit old school. I like the Financial Times for the weekend. Obviously Business of Fashion. It's like a study book, or going to school. I've never been to school so BoF is my school. Once a week I get to the bookstore, specifically in Tokyo, there's some great bookstores that have everything, so I just spend like an afternoon and go through all these magazines, sometimes. But I'm not really a magazine guy, I like newspapers."
ON KOREA'S IMPACT (IT GOES BEYOND THE BEAUTY INDUSTRY, GUYS):
"I spend a lot of time in Tokyo and we just opened our first store in Hong Kong, so Hong Kong inspires me as well. I think in Asian cities in general, you start to see the difference of market. Koreans are inspiring a lot the market these days, in fashion. That's why we have, for our winter collection, which is out in the stores right now, the name is Kim. Kim is the most popular name in Korea, but we turned it to 'Kitsune Institute of Music', which makes it K. I. M.! It's always about quality, and then when you see Seoul, as a city, they really consume the market."
ON THE VALUE OF MAKING MISTAKES:
"We've made so many mistakes, and we learn on our own, pretty much. We're unique as a business, structurally, and we built it on our own. We figured it out somehow. Luxury is a big, big group that's suffering, but we are okay, so in that way, being indie and believing in our way of growing the company, how to structure the business and open our stores inch by inch in key cities... I think it helps to keep us outside the lines, not to be too much in a square."
ON HIS WORK DAY ESSENTIALS:
"Paper and pen. Gildas, he always has a ballpoint pen. He loves to collect them, everywhere we go, he's always picking up a pen, he's got a collection. I take notes everywhere, so pen, paper, WiFi, it's pretty much all we need. It's simple."
ON HIS ADVICE FOR ASPIRING DESIGNERS:
"Just stay focused on what ever you do. Believe in what you're doing. It sounds very cliché, but you gotta believe. If you don't believe in your partner... I mean, Gildas is the most loyal person I know. I'm very grateful for that. We are like brothers today, we're not like best friends or best buddies, but just as a business partner, we are synchronized, because we believe in the project. Then, I'd say always try to watch the next five years, the next ten, even. It's good to do a projection; with social media, it's very now, right now, everything has to be now, now, now. Just keep focused and believe."