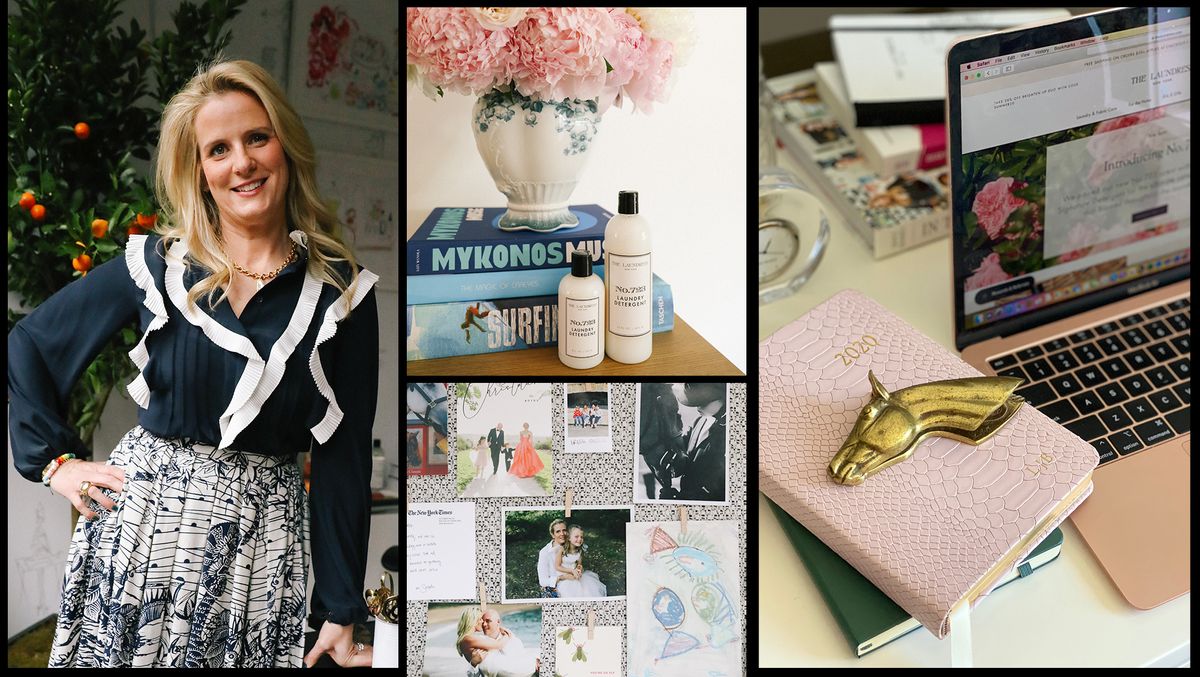 Series
The OG laundress on the power of fragrance, hand-washing your "dry-clean only" clothes, and how to get those masks truly clean. In collaboration with The Laundress.
Graphics
Rachel Pickus
Whether we think about it or not, we all spend a lot of hours in our lifetimes on laundry. Even if you don't do your own laundry, you probably care about what it smells like—and you've provided your favorite detergent to your laundromat, or you've spent time asking your dry-cleaner to pay special attention to certain clothing.
So when we got the chance to chat with
The Laundress co-founder Lindsey Boyd
about all things laundry, we brought her our trickiest clothing questions and got to work. Everyone knows
The Laundress
is the go-to brand for luxe, eco-friendly laundry products, but we figured she could teach us a thing or two about keeping our whites white and our cashmeres…well, not shrunken.
Sure enough, Boyd delivered—and even taught us that up to 90 percent of clothes labeled "dry-clean only" are actually machine washable under the right circumstances (gasp!), which has made us rethink everything and question if anything is real. Read on to discover Boyd's tips on removing chocolate stains, laundering swimsuits in the washing machine, and making laundry sorting…
fun
.
---
We're all spending a lot more time at home right now, so it's the little things that make a big difference. How did you choose this new scent for your Signature Detergent? And can you tell us more about damask roses?
"As the 'nose' behind
The Laundress
' fine fragrances, I am constantly inspired—by friends, family, my home, nature. For our new
No.723 Laundry Detergent
scent, I was inspired by a summertime walk though my garden, where you'll find beautiful, fragrant flowers like jasmine and a variety of different roses. No.723 captures that experience for everyone to enjoy and truly elevates the act of doing laundry.
"And damask roses have been around since ancient times! As one of the oldest rose varieties, I love that it has given birth to thousands of new varieties while maintaining its own unique heritage."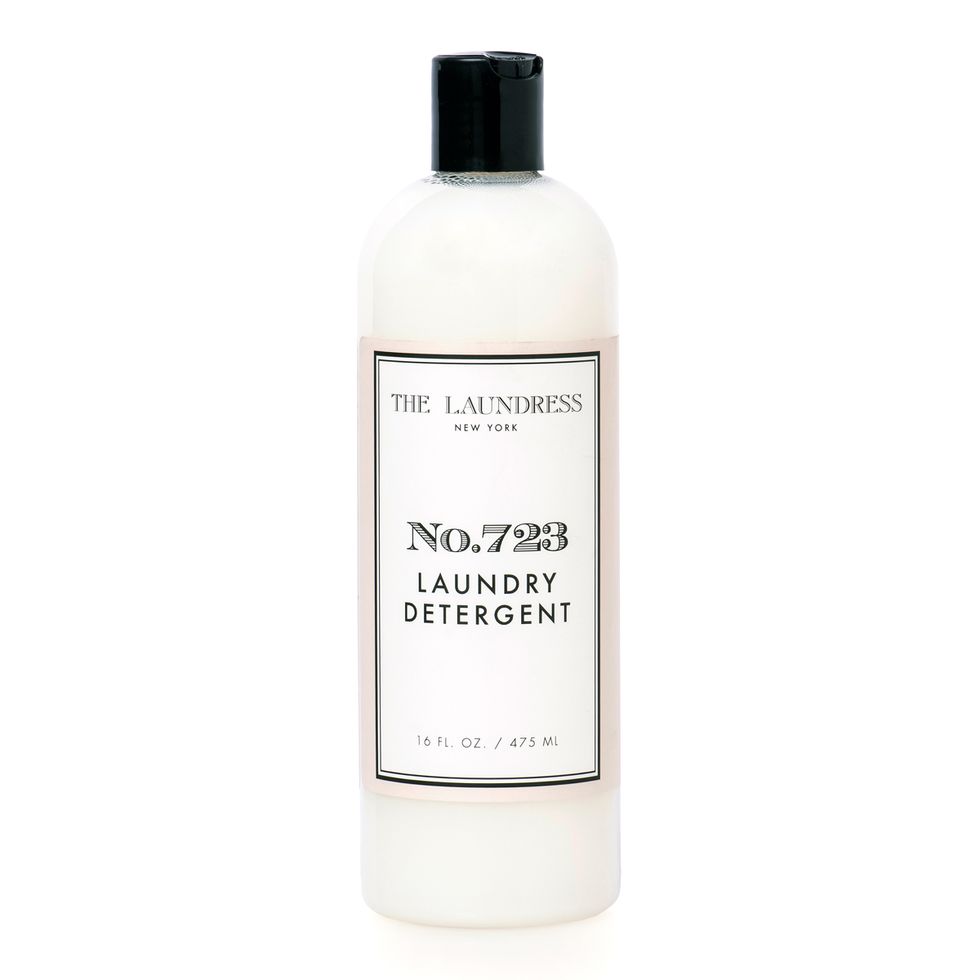 The Laundress
The Laundress
The Laundress
When you think of roses, what's your earliest scent memory?
"My grandmother always loved rose water. I remember at a very young age using rose water as my fragrance."
We've always hand-washed our delicates or sent them out to dry-clean, but we recently discovered your Mesh Washing Bags—game changer! Can you tell us more about them: when to use them, what can stand being thrown in the washer in a mesh bag, what should be kept aside for hand-washing or dry-cleaning?
"We've found that up to 90 percent of clothes considered 'dry-clean only' are actually washable with the right fabric-specific detergents, water temperature, and washing machine setting. Our
Mesh Washing Bags
are also key for your best laundering. They are zip-top bags made of a durable mesh material that protect and preserve fabrics and embellishments while still allowing soap and water to clean the garment.
"Here are the items I always wash in a mesh bag:
"
Masks:
I've been throwing all my face masks in a
Mesh Washing Bag
to protect the integrity of the elastic. (I recommend using hot water, Our
No.723 Laundry Detergent
or
Signature Detergent
, and
All-Purpose Bleach Alternative
for an extra boost of clean when washing your masks.)
"
Bras, Underwear, and Hosiery:
A mesh bag will guard them from tangling, snagging, or tearing in the drum of the washing machine.
"
Woolens (Cashmere, Wool, etc.):
An abrasive machine can sometimes weaken fragile fabrics. Use our
Wool & Cashmere Shampoo
and cool water. You can hand-wash or machine wash with a delicate cycle. (Flip each item inside out first.)
"
Silk or Delicate Synthetics:
Wash with our
Delicate Wash
and cool water. You can hand-wash or machine wash with a delicate cycle.
"
Embellishments:
Detailing like pearls, sequins, or decorative buttons are prone to getting caught in the washing process. A mesh bag acts as a barrier.
"
Socks:
I throw all our socks into a mesh washing bag to prevent 'losing' them in the wash.
"
Athleticwear and Bathing Suits:
These stretchy materials are prone to losing their shape over time. A mesh bag (along with our
Sport Detergent
) will keep them in their original states.
"
Coats:
You can wash a wool coat as long as it doesn't contain a structured lining made of a material like viscose. Turn it inside out before placing in a mesh bag to keep the fabric smooth. Wash with cool water and
Wool & Cashmere Shampoo
.
"
Jeans:
Place inside of a mesh bag to protect zippers, buttons, and any special detailing, embellishment, or distressing. Our
Denim Wash
will keep them soft while also preventing fading."
How did you get involved in the laundry game?
"My business partner and I had accumulated amazing wardrobes—from silk dresses and cashmere sweaters to tweed jackets—during our careers in fashion at CHANEL and Ralph Lauren, and we were looking for ways to properly care for them.
"We felt the dry-cleaner should be the very last resort—dry-cleaning can damage fabrics, set in odors, and is just not good for you or the environment. We both studied textile science and fiber care at Cornell, so we knew there was a way to create a better, cost-effective solution."
A lot of people in big cities have to trek to laundromats to do their washing. Any suggestions to make that experience a little more enjoyable?
"If you don't have access to a washing machine, I am all for hand-washing! Get creative here—use a
wash basin
, your sink, or, for large loads, your bathtub.
"If using your sink or tub, be sure to clean it first. Remove dirt and grime by creating a powerful mixture with
All-Purpose Bleach Alternative
,
All-Purpose Cleaning Concentrate
, and hot water.
"For a step-by-step on how to hand-wash every type of fabric,
see our blog post here
."
What does your #WFH setup look like right now?
"I know it's been said time and time again, but I really stand by the fact that it's important to carve out a separate space in your home that's
just
for working. I try to keep only what I need for work on my desk, but photos of my family, books, chic mementos, and, of course, some
Laundress
products keep me inspired and motivated."
Any amazing work-from-home hacks you can share with us?
"Keep your work-from-home space clean and tidy! It makes such a big difference. I make sure to clear off my desk every night and spray it down with Surface Cleaner, then wipe down my laptop, cell phone, and other electronics with
Glass & Mirror Cleaner
.
"Setting out a bowl of
Scented Vinegar
for at least 15 minutes at the beginning or end of the day (or both) will instantly freshen up your room and get rid of any unwanted smells, too. You can find all of these in our
Home Cleaning Best Sellers Kit
.
"Good lighting is really important. My office in Shelter Island has great natural light that keeps me alert and energized.
"I keep a few essential oils and a Blue Air air purifier in my office. I love Doterra because they source good quality oils. Some of my favorites are lemon and eucalyptus, which boost concentration and focus. Fresh air and ventilation is also critical. On top of the air purifier, I make sure to open up windows when I can and make it a point to spend some time outside daily. This really helps with productivity."
Do you do your own laundry? Can you walk us through your process, start to finish?
"Naturally, I love doing my own laundry, and my kids love to help, too. Here's our process:
Sort
"Each member of my family has their own
Laundry Sorter
. When the time comes to do laundry, everyone brings theirs to the laundry room and we form piles of darks, whites, and items to be hand-washed. This step saves time and energy by consolidating loads.
Pre-treat Stains
"My kids love this activity! I'll have them 'search' for stains before putting them into the washing machine. They love to identify the stains, count them up, and treat them with
Stain Solution
or
Wash & Stain Bar
.
Wash
"For everyday laundry, I wash with
No.723 Laundry Detergent
—our brand-new spicy rose scent—and
All-Purpose Bleach Alternative
for a boost of whitening and brightening.
Dry
"Most fading and fiber damage is caused by prolonged exposure to high heat, so I line-dry almost everything (a big energy saver), which can sometimes cause fabrics to dry a bit wrinkly. A good trick here is to lightly tumble-dry your items for about 15 minutes before hanging. This really reduces creasing! For cotton or linen sheets and t-shirts, adding some
Fabric Conditioner
with your detergent will also help. After, you can steam or iron pieces that absolutely need it or spritz on our
Crease Release
.
Fold and Put Away Clothing and Linens
"I'll fold clean laundry and group them according to family members. Everyone puts away their own clothes!"
How about if you spill chocolate ice cream or balsamic vinegar on a white tee—what's your process?
"Apply a bit of
Stain Solution
to the affected area, sprinkle some
All-Purpose Bleach Alternative
on top, and work in the paste with a
Stain Brush
. For extra stain-lifting power, place your shirt in a sink or
basin
and pour some hot water over the stain (I like to put a kettle of hot water on the stove for a few minutes and use that) to really work the solution into the fabric. Next, soak the shirt in a
basin
of warm water for up to 30 minutes and launder as normal.
"This trick will work for both ice cream and balsamic vinegar spills. For oil spills (e.g., salad dressing), use our
Wash & Stain Bar
in place of
Stain Solution
."
Bleach can be intimidating. You have a bleach alternative—how does that work, and what does it look like in terms of brightening whites?
"Our
All-Purpose Bleach Alternative
is free of chlorine, which can be very harsh on your fabrics, causing damage over time. Instead, we use a gentler, oxygen-based formula that's activated by hot water, so it's safe to use on both colors and whites. It's a miracle worker for upping the vibrancy of your colors and removing dinginess or yellowing from whites.
"
All-Purpose Bleach Alternative
can also be used for
household cleaning
, such as for freshening carpets and upholstery, cleaning your washing machine and dishwasher, and unclogging drains."
Laundry in general can be so evocative—we have early memories of doing laundry with our moms, hanging delicates on a wooden rack in the sun. What are your memories of doing laundry as a kid?
"My mom taught me the importance of a perfectly pressed outfit. Growing up, everything was ironed, down to my '80s-child bandanas. Now that I'm a busy mom myself, I use a steamer and our
Crease Release
to eliminate ironing time. And, naturally, my kids' clothes are never wrinkled!"
When you bury your nose into clean laundry, what notes do you want to smell?
"Your laundry detergent should not smell like chemicals! Just like a fine fragrance, there's a ton of thought and care that goes into the development of our scents.
"
No.723 Laundry Detergent
is my current favorite—it combines damask rose with geranium, jasmine, lily of the valley, warm amber, and wood for an unexpectedly spicy rose scent. There's no reason why your laundry
shouldn't
smell luxe!
"I also adore the scent of our
Signature Detergent
, which is that quintessential fresh-from-the-dryer clean laundry scent. It has notes of lily of the valley, jasmine, sweet musk, sandalwood, and a hint of citrus."
What's the first thing you do when you wake up? How about the last thing you do before you go to bed?
"I'll typically get up early and work out first thing. It truly sets the tone for the day. After, I'll have a matcha or fresh smoothie and get my kids ready for school (homeschool, these days) or whatever activity we have planned.
"My children, husband, and I will have dinner together, play games, or read. Before bedtime I try to squeeze in a bath and will go to bed early. I wash my bedding in our soft musk and spice-scented
No.10 Laundry Detergent
, which is so soothing to fall asleep to."
We love your collaboration with Le Labo—the Santal in particular is divine. What was the process like, collaborating with Le Labo on those detergents? Do you hope to do any other collaborations in the future?
"We wanted to collaborate with a perfume house to create a luxurious detergent that felt more like a fine fragrance. We thought Le Labo and
The Laundress
had great synergy. We loved everything, from the scents Fabrice and Eddie create to the simple yet chic packaging and branding. It proved to be the perfect match! We now have
Le Labo Santal Signature Detergent
and
Le Labo Rose Signature Detergent
.
"We've since done a few other collaborations, one of my favorites being our
The Laundress x John Mayer Out West collection
—50 percent of proceeds go to Montana Association of Land Trusts (MALT). We always have our eyes peeled for brands that align with
The Laundress
ethos and values for future partnerships."
What's next for The Laundress?
"From the very beginning, sustainability has been a core value of
The Laundress
. We are really looking forward to taking it to the next level alongside more inclusivity and collaboration."
Photos: Courtesy of Lindsey Boyd
Want more stories like this?
Working from Home with Taylor Tomasi Hill
5 Wellness Experts on How They Practice Beauty from Within
Marc Jacobs on Why Lashes Are Like "Jazz Hands" for Your Eyes