Photo: @hyyercreative
Love And Sex
Crystal Anderson and Kiesh Herman on trusting the timing of their relationship.
Crystal Anderson and Lakiesha "Kiesh" Herman's love story began the way many modern ones do: on Instagram. They've been together ever since Crystal slid into Kiesh's DMs. As they've shared bits and pieces of their love story on the same social media platform they first met on, people can't help but comment on their relationship as "goals." "People think that we spend every night reading poetry to each other, but sometimes we're eating a bowl of cereal and just trying to hang on," says Anderson. "That doesn't completely color the whole relationship." In fact, the moments that may not be Instagram-worthy, where you're just eating a bowl of cereal in the same room as your partner are just as important, if not more, than the moments one shares on social media.
According to an essay by Barbara Fredrickson, a professor of psychology at the University of North Carolina, love isn't just a highlight reel; it happens in the in-between moments. "Love, as I see it, ­is found in those moments of warmth, connection, and openness to another person," she writes. "We know now that a steady diet of love—of these micro-moments of positive connection–influences how people grow and change, making them healthier and more resilient."
Through the challenges of quarantine and starting a company together (the two founded A Very Good Job, an advertising house focused on film, television, music, and fashion) Anderson and Herman have managed to navigate the ups and downs as they come while honoring one another. "It's like a dance. We were both dancing to the same song, but to two very different beats," says Anderson when asked about what it was like to start a company together. "Now we're doing our dances to the same beat."
Below, Anderson and Herman reflect on the beginning of their relationship, when they knew they were in love, and more.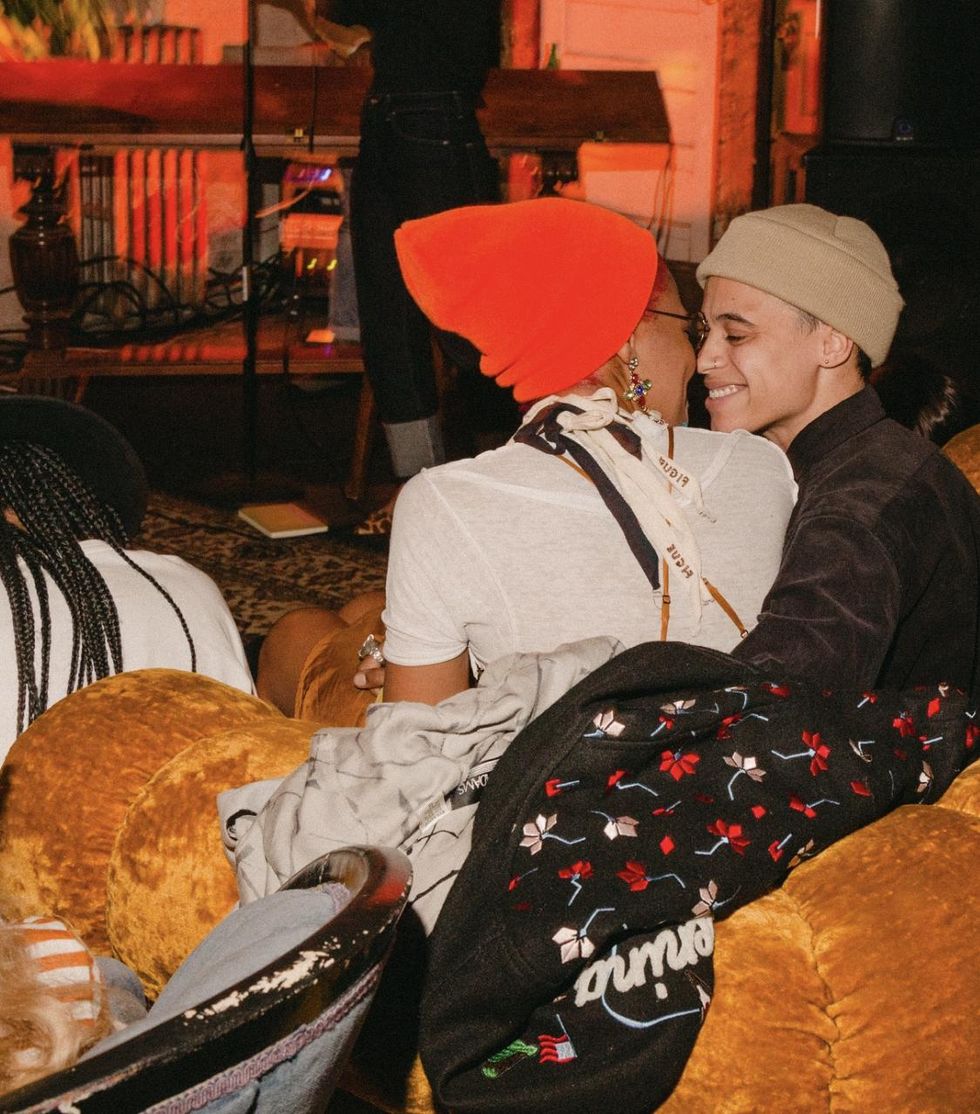 Photo: Courtesy of Crystal Anderson and Kiesh Herman
Crystal Anderson: "I slid into Kiesh's DM's on Instagram in 2018. She was working late in the office one night and I was a big dweeb and sent her a message. She talked to me for a long time before she realized that I was a cute woman trying to hit on her."
Kiesh Herman: "I was at work, on deadline, and I kept posting about how my laptop kept crashing and how frustrated I was so a few people were commiserating with me. And after five or six messages back and forth with Crystal, I was like, wait who am I messaging? Then I went to her [profile] page and thought, oh wait, she's cute.
We kept messaging back and forth and eventually I asked her if I could take her out and we made plans to go to dinner on Monday. But then I hit her up that weekend and said, 'I can't wait until Monday to see you. Can I take you out for coffee?' She was at a bar with her friend, Ode to Babbel, so I met up with her there.
That night, I was supposed to meet up with another woman I had been talking to for a couple of months. I called her up and canceled and said, 'Hey I can't do this anymore.' Then I called Crystal and asked her to come over to my place because we were having a little get-together at my house."
CA: "We had our first kiss that night."
KH: "And we still went to dinner on Monday."
When they knew they were in love:
KH: "My mum gave me a ring when I was 21 and I lost it while I was playing soccer in the parks near Christie Street. The next day, around 8 a.m., Crystal called me—she was at the field and asked me, 'Hey, I'm looking for your ring. Where do you think you lost it?' And that's when I realized that she is definitely someone I need to keep close."
CA: "I'd always been open about my mental health struggles; I was in treatment for OCD, anxiety, and depression. And sometimes with my OCD, I count. One time, we were holding hands on a walk and I was counting. She said to me, 'Are you okay?' And I said, 'Yeah, why?' Kiesh replied, 'I just noticed you were counting and I wanted to make sure that you're alright.' That was the moment where I thought, oh she sees me. I'm safe here. I don't have to hide. I don't have to be anything I'm not."
Their favorite thing about one another:
CA: "In our relationship, Kiesh's the string and I'm the balloon. You can't have one without the other. She keeps me safe and I keep her wild, and it really works for us."
KH: "I don't know if it's my favorite thing, but I love Crystal's cooking. A crab boil is our love language. Or maybe even shrimp and grits because she's the reason I like both of those things. I never liked shrimp or grits before I met her."
CA: "I love cooking for her because I really just love watching her eat the food I made, which sounds weird, I know."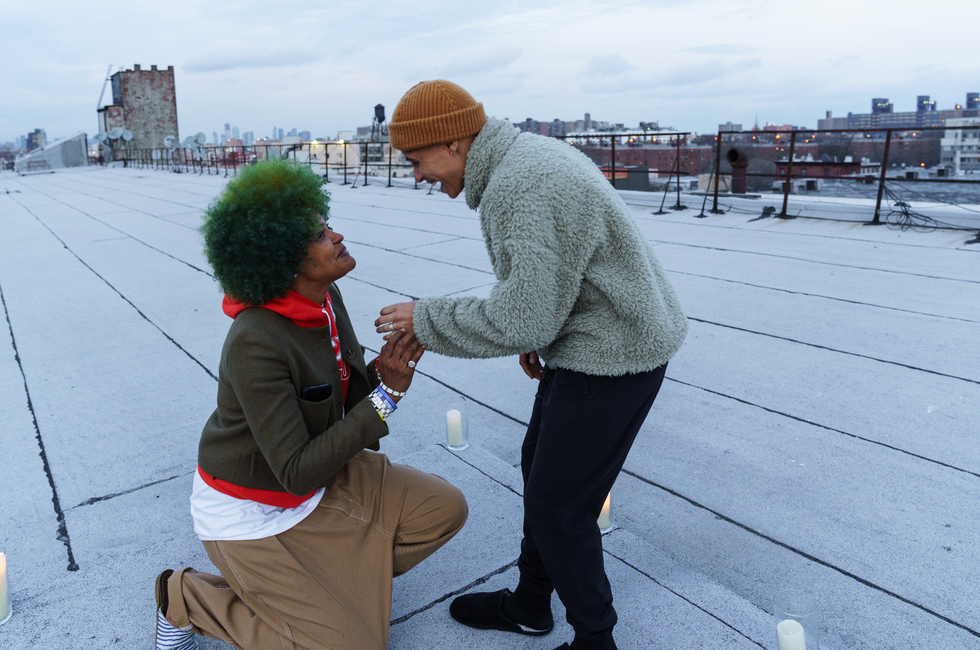 Crystal proposing to Kiesh on the rooftop of their apartment.
Photos: Courtesy of Crystal Anderson and Kiesh Herman
Kiesh proposing to Crystal in the backyard of their Brooklyn home.
How they proposed to one another:
CA: "Kiesh proposed to me on August 16, 2019. It was a summer Friday and I was so ready to go home. And my boss goes, 'Oh, we're going to do team drinks after work.' And I'm texting Kiesh so annoyed and she's like, 'We'll just go, it'll be nice.' So we all went out to drinks and when I came home and walked in through the front door, I saw a note that said, 'Leave your phone here.' Kiesh is incredibly romantic, so I didn't think too much of it.
We filmed a video about a year before the proposal where she told me she was going to propose to me with a piece of twine. And I said, 'Absolutely not.' It became an inside joke. So, I walked into our home and she had a piece of twine going from our kitchen all the way through to the backyard garden. When I got out there, there was a singer singing one of my favorite songs that makes me think of Kiesh: "Just Come Live with Me" by Ray Charles. And Kiesh was there and she'd decorated the backyard with sunflowers, and she worked with a ring designer, a Black woman named Maggi Simpkins, to make my ring from scratch."
KH: "I knew to reach out to Maggi because whenever I'd look over Crystal's shoulder, she was always looking at her Instagram page. Probably after three months [of dating], I asked her what her ring size was so I had it on hand. I didn't have to get one of her friends to sneakily ask her.
I knew the weekend we met that I wanted to marry her. That first night we were messaging because I'm very much someone who overanalyzes messages when I'm texting someone, especially someone I like. With Crystal, I couldn't wait to send the next message. I couldn't wait to see what she said. And none of it felt agonizing or scary, or that I had to play games. It was a space that felt free, where I could just be me."
CA: "I wanted Kiesh to be my girlfriend before Kiesh was ready to use that term. I was just in such a rush to start a life with her. I had been in a longterm relationship prior to Kiesh and I felt like I might have been destined to be alone for the rest of my life. I had sort of made peace with that. Then I met her and I thought, oh my God, what I thought existed [in another person] actually exists. And she chose me. I get to do life with her. A lot of time had passed since my last relationship ended, but people were still like, 'Are you moving too fast?' Ain't no moving too fast when it's the one."
KH: "That's definitely something I had to tell myself because I was talking to three other people before I met Crystal. So I was very much in a no strings attached mindset. Then I had to have a come to Jesus moment with myself and remind myself not to do what I think I'm supposed to do; just do what feels good. I did exactly that and it was the freest I've ever been.
Every day, pre-pandemic, we would travel together and I would take the long way to work. And at Union Square, there was a horn player that we saw every single day and we would just take a minute to admire him and listen to his music. This was also the station where we'd say goodbye, so she'd go downtown to Soho and I would go uptown to the Upper East Side.
It was New Year's Eve 2019 and we were chilling at home with one of her friends. They went up to the roof and then she texted me, 'Oh, why don't you come up to the roof and watch the last sunset of 2019?' So I went up and as soon as I got there, I heard our favorite horn player starting to play. And I see Crystal sitting on a box surrounded by candles and flowers, and her friend is there with a camera taking pictures, and she proposed to me while the music played in the background."
What they learned about their relationship during quarantine:
KH: "I think a lot of people will say our relationship is 'goals' and sure, there are a lot of amazing moments, but being in love is hard work especially when you are used to spending 12 hours of your day apart, and now you're spending all your time together. During the worst part of quarantine, we were in a small apartment in Brooklyn. It was really difficult, and you learn things about your partner that you didn't necessarily want to know; I believe in having a little fantasy in a relationship, some things that remain a mystery.
It was especially hard because on March 13, [2020], which was our last day in the office before they sent everyone home, I was fired. They rigged the papers so it said that I quit, so I didn't get any severance. So, we're entering a pandemic and I don't have health insurance anymore, I don't have a paycheck in a time where you can't job hunt. So Crystal was like, 'It's okay, I got us.' Then two weeks later, she was fired, very publicly. Luckily, she got severance and that carried us through. There was a lot of confusion at the time and we both felt lost not even just within ourselves but within the world around us. I couldn't even fully support her because I was so unsure of myself. We were able to give each other the space and understand that she doesn't have the energy, I don't have the energy, so I'm just going to stay here and try to stay sane.
But out of that experience grew our company, A Very Good Job. I'm so thankful we didn't try to force anything or try to act like we were happy. We started our company out of survival and it became a whole new life, which is a blessing."
CA: "We extended a lot of grace to each other and to ourselves. Instead of panicking and thinking, are we going to break up? What's going to happen? we realized that whatever is meant to happen will happen, but in the meantime, we need to take care of ourselves. We found really beautiful moments amidst all the chaos to take care of each other whether it was going on a walk or going to get the mail. But we both also knew how important it is to allow your partner to have what they need to be their best self, because what good are they to you if they're not good to themselves?"