It's Kelly Wearstler's World
The ultimate aesthete welcomes us into her beautifully curated life.
Cover Story
Chantal Anderson
Kelly Wearstler
Ryan Maslyn
Photo Assistant:
Sarah Rattay Maloney
Video Editor:
Marykate Schneider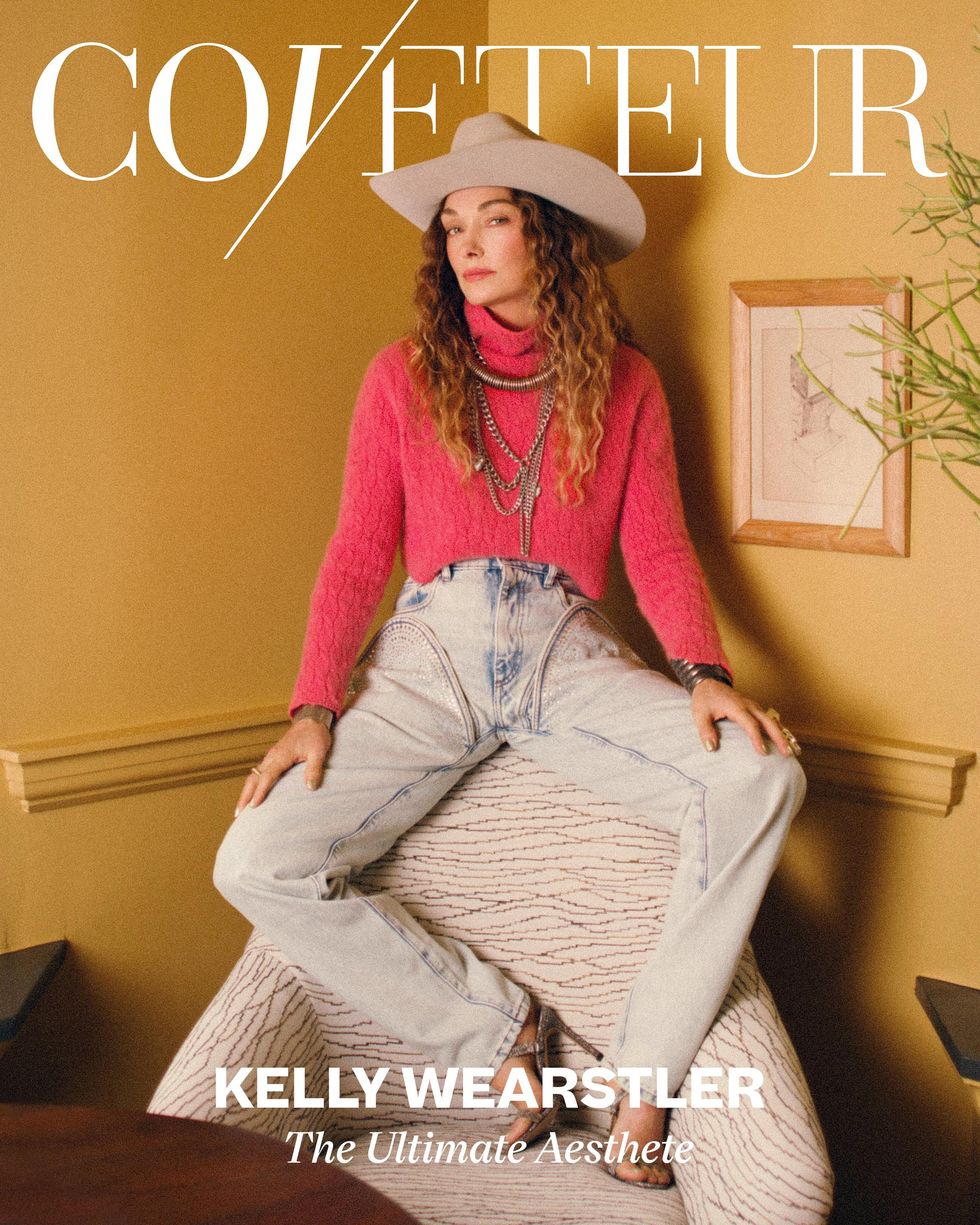 "It's like when you were in high school, and you saw that really cute guy and your heart kind of skipped a little." Interior-designer-turned-aesthetic-mogul Kelly Wearstler isn't talking about a schoolyard crush; that's how she feels when she unearths a new piece of art, furniture, fashion, or decor. "When I discover something that I haven't seen or that somebody kind of looked at from a different perspective, I get really excited and emotional."
The through line of her finds is a purposeful sense of wrongness. "Maybe I've seen a chair, but somebody did something to it, like they covered it in an unexpected fabric, and I get so excited about it," she says with childlike wonder. "It's like a new medium that somebody is working with, pairing two unexpected materials together."
Consequently, Wearstler has one of the most recognizable and coveted aesthetics in the creative field; it's as if everything she touches turns to cool. Cross the threshold of her recent project, the Downtown Los Angeles Proper hotel, and you'll notice each item could stand alone as its own work of art (as is the case with any of her spaces). Whether it's a sumptuous leather chair that threatens to envelop those who sit upon it, a column outfitted in ceramicist Morgan Peck's tactile tilework, or a sculptural flower arrangement by Isa Isa Floral that rivals any painting on the walls, even the locally inspired cuisine yields to her aesthetic prowess.
That's what Wearstler does: She summons you into her world with design as her medium. And unlike the multi-hyphenate creative's residential projects, hotels allow anyone to enjoy a glimpse of her Midas-like aesthetic touch. "Hotels are like an extension of someone else's living room," says Wearstler, "if done right." The lauded aesthete creates multifaceted windows into a city, celebrating the culture through collaborations with local artists, chefs, and architects.
There's a sense of anonymity when you sneak through the corridors of the DTLA Proper. Wearstler intentionally didn't neglect these in-between spaces. On the lower level, a dandelion-hued hallway tucked neatly behind the restaurant provides not only a second entrance but a vibrant portal to travel from one place to the next. Checkerboard carpets and sultry mauve paint blanket the upstairs passages guests tread in anticipation of their suites. And in the foyer, a mural by Abel Macias beckons entrants into the elevator.
Wearstler's voice perks up when I call this emphasis on the in-between to her attention. "I believe that every space in somebody's home should be considered," she says. Every aspect of her projects is purposeful, down to the hangers in a closet. She approaches a corridor with the same attention to detail she would a room, but notes the particular challenge and wonder in these often overlooked areas.
At Home With Kelly Wearstler
The symbiotic partnership between Wearstler and the Proper hotels debuted with the San Francisco location in 2017 (though the downtown L.A. location was actually in the works before this one). Her spirit aligns with the ethos of a boutique hotel, a concept fittingly initiated by Studio 54's Ian Schrager. These smaller, more fashionable hotels rest their foundation on the synergistic ideas of escapism and discovery, two words Wearstler is quite familiar with.
Despite the distinct look of a Kelly Wearstler project, she'll tell you her aesthetic is constantly evolving. She possesses a hunger for discovery never quite satiated, but her curiosity translates into a more sustainable form of newness that emphasizes discovery over production. Anything can be new to her, whether that's an old photo in an out-of-print book or an emerging artist.
Wearstler continues to move deeper into the interior design–adjacent world of art, which serves as a pillar of inspiration in her process. "I've been really curious," she says of her affinity for galleries. "We're collaborating with a lot of artists outside of the design world, and that's been really inspirational." Sophia Moreno-Bunge of Isa Isa Floral is on the roster of Wearstler's frequent collaborators, as they share a similar approach to infusing common objects with an artist's touch. "What I most love about working with Kelly is her innately playful and collaborative process; she is never afraid to try unexpected combinations and always open to experimentation."
In working with contemporary talent in new spaces, Wearstler's had to get comfortable admitting gaps in her knowledge. "I'm not afraid to say I don't know what that is or who that is because we're all learning," she explains in a sentence that reveals a great deal about her approach to consumption. "There are so many incredibly talented people in the world, and it honestly can get overwhelming." That constant gathering of knowledge is what allows Wearstler to identify an anomaly in design.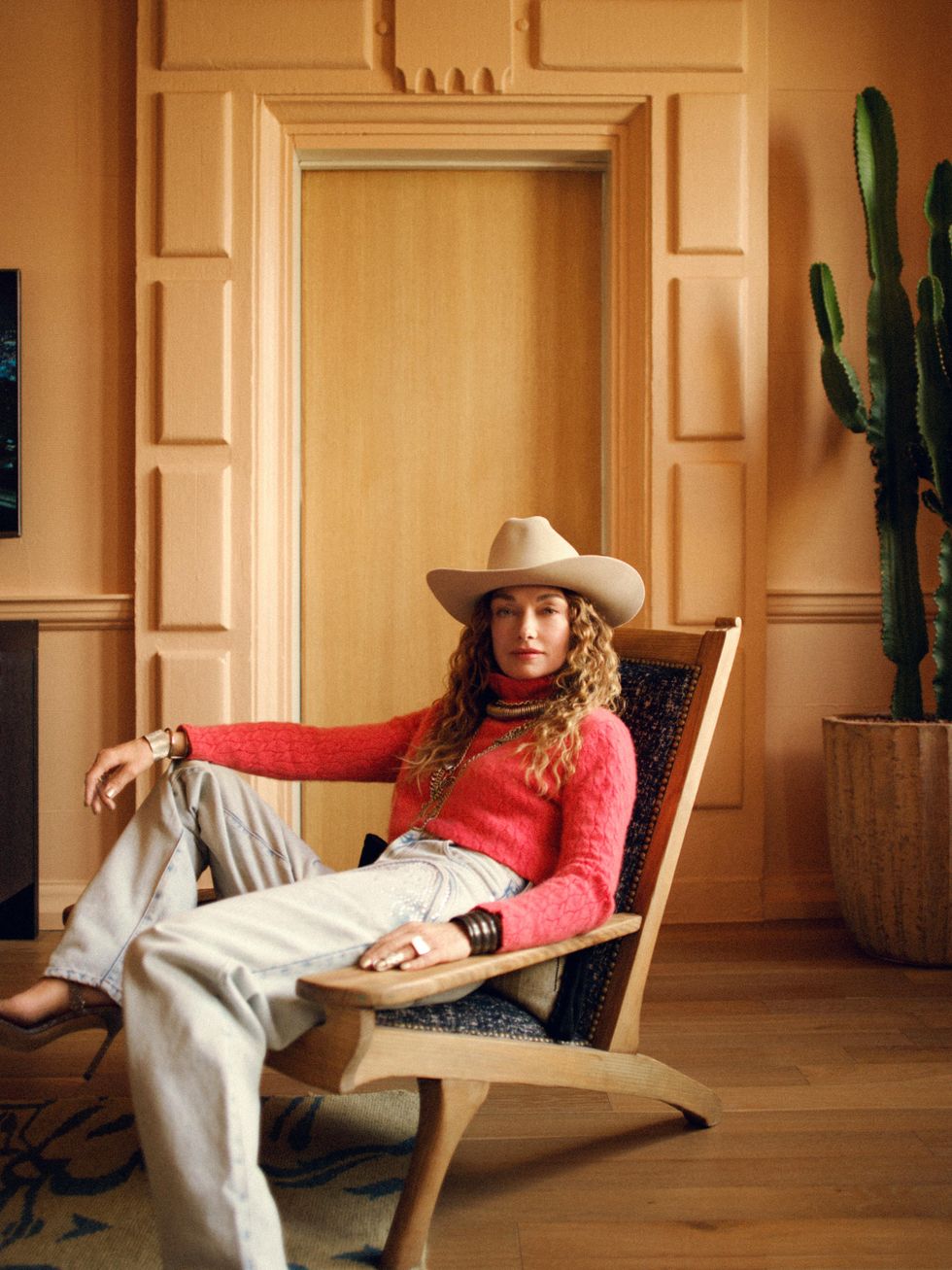 Sweater: Vintage, Scout / Jeans: Y/Project / Heels: Gucci/ Hat: Stetson
Sweater: Vintage, Scout / Jeans: Y/Project / Heels: Gucci/ Hat: Stetson
A testament to the all-consuming prowess of her personal style, Wearstler is almost as known for what she wears as she is for her designs. In fact, the cultivator of taste often cites fashion examples to make sense of design. "I dress how I design," she reiterates. "I love texture. I love things that are raw and refined. I love contemporary fashion designers but I also love incorporating vintage." In terms of an aesthetic signature, "I would say there's always something old, and there's always something new."
Wearstler reiterates to me that she's not a uniform girl. Her own ensembles range from layered space age pieces—products of fashion brands like Vetements and Balenciaga—drenched in various violet hues to distressed oversized denim, a slouchy vintage tee, and a pair of Nike Air Force 1s.
"I'm a bit of a sneaker head," she notes, "because they all have their own story. I love things that are really sculptural and have their own point of view." Her collection therefore has an extensive range cultivated through decades of hunting. "I continue to go to vintage clothing stores and thrift stores, and I just love that. Finding that diamond in the rough, that treasure, is so amazing."
Along with sneakers, Wearstler also collects vintage clothing, out-of-print books, art, and of course, antiques—she has a "chair fetish." There's magic in this collector's approach. She's constantly searching for her pieces to fill all over her projects, and if she doesn't have a place for something at the moment, it goes to a 15,000-square-foot warehouse in Los Angeles where she harbors her treasures like buds waiting for spring. "It's just like when you're shopping for fashion, and you have to get a dress for something and you can't find it. When you see something you love, you should just buy it because there will be a time and place that it will be ready to be shown." (Ideas for the sake of ideas are never as good.)
Collecting, Wearstler explains, is the best way to foster taste, an at-times elusive concept. "Whether it's art or chairs or clothing, I think collecting is something that represents us," she says. "It gives us not a purpose but a perspective of what we may like."
Within all realms of design, she loves to fall in love, whether that's crushing on a sofa or vibing with a palette. "I always say living without color is like living without love," she continues on a complementary tangent. "Color is everything. It's way-finding. It says something about how people feel. It's emotional. It can alter your mood. It can give you direction." She then encourages me to prepare for a color renaissance to combat the blues of the pandemic these past few years.
This bout of love reveals a kind of rare passion that triumphs over modern burnout, and she encourages the same in her collaborators. "The environments she creates are truly an artists' dream—spaces where color, texture, shape, and story collide," reiterates Moreno-Bunge. "Her design language is so open to creative dialogue and transformation; it's so easy to play off of."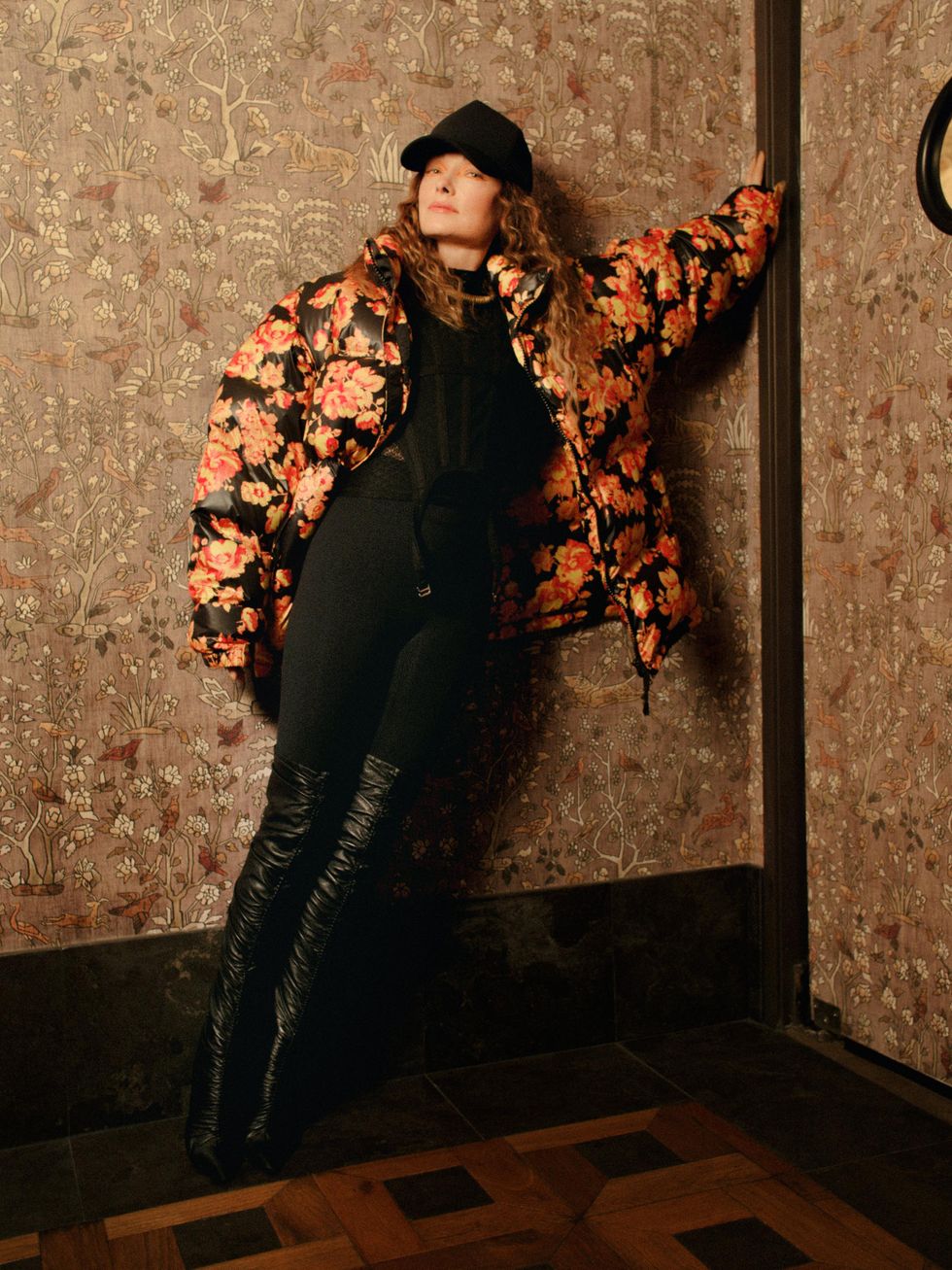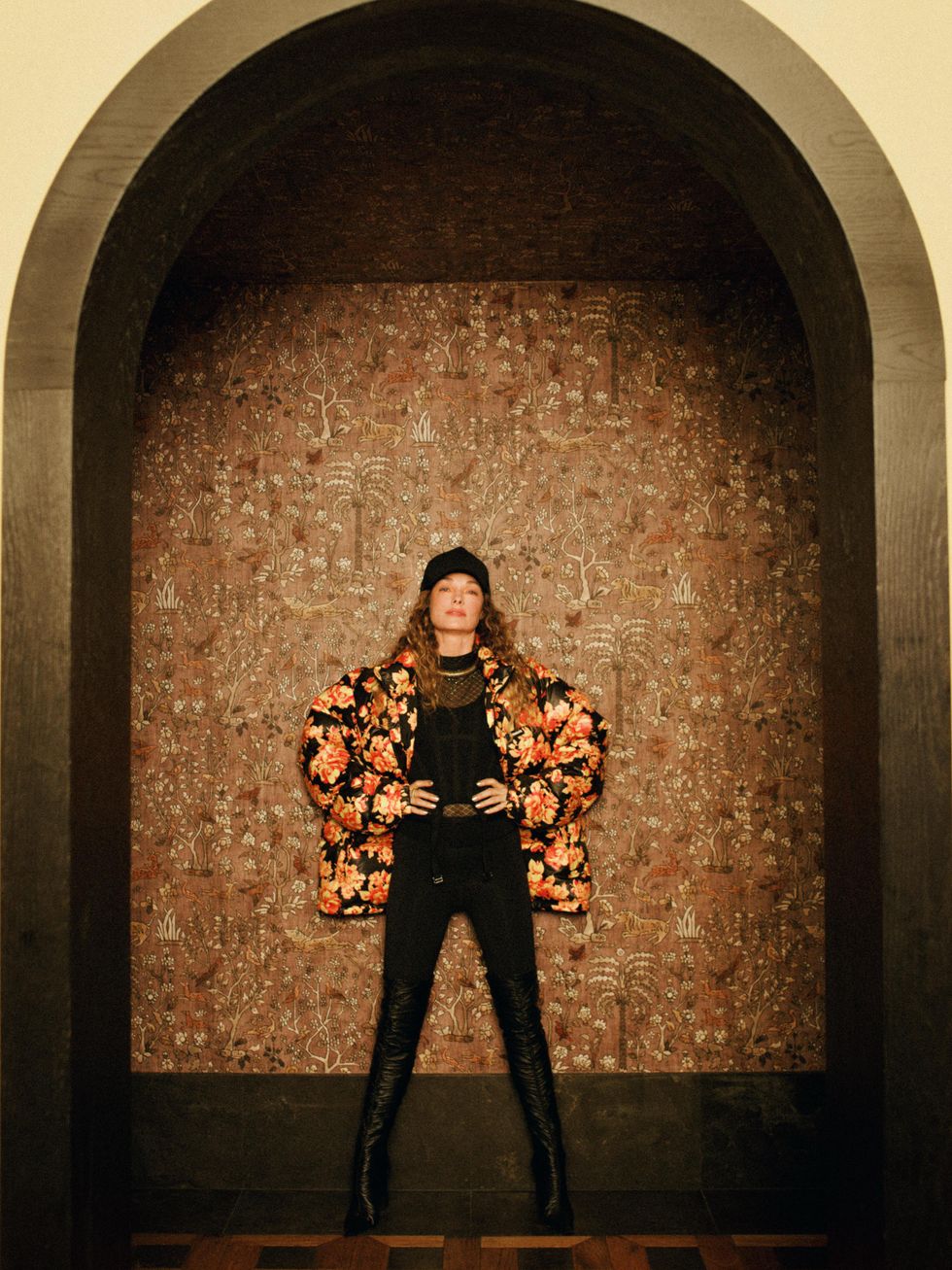 Puffer: Vetements via The Webster/ Bustier: Dion Lee/ Top: John Elliott/ Leggings: Vetements/ Boots: Alexandre Birman/ Hat: James Perse/ Necklace: Vintage, Current Affair
The ultimate renaissance woman, Wearstler feels very fortunate to have such a desire, which she simply attributes to loving what you do (there's that word again) and taking care of herself. A working mother, her day is meticulously planned to fit everything in waking hours. She starts every morning at 5:30 with a glass of water with lemon and spends roughly 10 minutes reading articles from the New York Times or Wall Street Journal as she sips an espresso. She works out then comes home to wake her boys and take them to school. Wearstler often takes meetings in the car as she ventures from school to the studio, where she stays until an afternoon pilates class. Then it's back to the studio, dinner with the family, and oftentimes more emails while her boys do their homework. "I try to put everything down by say 9," she finishes with a question-like upturn in tone.
As someone who often battles to shut off the creative charge in my own head, I wonder if she has trouble sleeping. "I sleep very well, and I attribute that to putting all my technology down early," she notes of her methodical practice. "To be creative and have the energy—because I'm nonstop, super busy—you have to sleep well." And don't forget exercise. "Running a business, yes, it can be stressful. Things happen, but I'm pretty resilient. And what's the worst thing that can happen? We're all healthy so you just have to deal," she posits. "I try not to get super emotional. I really attribute that to exercise. That's really my relief."
Though she assures me that early morning wake-up call isn't always met with excitement, Wearstler loves having that moment to herself. "My brain is so on fire in the morning. I'm really creative, and I'm super on it." Synapses firing immediately, each day presents a new opportunity to create, to collaborate, to be inspired. "And I love my espresso," she laughs. "That gets me out of bed, too."