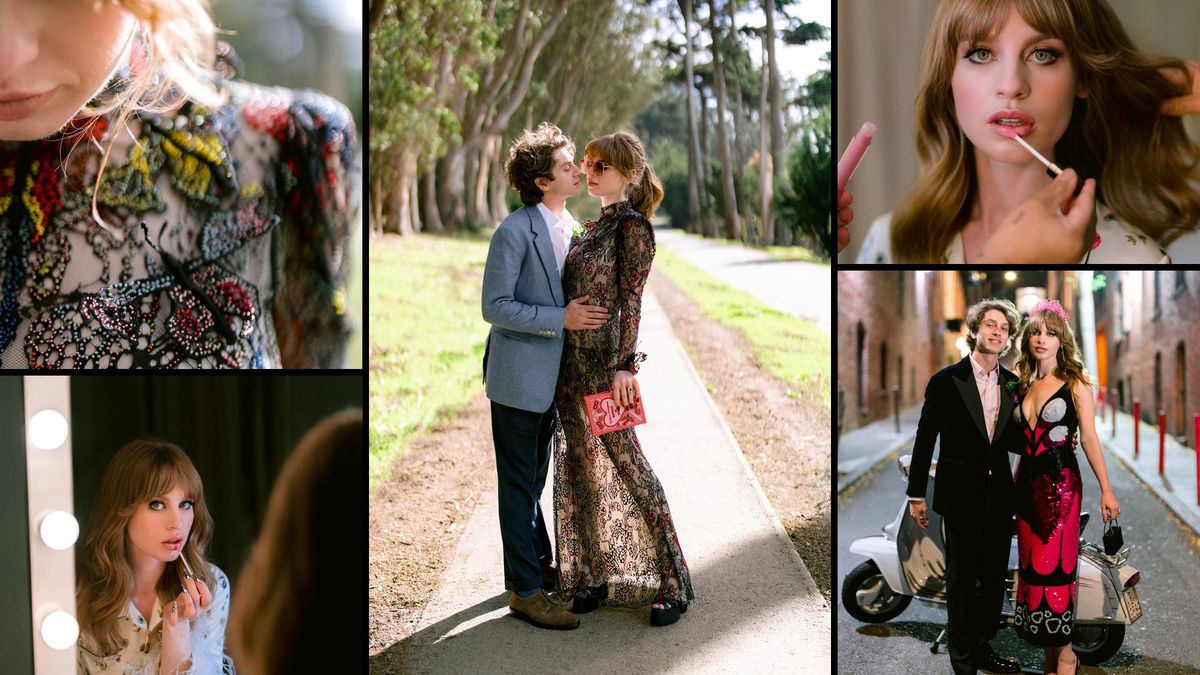 Style Diaries
Ivy Getty Shares All the Details of Her Pre-Nuptial Style
Though the spotlight is often on the wedding dress, these looks are definitely worthy of attention.
Graphic:
Ashley Combs
Welcome to Style Diaries, a new series where we research the physical manifestations of our closet tours IRL. We're asking friends and tastemakers to show us what they're *actually* wearing during the week and to provide a little insight into their thoughts on the current state of fashion. This week, we are speaking with Ivy Getty about the ensembles she wore at the events leading up to her San Francisco wedding. Between a pre-nuptials picnic, the rehearsal dinner, and the morning-of, here's everything she donned in anticipation of the actual wedding.
What role has fashion played in the lead up to your wedding?
"I feel I've always been obsessed with fashion. Growing up in San Francisco, I've always thought people are always encouraged to express themselves through the way they dress. I've had multiple periods in my style evolution—and it continues to evolve."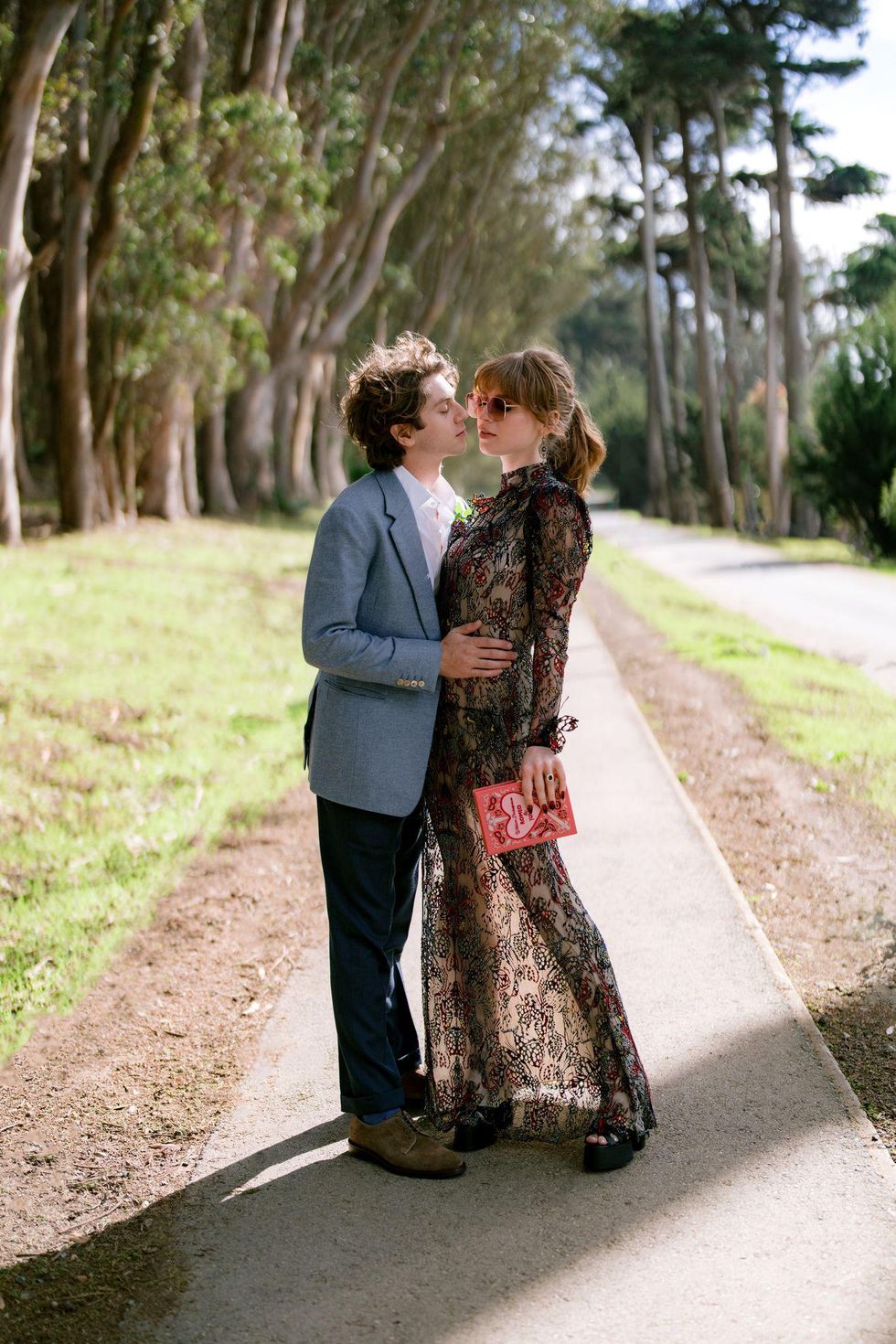 Dress: Archival Alexander McQueen; Shoes: Prada; Clutch: Olympia Le-Tan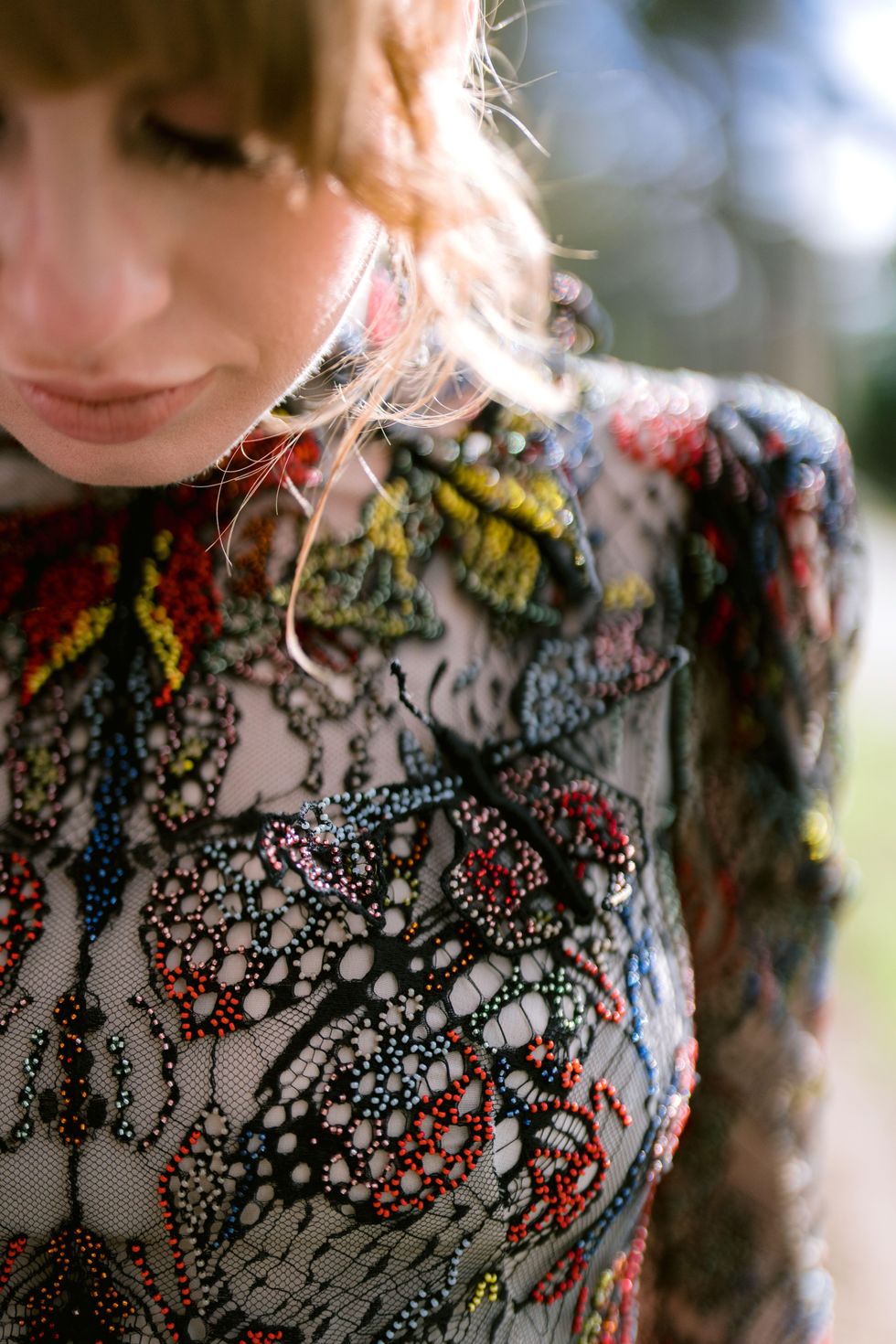 "For the picnic, I chose to wear this beautiful Alexander McQueen dress. McQueen has always been one of my favorite designers. It was just such a major look for the picnic. Wearing McQueen's signature butterflies—what more can you ask for? There must be something in the water at central St. Martin's—I seem to be surrounded by alumni for this wedding….Paul [Burgo] went there as did Galliano and McQueen."
Shop the Look:
Prada
Olympia Le-Tan
How did you plan the ensembles? Do they need to coordinate or tell a story?
"I worked with Carrie Goldberg to create an incredible aesthetic that was personal and true to myself. Butterflies were a major theme. They are a reminder that my grandmother and father are looking over me. Also, I feel they represent transformation and growth and in the past year, throughout which I've really grown as a woman. In my dressing, I wanted to have fun and wanted there to be randomness and experimentation especially as everything is always evolving. You don't need a signature look; you should constantly evolve."
Day 2: The Rehearsal Dinner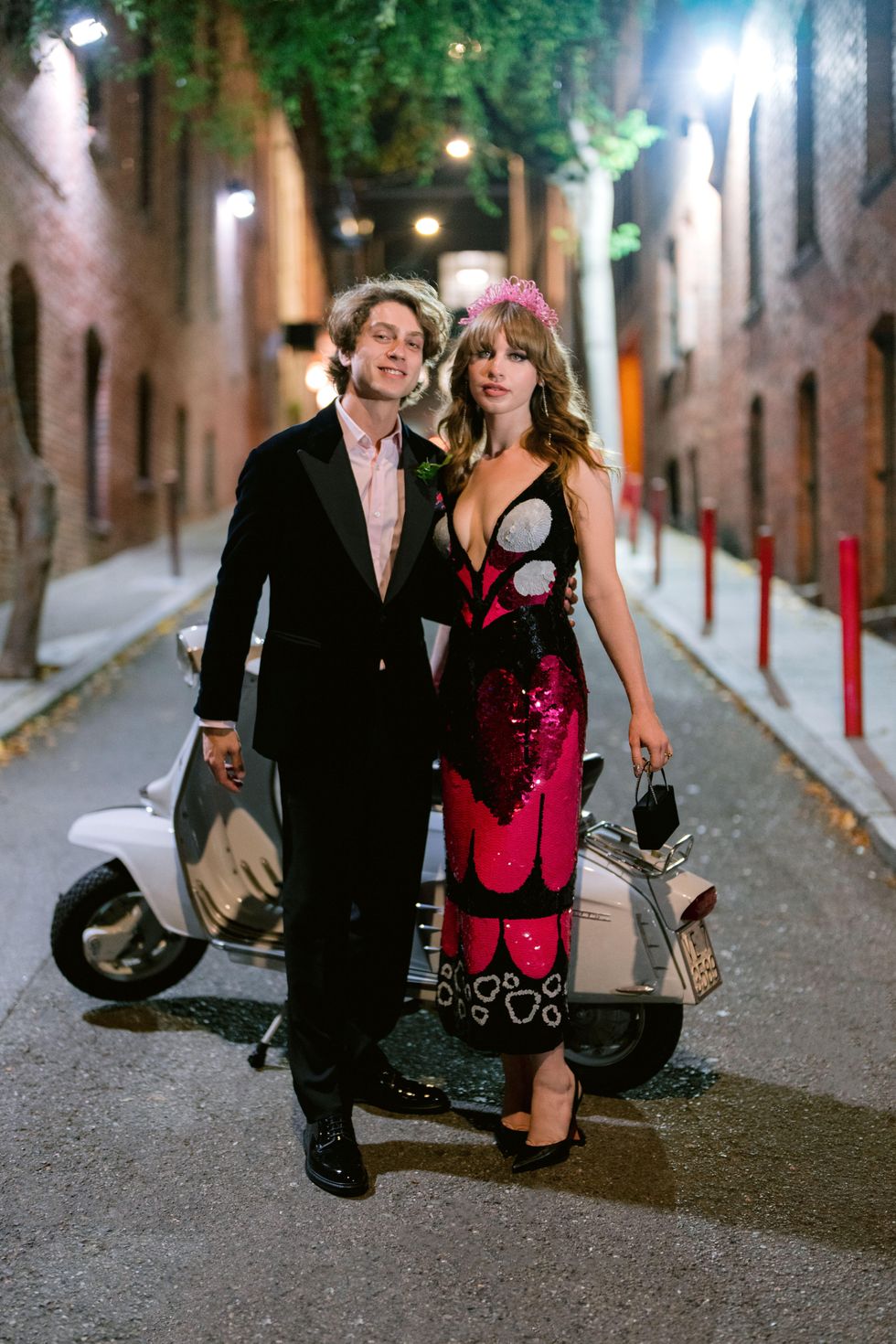 Dress: Paul Burgo; Shoes: Amina Muaddi
"I mean, Paul has always been one of my best friends. We have grown super close. He made me a perfect rehearsal dinner dress in the butterfly theme—hot pink—and it fit my body like a glove. He just understands a woman's body and I am so excited to see where he grows with his career. He is so talented."
Shop the Look:
Amina Muaddi
In terms of beauty, what does your go-to hair and makeup routine look like and how does that change throughout the various events?
"I don't really have a go-to look. I usually have a major eye or a lip, but I always like to choose my outfit rather than the beauty. I love pulling inspiration from different times and always love trying new things. I really make an effort to take care of my hair. I stopped dying it and I've grown it out—healthier hair allows me to experiment. I swear by silk pillow cases and no sulfate products. I don't ever use heat on my hair and get a haircut every six weeks."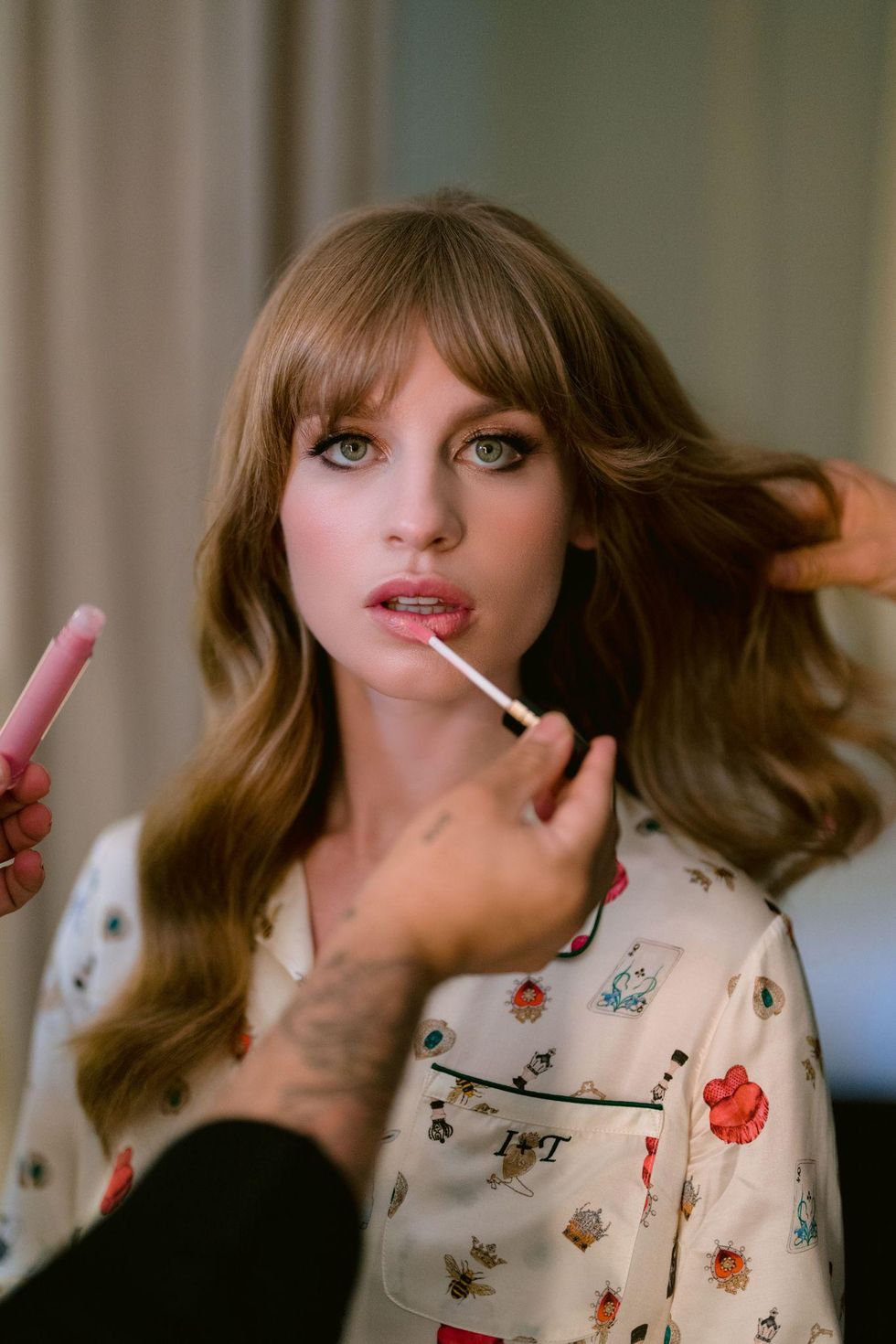 Pajamas: Morgan Lane
"We had Morgan Lane sets for when we were getting ready—it was the most fun print!!! It was from her newest collection, then we added these fabulous feathers. I have a feather obsession; I have always loved to wear them. We had pink feathers added for all the girls and white for me. Adding feathers to pajamas means you can literally go out in them!"
Shop the Look:
Morgan Lane