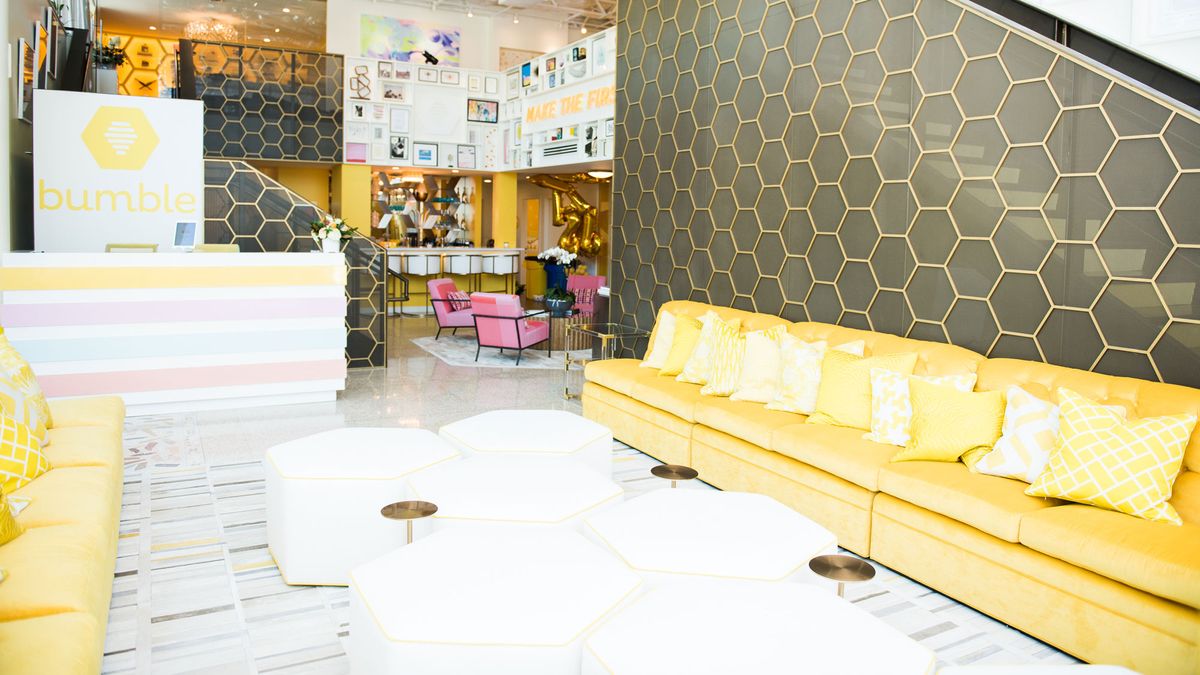 Interiors
Her Austin HQ is a temple to all things Bumble. In collaboration with Bumble.
Remember that time we visited Bumble founder Whitney Wolfe Herd at her brand-spankin-new Austin HQ, and we gave you a tiny sneak peek of the 1,000-percent customized space? We promised a more in-depth look, and ta-da! Here it is.
If you think housing your groundbreaking tech company (in case you haven't heard, the app that revolutionized online dating to empower women just recently also launched a business networking arm, Bumble Bizz, and an extension for people just looking to make friends, Bumble BFF) in Austin, Texas, instead of, say, Silicon Valley is unheard of, that choice was deliberate. "I really believe that there's something to be said for race horses wearing blinders. You can't win a race if you don't keep your blinders on. If you're looking over your shoulder asking, 'What are they doing?' You're going to fall, and you're going to lose. [Being in Austin,] we have our blinders on, and we're not affected by outside opinions or any of that stuff."
In fact, every single aspect of the office space is deliberate. From Wolfe Herd's custom-built hive bookcase in her Bumble-yellow office to the light switches, every inch of the building is intended to be friendly, upbeat, and to encourage creativity and collaboration. "It's always enjoyable to restore a structure to its original roots, especially one with elements dating back to 1960s architectural trends," said Mark Odom, founder and principal of Mark Odom Studio. "My team and I were inspired to build on that foundation while making the Bumble team's vision of a lifestyle-focused company headquarters come to life. The Hive will surely live on in Austin infamy as one of the most stylish, vibrant and collaborative office spaces in the city."
Take a tour and read about how Wolfe Herd created an empowering office culture below.
---
32 / 32
"This is great advice for anyone trying to start a company: Don't get hung up on a name. Get hung up on the problem that you're trying to solve, and let the branding evolve from there. Branding is so much more than a color, so much more than a name. It's how it all comes together, and that's how it tells a story. I hated the name 'Bumble' originally. Somebody came up with it—it was like thrown out during a naming competition because we were all going crazy trying to find a non-trademarked name.
Michelle Kennedy
, who started Peanut, who I used to work with, was like, 'What about Bumble? I was talking to my husband this morning, and I called him a bumbling idiot—what do you think about Bumble?' I was like, 'Well, no because people will think they're like bumbling or fumbling into dating. This isn't going to work.' And then Alex, her mom, was like 'Oh, I kind of like Bumble. It's like, "Be the queen of Bumble. Find your honey on Bumble."' And we're like, Bingo! 'Honey.' And then yellow, and it all just came together. That is what makes a great brand, when it tells a story beyond just a name or a color."