5 Ways to Style Flip-Flops Beyond the Beach
I'm already fantasizing about wearing a Jil Sander pair to the office and a Prada pair to brunch.
Fashion
Photo: Getty Images
First it was Crocs, then Uggs, and now flip-flops. The past few years have given us the opportunity to re-style the questionable footwear of our youth. While I elected to leave the former two shoes in the dark place in my mind where I've stashed my middle school memories, Instagram It-girls have convinced me that flip-flops—or thongs, as my dad mortifyingly called them—are worth a revisit. I grew up in a surf town, so flip-flops were worn everywhere year-round. My big sophomore year style rebellion was to wear them exclusively to the beach, a rule I've adhered to with fierce conviction—until now. Below, I've curated five ways to wear flip-flops when a swimsuit isn't involved in the ensemble.
The Office
One approach to styling flip-flops is to balance the inherently casual nature of the sandal with a trouser and matching tank top (or button-up for extra coverage). Pair it with a pedicure and delicate jewelry and you're work-appropriate!
Brunch
This mini-dress-and-heeled-flip-flop combination makes me think of late '90s teen style queens: Bianca from 10 Things I Hate About You, Cher from Clueless, Buffy's Cordelia. I never got to click-clack around my high school halls with a Prada backpack, but perhaps I'll recreate this look for brunch in Brooklyn.
Afternoon Errands
For an easy weekend look, we like mid-rise or straight-leg jeans, a plain T-shirt, and a longline coat. This is an excellent pick for transitional weather: It's comfortable and the silhouette can be achieved with both heavy and light outerwear.
Vacation Lounging
I don't have any plans to go to Tuscany, but if I did, this would be what I would wear for a long day of reading Sally Rooney on my terrace followed by an evening of drinking natural wine and playing charades with friends (and perhaps a sordid love affair with a depressed, married actor?). I love muted, neutral tones, but these cobalt pants and magenta chore coat paired with yellow sandals make a strong case for vivid colors.
Stunting on Instagram
The volume and print of this dress plays against the slinky sexiness of this sandal. Topped with a baseball cap—which functions similarly to sunglasses in that it provides a low-key anonymity—and you've got yourself a blog-worthy look.
Shop Our Favorite Flip-Flops:
MM6 Maison Margiela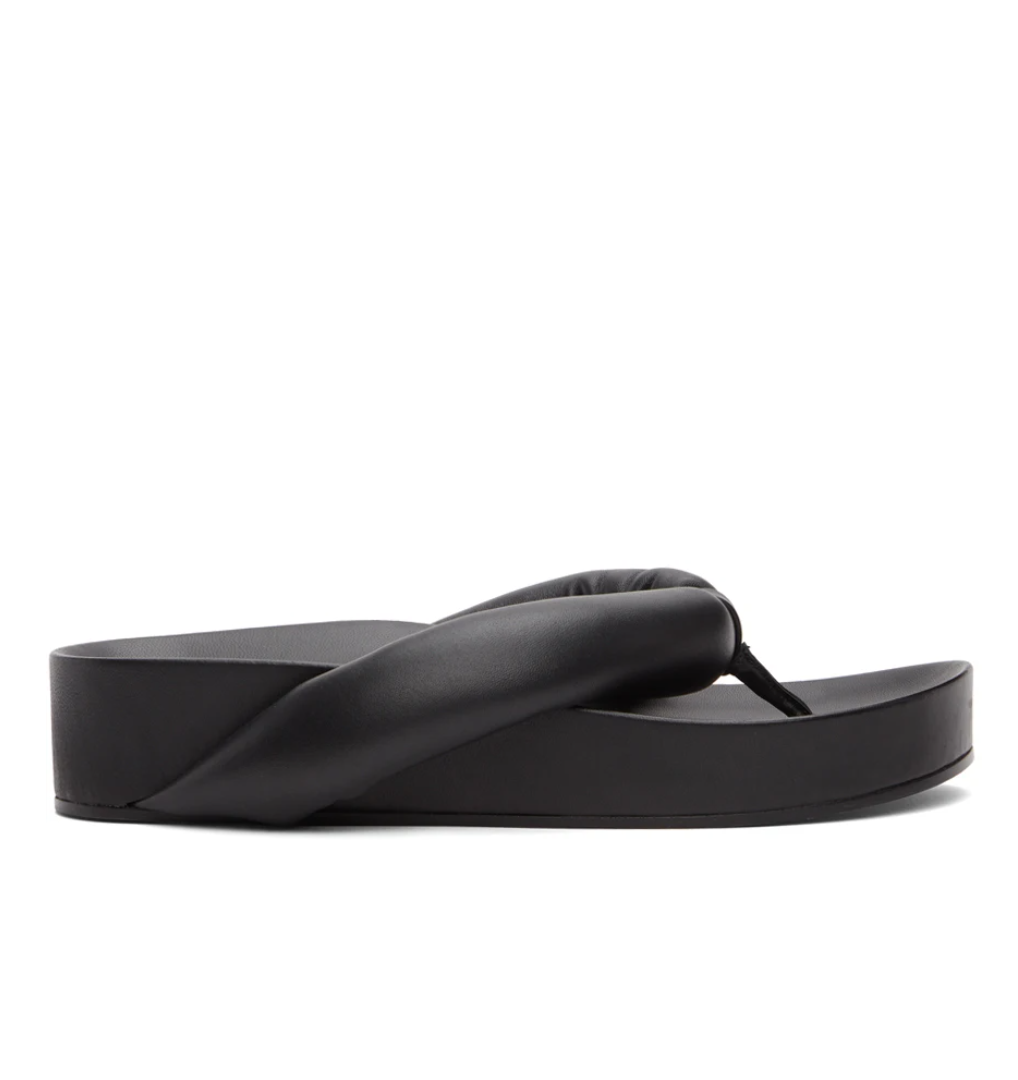 Jil Sander
Prada
Boss
Gucci
Kenzo