Imagine Your Makeup Routine, Sans Primer
Two pros on why primer isn't the only way to a good skin day.
Makeup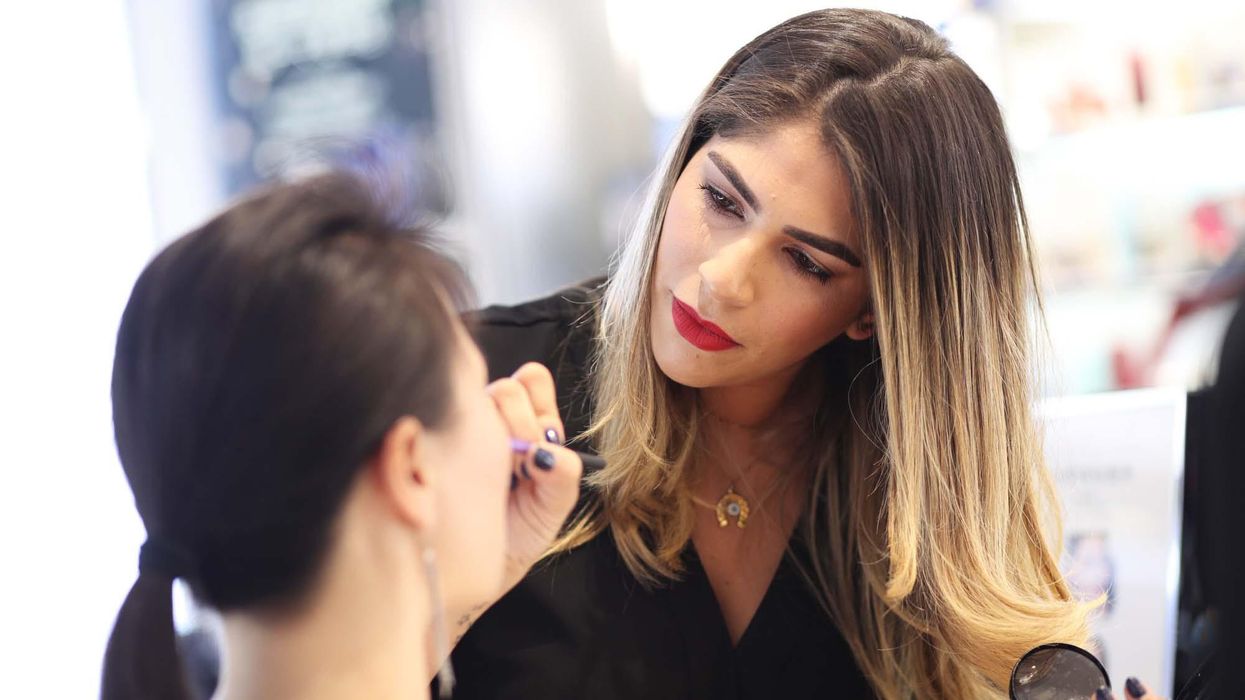 If given the chance, would you subtract a step from your beauty routine? Shaved time isn't the only appeal of a condensed beauty lineup — for makeup minimalists, a lighter finish is also a major plus. With that being said, it might be time to reconsider our devotion to primer. Though I'm not a die-hard primer devotée, I can't imagine my going out makeup variation without it. It wasn't until a recent episode of Brooke Devard's Naked Beauty Podcast (a must-listen for beauty lovers, btw) that I started to rethink my pro-primer stance.
While interviewing Estée Lauder's Director of Global Pro Artistry Jocelyn Biga, Devard revealed that she stopped buying primers. The shock came when Biga agreed. "They're gimmicky to me," she said. My world was rocked. "Other artists might say something different but I prime the skin with skin care," Biga continued. When I followed up with Biga to ask her to elaborate, she said that they become gimmick-heavy when "they're positioned as a must-have for a flawless makeup look" or when they promise to improve the performance of a foundation.
When we asked celebrity makeup artist Alexis Oakley to weigh in on the great primer debate, she agreed; she doesn't always reach for primer with her clients, but not for the same reasons as Biga. "Silicone spreads when it gets heated and most primers tend to be silicone-based," Oakley tells Coveteur. "Personally, I like to use a good moisturizer and then go straight in with the foundation. I find it marries together nicely and creates a flawless complexion." Below, Biga and Oakley share why primer isn't always their go-to and what they use instead.
What Are Primer's Pros and Cons?
At its best, primer can have a stellar blurring effect. "The pros of a primer are definitely that it can minimize the appearance of wrinkles, texture and large pores," Oakley says. On the other hand, she finds that it can separate makeup throughout the day instead of making it last. On top of it being an additional step, Biga says "people explore primers because they don't like the way their foundation sits on their skin." She believes that this should be an invitation to rethink your skin care strategy, not apply more makeup. "It's an opportunity to revisit your skincare routine or foundation rather than reaching immediately for a primer," she explains.
When Should I Be Using Primer?
Biga only opts for a primer when a client has larger pores. "The difference when I use a primer for pores is that I only apply the primer where it's needed instead of using it as a skincare product and applying it all over the face," she says. "Primers can definitely be used for dry skin, but I would focus more on a primer that provides glow and hydration — I wouldn't use a pore-minimizing primer on dry skin." Meanwhile, Oakley reserves it for certain skin circumstances. "The only time I use primers is to treat texture, wrinkles or large pores," she says. When she does opt for primer, Oakley uses Shiseido's lightweight Synchro Soft Blurring Primer.
How Can I Prep My Skin For Foundation Without Primer?
For Biga, the key is in the skin care proportions. "My tip for prepping the skin for makeup is to use half of the amount of product you would typically use for your nighttime skin care routine," she explains. "That way, you're not overloading the skin and the makeup will have a much more flawless finish."
This starts with a clean canvas. "I always start by making sure my client's skin is clean using either a micellar water or toner," Biga tells us. Then, she reaches for a treatment lotion, like Estée Lauder's Micro Essence Skin Activating Treatment Lotion or a serum, like Estée Lauder Advanced Night Repair.
Can Makeup Last Without Primer?
"I don't believe primer is always the answer for making makeup last," says Biga. "It's very circumstantial depending on where you're going, what you're doing, the climate, et cetera." For all-day stay, she suggests adding a long-wear foundation to your lineup (she prescribes Estée Lauder's Double Wear Stay-in-Place Foundation) or breaking out your powder compact. "I use a setting powder in the areas where you release the most natural oils during the day to keep the foundation intact," she adds.
Oakley says that it's all about your moisture game. "For a long-lasting flawless complexion, I recommend starting off with a great moisturizer such as Bobbi Brown Extra Repair Cream or Tatcha Water Cream," Oakley suggests. "Both work well under a liquid or cream foundation."
Shop the Story
Estée Lauder
Bobbi Brown
Shiseido
Tatcha
Estée Lauder
Estée Lauder