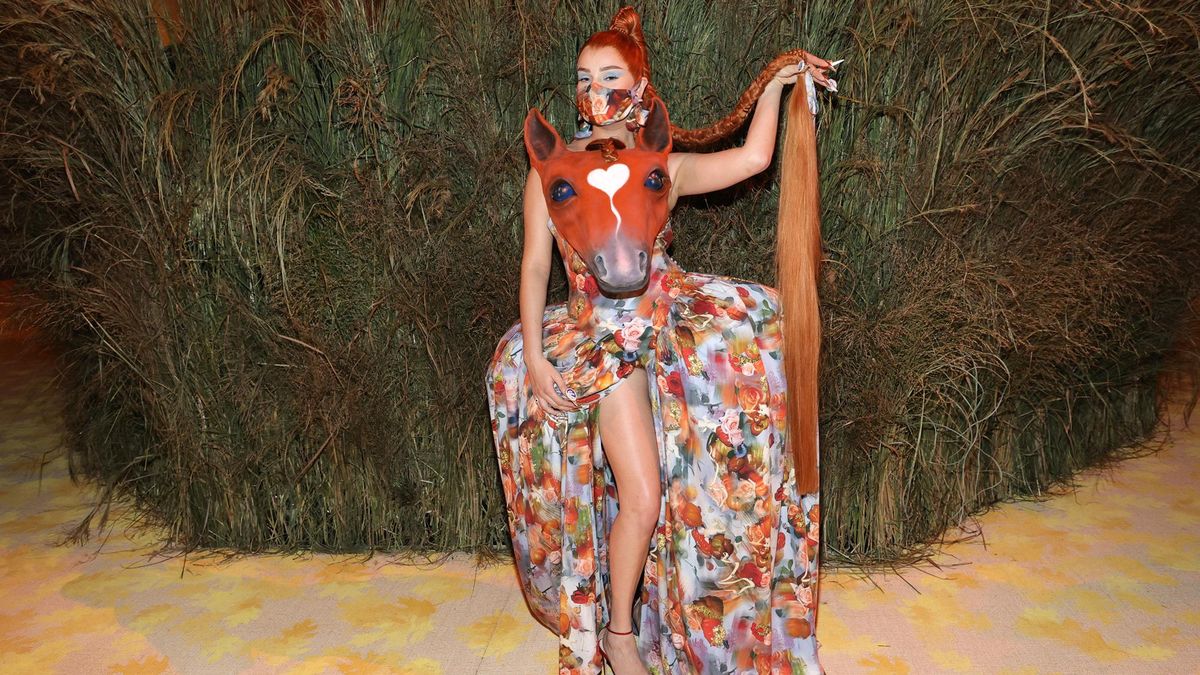 Trends
An Ode to the Many Manifestations of Horse Girl Fashion
Three horse girls weigh in.
Each year, the Met Gala provides its guests with the opportunity to indulge in the eccentricities of fashion. Though many stars turned more than a few heads with their weird and wacky ensembles, few garnered more attention than Kim Petras, outfitted in head-to-toe Collina Strada. Emblazoned upon the German singer's chest was a life-like and nearly life-size horse head.
"I was inspired to do the horse head because I had created looks for fall '21 that really emulated being an animal, so Kim's look was a spin-off from the Animorphs collection," says designer Hillary Taymour, who leaned into a shape that challenged the natural (human) "curvature of her body." Beyond the overt horse head, the look also showcased more subtle references to the animal, especially her ultra long ponytail. "Kim's braid mimics a braid that's done for a competition horse to really bring the point home that every part of the look was to make her a horse in the front and in the back." Taymour, who attended the Met Gala alongside Petras, sported a similar horse-like ensemble minus the braid and the exaggerated volume of the garment. "I wasn't the show horse but the work horse,"—a distinction that certainly gives one pause about fashion as a whole.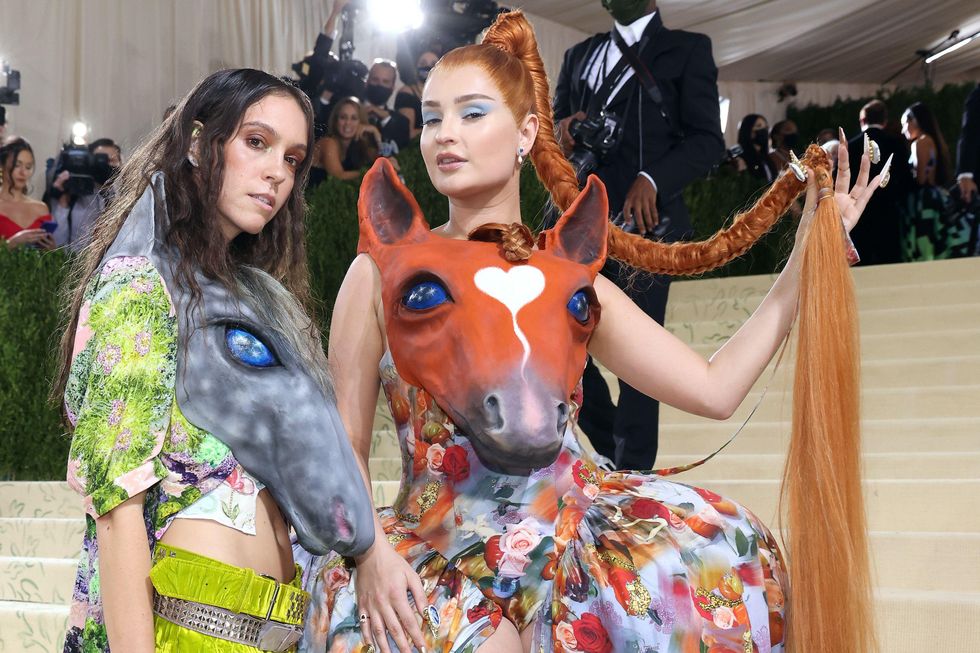 Photo: Getty
The designer grew up riding horses herself, citing the sports integral connection with nature as the onus of both her love of animals and the environment. That personal connection is evident in her spring '22 collection, which boasted belts she wished she wore in competition. "Once a horse girl, always a horse girl," reiterates Kaval founder Danielle Levine, "If you have ever really ridden or loved a horse, you will always draw inspiration from equestrian sport(s), whether you continue to ride or not."
While Taymour favors a weirder approach to the concept akin to fashion's revival of the tacky tourist look a few seasons back, Levine's Kaval features an assortment of literal equestrian wear ranging from breeches to show coats, all of which is designed to be worn both on and off the horse. The uniform, which has changed much over the years, is made up of classic pieces that many of us possess in our own wardrobes (or at least something of a similar variety). "If you are a competing showjumper, you wear tan or white pants and usually a white shirt and dark blazer," explains Levine. "If you do dressage, you wear a tailcoat. If you ride western, you look like a chic Marlboro woman (minus the cigarette)." Plus, the clothing is functional with quick-dry fabric and sun-shielding materials—equestrian tops and jackets are also currently being used on the golf course and tennis court.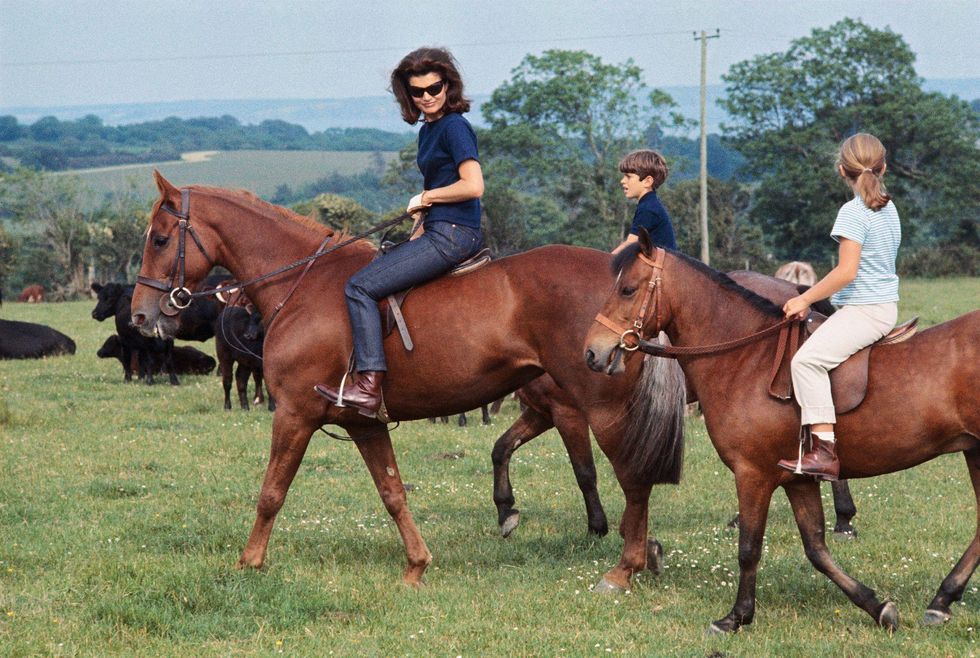 Photo: Getty
While Levine notes that more and more equestrian brands are designing clothing that can be worn outside the barn in an elevated take on athleisure, the reverse is also true. Though Milanese brand Gucci's DNA lies in horse-related pursuits—exhibit A: the horsebit loafer—designer Alessandro Michele's fall '21 collection (that "hacked" Balenciaga) displayed overt and somewhat fetishistic equine references. Riffing on the equestrian uniform, there were riding boots, jodhpur pants, helmuts, and even a riding crop (in essence, a whip). Levine even notes that his recent ad campaigns are an exhibit of "#horselove." Similar equestrian references often pop up at luxury houses from Ralph Lauren to Chloé to Hermès.
Levine then points us in the direction of the rich fashion moments throughout history. "For me, it's Jackie Kennedy riding with her kids, Audrey Hepburn and her horse, or one of those super chic English women like Karl Lagerfeld muse, Amanda Harlech, at her country home," she posits. "It's the tweed blazer, the old school jodhpur pant that balloons out at the thigh, or the super chunky sweater." Though few dress in such a manner today, the visual inspiration is without a doubt still intriguing.
Delfina Blaquier Figueras also identifies as a horse girl. "I was brought up among a polo playing and equestrian family, then I married a polo player." She not only breeds horses but lives for them, noting her stables as a way to "pay homage to the nobility of our favorite partner in life: the horse."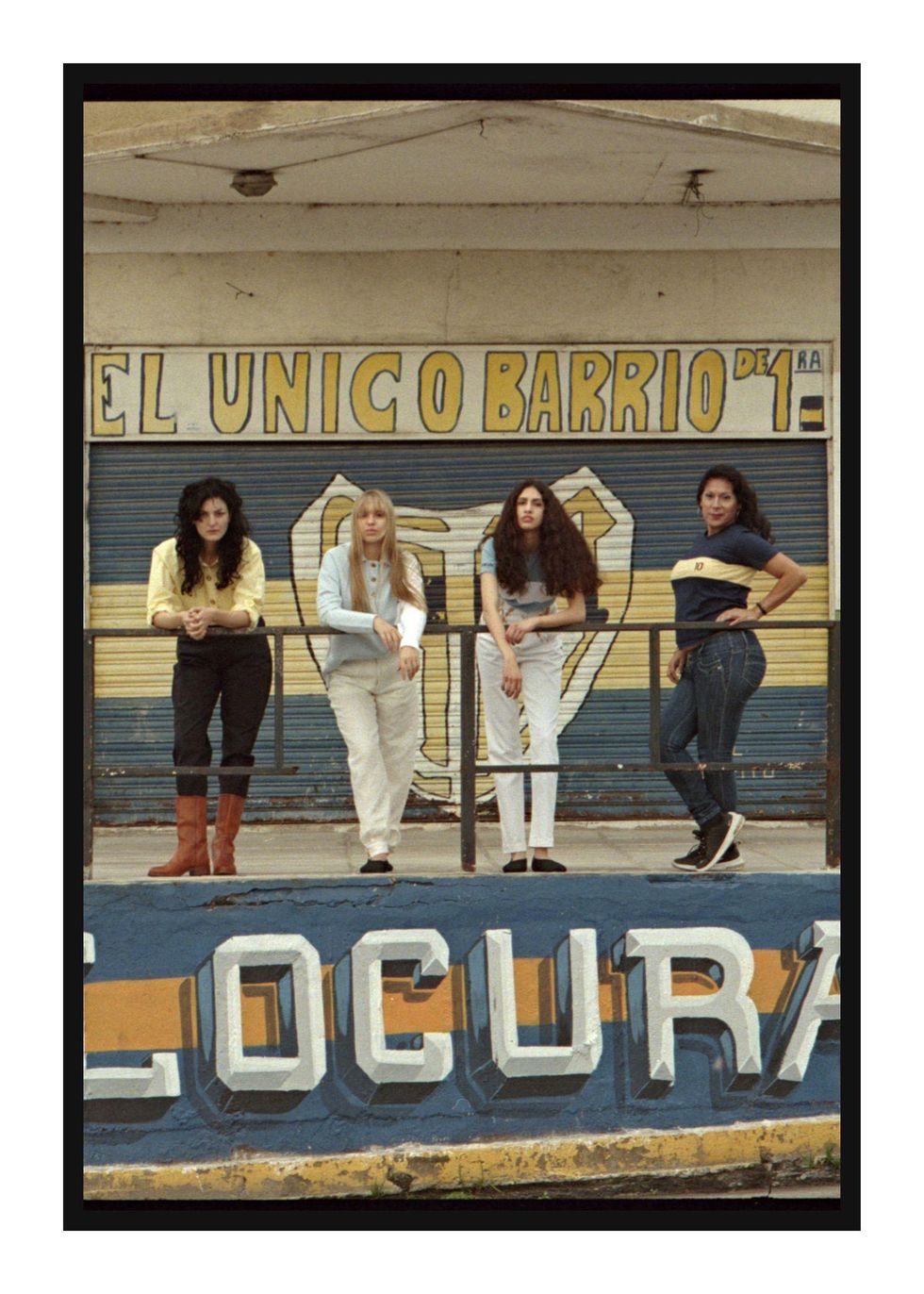 Photo: Sebastian Faena
An investor at Àcheval, Blaquier also champions the convergence of the sartorial aspects of the sport with fashion. The South American brand draws inspiration from Gauchos (nomadic horsemen of the 18th and 19th centuries). "This influence is very strong," she continues. The designers made clothes they wanted (and needed) to wear, "timeless and elegant, but with a need for comfort and functionality." She cites specific examples of references like the pleats in the Al Boleo pants.
The concept of a "horse girl" is ripe for interpretation, displayed in the many iterations already referenced, but at the center of each is the animal itself. "The horse represents strength and speed, elegance but also freedom and even something dangerous and slightly wild," muses Levine. "Hopes and dreams but also fears, love but often also heartbreak. The animal is a powerful symbol in both life and fashion." As horse girls never really leave the barn behind, "why not pair a good looking black sunshirt with a flattering pair of black technical breeches?"
In a similar vein, Blaquier says, "the horse is much more than an inspiration. It's the link that brings us together, the therapy we need when we feel overwhelmed, the joy we feel when we feel their skin on ours. The connection is soul to soul. So, yes," she concludes, "I am a horse girl."
Ariat
The Frankie Shop
Gucci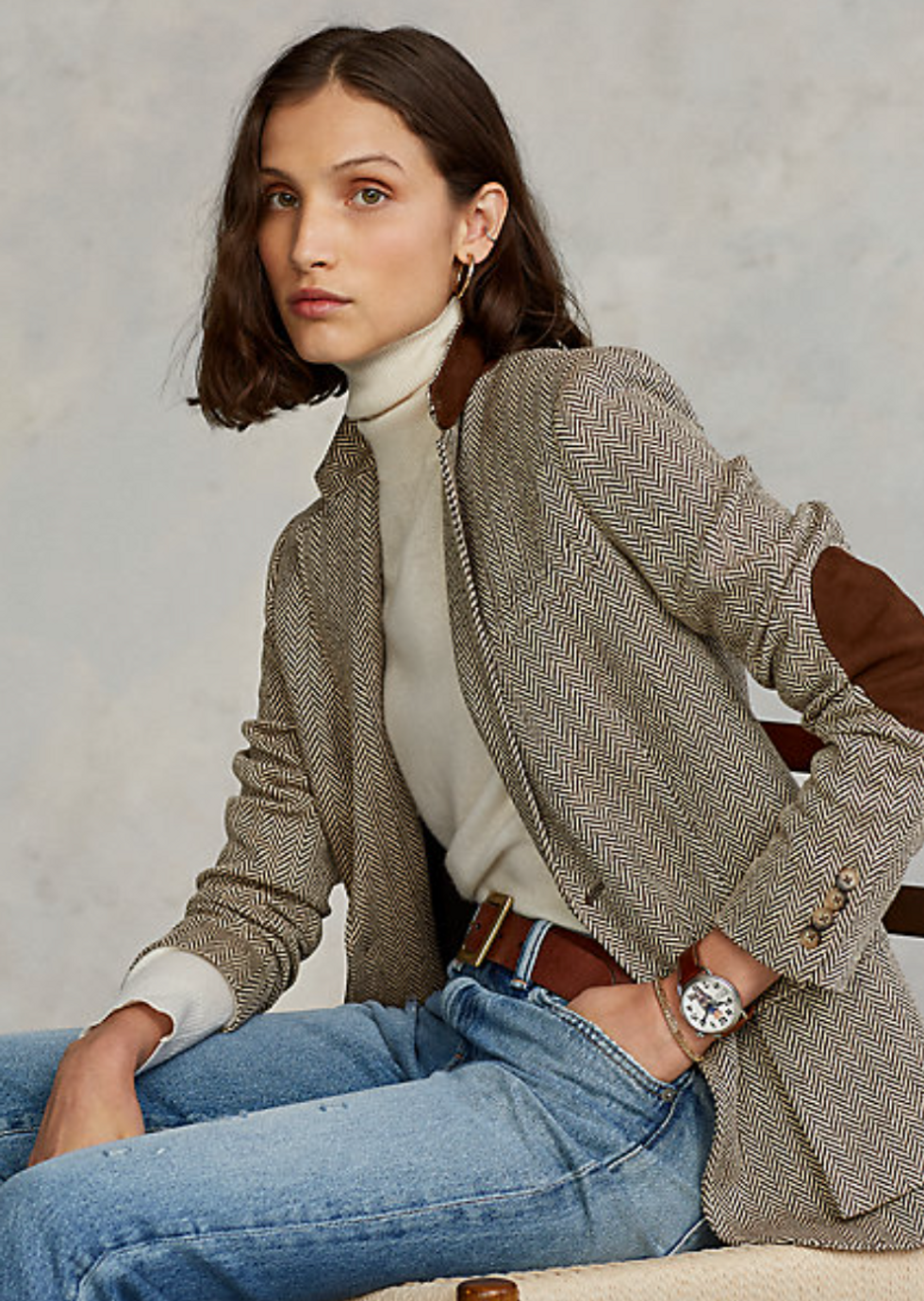 Polo Ralph Lauren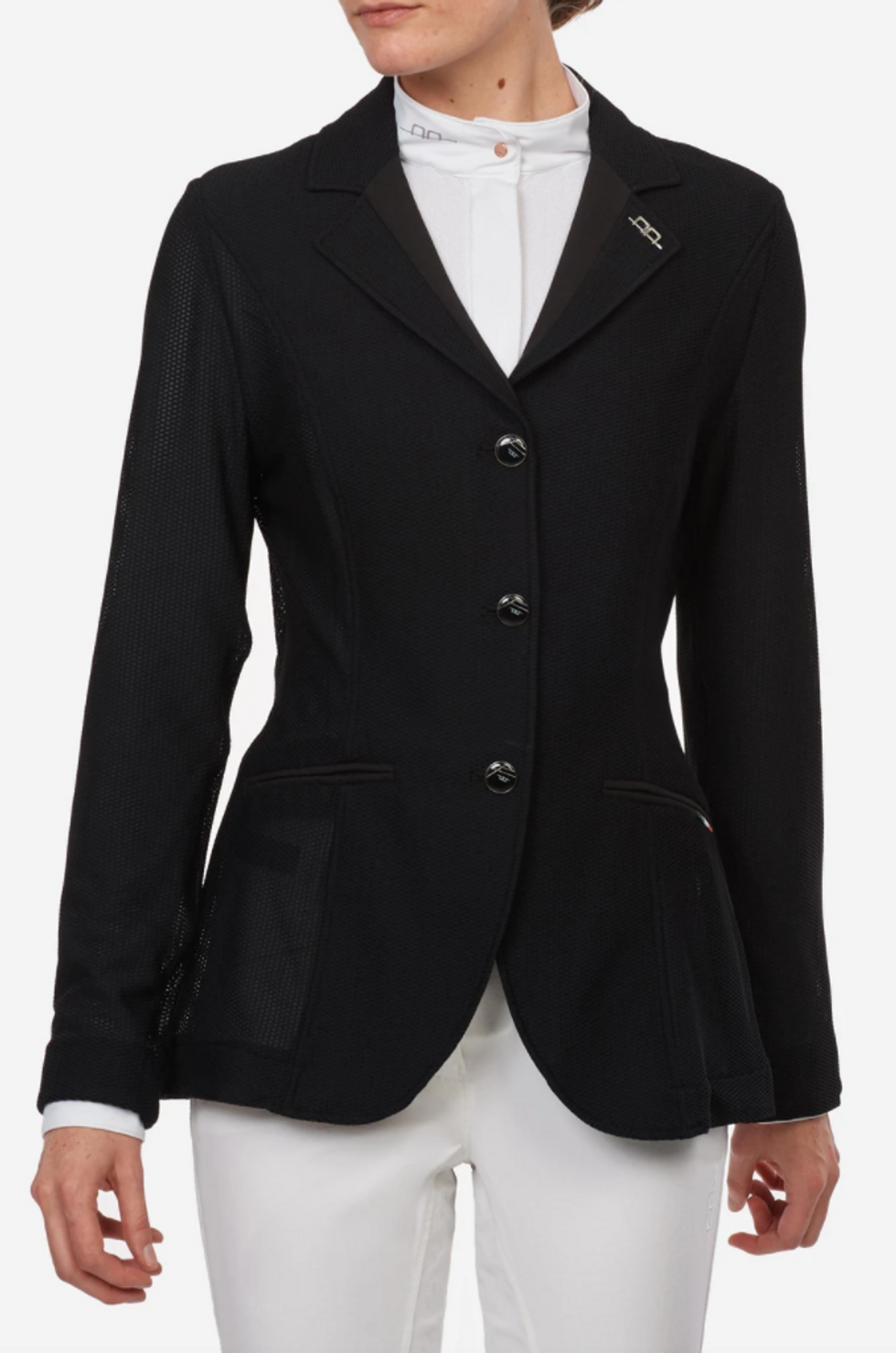 Kaval
Cos
Aeyde
Polo Ralph Lauren
Àcheval Pampa