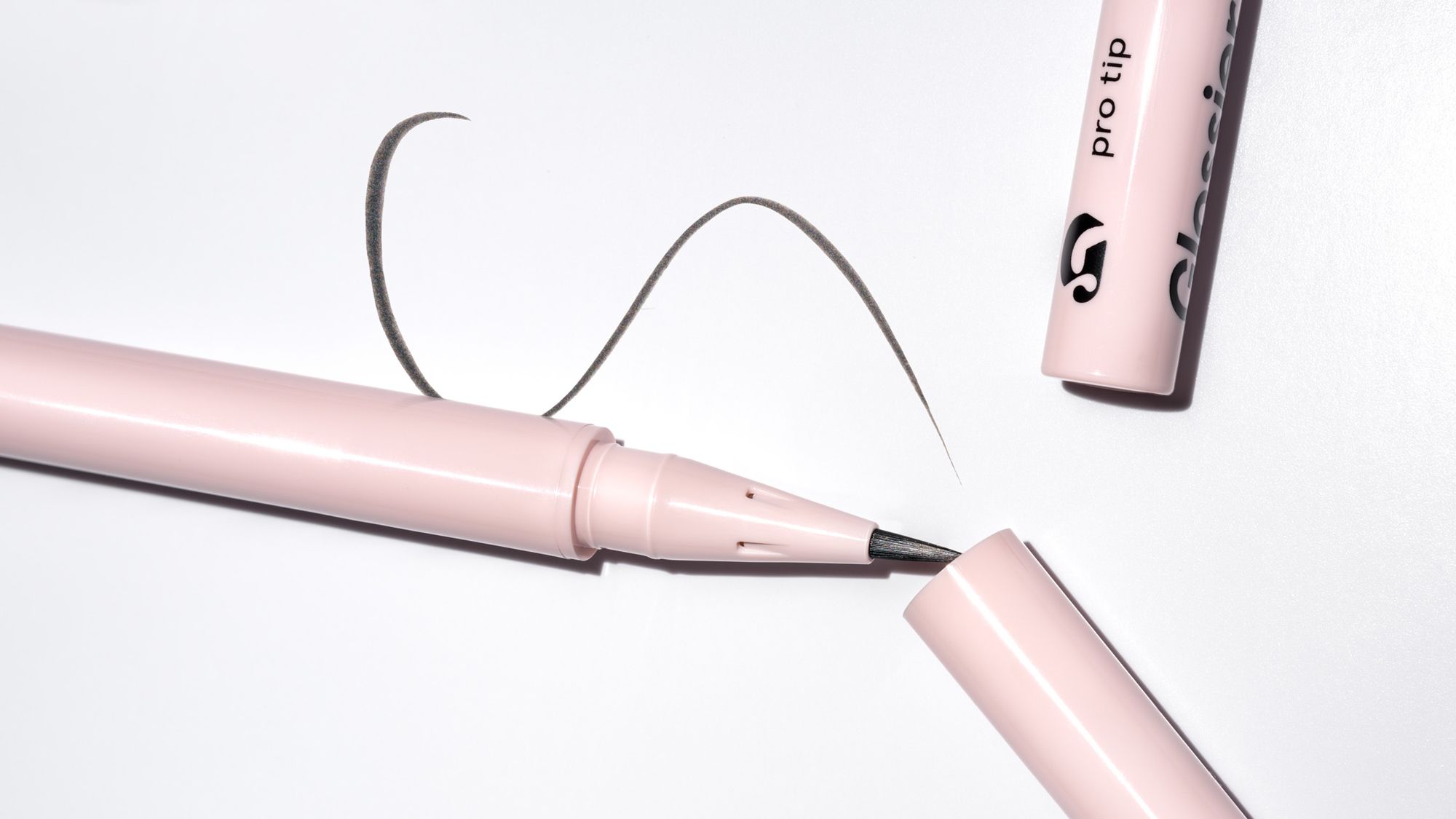 Makeup
We put Pro Tip to the test.
Ask any makeup addict, and they'll agree: Not all eyeliners are created equal, especially liquid liners. Crafting a perfect cat-eye is the closest many of us will get to brain surgery—your wings have to be
that
exact. That's why we've gone through our fair share of liner rejects over the years in the vain hope that one will provide us with the trifecta of color, duration, and precision. Luckily, Glossier's newest makeup release,
Pro Tip
, gives us exactly that.
After releasing
Brow Flick
 and
Colorslide pencil liner
(as a part of
Glossier Play
), Pro Tip seems like a natural addition to the brand's family of products. The ultra-fine tip is designed with flexible fibers that hug the lash line so you don't end up with that tell-tale space between your liner and the lash hairs. We found that applying a little more pressure allows the formula to glide on more evenly, while the internal ball shaker helps prevent the product inside from clumping or coming out unevenly. Although it's not claiming to be waterproof, the brand does mention that it is smudge-proof and lasts for up to 12 hours.
---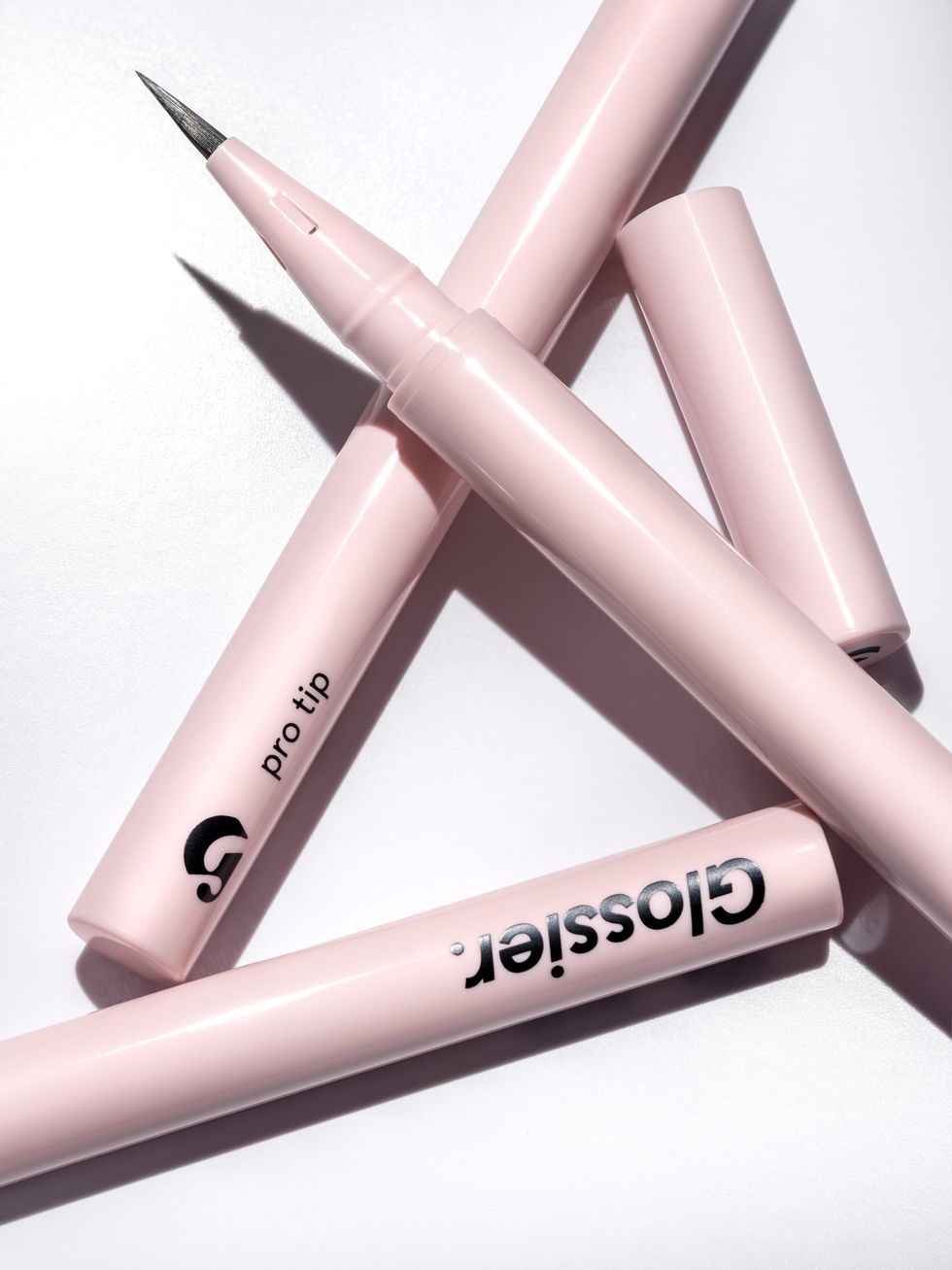 Photo: Courtesy of Glossier
This editor here decided to take it for a test drive, since I like to consider myself a reformed cat-eye aficionado.
When I was bartending
full-time, I gave myself a full face of makeup complete with a smoky eye, extra-long lashes, and a winged liner extravaganza on the regular. That means that once upon a time I could pull out a cat-eye in under 10 seconds per eye (which is lightning fast, in my opinion), but now I need a little more help—especially when there is a thin applicator and the product glides like grease over water.
After shaking the pen a few times to loosen it up, I began to draw my line, starting with the wings and going back towards the outer corner, then moving in from the inner corner to meet it (sorry if this is beauty anarchy in your eyes). If anything, the line appeared almost
too
thin on first application, so I went over it a second time to ensure it touched the roots of my lashes. But drawing in my baby wing was a breeze, and it didn't develop that film some formulas do when they dry too fast (and thus chip halfway through your second eye). My other test is always to see if a lash curler will lift the product—they almost always do, and Pro Tip was no different. It smudged less than some of my other go-to liners, so I will give it points for a valiant effort. I reapplied a few spots and went about my day.
By the time I got home, everything was still where it was supposed to be, meaning my wings didn't droop and give me sad eye or flake off once I got a little dewy (read: sweaty) in the afternoon. The formula came off with a few swipes of my trusty
Bioderma micellar water
, followed by the
Pai Rosehip Oil Cleanser
, with no need to pull on my eye with a cotton round. All in all, it was a satisfactory beauty experience. No bells and whistles, but truthfully, with a liner, the formula itself should be comparable to a golden retriever—it's reliable and looks good, but you have to teach it a few tricks for it to really be spectacular.
Pro Tip
is available today, November 4th, on
glossier.com
and retails for $16. You can also purchase the
Eye Trio
, consisting of the liner,
Lash Slick mascara
, and
Milky Oil makeup remover
for $36.
Photos: Courtesy of Glossier
Want more stories like this?
The 11 Best New Fragrances for Fall
You Can Now Replicate a Celeb-Favorite Facial at Home
You Can Now Buy a $25,000 Diamond-Encrusted Makeup Brush