Future of Fashion
Unlearning What You Know about Fashion Can Change the Industry
Slow Factory, Vestiaire Collective, and Adidas are here to help with the Open Education program.
Graphics:
Ashley Combs
The fashion industry was once an impenetrable fortress, but each decade since the turn of the millennium has introduced fundamental changes to a business sector that reflects both our values and our weaknesses like no other.
The industry had already begun to crumble in the first decade of the 2000s. The Information Age introduced e-commerce and direct-to-consumer strategies that shattered brick-and-mortar businesses as well as the wholesale and markup ("fire sale") businesses that capitalized on mass consumption failures.
In the past decade, however, the technological revolution has given way to a social and environmental one that has forced the industry to look at itself in the mirror—and be transparent in an entirely unprecedented way. What the world saw wasn't pretty.
The first fashion industry casualties of the 2020 lockdown were garment workers throughout Asia, Latin America, and Africa who suddenly found themselves empty-handed when major brands canceled their orders. The horrific police murder of George Floyd that was documented by Daniella Frazier turned the spotlight on brands, as former and current employees called them out on their unchecked racism on social media and in the press.
Racism and pollution often go hand in hand. The fashion industry's profit model depends on "sacrificial land" and "sacrificial people"—as Naomi Klein calls people of the global majority—to support mass production of garments at a scale surpassing human consumption. This model has also generated a global waste crisis. In tracing these habits and mapping them out, the Slow Factory, a nonprofit that works at the intersection of climate justice and culture, is dedicated to exposing the broken systems that constituted the empire of fashion and is also working with industry partners to design systems for a climate-positive, equitable world.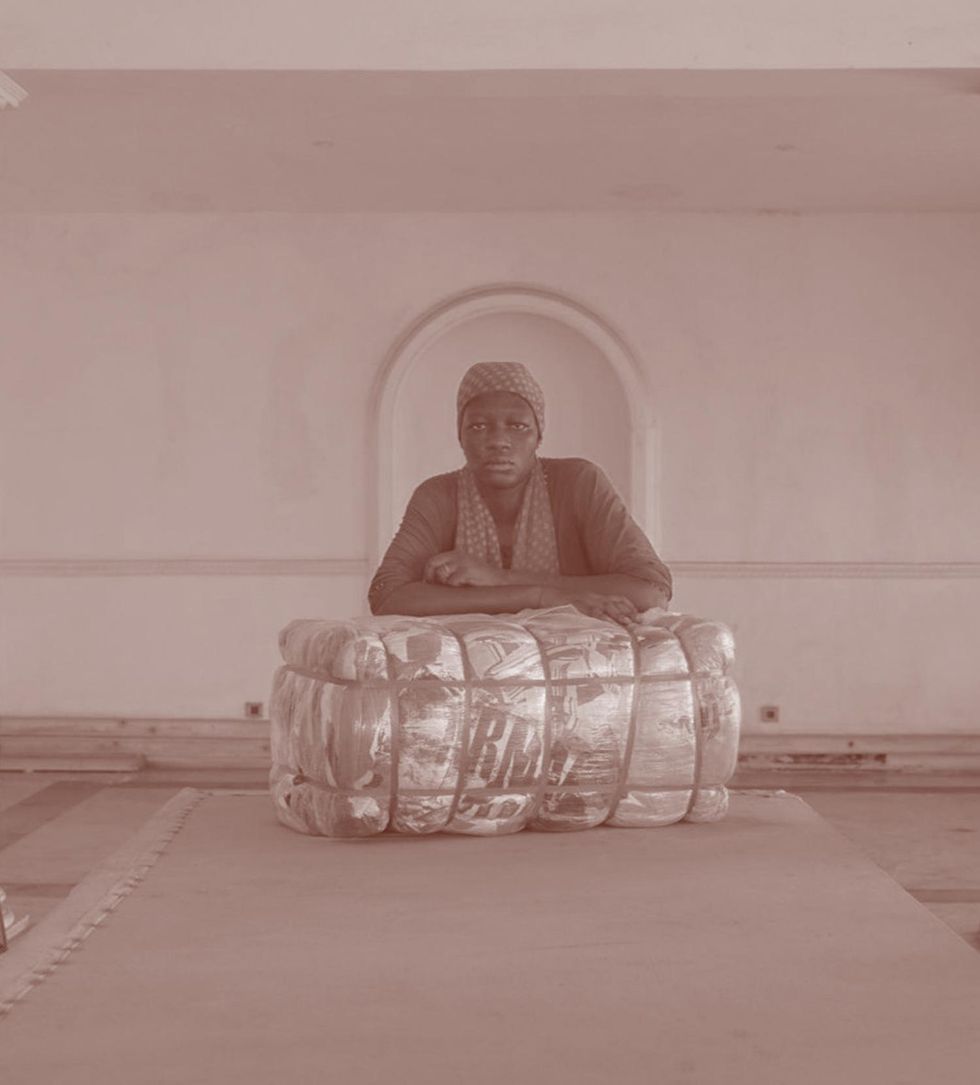 Photo: Courtesy of Instagram/@theorispresent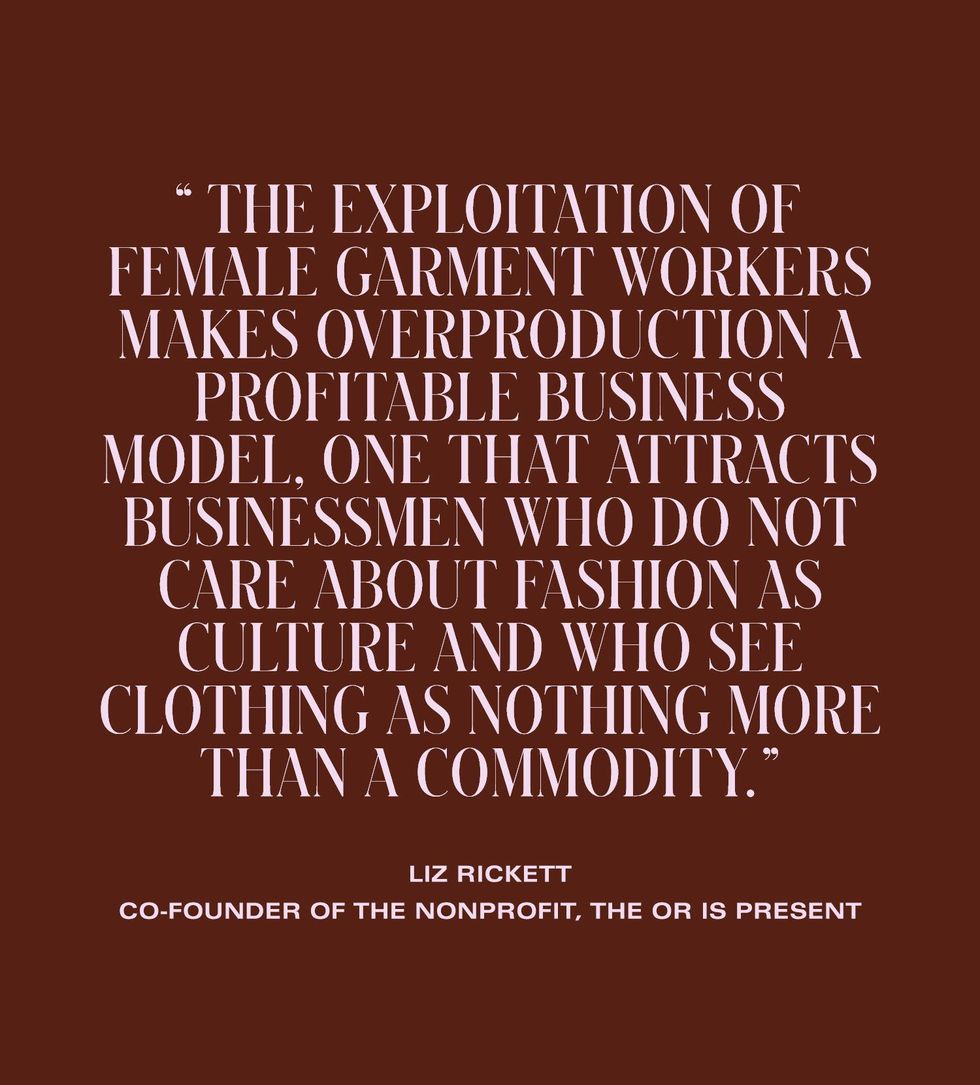 Change is constant, as the saying goes, which means traditional educational institutions are struggling to keep up as industry leaders develop best practices in real time. At the most basic level, the number of BIPOC faculty teaching fashion in traditional colleges and universities remains far below the number of white faculty—a disparity that is even more pronounced when it comes to tenured faculty. To understand and then dismantle structural racism in fashion, we must be willing to critique the ways in which colonialism and white supremacy are embedded within the schools that define the trade, from style and production to professionalism and status.
To respond effectively to a volatile climate future, we must embrace lifelong un-learning. This is why we believe in Open Education, a framework based on a free, accessible, and ever-evolving body of knowledge that is essential to cultivate a new generation of fashion leaders who will design in a way that respects the human rights of workers and the precious value of healthy ecosystems. Unlearning has been a hot topic during the 2020 lockdown and ongoing movement for Black lives. Unlearning harmful and oppressive ideas, values, and processes is a deep and lifelong process.
As Dr. Max Liboiron says in her book Pollution Is Colonialism (that's also a part of the Slow Factory's Open Education book club), "Environmentalism does not usually address colonialism and often reproduces it." In the United States and across the occupied Indigenous lands of the Americas, six states have banned the teaching of Critical Race Theory—in sync with a rise in popular attacks on critical thinking.
The Slow Factory has made our Open Education program available free and digitally accessible to the general public since the spring of 2020, as a direct evolution of our live study halls (the biggest gathering of climate justice advocates and fashion industry leaders). Our online program grew from 1,000 students to close to 20,000 by the end of the year, and we are now offering Open Edu Summer School to explore topics around the rise of fast fashion, textile waste, and the secondhand market. Thanks to support from Vestiaire Collective and Adidas, the Slow Factory can pay instructors above-market rates to offer these seminar classes to people around the world who cannot afford the exorbitant costs of traditional higher education, as well as industry professionals who seek to change the industry from within.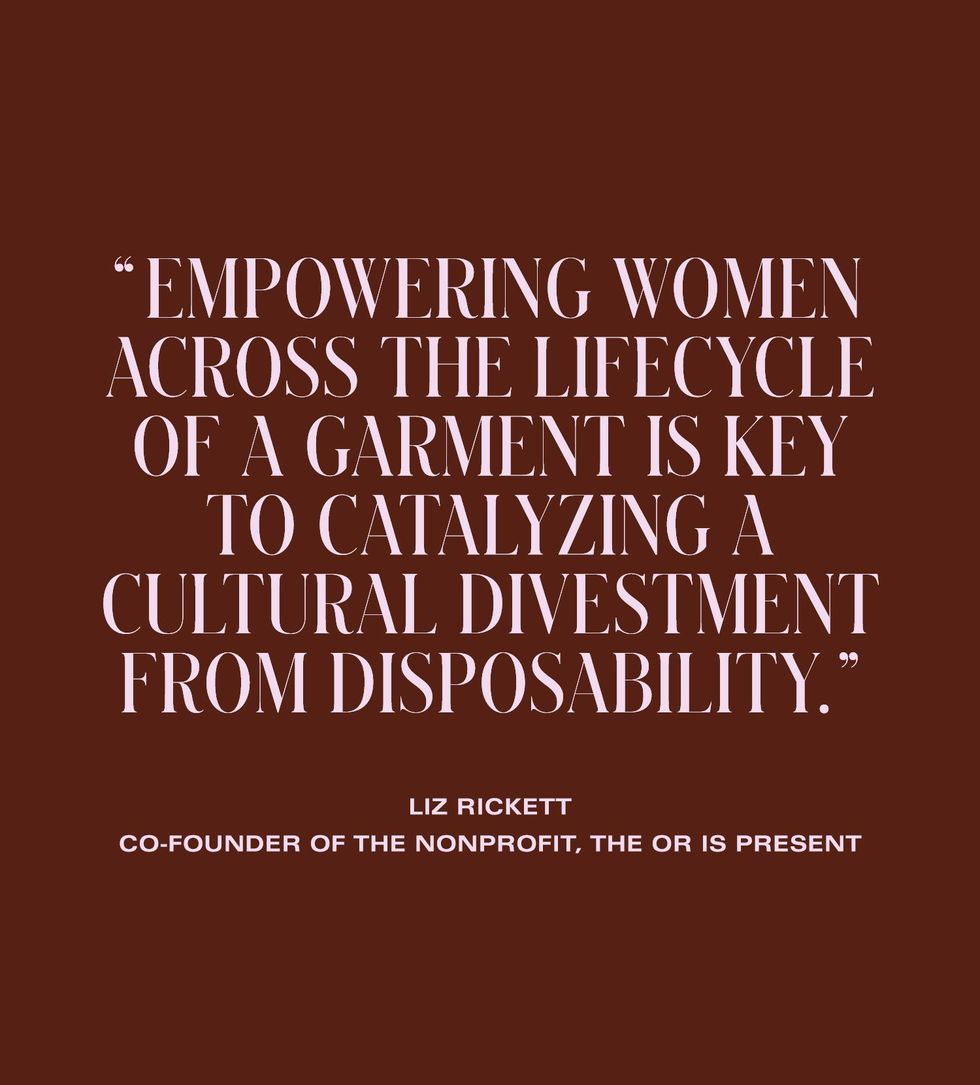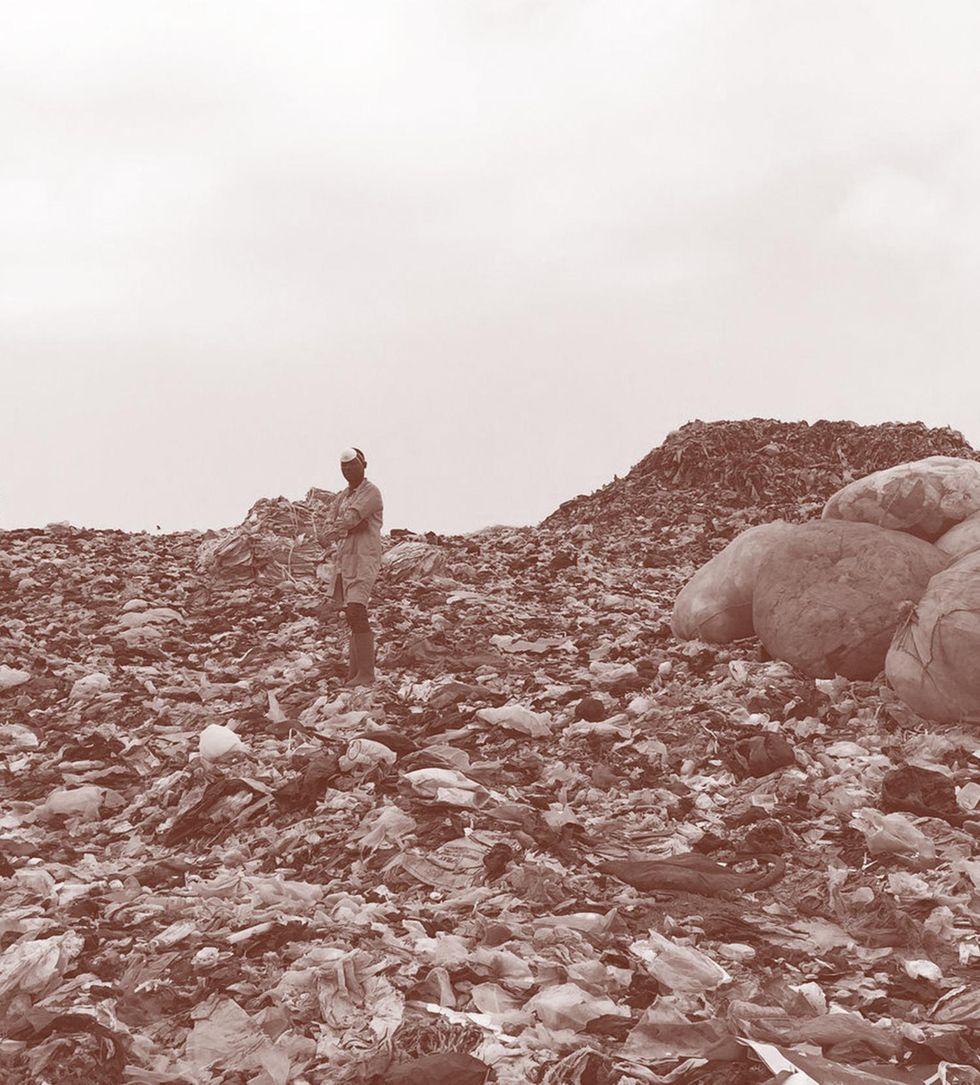 Photo: Courtesy of Instagram/@theorispresent
"The exploitation of female garment workers makes overproduction a profitable business model, one that attracts businessmen who do not care about fashion as culture and who see clothing as nothing more than a commodity," says Liz Rickett, co-founder of the nonprofit The Or Is Present, that works in the world's largest textile landfill in the world. "Disposability is then rebranded as convenience and pitched to women in the global North as liberation and self-care, as if effortless consumption is somehow equivalent to achieving equal pay, being compensated for housework, or nourishing one's mind, body, and spirit." Rickett says that women are told that consuming trendy items is the key to achieving a level of perfection that is unattainable, while also being judged as superficial for investing in their appearance. All of this adds up to a closet full of excess clothing that evokes shame and regret, to which the natural impulse is to purge, dump, or donate our excess without much thought. But the secondhand economy is not a utopia operating outside of the exploitative patterns we associate with clothing production and consumption. "Secondhand economies rely on exploitative practices to operate at the scale and pace of the absurdly excessive firsthand industry," says Rickett.
At Kantamanto Market located in Accra, Ghana, women's clothing is cheaper than men's clothing, according to Rickett. Men routinely sell women's clothing, but the reverse is not as acceptable. Female retailers are most likely to go into debt, and the entire market relies on the labor performed by kayayei, female head porters who transport 120 pounds of secondhand clothing throughout the market. The labor performed by these young women is backbreaking, and some kayayei are killed when their necks break under the crushing weight of fashion's excess.
"Empowering women across the lifecycle of a garment is key to catalyzing a cultural divestment from disposability," she says.
Slow Factory's goal with Open Education is to provide access to sustainability literacy—with regard to both climate and human rights—by providing the topics not taught in traditional schools. This approach also invites professionals of all ages to jump into the stream of ever-evolving best practices in racial justice, human rights, climate justice, and material science, and to apply those practices to their careers in fashion and beyond.
Lifelong unlearning is a movement grounded in actively discarding oppressive mindsets that continue to engrain in us the idea that we are separate from nature, that we somehow exist inside nature or need it to survive, when in fact, we are nature. Unlearning our separation from nature is also the beginning of how we restore our relationship to it. Unlearning is the other half of learning and decentralizing the colonial construct of production and value when it comes to fashion. Open Education establishes new paradigms and best practices needed to survive and restore nature.
Top photo: Getty
Want more stories like this?
Fashion Sustainability Is No Longer an Option—It's a Necessity
The Fashion Stigmas We Need to Change in Order to be More Sustainable
The Surprising Materials Designers Are Using in the Name of Sustainability