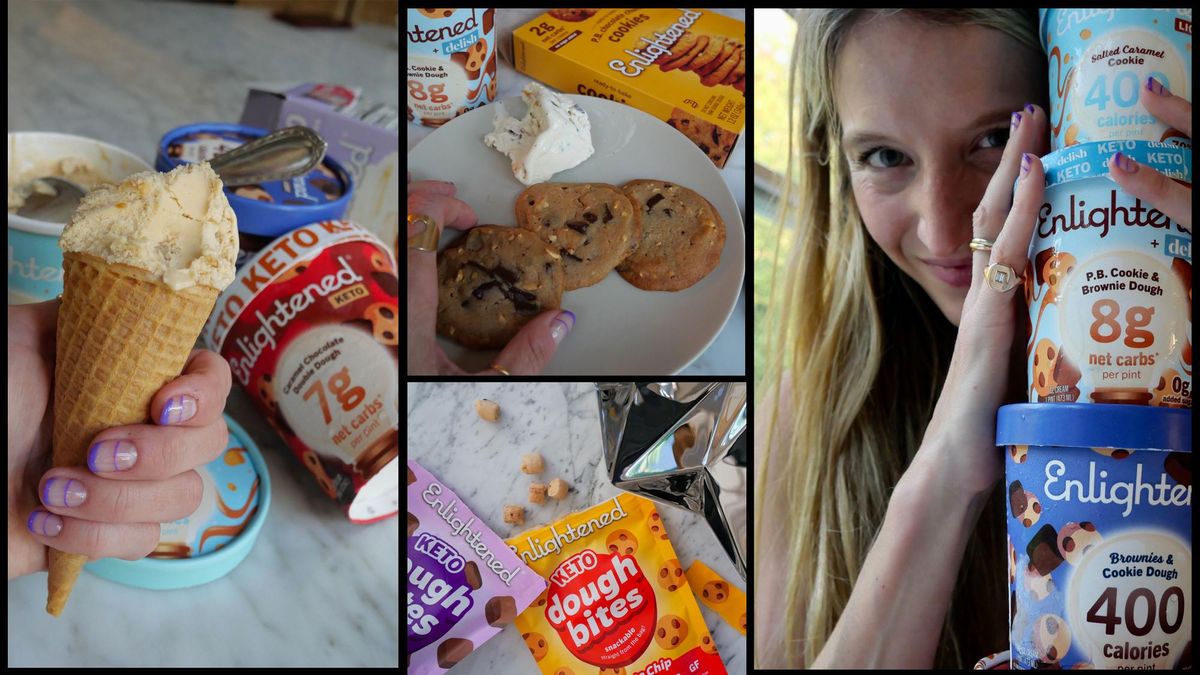 We Tried It
The Low-Sugar Desserts That Completely Changed My Snack Game
I tried them all (and you probably should, too.) In collaboration with Enlightened.
Leya Kaufman
Graphic:
Ashley Combs
Every night, my husband knows that I'll inevitably utter those three little words that oftentimes make him feel powerless and thrown off course: "What's for dessert?" Our house just has to be stocked with an endless array of indulgences or my evenings would never feel complete. And while I'm never one to shy away from treating myself, I'm also starting to get back in shape after my second pregnancy and try to avoid unnecessary added sugar for my overall health. So, I'm here to try the latest dessert hacks that will help me stay on that path. Enter: Enlightened.
Enlightened is the dessert of my dreams, but I can see how the brand has something for everyone, too. While I'm stocking up on the classic lightened-up treats with lower sugar and higher protein to ward off that evening hunger, there are also keto, gluten-free, and plant-based options for other dessert lovers who follow specific diets.
I look forward to that part of the night when the kids are sleeping, I have control over the remote, and I'm diving into a new treat. Naturally, when I had the chance to try an array of Enlightened's greatest hits, I didn't hesitate. Here's a rundown of my favorites: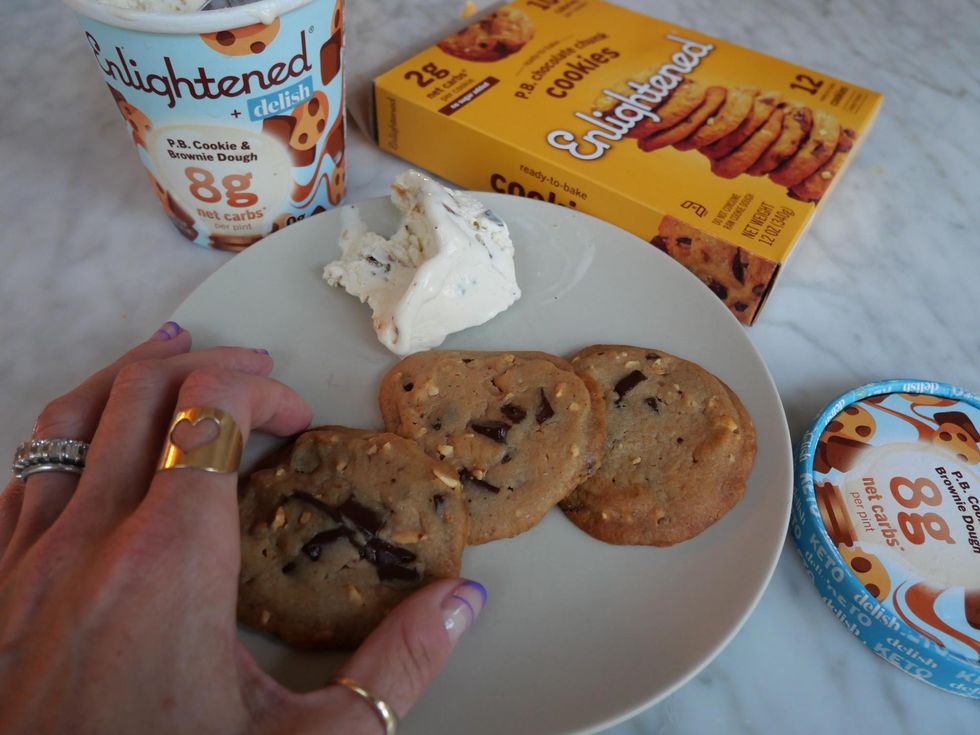 I thought I knew everything I needed to know about dessert. Then, I met Enlightened's newest game-changer: Ready-to-Bake P.B. Chocolate Chunk Cookies. I'm not a master in the kitchen, but even I could bake this cookie dough into the most incredible dessert of 2021 within 12 minutes. They're also made with no added sugar! Pro tip: Use these cookies as a vehicle to enjoy the Enlightened P.B. Cookie & Brownie Dough Ice Cream, too.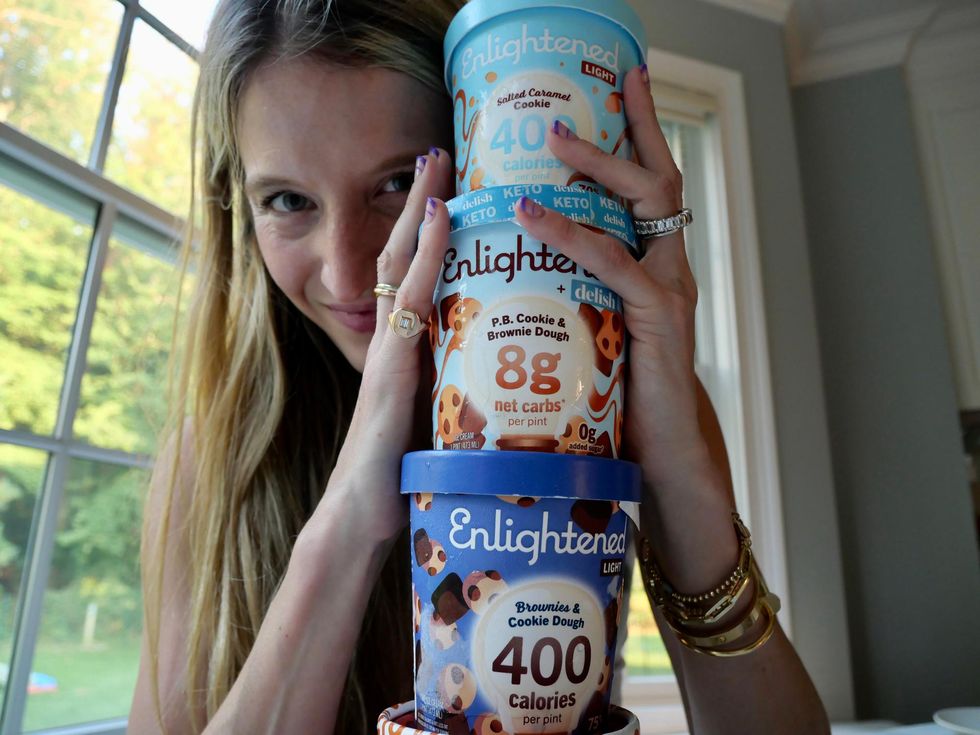 I like my desserts a little bit salty but perfectly sweet. For this reason, the Enlightened Caramel Fudge Pretzel pint is a must-have, while the Salted Caramel Cookie is a close runner-up. They're both the most addicting flavors I tried. The fact that Enlightened's light ice cream has 60 percent less sugar is such a bonus, too. I love not having to worry about the sugar crash that often follows a sweet treat.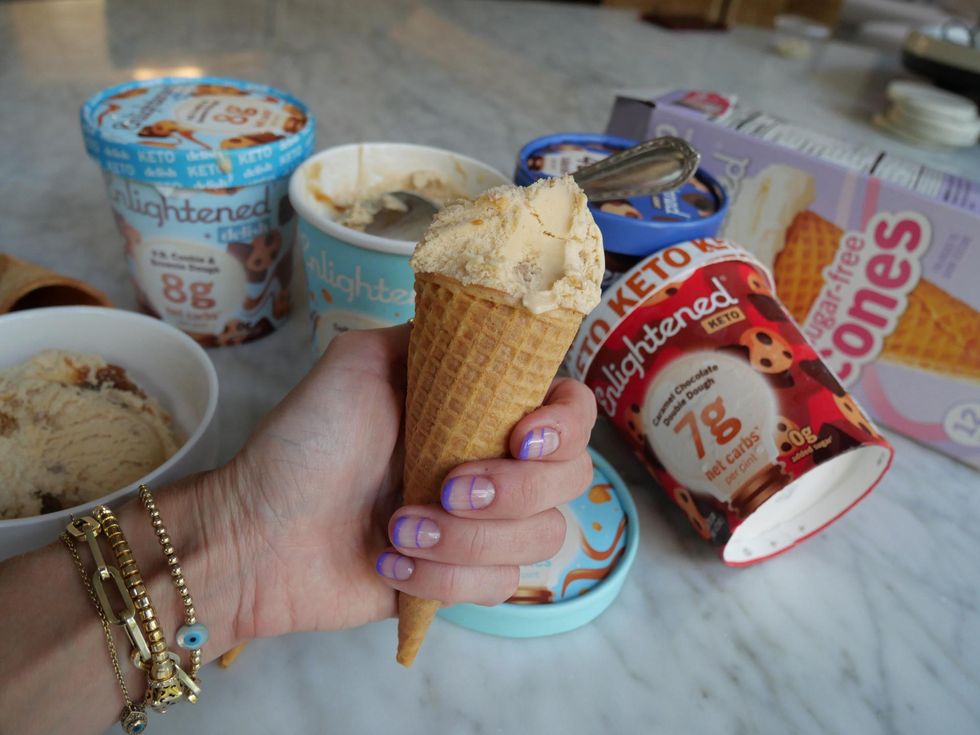 Have I mentioned that Enlightened also makes sugar-free cones? There's just something about a cone that takes an "at-home" indulgence to the next level. If I close my eyes, I can mentally transport myself to a hole-in-the-wall gelateria in Rome while I'm enjoying a scoop.
And if ready-to-bake cookie dough, keto and light ice cream pints, and ice cream bars weren't enough, there's always cheesecake. Those who are pumpkin-spice obsessed won't want to sleep on Enlightened's ready-to-eat pumpkin version.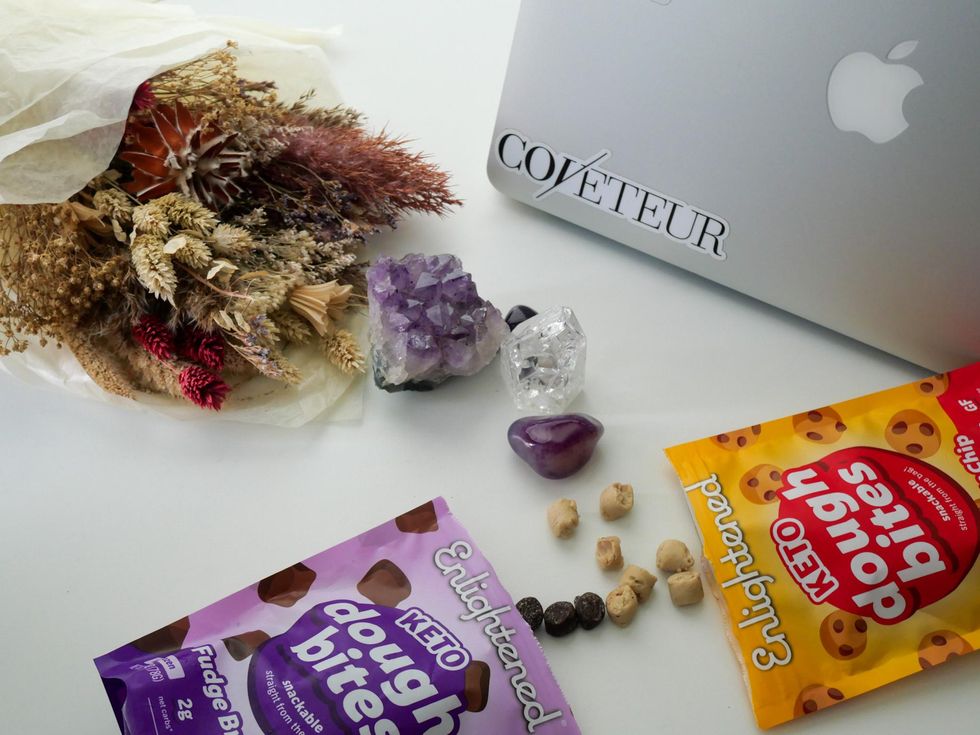 The final treat I tried is the Enlightened Keto Cookie Dough Bites. They're probably intended to be an ice cream topping, but I prefer to eat them savagely straight out of the bag as a dessert appetizer while I'm sliding around the kitchen in slippers. With only two grams net carbs per serving and no added sugar, they're a dessert add-on that I can feel good about. They're also one of those rare treats that doesn't make a mess, so I can also bring them into my office in the middle of the afternoon (because a health-conscious lunch dessert is also a priority in my life) without any trail of crumbs or stickiness.
Enlightened
Enlightened
Enlightened
Enlightened
Enlightened