Beauty All-Stars
No Pumps, Just Capsules: Inside Common Heir's Unconventional Approach to Skincare
"We are very zeroed in on this mission to reimagine what actual inclusive luxury skincare can look like without plastic playing a role in it."
Yudi Ela
Prop Styling:
Gözde Eker
Photo Asst:
Sam Schmieg
Production Director:
Jess Sisco
Creative Director:
Phuong Nguyen
Associate Producer:
Claire Flanagan
The women behind Common Heir, Coveteur's 2022 Beauty All-Stars winner for "Packaging Innovator," have always wanted to break the mold on what a sustainable skincare brand should look like. When co-founder Cary Lin first shared the idea with her mom in December 2019, she described the brand as "plastic-free, but not granola and super luxurious." One year and two products in, that's exactly how any beauty enthusiast would classify Common Heir's sleek, encapsulated single-dose pods of vitamin C and retinol.
Instead of creating products with a typical pump or droplet, Lin and her co-founder Angela Ubias created a plastic-free system that dispenses powerful skincare ingredients in twist-off biodegradable pods—first with vitamin C, then with retinol. It's skincare with an eco-friendly impetus: to make sure that the best, most indulgent option for consumers is also the most sustainable. "I've always said that I want Common Heir to be a gateway to what leading a more sustainable lifestyle can be without the preaching, without having to use the term 'zero-waste,' and just a very realistic option," Ubias tells Coveteur.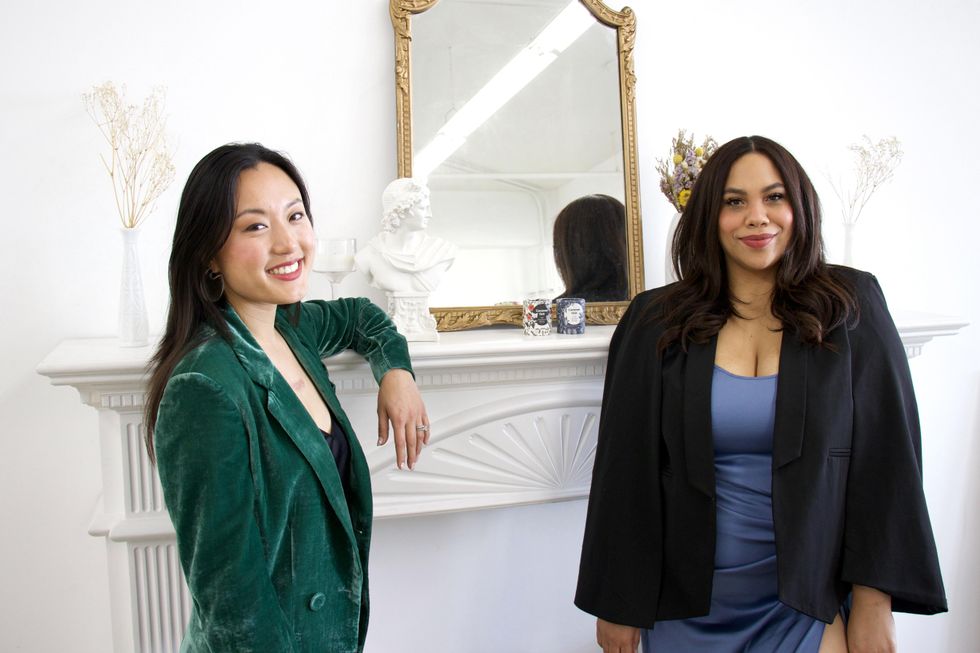 Common Heir co-founders Cary Lin and Angela Ubias.
Photo: Courtesy of Common Heir
After working for brands like Tatcha, The Honest Company, and P&G, Lin came up with the idea for Common Heir when she saw trash gathered on the shore of her local beach. "At that moment, I felt very overwhelmed that I had worked in the industry for so long and had no idea where any of this stuff was ending up," she says. "That was when the wheels started turning." When Ubias came on board, she brought her expertise as former VP of special projects at clean beauty manufacturer Goodkind Co. As they were pitching Common Heir to potential partners, one retailer scoffed that the company didn't look like a sustainable beauty brand. "We were like, 'good.' We wanted to expand what sustainability looks like," Lin says.
Just a week shy of their brand's first anniversary, Lin and Ubias took Coveteur inside their creative process and their plans for the future of Common Heir.
What was your earliest beauty memory? How did that lay the foundation for what you're doing now?
Cary Lin: "When I immigrated to the States, my mom had this big suitcase that I knocked over and a bunch of pressed pearl powder came spilling out. She would mix it into a lot of her skincare because, in traditional Chinese medicine, pearl powder has brightening properties. While there's no pearl powder in any of our products, I inherited a lot of self-care rituals from my mom. Even though I wouldn't enter the beauty industry until much later, there were little touches of beauty in my childhood."
Angela Ubias: "My earliest beauty memories always go back to my grandmother. Even before I fully understood what glamour was, my grandmother was the definition of it—hands down. I grew up in the church and although I'm not practicing anymore, Sundays were a big thing for my family. My grandma was always wrangling us kids throughout the week, but Sunday morning was her self-care time before self-care was even a thing. I was the golden child who was allowed to watch her get ready because I was always on my best behavior and seeing her put on her creams, her makeup, a little bit of blush, and that final spritz of perfume were my favorite memories to look back on."
It's so beautiful how your earliest memories revolved around the women in your lives indulging in self-care. How do you try to embed the spirit of self-care into Common Heir?
CL: "When we were thinking about who we wanted to build this vision for, Angela and I are both very different, but we both consider ourselves self-made women who've worked very hard. Self-care is very important because a lot of our customers are mothers or they work really hard caring for others, taking care of everyone around them, trying to make an impact in this world. My skincare routine is part of my self-care routine and being able to spark joy in those moments where you can have something innovative and luxurious makes you feel good. That's who we built this for—for folks like us.
AU: "There's a level of intimacy that we bring to the brand, especially with the types of formulas that we've created here. Traditionally, your active category products feel very clinical, but we wanted to bring a level of glamour, a level of intimacy to those moments because we know that oftentimes you're incorporating these products into moments of self-care and those quiet moments that you've carved out for yourself."
Behind the scenes of Common Heir.
Photo: Courtesy of Common Heir
What do you want Common Heir to add to the beauty conversation?
CL: "It was always our goal to create this brand to be a vision of how things should be. We wanted the brand to represent our values and what we want to see the world. We want to be next-level sustainable without greenwashing. Having worked in the industry before, we've seen it all. And as a small brand, we don't have a lot of market power, but if we can push the conversation, I would be really happy."
Were there any major learning curves that you both experienced while you were bringing Common Heir to fruition? Was it harder or easier than you anticipated?
AU: "Because Cary and I have such deep roots within the industry in our respective areas of expertise, I expected certain things to be a bit easier than they were. Part of it was supply chain issues due to the pandemic. The most surprising lesson to me was how isolating this journey was, especially early on. For whatever reason, I thought, no, it's not going to feel isolating to me. I have this amazing co-founder. It's going to be fine. But that was a lesson during building the brand—the fact that Cary and I are responsible for the fate of this brand in a way that I had never encountered before because I had been in different roles. That's a lot of pressure and I think we both dealt with varying levels of imposter syndrome throughout the journey. There was a turning point for me where I decided I'm not going to look at this as imposter syndrome, but as growth. Once I embraced it that way, it shifted my thinking for the better."
Was there a moment where you thought the brand wasn't going to get off the ground?
CL: "Many times."
AU: "Really?"
CL: "Not for the formula, but when we started it was so rocky with COVID and all of that. With the level of innovation and the types of materials that we wanted to use, we knew that when we were bootstrapping the first phase of the company, there was only so far we were going to be able to get unless we were able to buy inventory and put things together. There were many moments where I wasn't sure if we'd make it to the point where we'd get to market. But every time I got worried, something magical and kismet would happen."
AU: "I had complete, blind faith in us—which was maybe some level of delusion. I just knew that Cary and I had the skillset, the wherewithal, the determination and the grit to pull this off. I guess I just always knew that at this point in our lives, there's nothing else that we would rather be doing."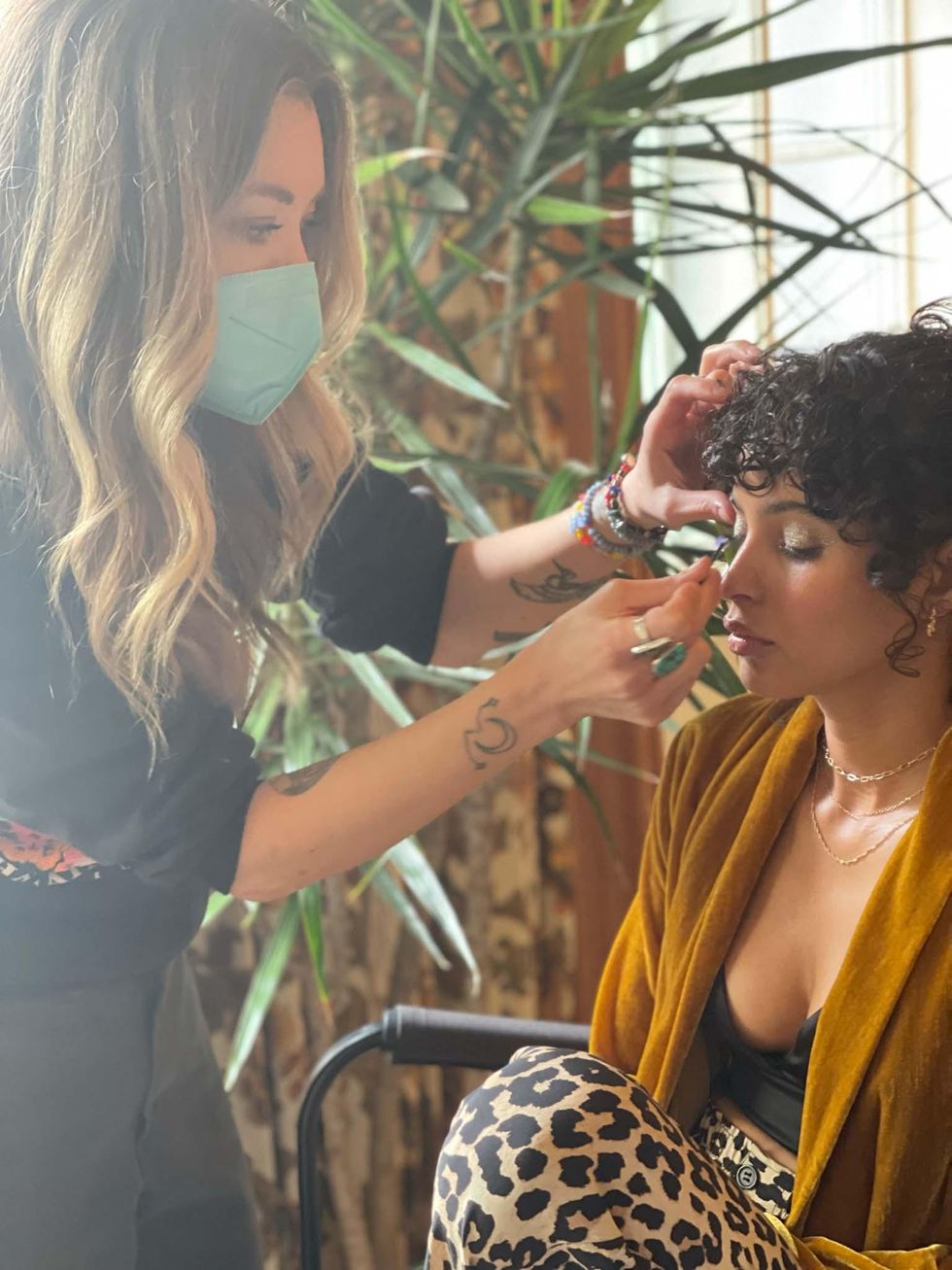 Behind the scenes of Common Heir.
Photo: Courtesy of Common Heir
Since the start of your journey, what has been your biggest win?
AU: "Shortly after we launched last year, we had an opportunity to be on a live broadcast. I blacked out with nerves—I don't remember how it went. But when I showed it to my family, my niece turned to me and said, 'Tia, I think you did a great job.' She gave me the biggest hug and had the biggest smile on her face, which is huge because she was eight [years old] at the time and a very harsh critic. It took me back to the reason why I decided to be forward-facing with this brand, which is the representation factor. Seeing the pride on her face was such a special moment."
Why is sustainability an important aspect for you to consider as a brand?
CL: "For me, sustainability has always been very core and I hope that at some point the industry will come along. Something that Angela said to me when we first spoke that really resonated with me is that we can't be preachy. A lot of sustainable beauty brands run the risk of fear-mongering or paralyzing people with stats. We want to create such an obvious choice for you so that the best option also happens to be sustainable and you don't feel like you're compromising at all. That's when the real change happens—not by making you feel bad that you didn't recycle something that isn't going to get recycled anyway. We wanted to make sustainability sexy. That's the only way I think you're going to change hearts and minds to make the kind of impact that we want to make."
What does the path forward look like for the brand?
AU: "We've always said that capsules are not a gimmick for us, so we're not going to force this format into SKUs or products that wind up having an awful user experience—that's not helpful for anyone. But I do think that we're going to continue to iterate the capsules for products that it adds efficacy to. Beyond that, we are very zeroed in on this mission to reimagine what actual inclusive luxury skincare can look like without plastic playing a role in it. We have some exciting things coming down the pipeline in the next year to 18 months."
CL: "Our vision is to take over people's vanities. One product at a time."
Vitamin C Serum
"This brand and product feels new and fresh. The packaging is truly genius: it's easy to share, travel with, and apply. Each capsule contains the perfect amount of serum to use on your skin. I'd recommend it to all of my friends—the formula is truly effective." —Nyakio Grieco, Co-Founder of Thirteen Lune
Common Heir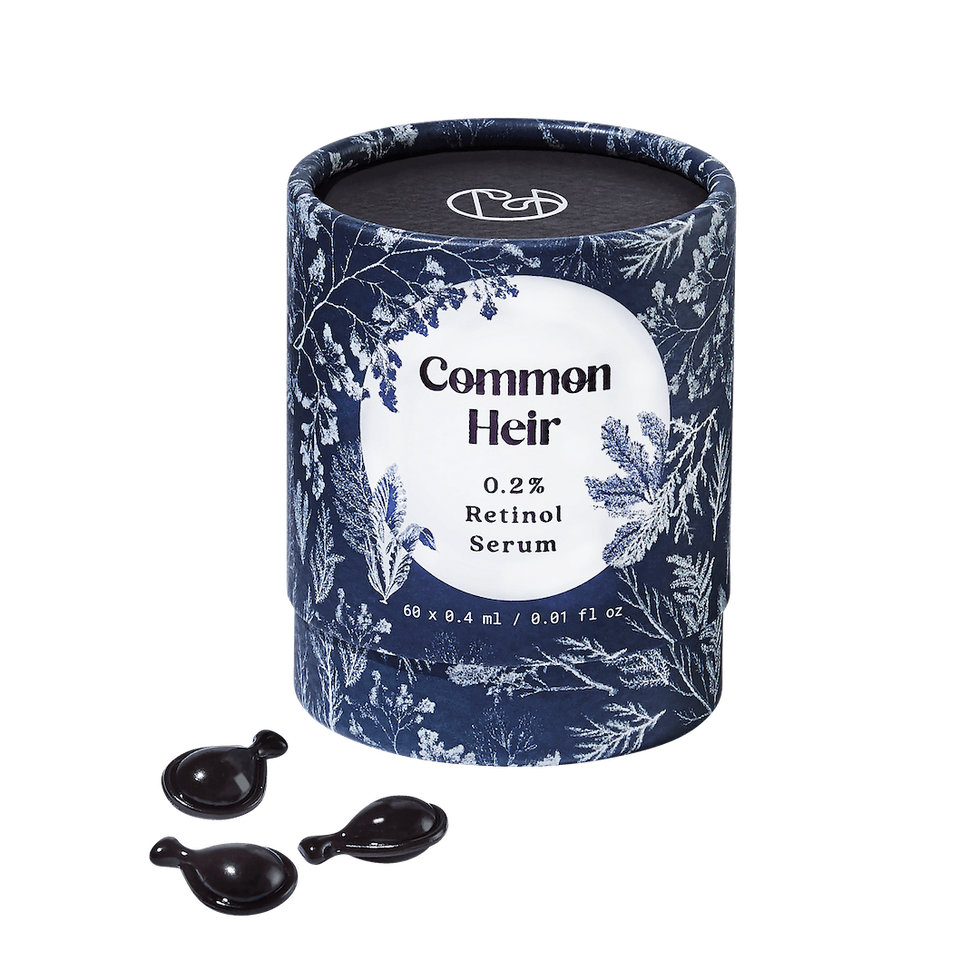 Common Heir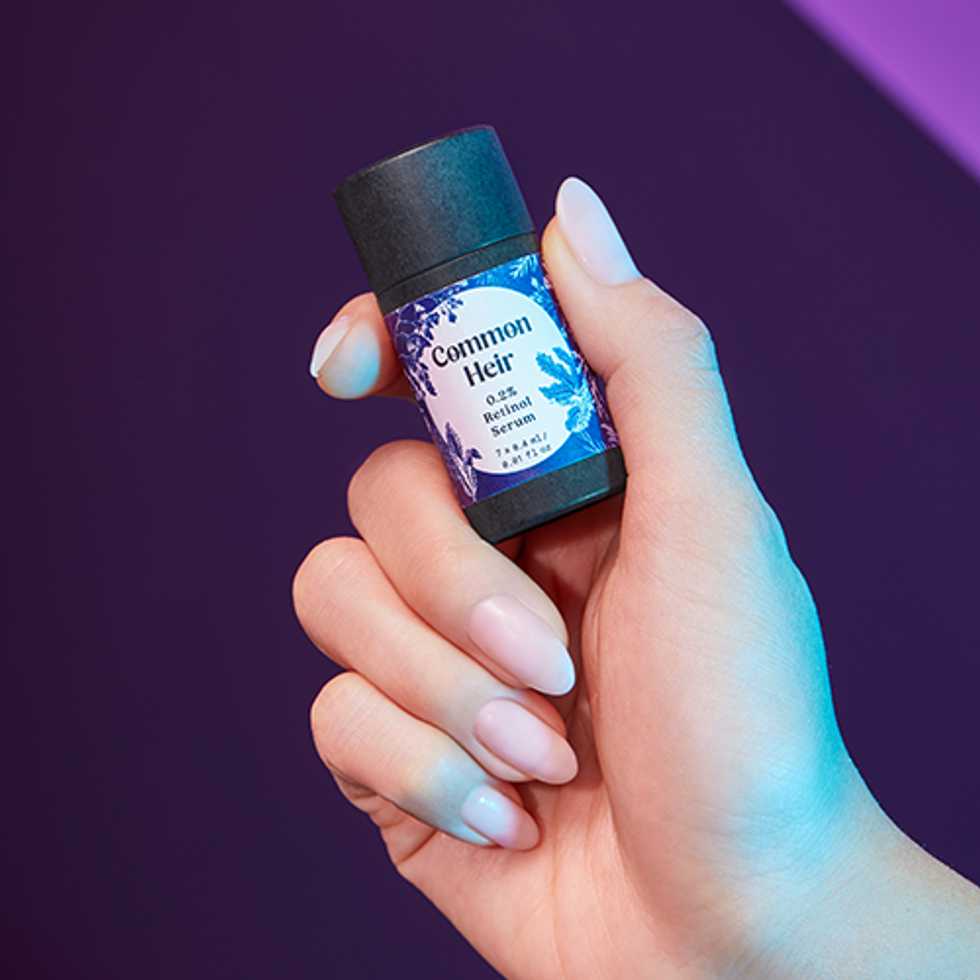 Common Heir
Common Heir