Meet the Editor Whose Work Aims to Uplift the Queer Community
Plus the key ingredients to a productive WFH day.
Career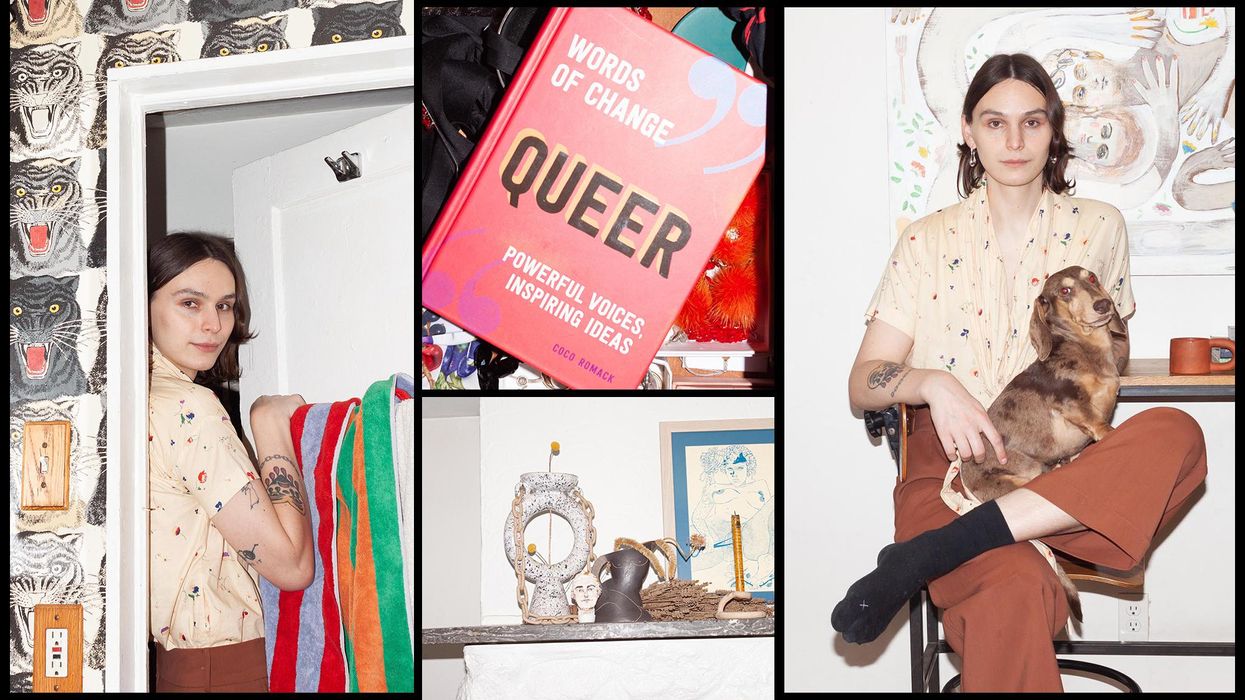 Each week we're checking in with friends to see how they're finding balance and generally evolving and advancing their careers. This week we chatted with editor and author Coco Romack. Read below on how they wholesomely decorate their WFH environment and lifestyle filled with art, friends, and the hope to uplift and inspire queer voices with their new book Queer.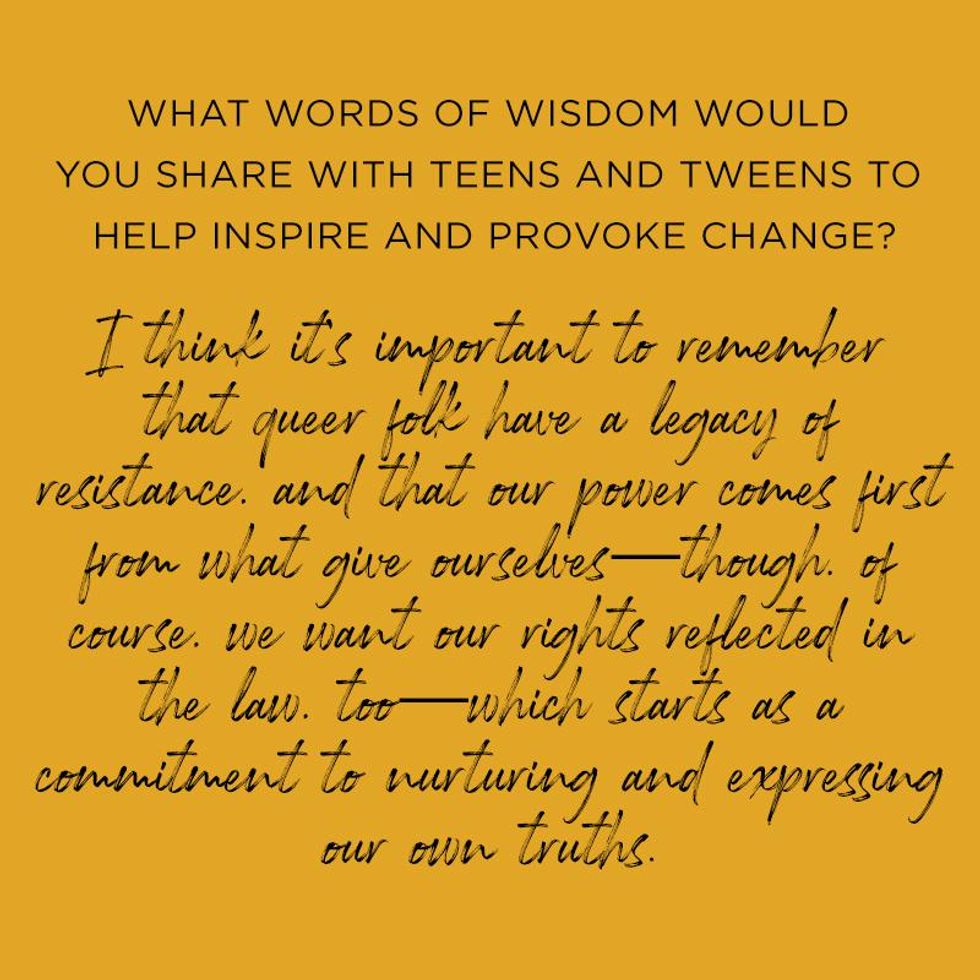 Tell us a little bit about your new book, Queer (part of the Words of Change series) and the project as a whole. How did that come to be?
"My publisher, Spruce Books, had recently launched an intersectional series of quote collections aimed at young people, particularly those who identify personally with the content or who are interested in activism. Curating quotes from writing and speeches by queer activists and creatives felt like an accessible way to reach that audience. I'm excited to bring together and celebrate so many of my sisters, colleagues, friends, and mentors in one place."
What is your goal with the book?
"I hope it uplifts the voices of those included and helps them reach the people who most need to hear them. I hope someone who picks it up will be inspired and see themselves reflected back. It would also be wonderful if it helps people from across spectrums of gender and sexuality get a better understanding of the challenges the queer community faces, come away with greater empathy, and join in celebrating our glamour."
What words of wisdom would you share with teens and tweens to help inspire and provoke change?
"I think it's important to remember that queer folk have a legacy of resistance and that our power comes first from what we give ourselves—though, of course, we want our rights reflected in the law, too—which starts as a commitment to nurturing and expressing our own truths."
Let's switch gears a bit. How do you start your days?

"My dogs wake me up around 7:30 AM and I let them out. I take my hormones, drink water, shower, and moisturize. I brew coffee and check the news."
Talk to us a little bit about your work environment right now:
"I'm working from home at the moment, and my living room has become my office, for better or for worse. I have a small desk my friend Sawyer DeVuyst made that sits beneath a painting by Laura Dawe. I try to set it up with a vaseful of flowers and hope I look momentarily put-together in Zoom meetings. There's a lot of art by my friends scattered around and one very special ceramic bunny I made in the first grade."
What are the most critical things needed for creativity and to survive a workday?
"Coffee, a shower, and a seat with solid back support."
How do you stay focused and motivated throughout the day?
"I'm struggling with this at the moment. It's difficult for me to focus on creative projects at home, and I often shift to another chore that needs doing. I love washing the dishes, but only when I'm on a deadline. I do find that listening to familiar or ambient music helps me focus—go-tos for me are Enya, Kitaro, and video-game scores."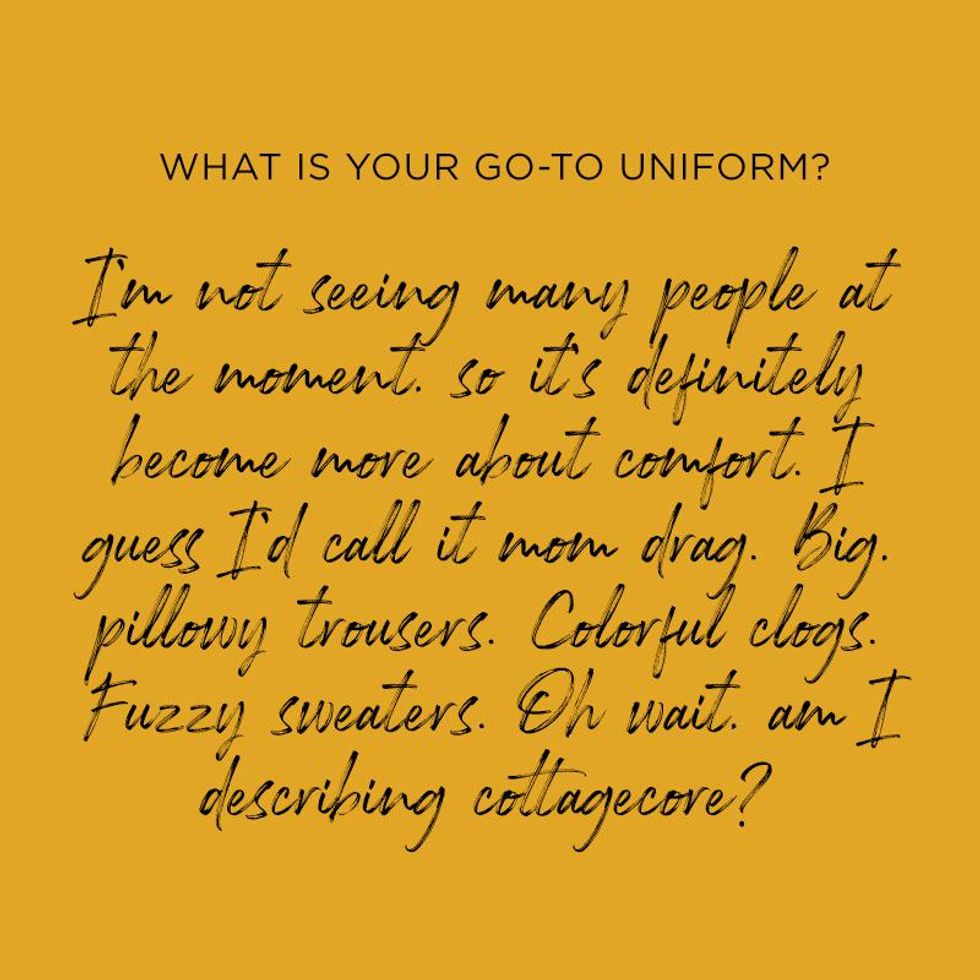 Tell us a little bit about your style right now. What is your go-to uniform?
"I'm not seeing many people at the moment, so it's definitely become more about comfort. I guess I'd call it mom drag. Big, pillowy trousers. Colorful clogs. Fuzzy sweaters. Oh wait, am I describing cottagecore?"
Are there any essentials you rely on for your spring wardrobe?
"I'm an earring queen, and lately I've been wearing a pair of silver Lemaire hoops almost every day."
Let's switch gears for a minute: Are there any beauty products essential to your day-to-day?
"I spritz with a Josh Rosebrook facial mist and then use a moisturizer and eye cream from Pai. I try to use a Dermalogica retinol oil my friend Phil recommended a few times per week. On Sundays, if I'm not writing, I like to spend a lot of time watching YouTube makeup tutorials and moisturizing my entire body with Jao Goē Oil."
How do you unwind at the end of the day? Cocktails? Recipe, please!
"My partner Mars is an incredible cook, so often we'll make dinner, open a bottle of wine, and stream something from the Criterion Collection."
Josh Rosebrook
Pai Skincare
Pai Skincare
Dermalogica