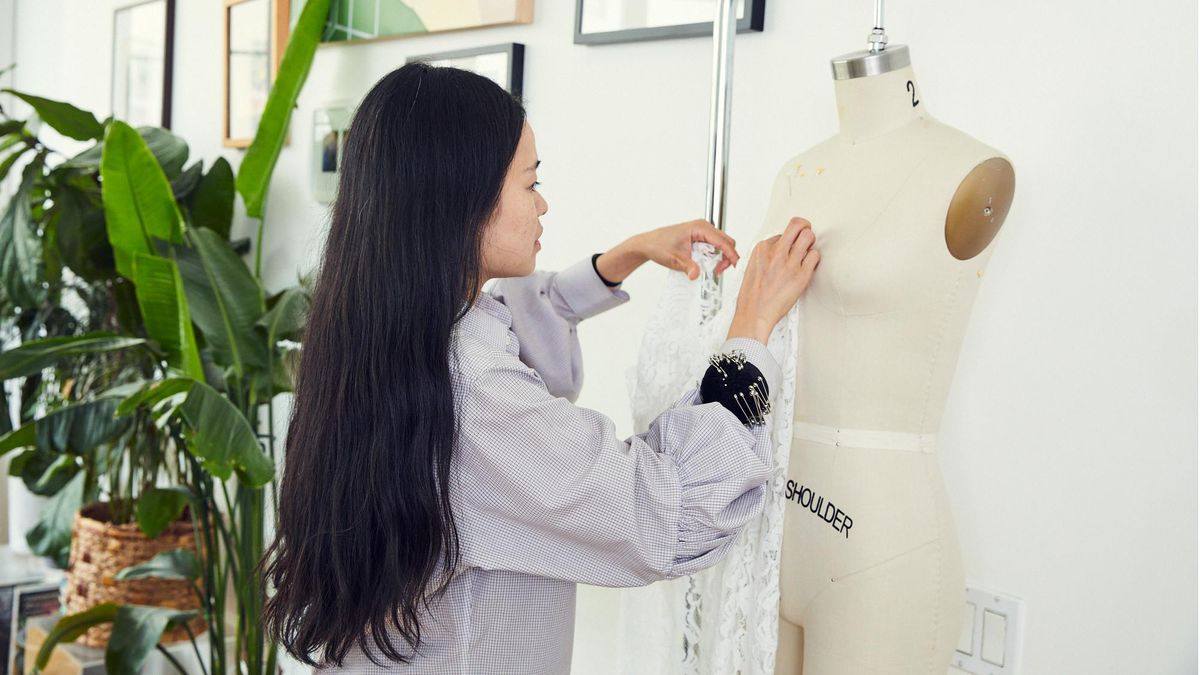 Fashion
Inside the life of Carol Ai—plus her tips on how to implement tailoring into your own wardrobe.
Olivia Rodrigo's recent SNL ensembles, Awkwafina's Harper's Bazaar cover, and a recent Tiffany & Co. campaign may not appear to have anything in common at first glance. Stylistically, each is totally different; the connective tissue then lies in the impeccable fit evident in each of the garments. The woman responsible is celebrity tailor Carol Ai.
If you watched Fashion Police as much as I did in your formative years, you'll know that the fit of a garment equates its aesthetic in almost every celebrity ensemble. Behind every celebrity is a great stylist. And behind every stylist, a great tailor. Unknown to most of the public, Ai is the tailor responsible for the fit of many of our favorite pop-culture fashion moments.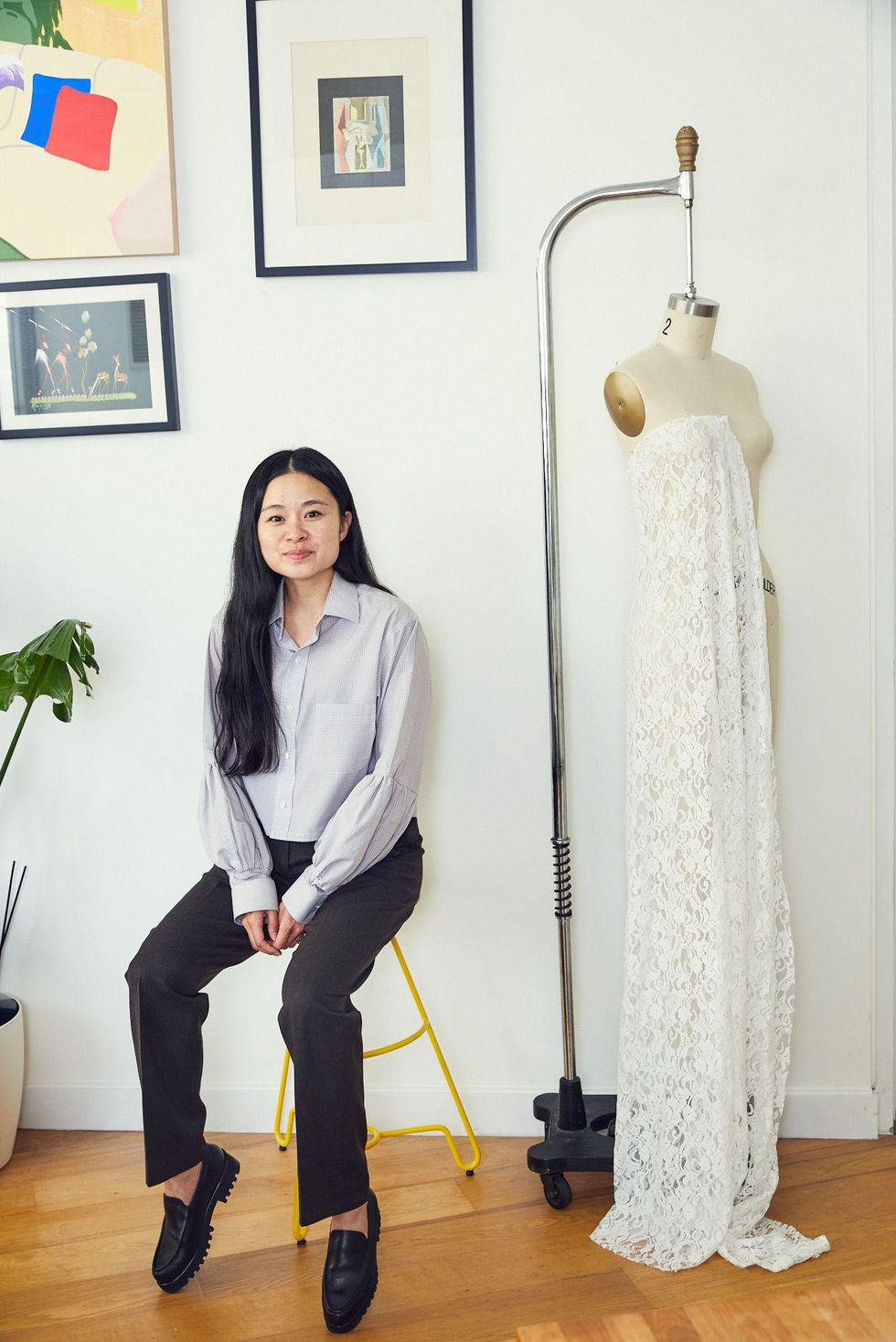 Ai cut her fashion teeth working in mass-market design. After learning the craft from her grandmother at the ripe age of 11, she was teaching sewing when a stylist friend recommended her to be the tailor on Dancing with the Stars. From that, her career was born. Now Ai works on projects ranging from commercials to fashion magazine covers to music video sets, adhering to all sorts of requests from celebrities and their stylists.
The day before we spoke on the phone, she had been working with Cardi B. The celebrity had previously selected an outfit and her team asked Ai to have it tailored and ready in the two hours Cardi was in hair and makeup. That sort of tight turnaround is typical for the master garment-worker. For example, a photo shoot may require a day of fitting the models the day prior. Ai will need to have at least the first few looks on the call sheet ready to go first thing the following morning and, depending on the schedule, may have to have the sixth look turned around in four hours, the 10th in six, and so on. Basically, she's constantly working against the clock.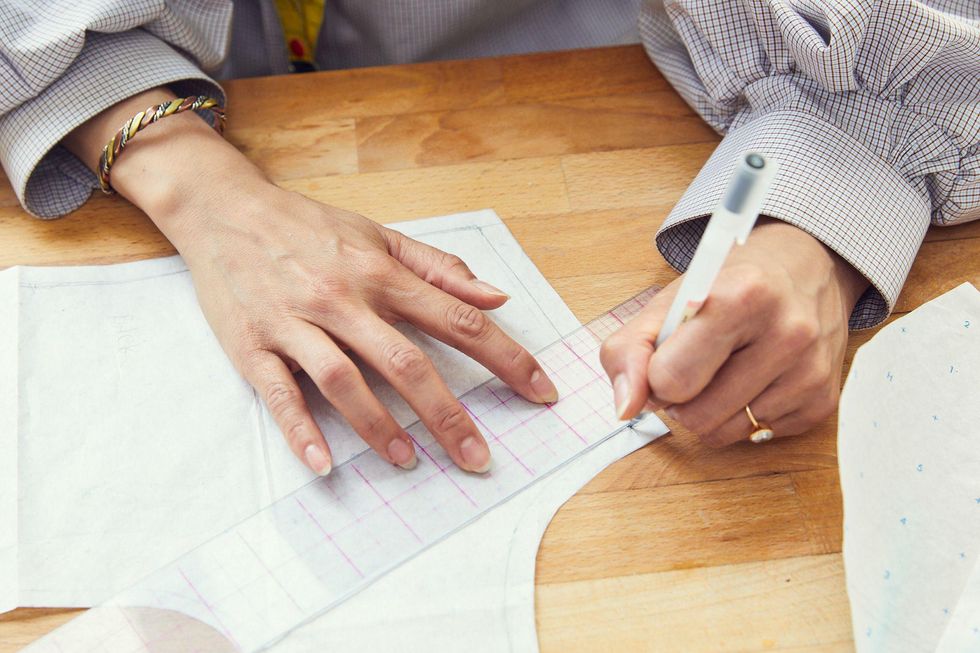 "It is [crazy] because sometimes we're understaffed and there's this many looks and only one tailor and you just have to make it work," says Ai, who works predominantly out of her studio in Long Island City. She has a dozen tailors working under her in New York and a handful of tailors that work out of L.A.
The concept of fit isn't what it used to be, either. With the proliferation of trends, there are multiple desirable pant or sleeve lengths to adhere to and specifications for the actual fit of a garment vary by season and client. "For example, if it's Lemaire, I notice that their hems are cleaner, there's not much of a break," she explains. "Then if it's Telfar, there's more of a break in the legs."
After the designer specifications come the desires of the stylist and the talent. "The more I work with a stylist, the more I understand what they like and their style. Then, with the talent, I know certain people like things more fitted, they like to show a little more cleavage, and some are more conservative." She also has to think about what they will be doing, if they're walking a red carpet versus standing for a photo shoot or performing onstage ("if it's a performer that is wearing a pair of pants that has no stretch, then I make sure there is a stretch material that I can add in the crotch, like a gusset, for movement"). And if it's a campaign, the brand has a say, as well. Needless to say, there are a lot of opinionated cooks in the sartorial kitchen.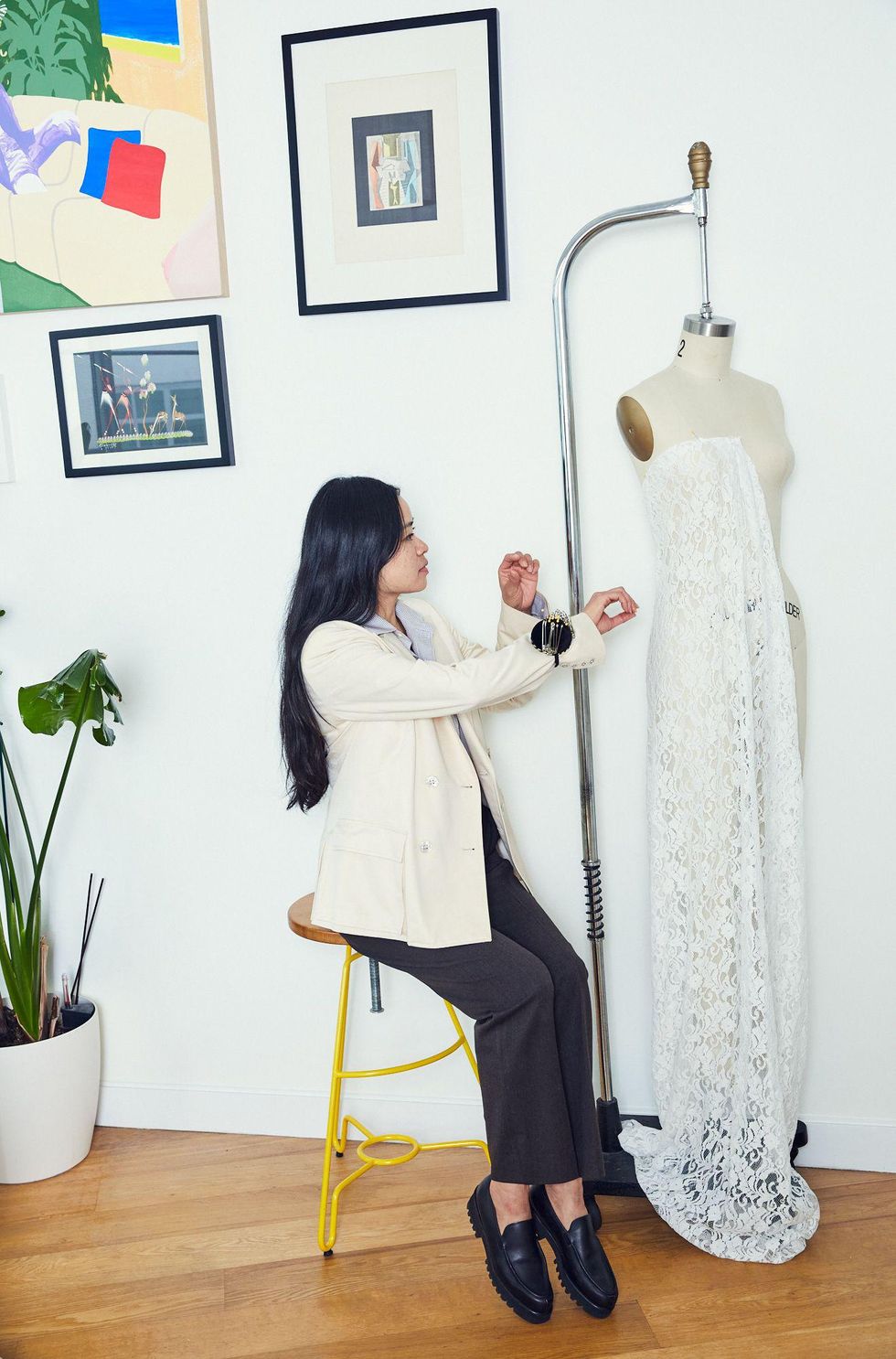 The demands range beyond clothing, as well. A stylist may come to her for a Venus Gillette commercial and request a piece of fabric that wraps around the dress, then flows in the air. "I need to make sure I know how that works for pattern-making, also what fabric to use to make that fabric fly in the air while it's still fitted on the dress, to make sure it's flowy enough and feels silky but doesn't come off too heavy in the air." Other times, she has the opposite problem, admitting to adding weights to the hemlines of skirts and trousers of red carpet ensembles to combat the wind on a particularly breezy day and adding wiring to a hoodie so the hood would stand just right. Sometimes the requests aren't even clothing. Ai is responsible for the puppets for Nicki Minaj's Barbie Dreams music video.
Known for her work with celebrities, Ai also works with "regular" people, in a loose sense of the word. An art dealer client of hers who spends roughly half her year traveling has a personal shopper curate her wardrobe due to lack of time. So naturally, very few of those things fit well. Enter Ai.
Though not often credited, the fit enthusiast posits that around 90 percent of celebrities have some sort of tailor involved in their process. In the future, she wants the service to extend beyond the elite. "I hope people are more open to it because I feel like fit is really important and it can change how much you wear the garment versus it just sitting in your closet." Discover Ai's tips to implement tailoring into your own life below.
Always Size Up
It's much easier to take something in than to let out. Size up, and adjust the waist, hems, or sleeve lengths.
Darts Are a Friend to Curvier Figures
Since most garments are cut on models and then scaled up, those with curvier figures may wish to add darts to the waist, back, or bust of their clothing for a closer fit.
The Most Important Spots Are the Hemline and the Waist
Ai says these are the easiest to adjust and make the biggest difference.
The Simple Things You Can Even Do Yourself
"Hemming a pair of pants by hand is not that hard. You can probably Youtube it. Just press them and lightly hem—if you have the patience and can thread a needle."
Keep Price in Mind
While hemlines and sleeve lengths are easier things to adjust, anything with lots of structure or boning or any sort of gown can quickly rack up a hefty price tag.
Fit Is Subjective, so Know What You Want
"If you're just going to your local tailor shop, knowing where you want your shirt to hit, like if you want to hit around your crotch or at your waist, is important."
If Something Is Too Small, All Hope Is Not Lost
Though much easier to take something in, certain garments have some fabric allowance built into the construction. "If it's a pair of trousers, there's always at least two inches in the center back seam. So you can have that done at the tailors."
Tailoring Isn't Just for Size—Personalize!
"I personalize things all the time. if you don't like some pants and you just want to throw them out, maybe you turn them into shorts. If you want to upgrade your jeans, maybe you can have some patchwork." Try cutouts or convert a midi to a mini.