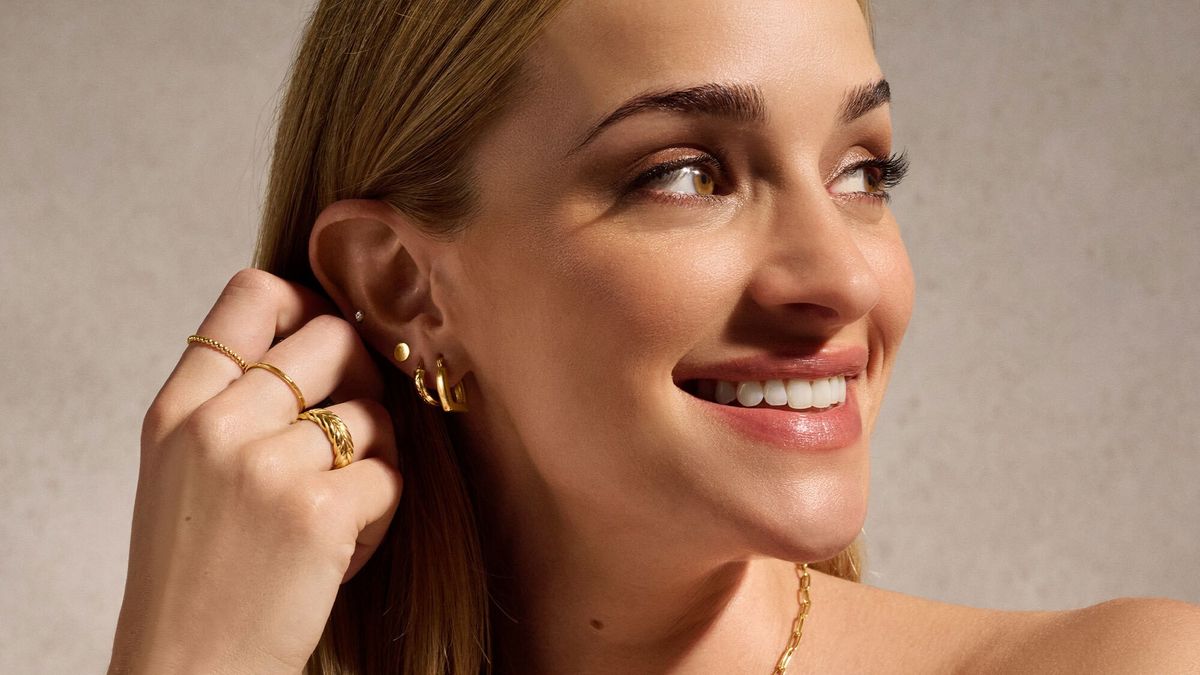 Photo: Courtesy of RS Pure
Fashion
Brianne Howey Takes A "Less is More" Approach to Jewelry Stacking
The actress takes us on a tour of her personal collection and everyday rotation. In collaboration with RS Pure.
In both her wardrobe and her jewelry collection, actress Brianne Howey subscribes to a minimalistic approach, which she describes as "less is more." It's about quality over quantity—a capsule-like assortment of pieces that mix and match with one another. The versatility of her most-worn jewelry (square hoops and an emerald necklace) is a testament to that ethos, while each items' unique flair champions her reverence for personal style. Those two coexisting ideas align with the founding principles of RS Pure (the brand behind Howey's aforementioned staples), with whom the style-minded actress has partnered for their Authentic100 Program. In doing so, she and RS Pure celebrate authenticity as it pertains to personal expression across every personality in the program. Howey discusses all of that and more below—think: collecting, stacking, and even designing.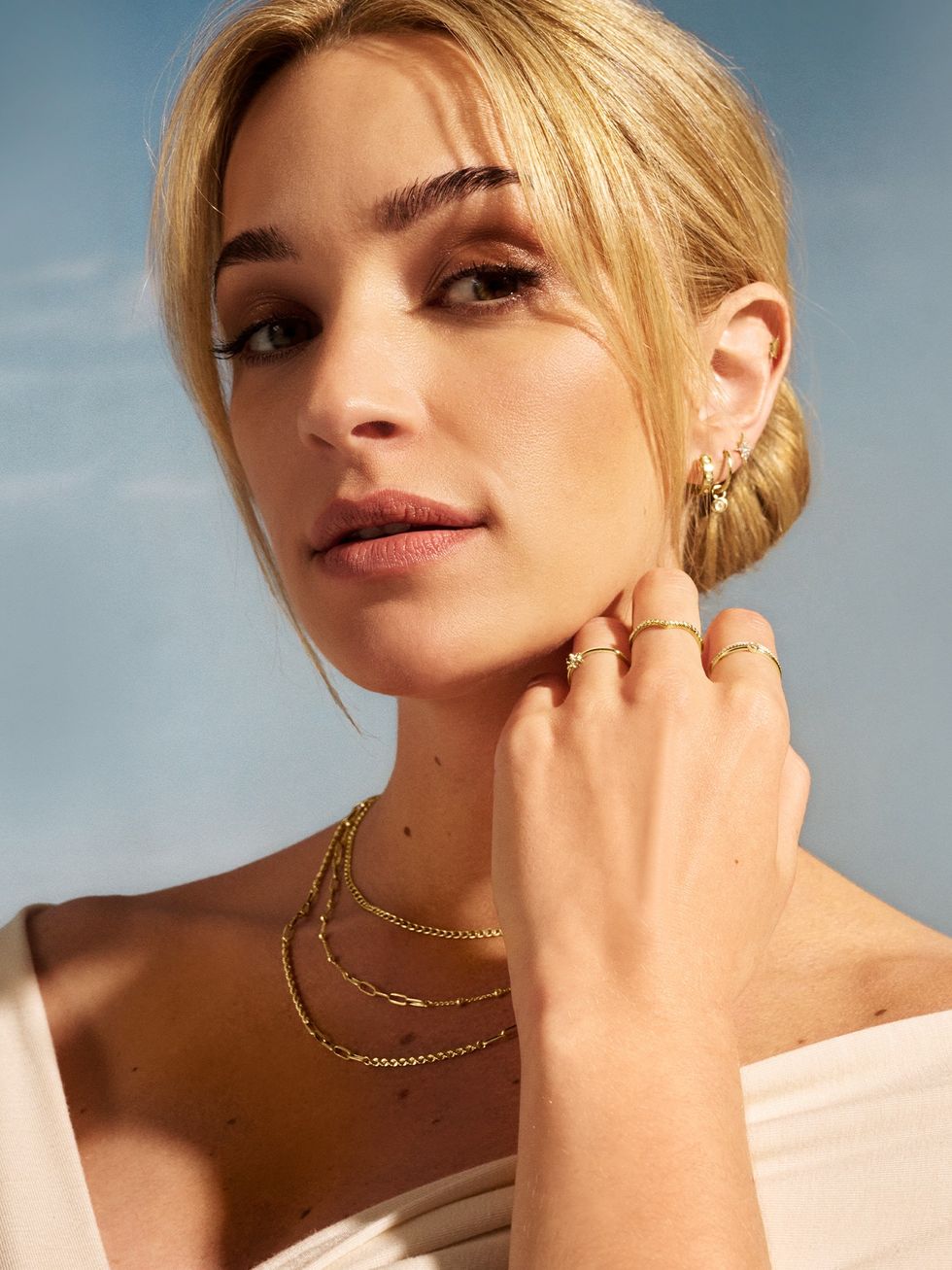 Photos: Courtesy of RS Pure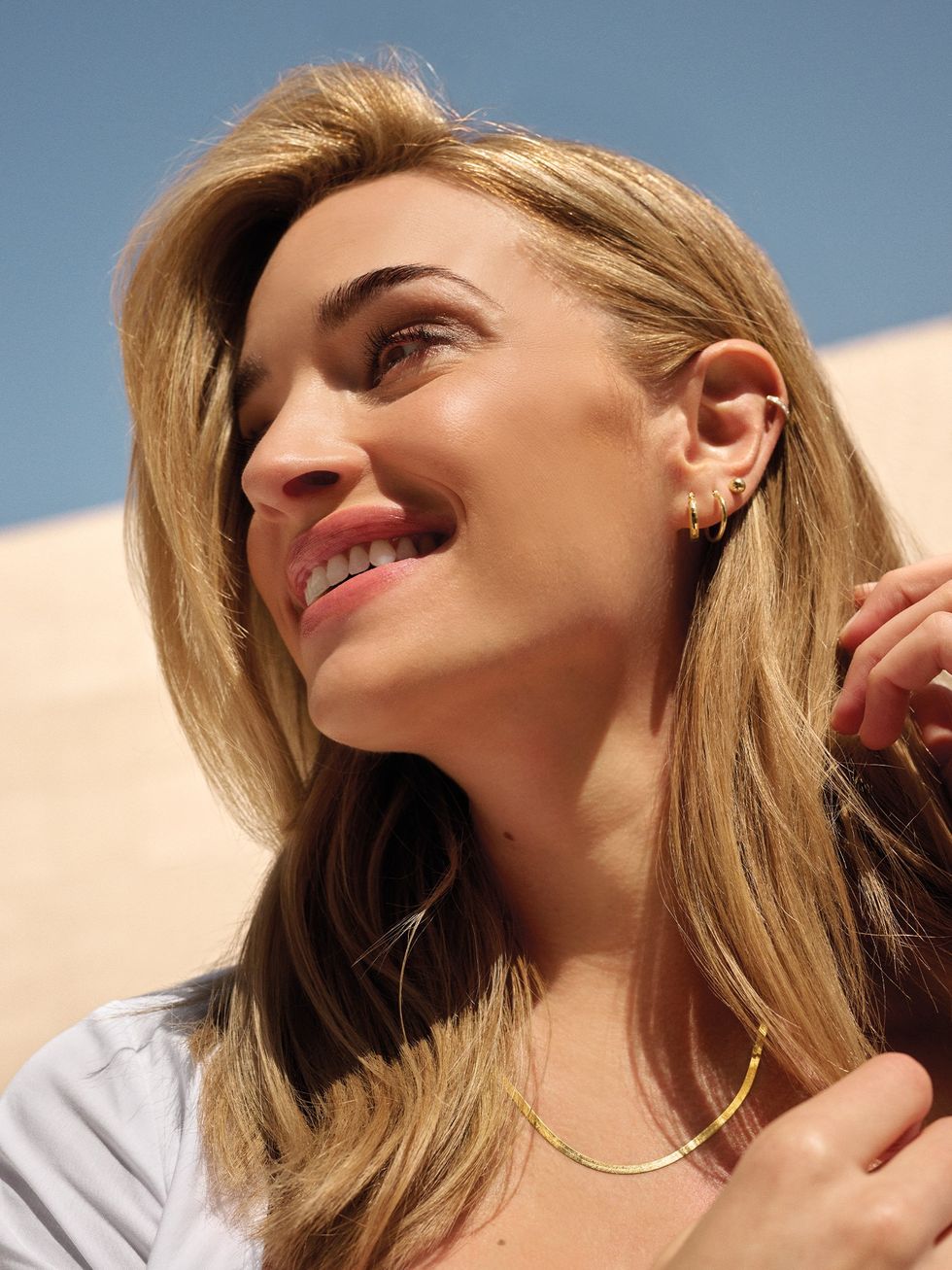 I'll start with the ever-challenging question, I know it's so hard to put this into words, but if you had to describe your personal style, how would you do so?
"I would describe my personal style as 'less is more.' That's something I've always subscribed to. I like having a few timeless capsule pieces that I can mix and match in an effortless but thoughtful way. For me, it's always quality over quantity. I think when it comes to jewelry, it's definitely the same."
Why did you decide to partner with RS Pure?
"I decided to partner with RS Pure, because they're a brand that I can relate to, with their products and with their ethos. Their jewelry meshes not only with my everyday style, but also with my lifestyle. It just felt like a very natural pairing. I love fine, minimal jewelry—I mean, who doesn't? But once I was able to wear their product, it stood out, because of the quality, the craftsmanship, and definitely the value at this price point. And I also love that I can shower, work out, and go out in all of their pieces. You can really live in them."
Favorite piece of RS Pure jewelry, what would it be?
"I would say my favorite pieces are the Square Hoop earrings. It's a classic hoop earring that everyone loves, but updated with this rounded square element that I, shockingly, haven't seen before. They're simple, but really unique. It was the first item that I picked out."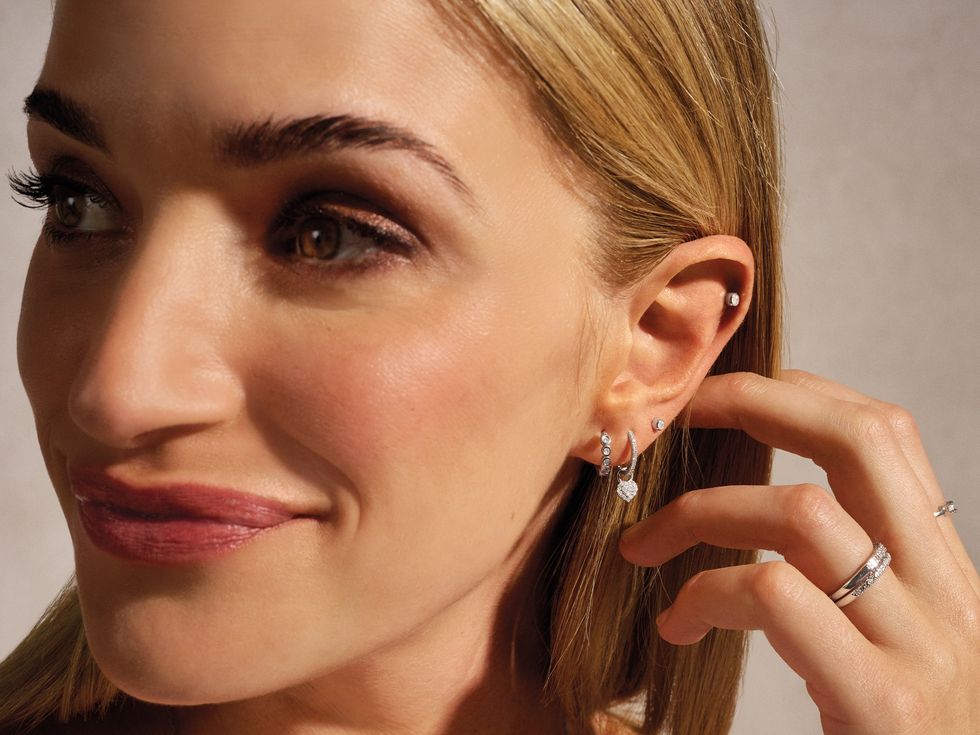 Photos: Courtesy of RS Pure
It's hard to reinvent the wheel with everyday jewelry.
"It's so true. There are square earrings out there, but in the hoop form, they have a rougher edge. They're modern, but retro. I love them. I wear them every day."
Tell me about your everyday jewelry rotation. How do the pieces you gravitate towards on a regular basis compare to the pieces that you like to indulge in when you're on the red carpet?
"For every day, I like building up to a look and layering, so then I can mix and match, depending on what the day calls for. And then, on the red carpet, I feel like I am definitely more collaborative with hair, makeup, and wardrobe. Sometimes the moment calls for bolder pieces that can tell their own story. Or, the moment calls for a simple piece that doesn't distract."
Do you have a favorite piece you've ever worn on the red carpet?
"I don't know that I do actually. When it comes to the red carpet, I feel like I still opt for that 'less is more' approach. I don't want to distract too, too much."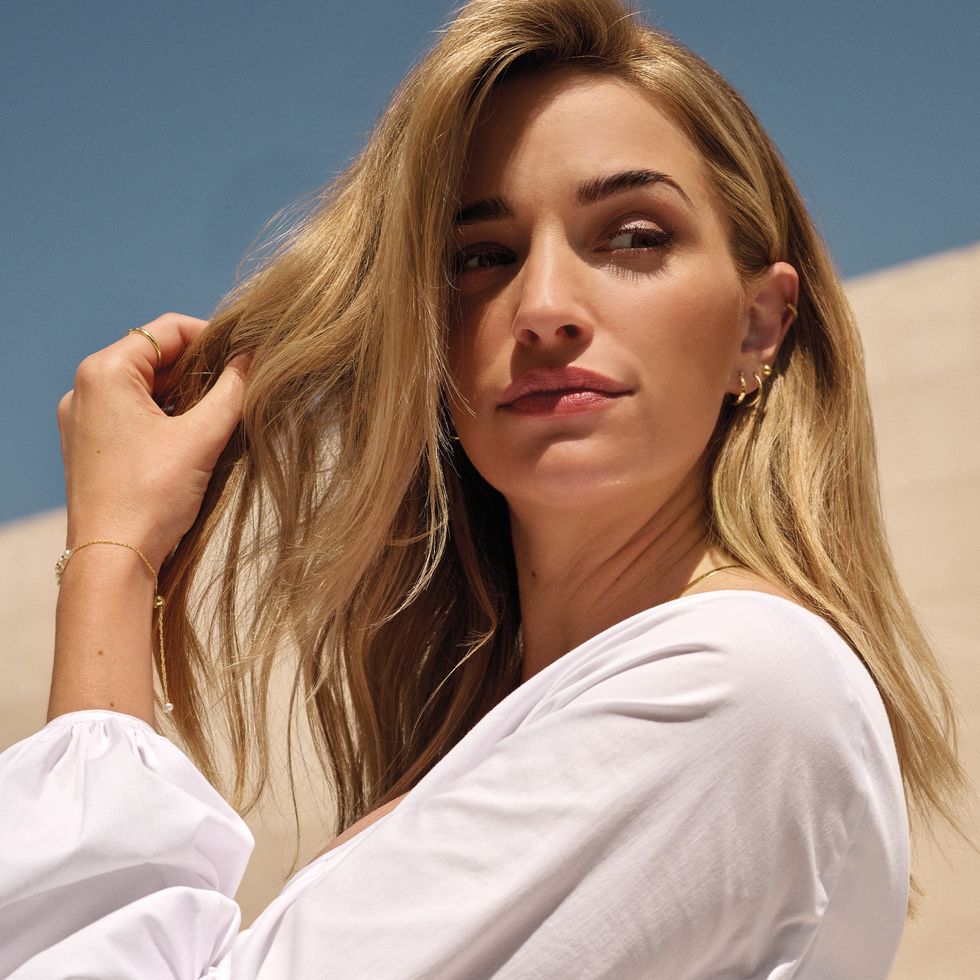 Photo: Courtesy of RS Pure
Understandable. What elements of the Authentic 100 program resonated with you?
"The Authentic 100 program resonated with me because it's a chance to celebrate the fact that style means something different to everyone, and everyone brings something completely different to the table. It's the perfect opportunity to express yourself and represent yourself in a new and meaningful way. It's women celebrating each other and encouraging our own individualism through our style."
What does authenticity mean to you in the realm of style? How has that evolved throughout your journey into the public eye?
"For me, authenticity has always translated to comfort, and feeling good in your skin. I think style absolutely influences that. When we're comfortable in our own style, then we have this freedom and confidence to be our truest best selves, which allows us to lean into our own authenticity even more. And I think we all gravitate towards authentic people. That's something that we all crave. I think it is the same for acting; the more authentic we are in our work, the more people resonate with it. The more personal you get, the more universal it becomes."
How would you describe your personal jewelry collection?
"I would say it's a representation of various milestones, gifts, my family, my travel. Most pieces in my jewelry collection have some very important meaning to me, which I love because it's like wearing a memory."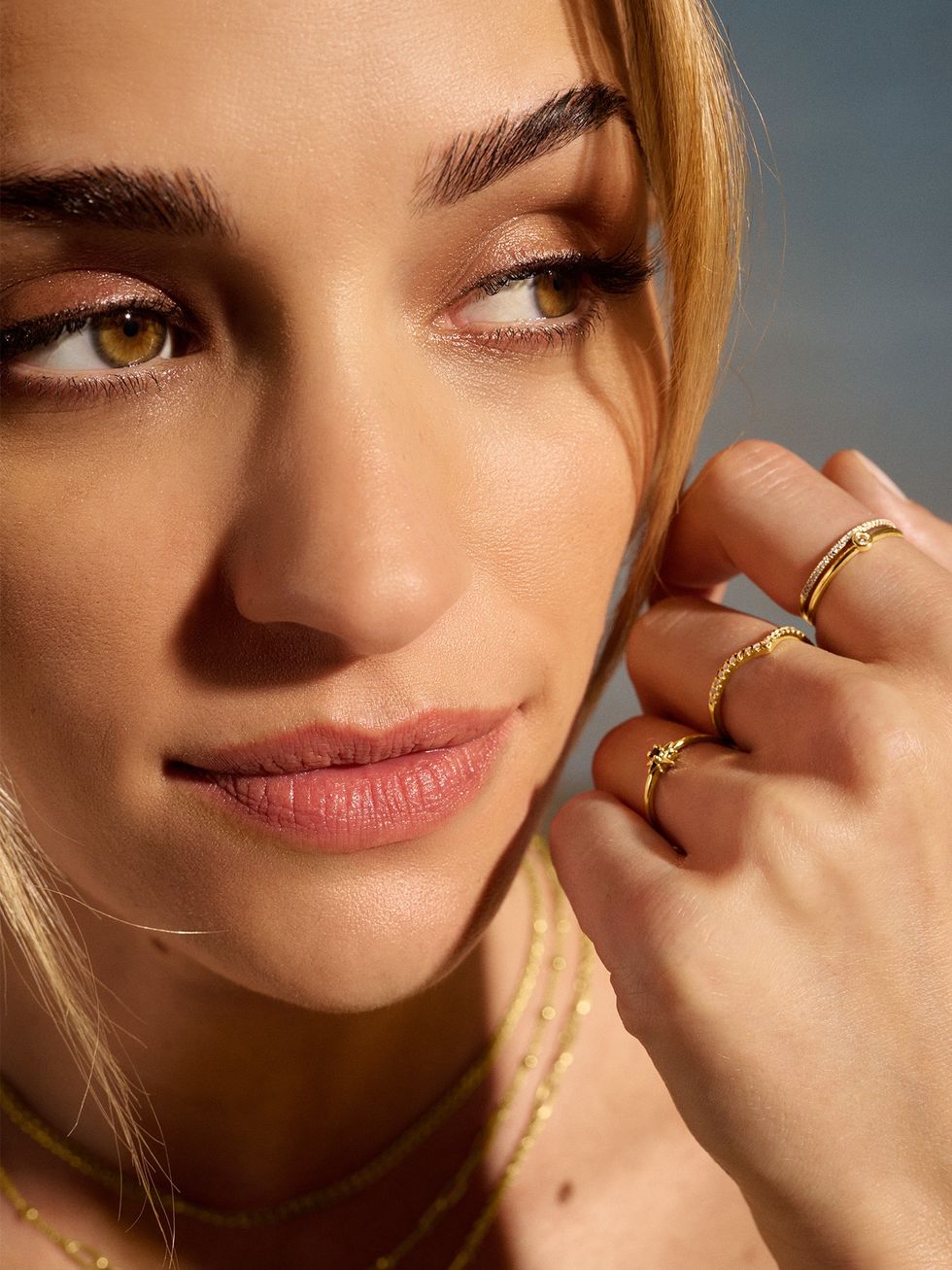 Photos: Courtesy of RS Pure
What are the pieces that you wear every single day?
I wear the RS Pure emerald necklace every day. I sleep in it. I have a handful of piercings, so I wear a pair of really dainty earrings from my sister. I love the square hoops from RS Pure. I also wear my emerald bracelet from RS Pure every day. And then, of course, my wedding band and my engagement ring for more special occasions."
So you're an emerald fan?
"Yes. I love an emerald. It's my birthstone. I've always gravitated toward emeralds. Also, when I first started getting familiar with RS Pure, they had this whole Verde Collection that really spoke to me. And it was one of the other many reasons I felt like this was a very natural fit, because they have an entire collection of emerald pieces."
Are there any other colors you ever wear, or do you really stick to the green?
"Right now, we're definitely having our green moment. I have a pair of really beautiful, really dainty ruby earrings. I mean, to say the least, I don't know who doesn't love gemstones, they're so beautiful. I'll take them all."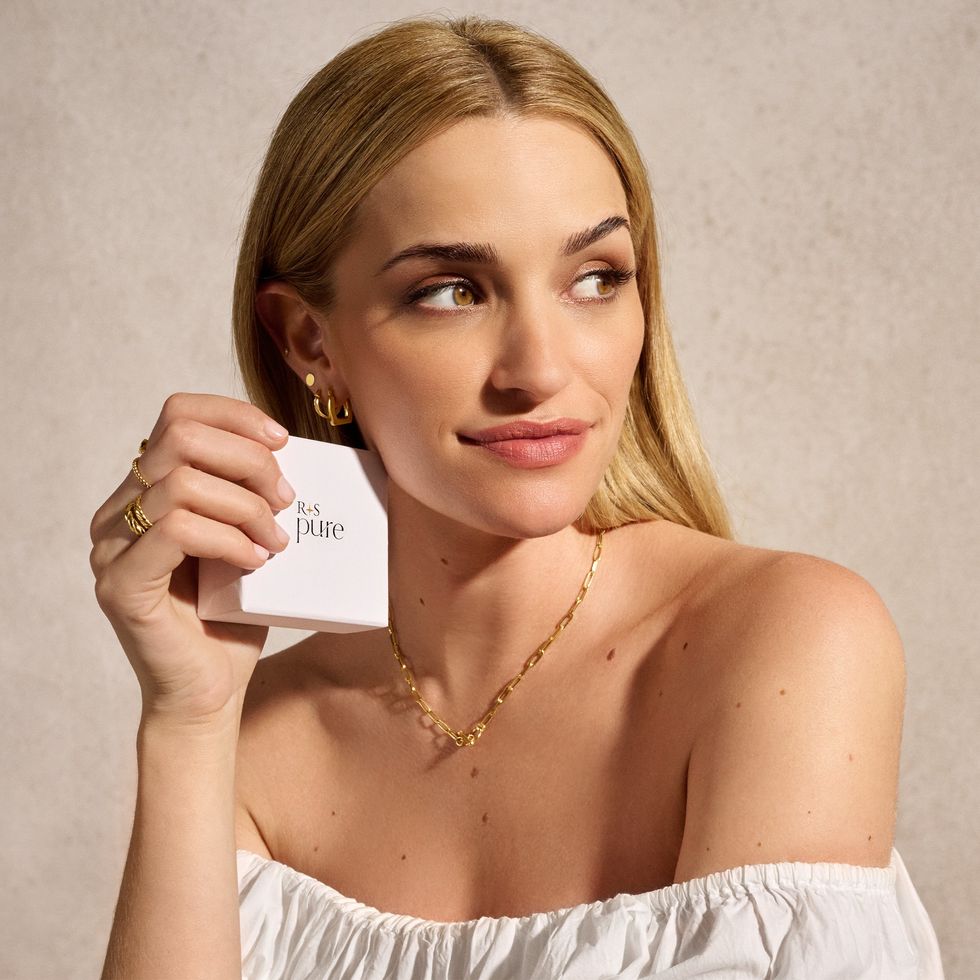 Photo: Courtesy of RS Pure
What is your most worn piece of jewelry, and your oldest piece of jewelry?
"My most worn piece of jewelry is probably my wedding band because I got to design it. I never grew up having these ideas of what kind of a wedding band I would want, but then suddenly when I was getting married, I had the opportunity to design something. I fell in love with the whole process, and I realized how meaningful it could be. So I wear that every day, all the time. And then the oldest is this herringbone-like bracelet from my grandma that she left me when she passed."
What can we expect to see from the Authentic 100 program?
"It's going to take place over the next six months. You're going to get to see 100 women, from all over the world, expressing themselves authentically through their jewelry. Everybody's going to have a piece of jewelry that really speaks to them, and that will be showcased on the website. That way we can all take inspiration from each other's ideas. It's sort of a vision board of jewelry styling inspo, if you will."