It's Time to Rethink the Bowl Cut
This isn't the hairstyle you cringed at in middle school anymore.
Beauty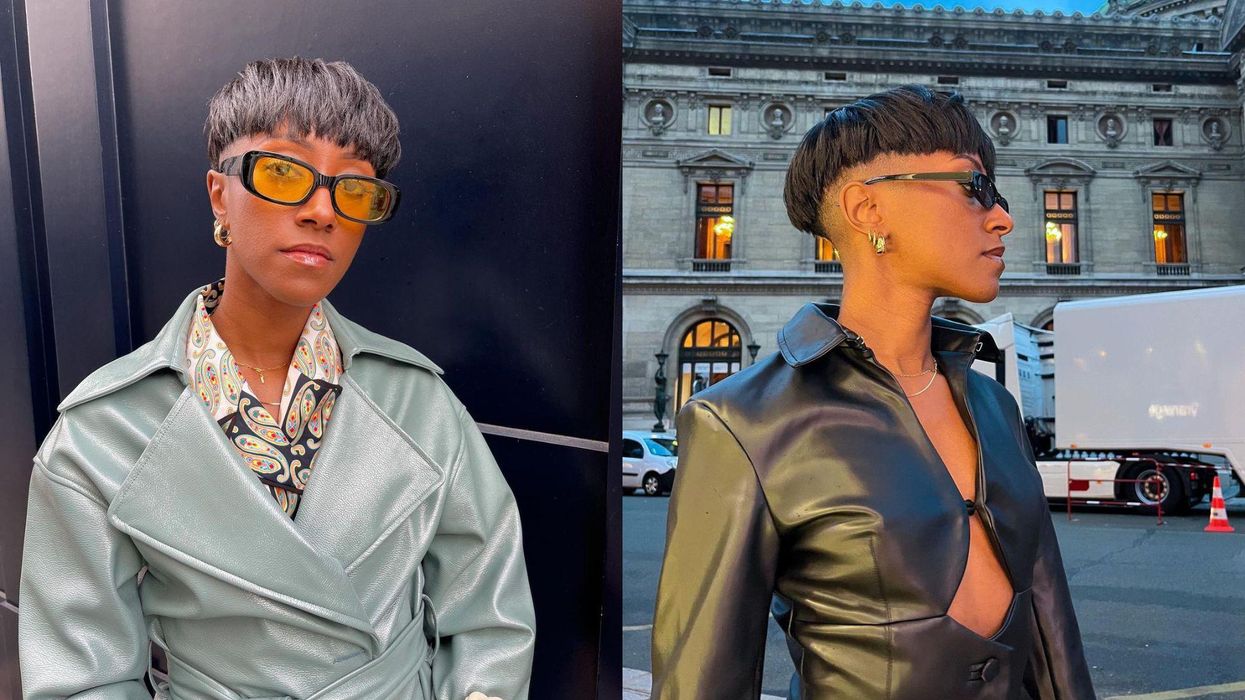 Photo: Courtesy of Kandace Banks
The bowl cut is divisive. The blunt, cropped cut can be unforgiving and unambiguous—when you get a bowl cut, you aren't making the choice with versatility in mind. This is not a shapeshifting style that you can zhuzh to suit your taste. It's not a haircut for the faint of heart. However, with the upgrade the style is getting these days, it should definitely be on your radar.
Let me preface this by saying that I'm not someone who watched Stranger Things with disdain for Will Byers's hair. From the moment the show premiered, a myriad of tweets and memes were aimed at the central character's cut, which morphed from a pageboy look to a bowl cut over the course of the show's four seasons. But a few episodes into the latest season, I was distracted by how chic I found Will's cut to be. I would totally get that, I thought to myself. Immediately, I had to self-assess. Do I need to call my therapist? Should I start limiting my screen time? Do I need to take a nap? At any given time, the answer to each of these questions is yes, but that's not mutually exclusive to the fact that the bowl cut is back. Off-screen, a quick scroll through your Explore Page will confirm that fact. "The bowl cut is technically considered a face-framing haircut," celebrity hairstylist Sade Williams tells Coveteur. "It's ideal for anyone who is considering growing out their hair. It also can add volume to the hair depending [on] how it's styled."
I've been grappling with my stance on the bowl cut for years. In grade school, my best friend had a bowl cut and would describe how his mom would plop an empty soup bowl on his head to trim his ends with extra precision. I found it absolutely fascinating. Who doesn't love a prop? I grew up amid the early aughts hysteria of Halle Berry's Die Another Day pixie and Rihanna's edgy Good Girl Gone Bad cut. For decades, it's gone in and out of style, with celebrities like Charlize Theron and Zendaya trying their hand at it, too. Even for hair chameleons like them, however, it's a high-risk undertaking. If it doesn't work, the troubleshooting options aren't very abundant—you can either go shorter with a Mia Farrow-style micro pixie or...cut it all off. But when it works, it's striking.

When stylist and content creator Kandace Banks decided on a bowl cut, she drew inspiration from Berry, Nia Long, and '90s video vixens. Though she went to a stylist for her first big chop in 2017, she's been maintaining the cut on her own ever since. "When I was a broke intern, I couldn't afford to go to my stylist biweekly," she explains. "So I went to the beauty supply store, got a cheap pair of clippers, got on YouTube, watched videos of barbers cutting hair, and—through trial and error—I learned to cut my own hair."