Resolve to Read: An Expert Guide to Meeting Your Literary Goals in 2022
Become the bookworm you always wanted to be.
Living
It's been said that a reader lives a thousand lives. A notion that, for the high-on-life type, sounds pretty appealing. Turning the page allows you to adventure through time and place and with characters you might otherwise have never been able to meet. Reading is a soul-deepening ritual, but for many of us, it often falls by the wayside. The push and pull between reading as a life-enhancing activity while also being notoriously difficult to stick with on a regular basis is an all too familiar struggle; and probably why it's such a popular New Year's resolution.
If any of the above resonates with your intentions for 2022, let the sister duo behind BEM | books & more guide the way. With their independent literary destination (which recently wrapped up a holiday pop up in Bed-Stuy, Brooklyn), Danielle and Gabrielle Davenport have carved out a space devoted to food literature of the African diaspora. BEM also houses genres ranging from fiction and poetry to young adult, enough to satiate all of your literary endeavors. Ahead, their advice on how to make reading a habitual part of your life this year and why nothing quite compares to the written word.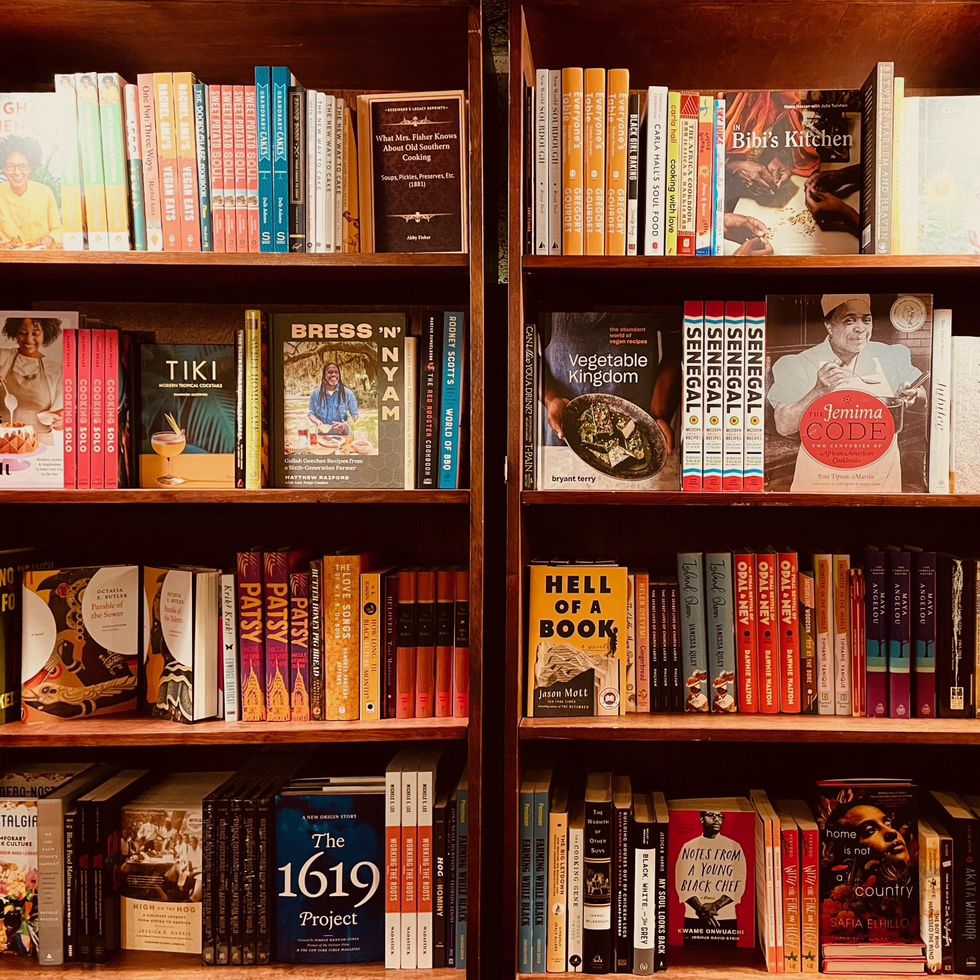 Why is it important to resolve to read more? Why do you read and why do you think everyone else should?
Gabrielle Davenport: "I read to explore other ways of living and being in the world. It's so exciting to be stirred by words on a page that someone in another time and place took care to put together. People should read as a way to connect with other realities, whether they're fact or fiction."
Danielle Davenport: "For me, reading is a source of solace and inspiration. I read to learn, and because language moves me. With the pace and ubiquity of media of all sorts these days—and especially with the madness of the pandemic—escaping into literature can be a wonderful way to calm, reset, and engage your imagination."
For those who have set goals to read more but fall off the bandwagon, what are some helpful tips for creating a long-lasting environment for reading regularly?
DD: "If you're having a hard time sticking with a reading goal, try picking a new book. Establishing a routine is a great time to reach past the should-read and grab the want-to-read, instead. Whether you have a readable commute or an idyllic evening read with a cup of tea by candlelight, or you just grab a few minutes after a standing Zoom call as you work from home, really feel out what works for you in creating a sustainable routine."
For people who feel like they don't have enough time to read, what are some ideas for fitting it into your schedule?
GD: "If you have a go-to TV show, try trading out a little reading time when you would ordinarily watch an episode of your current binge entertainment."
What are your thoughts on book clubs?
GD: "Book clubs can be so special! The opportunity to build community around a shared text is invaluable and it's been great to see so many book clubs flourish remotely throughout the pandemic."
What time of day do you read and why?
GD: "Usually right before bed, which can present some logistical challenges—it can take me months to finish one book! If I'm lucky, I'll spend a weekend afternoon curled up with a novel or cookbook."
DD: "Any time of day is fair game for me. From news to scripts to books, whether it's for work or personal edification, I feel like I'm always reading."
What's the best piece of advice you've ever received regarding reading?
DD: "To read closely and often."
When you read, what's the ideal setting?
GD: "My ideal reading setting is on the beach! It's late afternoon so it's not blazing hot and the sun isn't directly overhead. The waves create the perfect background noise to let me really sink into a story."
DD: "I second that—reading on the beach is such a treat. And it's not really my reality, but curled up by a fire with a warm drink as snow falls is my ideal winter reading scenario."
What are your personal reading resolutions for 2022?
GD: "This year, I resolve to let myself drift in and out of a few books at a time. Who says you have to read one cover to cover before moving to the next? I want to let my reading flow with a bit less pressure."
DD: "I'm sort of the opposite on this one. I'm always dipping in and out of stories or reading other genres, so I resolve to finish more novels this year."
Is there a quote about reading (or literature in general) that you find particularly inspiring?
"Words had an energy and power and I came to respect that power early. Pronouns, nouns, and verbs were citizens of different countries, who really got together to make a new world."— Audre Lorde, 1981
What are some achievable reading goals that one can set for 2022?
DD: "I think it's great to set a time goal, to read for 20 minutes before bed for example. Also, try reading a poem a day or a short story a week. I encourage structuring your goal to make reading as much of a pleasure for yourself as possible."

Are there any classic titles you think everyone should read this year? What about newer releases?
DD: "We like to think diasporically, so for three classics of their respective traditions, I would offer Zora Neale Hurston's Their Eyes Were Watching God, Chinua Achebe's Things Fall Apart, and Jorge Amado's Gabriela, Clove and Cinnamon or Dona Flor and Her Two Husbands. For books released over the past few years, check out Dantiel W. Moniz's Milk Blood Heat, Bryan Washington's Memorial, and Nicole Dennis-Benn's Patsy."
GD: "Some classics in the Black food canon we always recommend include The Jemima Code by Toni Tipton-Martin, High on The Hog by Jessica B. Harris, and any of the wonderful books by Edna Lewis. A newer release everyone should dig into is Bryant Terry's 2021 collection appropriately titled Black Food. It's a beautiful compendium of writing, recipes, and art from a really exciting range of Black chefs and writers."
Any authors you think should be on our radar right now?
DD: "We're excited about new releases this year from writers like Bernardine Evaristo, NoViolet Bulawayo, and Marlon James among so many others."
What's the last book you truly 'lost yourself' in?
GD: "In The Time of the Butterflies by Julia Alvarez"
Is there anything we should read less of in 2022?
DD: "It's important to stay informed, but I want a little less news in my life in 2022."
For someone who wants to find authors (both old and new) from diverse communities that traditionally have not been promoted or celebrated but have helped shape the canon, what are some strategies you'd suggest?
DD: "Talk to booksellers! We always get such joy from helping folks find what they're looking for and introducing them to work they may not have known they were missing. And Google will take you far—start with an author who you are familiar with and try exploring the work of writers who influenced them."
Why do you think it's important to buy from independent bookstores and do you have any advice for how we can find them?
DD: "Bookstores are the kind of small business that can really help to define a community. If you appreciate being able to browse the shelves and smell the pages and strike up conversations with your neighbors, support your local independent bookstore to keep it flourishing."
GD: "When I was growing up, going to indie bookstores with my dad was a huge part of building my love of reading. They felt cozier and more personal than the corporate chains and as an adult I'd much prefer a reading at the bookshop around the corner than a massive store. There are so many reasons to shop at independent bookstores, but my favorite may be to keep them open for kids and young adults to have a place to explore new worlds and ways of thinking."
Have any books changed your life? Or at the very least, changed the way you see the world?
GD: " Beloved by Toni Morrison. I read it as a sophomore in high school and it indelibly shaped the way I understand my position in the world as a Black woman."
DD: "A poetry anthology called I Am the Darker Brother for me. I had it in paperback and remember how worn its vibrant blue cover got as I encountered and revisited poems by writers like Sonia Sanchez, Langston Hughes, Nikki Giovanni and Lucille Clifton. I still remember lines from 'now poem. for us.' and 'Nikki-Rosa.' I think I was around 12 when I first read the book, and it really gave me a vision of what language could do and a sense of what Blackness could feel like on a page."
What do you think the world would be like if everyone read more?
DD: "More empathetic and compassionate, I think."
GD: "I like to think that people would be better equipped to grapple with nuance if they read more. If there was ever a time when we all need to be able to process multiple truths simultaneously, it would be 2022."