5 Sustainable Hotels and Properties That Prioritize the Planet
Travel
Photo: Courtesy of Heckfield Place
Travel is undoubtedly rebounding, with US airline ticket sales back to pre-pandemic levels, according to recent analysis. And with pandemic restrictions being eased, travelers are packing their bags and taking to the skies to satisfy a long-suppressed sense of wanderlust.
But the pandemic has done more than just intensify the urge to travel, it has made us considerably more aware of the impact of our travel. According to Booking.com's 2021 sustainable travel report, 61% of travelers said that the pandemic has made them want to travel more sustainably, and a further 81% intend to stay in sustainable accommodations at least once in the upcoming year. However, it is clear that barriers still remain, with 49% believing there simply aren't enough sustainable options available to them.
Many hotels still largely depend on fossil fuels for their energy, and according to a recent green lodging trends report, a mere 21% have on-site renewable energy. These energy-intensive systems, used for things like heating water for showers and spas, and keeping guests' rooms at comfortable temperatures create carbon emissions. These emissions, particularly at large resorts with an abundance of amenities add up, contributing to the roughly 8% of greenhouse gas emissions that estimates attribute to Global tourism.
To help steer you towards more sustainable stays, we've uncovered 5 innovative and Mother Nature approved properties that prioritize the planet, so you can vacation at ease, knowing you are keeping your footprint small.
Nimmo Bay Resort: Nimmo Bay, British Columbia

Photo: Courtesy of Jeremy Koreski (@jeremykoreski) and Nimmo Bay
Tucked away in the heart of Canada's Great Bear Rainforest on the shores of the Pacific Ocean, this intimate wilderness resort strives to tread lightly, giving more back to the land and their community than they take. Sustainability has been top of mind at this family-owned resort long before it was mainstream, with eco-friendly innovation dating back to the '80s when they first opened their doors.
Fueled by streams and waterfalls, a water-powered electricity system provides clean drinking water and generates the lion's share of the resort's power needs. Using a waste water management system, grey and black water is converted into clean water suitable for re-entry back into the ecosystem. While their carbon footprint is closely monitored and carbon emissions reduced to a minimum, one of Nimmo Bay's more carbon-intensive activities is travel to/from the property. Set arrival and departure days for guests has helped mitigate emissions, reducing the number of miles traveled and the amount of fuel used by over 35% in the last 5 years. Electric alternatives to fuel engines is something they are actively sourcing, to further minimize their footprint. Carbon that cannot be further reduced is offset through various carbon reduction and conservation projects.
Committed to ethical wildlife practices, Nimmo Bay introduced a conservation initiative coined Bullets for Binos in 2012, aimed at protecting Grizzly bears in British Columbia. The program presented a unique incentive to hunters, offering the opportunity to trade in a trophy hunting license in exchange for a bear viewing trip for 2 people to the resort. The program intercepted many hunting tags, saving bears while developing a new-found respect for the species in the eyes of hunters. It played a pivotal role in the subsequent ban on the trophy hunting of Grizzly bears in the province.
In the kitchen, culinary ingredients are sustainably sourced, focusing on foraged, wild foods, sustainable seafood from their own backyard and produce that they can trace to the hands that sowed the seeds. They have increased their locally sourced ingredients by over 50% and continue to minimize the miles their food travels each year. Salmon conservation and the declining abundance is an important issue that sits at the heart of their menu. In an effort to increase awareness of the fragile salmon populations, and because product couldn't be sourced that they were proud to buy and serve, Nimmo Bay eliminated the fish from their menu.
Acknowledging that true sustainability extends beyond conservation of the environment, Nimmo Bay is acutely focused on the development and well-being of local communities. Through partnerships with community-led organizations and non-profit societies, they support indigenous communities by helping to provide access to education and training.
Heckfield Place: Hampshire, England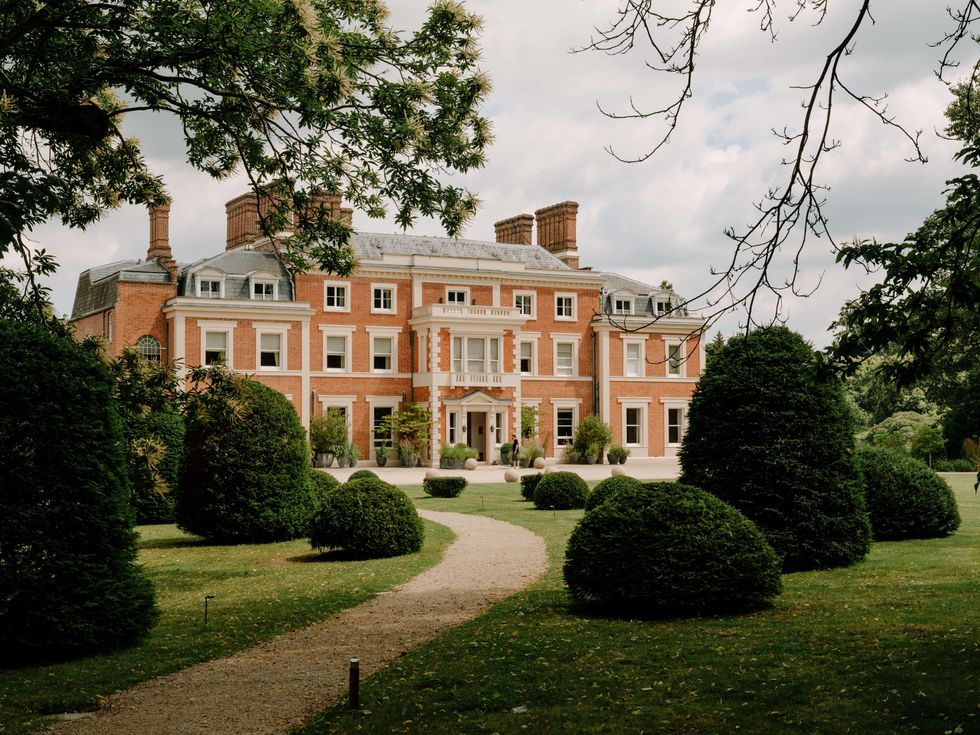 Photo: Courtesy of Heckfield Place
Sitting on 400 acres of secluded countryside with 18th century origins, Heckfield Place is a luxury hotel that meticulously considers its impact, and it all begins with the soil. The estate is intrinsically connected to the land it sits on, and providing for it ensures it can continue to provide for them.
A fully certified biodynamic garden and organic home farm are at the heart of the estate, with crops of wheat, barley and spelt, an array of livestock and farm-to-fork produce that guides their daily menus. Every ounce of produce from the garden is considered precious, and in keeping with their zero-waste pledge, what isn't used in the kitchen goes back to the land and into the soil. Scraps are repurposed into cordials, dressings, and preserves and incorporated into their Earth-minded menu.
Healthy 'living' soil is maintained without the use of any artificial chemicals, respecting nature using natural fertilizers such as compost and manure that build the soil rather than deplete it. A drove of 15-30 saddleback pigs help control the grass on the grounds, and bring fertility to the soil, crucial to a biodynamic closed circle. In 2020, Heckfield Place opened their own dairy, producing milk, cream, butter and yogurts for the house. The local cheesemaker uses the milk from their herds of Guernsey cows and Suffolk, Hampshire and Southdown sheep to make cheese.
In the orchard, bees from 20 hives seek out the blossoms on hundreds of fruit trees, helping to create the delicious honeycomb that guests enjoy. Surrounded by hedges of hawthorns, mulberries and blackberries; multiple greenhouses - each set to different temperatures – propagate everything that goes into the garden, and nurture lettuces, soft fruits, squash and tomatoes, as well as provide year-round fresh flowers for the house.
You won't find any plastic in the guest rooms, and no single-use plastic is used in the kitchens; a policy that extends to their suppliers, requesting that deliveries be sent plastic-free, where possible. To maintain responsible consumption, water is extracted from an onsite bore hole to reduce water costs, and rainwater is harvested wherever they can for use on the estate. Bio-mass boilers burn wood pellets from a sustainable source to heat their water for showers, baths, and general heating. The estate's future sustainability targets include a windmill in the garden and solar roof tiles for renewable energy.
The Baltic Treehouse: Ontario, Canada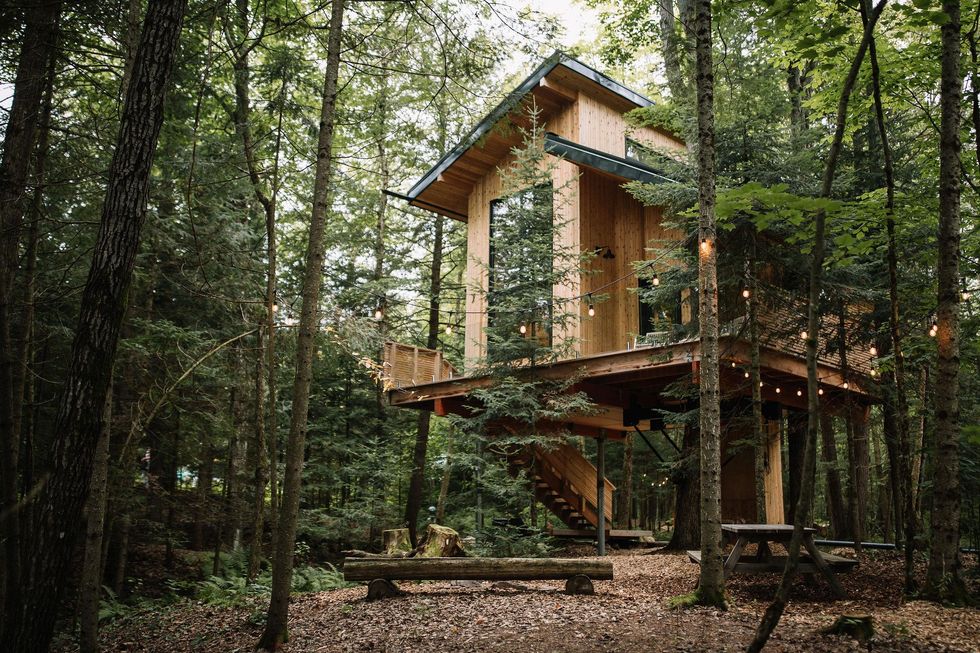 Photo: Courtesy of Danielle Meredith Photography
Located 2 hours North of Toronto, this modern treehouse combines the amenities of a boutique hotel with what the owners call the "nest-like experience of life in the sky." Sustainability features prominently in the design and build of this unique Airbnb property, starting with the protection of the supporting and surrounding trees. The use of heavy machinery, or even excessive foot traffic can compact tree roots and be detrimental to the long-term health of the tree. As a result, all materials used in the build were brought in and up by hand. Tree-safe hardware designed to support continued growth and health was used, allowing the trees to continue moving as they would naturally, while the structure remains static.
Given the harsh winters Canada sees, maximizing the efficacy of the insulation was key. Working with building science professionals, a plan was put in place (with a particular focus on floor assembly) designed to keep the treehouse warm through the winter and cool in the summer. Earthen floors in the space – a mixture of sand, straw, and clay combined with water and finished with naturally-occurring hardening oils – minimize environmental impact without sacrificing aesthetics and durability. Bonus: the low winter sun enters the 12-foot south facing window, warming the floor's thermal mass. In the summer, when the sun is high and the tree cover is full, the floors have a cooling effect.
The treehouse is solar-powered, and propane is used on-demand for the range, oven, and hot water. A Norwegian cast iron fireplace warms the main living space, while solar-powered in-floor heating keeps the bathroom toasty. Ductless heat recovery ventilation units ensure fresh clean indoor air all year long. The property provides the perfect setting to indulge in the benefits of forest bathing, with a wood-fired cedar hot tub and an additional outdoor shower that allows guests to literally bathe amongst the trees.
Eco-friendly and organic amenities and cleaning products are used in the bathroom and kitchen, all of which are refillable. In fact, the same shampoo and soap bottles have been in place since the property opened its doors 1.5 years ago.
Arro Dunes: Twentynine Palms, California

Photo:Courtesy ofArro Dunes
Sitting on 10 acres just outside Joshua Tree, this newly renovated 1950's era desert abode proves you don't have to sacrifice style for sustainability. This modern Airbnb known as Arro Dunes, was built by the husband and wife team behind Los Angeles based interior and creative studio, Studio Marrant.
Combining natural materials with minimalist décor and a Japanese wabi-sabi aesthetic, Arro Dunes is a perfect example of how to furnish and style a home with the environment in mind. Sustainable design sits at the heart of this property and has been mindfully applied throughout the space. The kitchen and bathroom are built out of Tadelakt, a plaster traditionally used in Moroccan architecture. Tadelakt is made of natural materials, does not contain volatile organic compounds and is said to be naturally mold and mildew resistant. The entire home is painted in limewash, a natural, non-toxic alternative to traditional household paints. The high pH level of limewash is said to inhibit microorganisms, and the chemical makeup helps improve interior air quality.
The home blends thoughtfully-curated antiques with minimalist modern décor. Pieces are sourced locally, a conscious decision to bypass mass-consumerism of new products. The bedrooms are outfitted with 100% flax linen bedding and Tuft & Needle mattresses, an eco-friendly brand that rigorously tests for off-gassing and indoor air quality compliance. The interior design, with accents of desert flora and a neutral, earth-toned color palette, mirrors the desert landscape outside oversized dual pane windows.
The outdoor space shaded by Tamarisk trees with 360-degree mountain views is a handsome contrast of wood, stone, and steel, set against a backdrop of golden desert hues. A 10-foot cowboy stock tank pool paired with a 100% energy-free wood burning hot tub ticks the desert recreation boxes, while being mindful of consumption. Given the strong exposure of the desert sun, as much is charged off solar power as possible, with plans underway to integrate it more fully throughout the property in the near term.
Lilypad: Palm Beach, New South Wales

Photo: Courtesy of Lilypad Palm Beach
Floating just meters from the shore of Sydney's Palm Beach, this private eco-villa, appropriately named Lilypad, is perfect for a luxury isolated stay. Breaking the mold of traditional boating design, this off-the-grid escape has been an 8-year journey in the making, driven by design foresight and the ambition to sustainably innovate. The goal was to execute a seamless flow between century old traditional trade techniques and modern sustainable luxuries, while creating a connection with the surrounding marine environment.
An 8kilowatt solar panel system powers everything on board, from the lighting, television, kitchen appliances, and infrared sauna, proving you don't have to compromise luxury. A desalination system removes the salt and impurities from the seawater on which the vessel floats to create high quality freshwater that is used on board. Waste treatment units imported from Germany treat the waste fluids to allow them to be reused for watering plants.
Opening its doors March 2022, raw materials will be featured prominently throughout the space, including recycled hardwood timbers sourced from a bridge near Mudgee, New South Wales, and a natural lime-based plaster finish on the interior and exterior walls. In partnership with sustainability-minded businesses, the space will be furnished using natural materials such as clay, cane, teak and linen from McMullin and Co., and environmentally-friendly bed and bath linens from Cultiver.
Guests' stay is inclusive of meals that are prepared offsite by Lilypad's Head Chef, and an onboard wine cellar with a selection of low intervention wines from L.A.S Vino using sustainable, organic and biodynamic vineyard methods. The vessel comes equipped with stand-up paddleboards and other recreation equipment, as well as a private self-drive tender allowing guests to explore nearby beaches with a picnic in tow. Arrangements can also be made for on-board spa treatments to dial up the luxury factor.