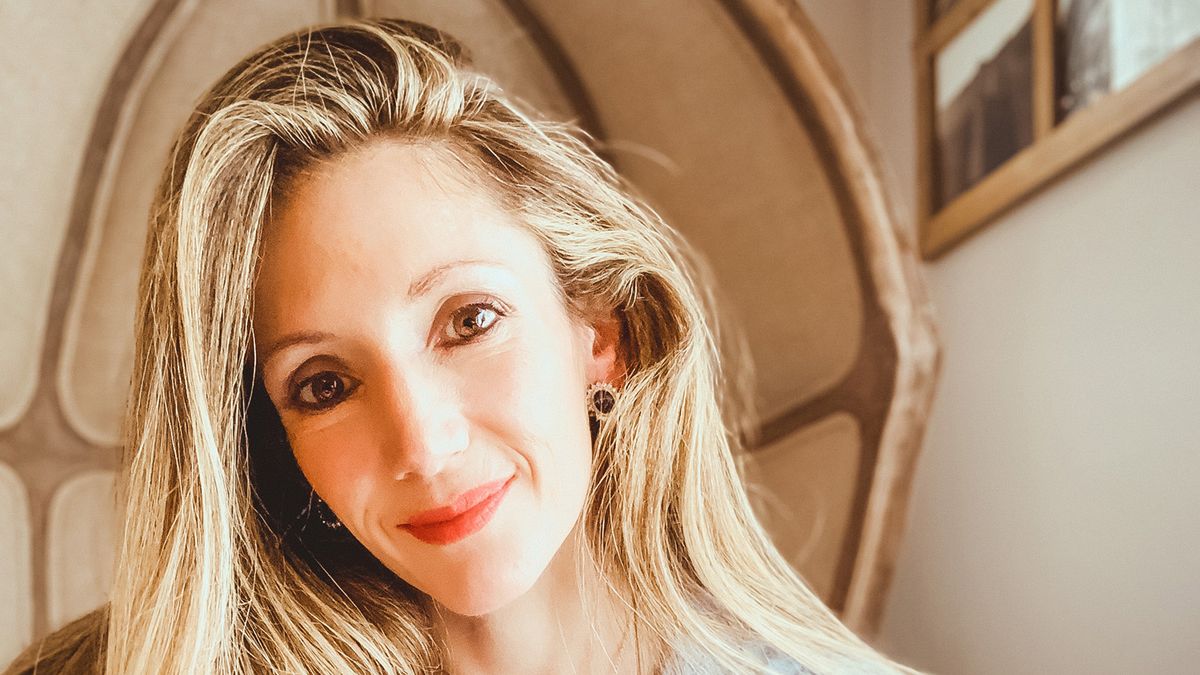 Skin
Advice that anyone can follow. In collaboration with Ole Henriksen.
Not every preteen grasps the importance of regular SPF use or washing off a face of stage makeup at the end of the day, but that was the reality for lifelong ballet dancer Ziba Lennox. Looking back on a heavy performance schedule since the age of eight, Lennox now credits some of her earliest beauty lessons and first teachers—hi, Mom!—in shaping how she's built healthy skin-care habits and learned to embrace, not resist, getting older.
"I'm fortunate that, growing up, my mother really taught me about taking care of my skin with a full routine since I was about 11," says the 41-year-old co-founder of
MaZi Dance Fitness
. "Cleansing, exfoliation, moisturizing, and sunscreen have been a constant since then, but now in my 40s, there are definitive tweaks."
---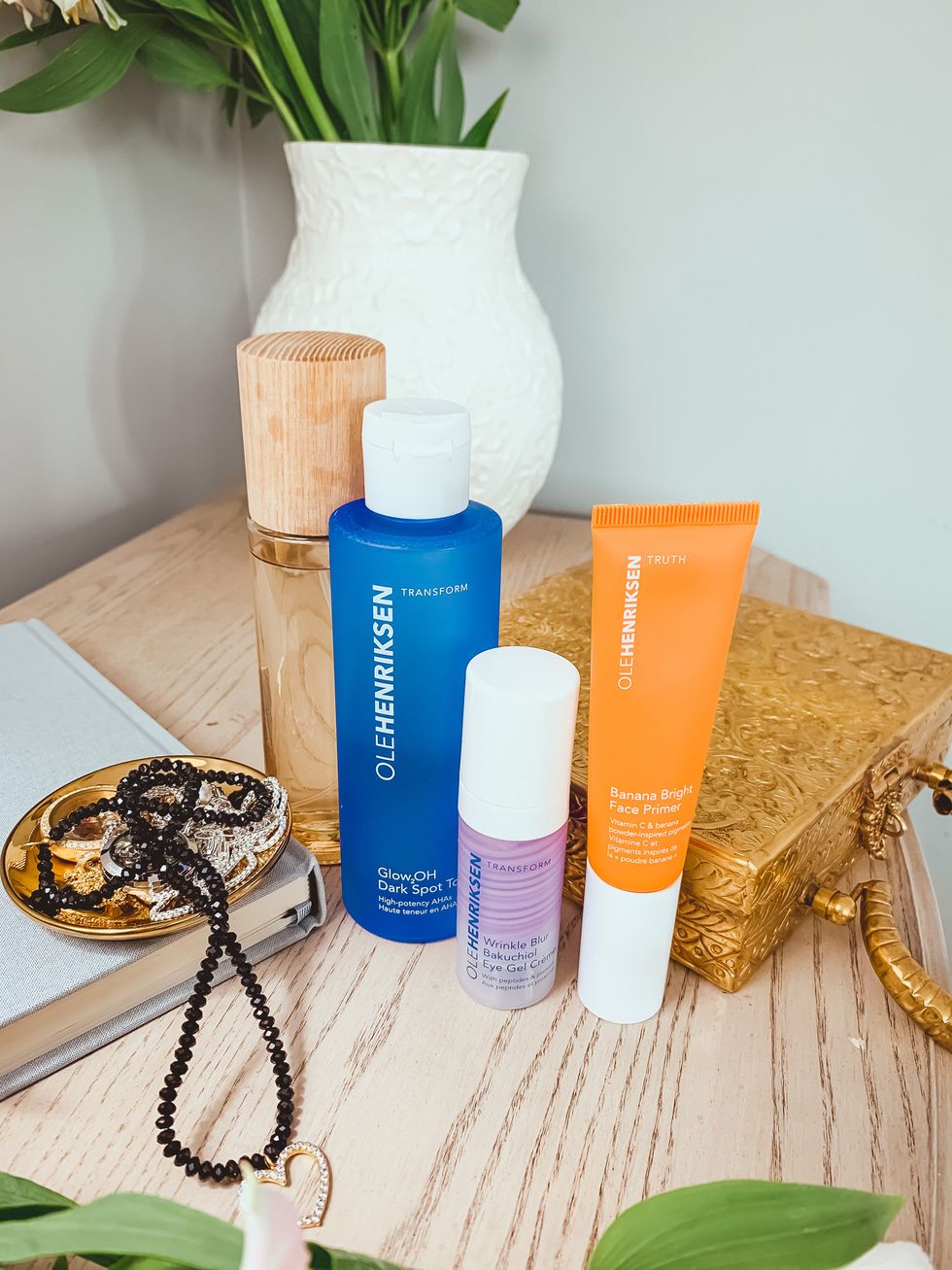 Photo: Courtesy of Ziba Lennox
One of Lennox's most recent adjustments has been to incorporate
Ole Henriksen's Wrinkle Blur Bakuchiol Eye Gel Crème
, a potent and lightweight formula that instantly blurs the under-eye area, into her routine. The product works through a combination of ingredients that are kept separate until applied, including bakuchiol ribbons (a plant-based alternative to retinol)—to even skin tone and texture—and a blend of peptides, proteins, and orchid stem cells—for restoring elasticity and diminishing the appearance of dark circles.
Ahead, Lennox breaks down some of her other favorite products, tools, and pieces of priceless (as in $0) advice she's using to nourish her body inside and out. "Coming from a highly superficial upbringing in ballet, anti-aging was always on my mind, and I thought aging would hit me harder," explains Lennox, offering a refreshing perspective on entering her 40s and beyond. "Fortunately, with age has come a bit of internal wisdom. Staying young means taking time to smell the flowers, read and listen to beautiful things, gratitude journaling, et cetera. I like and accept myself more than ever, and that helps balance what's happening externally."
Olehenriksen
Since entering your 40s, which habits (beauty or otherwise) have you kicked, and which have you incorporated?

"One habit I've kicked is drinking through a straw, which I think ages your lips, not to mention is not great for Mother Earth. Another habit I kicked was eating low-fat—I'm now incorporating lots of omega fats that have helped my skin and maintain my weight. It's amazing how much control we have over how aging is represented in our bodies. If we can limit sugar, caffeine, alcohol, smoking, processed foods, toxic people/products, and stay active and drink water, we'd stay younger-looking for a lot longer. I am guilty of many of the above, but feel I have found a good balance."

Walk us through what your typical daily skin-care routine looks like:

"I start my day with a duo of Ole Henriksen's Truth Juice Daily Cleanser and Lemonade Smoothing Scrub, which sets my face up to be its freshest version. Not to mention, the heavenly fragrance is a delight to wake up to. I then slather on a moisture-sealing, lightweight serum in summer, or a couple of drops of facial oil in the winter.

"This is where Ole Henriksen's Wrinkle Blur Bakuchiol Eye Gel Crème comes in. It's incredible how much smoother my fine lines appear after a couple of drops. Sometimes eye creams can feel overly thick, and I would usually skip it. However, this consistency is luxuriously hydrating, and my skin just drinks it in. I finish with a hydrating moisturizer and the Banana Bright Face Primer, which I'm obsessed with. If you've wondered how you can have that dewy, sun-kissed glow that seems like a filter you can't find on Instagram, try this. I literally cannot go a day without it."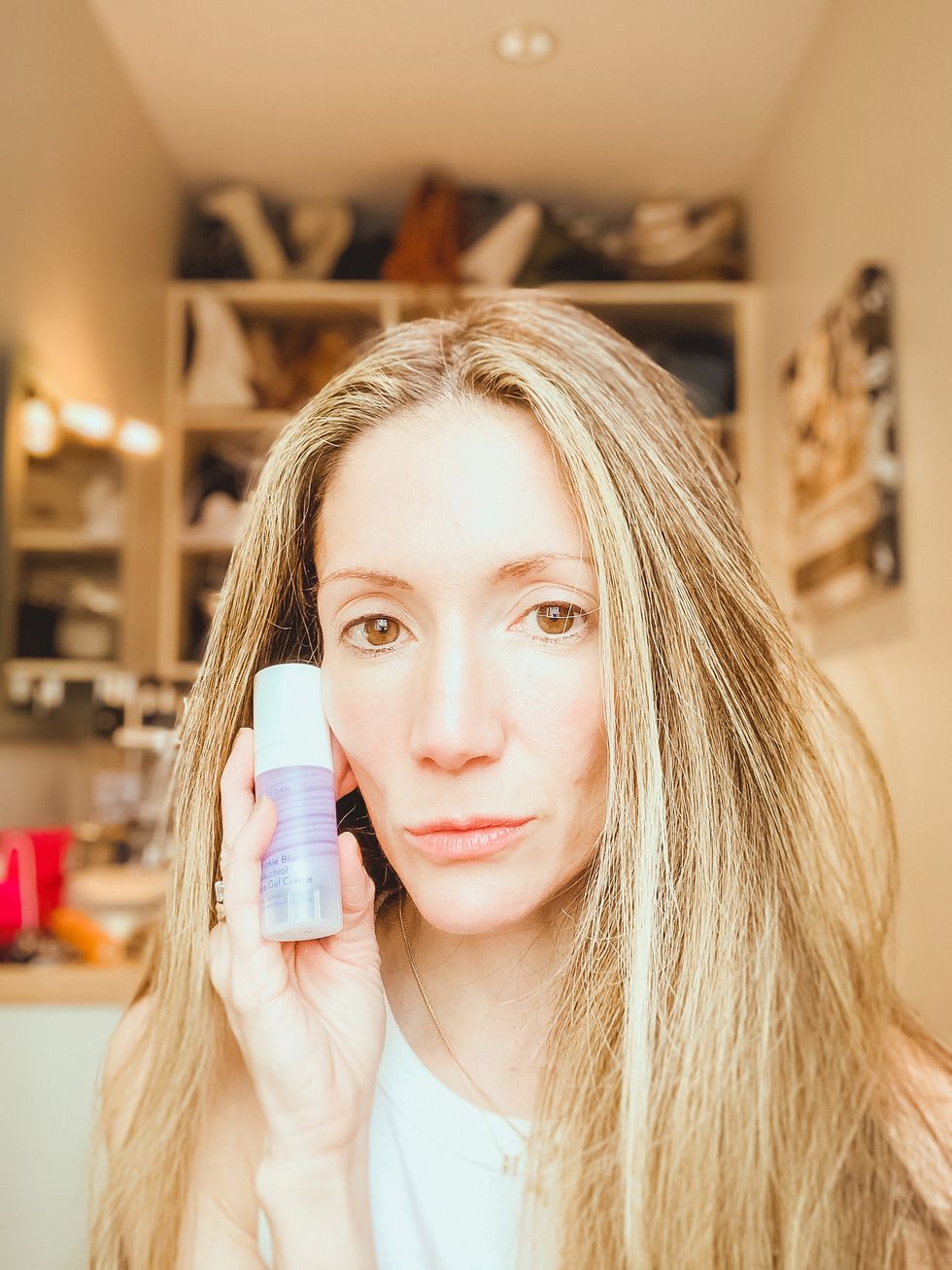 Photo: Courtesy of Ziba Lennox
How was your experience adding the Wrinkle Blur Bakuchiol Eye Gel Crème to your routine? What kind of results did you see?

"It is such a sensory delight. I love the fragrance, lightweight gel-crème consistency, and how it works seamlessly with the primer and makeup I put over it. I also love the purple swirl (the lavender tint helps to color correct) and the container, it's definitely a little treat in my skincare routine.

"I think the name is perfect, it really does feel like a blurring of wrinkles is occurring. I don't do injectables yet or Photoshop my face in my social-media content, so it's nice to have a bit of extra help in real life so I can put my best face forward with Wrinkle Blur Bakuchiol Eye Gel Crème."

What are some of the simplest, most accessible skin-care secrets that never steer you wrong?

"Be aware of your facial expressions throughout the day. That's probably my best anti-aging advice I could give. I've been practicing this since I was a teenager, but you can start today. You don't have to make yourself crazy, but perhaps be aware of when you're unnecessarily squinting, scowling, or furrowing your brows. Breathe, relax your face, and usually, that helps me destress, as well.

"And work out! I never feel more beautiful or glowy than after I teach my class at MaZi Dance Fitness. Breaking a sweat elevates your beauty from the inside out."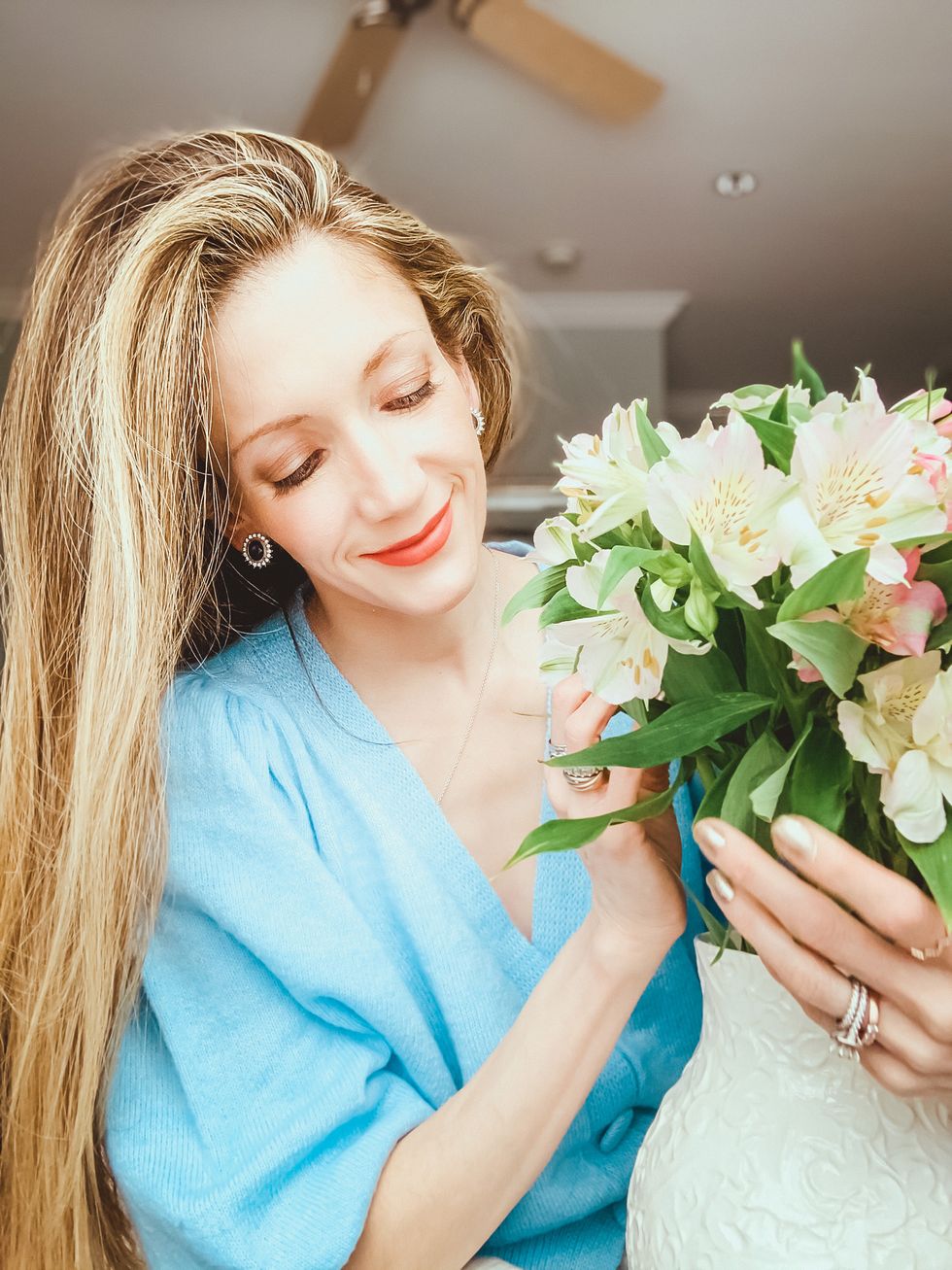 Photo: Courtesy of Ziba Lennox
Which beauty tools do you swear by?
"I love exfoliators. One that I love is the Glo-Pro at-home micro-needling tool. It aids with the elasticity and texture of my skin and helps it absorb the products I put on it. It's been a great replacement to microdermabrasion that has been hard to come by during the pandemic. I also love a good old-fashioned face icing with an ice cube. I don't do it daily, but if I cried the night before, have breakouts, or a lot of redness, it helps calm everything down and reduce inflammation. I rub a little ice cube all over my face, not holding it in one spot for very long, until it melts."
What's your favorite piece of beauty advice that you've ever been told?
"When I was little my mom told me that the best makeup look for any woman is chocolate eyes and red lipstick. At the time I disagreed, but now I see that moms are always right. On the flip side, also from her, is that beauty truly comes from the inside. Do you ever notice how, after knowing someone really well, you only see their spirit and internal beauty? The initial external beauty or lack thereof kind of fades and it becomes much more about who the person is and how they make you feel."
Lastly, what are your most important skin-care intentions for your 40s? How do you plan to follow through?
"Stay fluid. If 2020 taught me anything, it's that things change direction and that's OK. My intention is to allow and accept myself to look like an older version of me. It's easier said than done. Sometimes in an effort to stay young, we age ourselves. It's important that women do what they want and can to feel and look better to themselves, and there's so much amazing technology available to us. That means different things for different people and it's so personal. I'm on social media all day long, and it can be tempting to jump on a trend that's right for someone else but ultimately wouldn't be authentic to me. I also want to get better at combating blue-light aging—it's on my list. I also need to add collagen to my diet and could always drink more water
—
why is that so hard?!"
Photos: Courtesy of Ziba Lennox
Want more stories like this?
The 15 Products Our Staff Loves for an Express At-Home Facial
How to Look Like You've Been on Vacation in the Dead of Winter
Here's All You Need to Know about Exfoliating Dry and Sensitive Winter Skin