What It Means to Be Body Conscious in 2021
Let your body do the talking.
Trends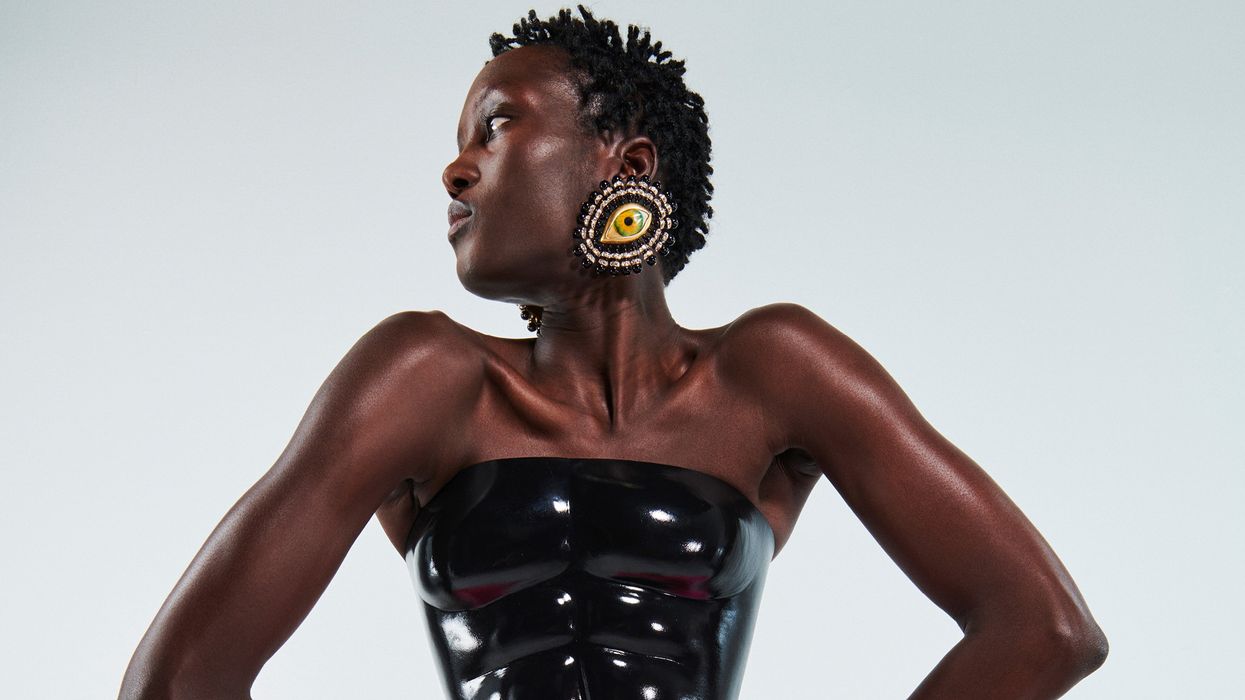 This past spring '21 haute couture fashion week, amidst a sea of billowing silk and structured jacquard, Schiapparelli's models clad in what
Vogue
runway director Nicole Phelps so accurately
dubbed
a "
six-pack bustier
" immediately gave us pause. Multiple Daniel Rosenberry ensembles featured anatomical allusions, from a cutout framed in
gold teeth
to
finger covers
that appeared to sprout metallic nails which curlicued into the air. "These are clothes that make you aware of the fact of your body, that make you think about how you move through the world," writes Daniel Rosenberry in the show notes.
Other couture designers also invoked sartorial allusions to the human form. Buzzy brand
Area
designers Beckett Fogg and Piotrek Panszczyk created
crystal-embellished rib cages
and toyed with tantalizing cutouts. In Alber Elbaz's return to the fashion spotlight with
AZ Factory
, the designer took a less literal approach and instead catered ergonomically to the body in all its shapes and sizes in what he called an "anatomical knit." Between the two labels, both refreshingly paid homage to different body types, aside from the stereotypical slender model.
After years of a Phoebe Philo
–
induced less-is-more approach to sexuality in fashion followed by a loungewear-clad pandemic, the fashion pendulum has swung towards sex appeal by embracing a newfound focus on the body. This spring we will likely see that same energy reflected in consumer purchase decisions. In Moda Operandi's spring '21
Runway Report
, they found that the Naked Dress, defined as "essentially anything that enhances the female form through soft and sensual fabrication," was a major hit among pre-order clients. Designers from Jacquemus to Altuzarra to Cult Gaia all created their own forms of the
Sex and the City

–
coined term. "It can be slinky, slightly sheer, backless, or body-con," the report states. 
---
Expanding upon this idea for spring, fashion search engine Tag Walk ranked "crop top" as the number one trend, followed by "transparent," "bra," "fishnet," "hot pants," and "backless" all in the
top 25 trends of the season
. In a similar vein, shopping platform
Lyst
reports that
midriff flossing
is a fad destined for warm-weather glory, "with searches including the terms "ties" and "cutout" increasing 57 percent to date.
Christopher Esber
is amongst the most wanted brands; page views for the brand's
tied, cutout dresses
are up 29 percent month-on-month, while searches for its
loophole maxi skirts
have increased 24 percent."
After nearly a year of sartorial dormancy— of boxy sweaters, oversize track pants, and voluminous hoodies—it's exciting to think about showing off your body again. "When we're talking about optimism, we're seeing it on the trend side, too—that hit of color, a return to being quite sexy. We talked about the naked dress in the runway report. There's a lot of cutouts and a ton of bare skin. I'm really excited for that," Moda Operandi's fashion and buying director, 
Lisa Aiken
, tells Coveteur.
This same sentiment is reflected on our Instagram feeds, where you've likely seen
Gabe Gordon
's barely-hanging-on, body-conscious designs clinging to the frames of celebrities and influencers alike—they've received the Kardashian/Jenner
seal of approval
. Or perhaps you've seen
Emma Corrin
, among other fans, clad in
Nensi Dojaka
string-like contraptions?
Yes, these clothes are sexy, but they also stimulate a connection with your own form. As someone who personally finds comfort in disguising her frame beneath an oversize shirt—often in an effort to essentially disconnect from it—I find it inspiring that people everywhere are owning their figure. For so long, the industry has encouraged us to use fashion to create the silhouette we want—a shoulder pad, corsetry and boning, a flared leg. A tight-fitting fabric instead molds to the shape of your body, shifting the control from your clothes back to you. There's a perceived confidence in one's own shape, which I deeply respect.

No surprise to any of you, fashion is a constantly swinging pendulum—the more you pull it one way, the farther it will travel in the opposite direction in retaliation. It seems the pandemic has steeped us in so many layers of loungewear, any scientist would tell you this shift was inevitable.
Shop the Trend Below:
Come spring, it is our belief that one can never have too many crop tops. This Zara iteration would work with jeans, wide-leg pants, or a miniskirt—take your pick.
After Christopher Esber dressed Zendaya in the slinky black number for the red carpet, we were completely hooked. His uber popular skirt will require a crop top to perfectly display the midriff flossing trend.
We love a good sheer moment, so we obviously couldn't resist this asymmetrically cut mesh blouse. If you're not up for baring all, opt for a black tank underneath; otherwise go for it with a pretty black bra.
To wear under those newly purchased sheer items...
Another example of midriff flossing, Jacquemus's cutout mini dress is the perfect summer statement. All you need is a pair of low heels and a mini bag!
We are very into this "business in the front, party in the back" situation from The Frankie Shop. That said, we can't wait for the temps to warm up so we can go backless again.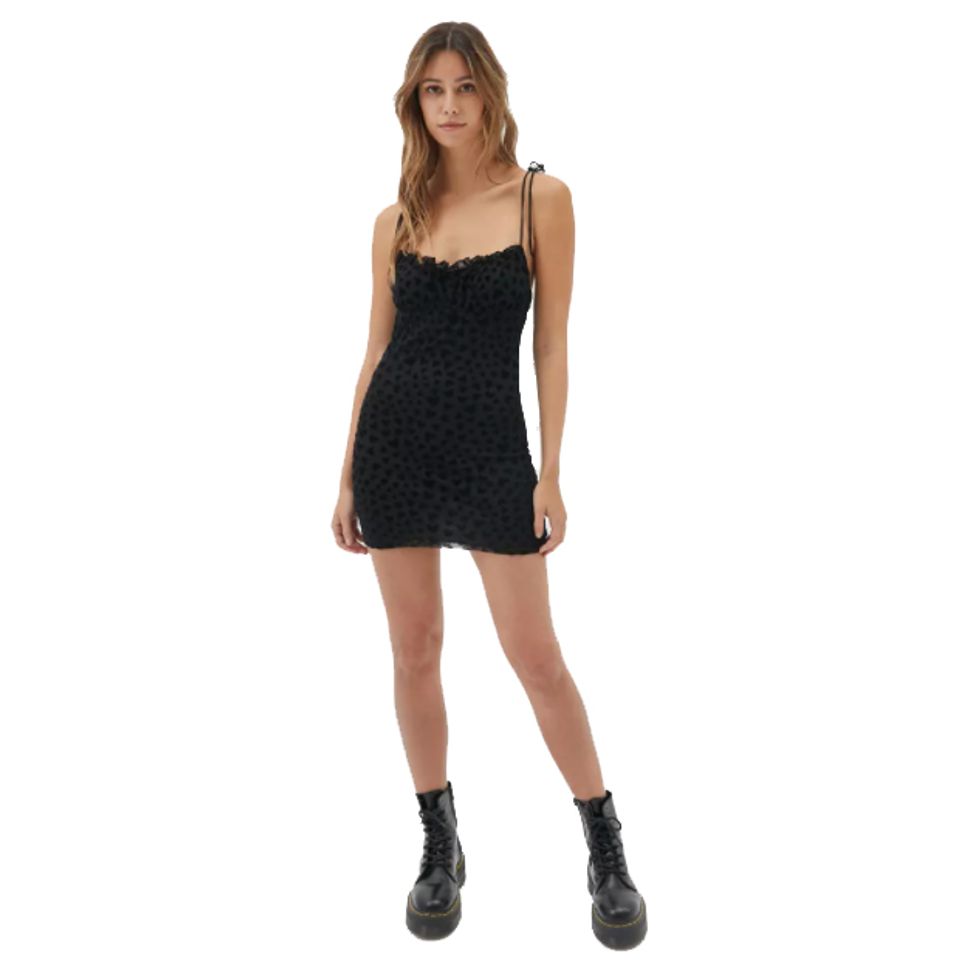 If you're in need of a little LBD refresh—because one can never have too many—we suggest this form-fitting rendition from Urban Outfitters. We love the subtle pattern, and the price can't be beat!
We can't wait to get our hands on a piece from Alber Elbaz's latest collection—a perk of the see-now, buy-now concept. This red bodysuit will be perfect styled under a pair of jeans come spring.