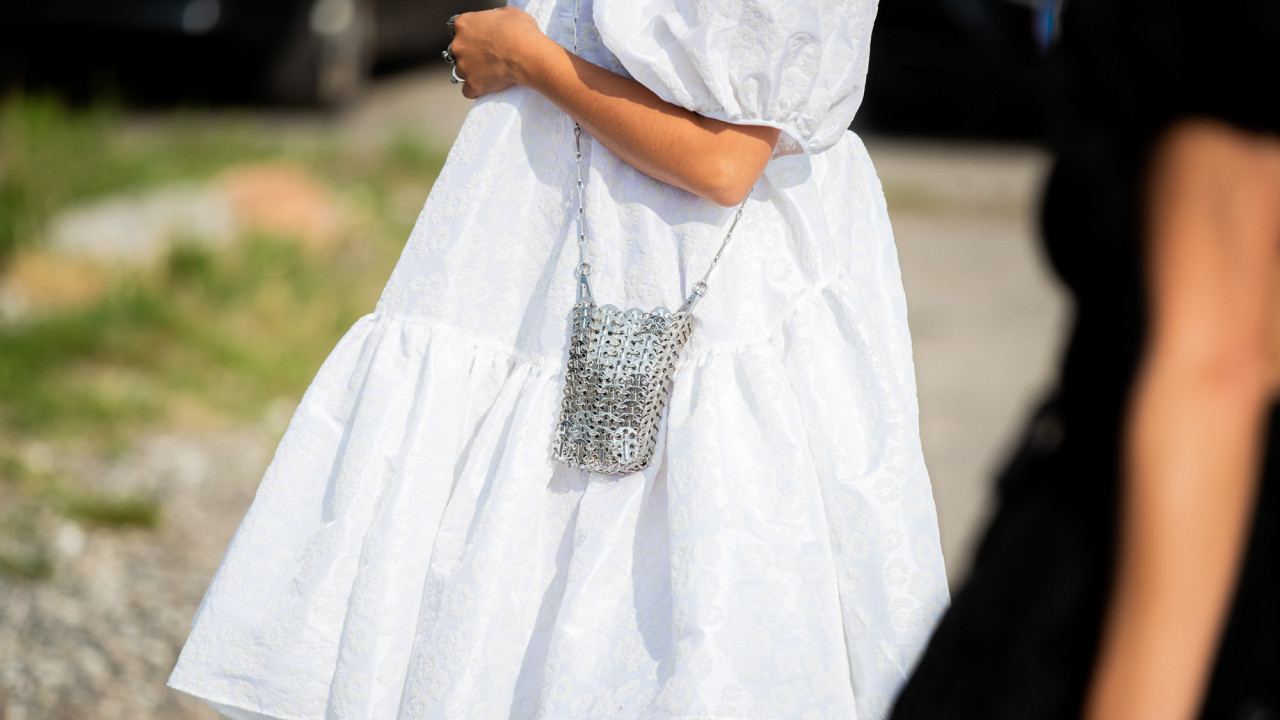 In 2020 It's OK for Fashion to Take Up Space
Our new favorite trend? Exaggerated silhouettes.
There are collections that are good. There are collections that are great. Then there are collections where the runway show touches the audience in a highly emotional, highly personal way. This fall '20 season, many of the brands who sparked true emotion in their audience were those who played with larger-than-life, exaggerated proportions—proportions that immediately drew every eye in the room.
Christopher John Rogers, whom Vanessa Friedman of The New York Times called "the current boy wonder of the New York fashion world," captured the audience's attention with a sea-foam-green gown that was almost as wide as it was tall. JW Anderson's fall collection showed oversize A-line coats with exaggerated sleeves and couture-like dresses with tiered, bulbous hemlines. Garments were embellished with supersized collars in materials that asked to be touched. "Anderson said he'd been thinking about what it takes to enter a room. The ability to take up space with a strong silhouette is part of that," noted Vogue.com on Anderson's inspiration for the collection. Other designers like Richard Quinn, Simone Rocha, and Moschino all followed suit with their own spin on the voluminous silhouette.
These designs not only amplify one's volume, but demand attention. These clothes are not camouflage—they tell you that the wearer wants to be noticed, and they take guts to don. However, they draw attention in the exact opposite way that a slinky black dress would. They can still be sexy, but in a much less obvious way.
Pierpaolo Paccoli of Valentino was one of the first to spark the trend of the larger than life gown, most notably in his Fall 2018 Couture show. Vogue.com described these clothes as something made for women "to dress beautifully and courageously."
Paccoli's gowns were made for leading ladies—meant to turn heads and take up space. Lady Gaga wore the supersized periwinkle number at the 2019 Golden Globes after her triumph in A Star Is Born, when she won for Best Original Song. Frances McDormand wore the gargantuan teal cape with a Philip Treacy headdress at the 2018 Met Gala right after she won an Oscar for Best Actress in Three Billboards Outside Ebbing, Missouri.
The size of these gowns is reminiscent of the super-voluminous gowns of prior centuries, which were often bogged down with corsets and hoop skirts. However, today's version is one of comfort, not constriction. Think babydoll silhouettes like those of Molly Goddard and Danish designer Cecilie Bahnsen. In an interview that Molly Goddard did with The Cut, she details how her dresses "take up space—but it's a comfortable space to take up." Goddard is known for her layered tulle dresses that are often so large that they barely squeeze down a runway—show goers often note feeling the dresses brush their legs as the models walk by.
TV show Killing Eve's Villanelle, who plays a deranged, multifaceted serial killer—a part typically reserved for men—iconically wore one of Godard's frothy fuchsia confections in season one. The loud, in-your-face dress mirrored her eccentric, undefinable personality.
Eighties fashion, a decade that first saw women entering the workplace in substantial numbers, was a dominant trend of the fall/winter '20 season. With that comes—yes, you guessed it—shoulder pads. We saw these exaggerated shoulder silhouettes at Saint Laurent, CHANEL, and Isabel Marant this season.
These days, these supersized looks are surprisingly relevant in the days amidst the current social distancing protocols, surfacing in memes all over social media. They reinforce social distancing by acting as a physical barrier between the wearer and their surroundings. PBS even pointed out that hoop skirts were initially used as a tool to keep strangers a reasonable distance away from high-society women in the 18th century, creating an illusion of untouchability.
Biologically, women take up less space than men. According to an article from ABC News, "Men, on average, are about 15 percent to 20 percent larger than women." That is just in a physical sense. In a quote from Chimamanda Ngozi Adichie's We Should All Be Feminists, she says, "We teach girls to shrink themselves, to make themselves smaller." Well, ladies, the time is now to be, to think, and to dress as big as you can.